Home Automation System Market Overview
The home automation system market is expected to reach USD 85 Billion by 2026, with a compound annual growth rate of 11% during the period of assessment. The main reason behind this staggering market growth is that there is a huge prevalence of different kinds of home automation systems and their deployment in various global locations.
Both the idea of luxury home automation systems, and do-it-yourself (DIY) automation systems are witnessing a huge demand from audiences located across various locations. The availability of these systems on an international scale has excellent prospects. Automation systems are being recognized as not only an excellent and convenient option for homeowners but also are known to help and assist with maintaining security and play a considerable role in energy saving. The telecom companies have a large and established customer base which is enhancing owing to their capability to enter the home in the form of the security business. The home automation manufacturer has crisp opportunities with the advent of technological advancements and changes in demographics that will benefit both their personal and home automation system market growth by the end of the forecast period in 2026.
The Global Home Automation System Market, 2019-2026 (USD Billion)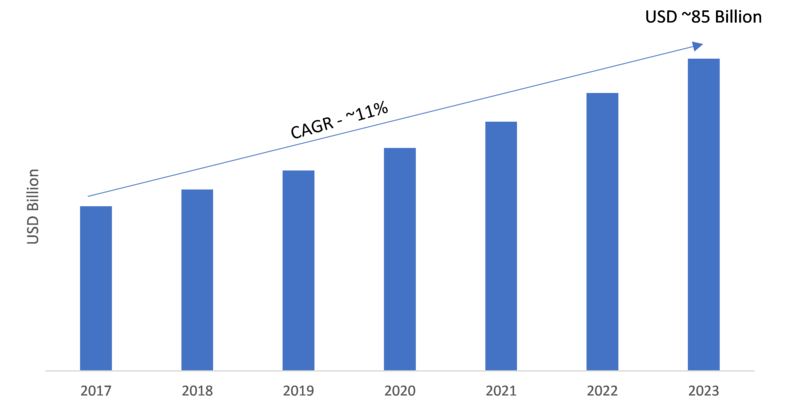 Source: MRFR Analysis
COVID-19 ANALYSIS
The coronavirus pandemic has given a very hard time to most of the manufacturing, developing, production, and logistic units of the market. Due to this pandemic situation, restrictions were imposed by the government of different countries. Most of the home automation systems and manufacturers are facing the wrath of the situation, and the overall effect on the global market operations is expected to be an impact of the medium-term. The impact of the pandemic has been varied on the various kinds of automation systems that are offered by the key home automation system market players. The installation and programming of these systems require expertise and professionalism which is a major miss due to constant unavailability during the pandemic. To help the market players regain the reduced demand for home installation automation systems, the market players are investing in the research and development verticals that will help in launching innovative and creative products for a worldwide audience. Also, with the lockdown restrictions being relaxed, the professionals are following all norms and protocols that will help the home automation system market regain the installation demand.
Home Automation System Market Dynamics
DRIVERS
Safe Wise is an independent review organization that has its headquarters in the US. It functions to conduct the testing alongside the reviewing of the home security systems. Also, this organization aims at valuable monitoring of the safety and security devices at homes. The review concludes that the amount of insurance incurred by any homeowner is reduced by a figure of 20%. The target audience tends to save this money which further acts as an excellent way to cover the costs that have been incurred while adopting the security systems for home and other residential applications.
RESTRAINTS
Even though the buyers are willing to invest in the home installation systems but they want a part of these systems to be pre-installed. Provisions for HVAC and security controls require a huge quantum of investment. This pushes the buyers to opt out and also make adjustments based upon their preference and budget. The lack of pre-installed systems is one of the major home automation system market restraints.
TECHNOLOGY ANALYSIS
The Asian and African continents are expected to undergo a 90% population increase by the end of 2050, as per a United Nations Report. An increase in population will push for rapid urbanization especially amongst the developing countries that are associated with the growth in the demand for technological and improved housing infrastructure. This will require modern housing projects packed with excellent features thus, presenting a huge growth opportunity for the market and the global players.
STUDY OBJECTIVES



To consider the viewpoint of various industry experts and leaders and predict compound annual growth rate and home automation system market growth rate by the end of the global forecast in 2023.




To highlight a competitive market outlook and examine the yield models of key market players, worldwide.




To observe the various market dynamics like trends, drivers, and restraints that are most probable to play a role in helping the market and its different segments growing in the domestic as well as international home automation system market.



Home Automation System Market Segment Overview
Home automation system market share is anticipated to witness significant growth owing to the performance of different market segments. Among these, the entertainment and other controls segment will be the fastest-growing and also contribute towards home automation system market growth more than any other segment. The arrival of human voice-controlled speakers such as amazon echo and Google home have been contributing a lot towards the growth of the entertainment segment. For an amplifying use the market has been segmented into the following on different bases:



Based on the product, it has lighting control, climate control, security and access control, HVAC control, entertainment control, energy management control, and others.




Based on software and algorithm, it has behavioral and proactive




Based on protocol and technology, it has a network and wireless.






The network technology segment is further sub-segmented into CDMA, GSM/HSPA, and LTE network




And the protocol segment is further divided into digital addressable lighting interface (Dali), Ethernet, Lon works, and BACNET among others.




Lastly, the wireless technology segment is further segregated into IR, ZIGBEE, z-wave, Wi-Fi, Bluetooth, etc.



Home Automation System Market Regional Analysis
The Home automation system industry movement is remarkably working in 6 major regions of the world that is North America, South America, Asia Pacific, Europe, and the Middle East & Africa. Among all these regions, the North American region will dominate home automation system market, and the reason attributed to it is the increasing demand for domestic energy management. Also, 75% of prime players of this market such as united technologies corporation, Honeywell International Inc., Johnson controls Inc., Creston electronics, Inc., acuity brands, Inc., and others. Are present in developing economies like the United States of America and Canada, of this region which is another factor that will contribute towards the substantial growth of this industry. Asia Pacific region will also experience significant growth during the assessment period due to the increasing number of residential and commercial projects. In addition to this the rising population and per capita disposable income of people here is another factor that will enhance the expansion of home automation system market in the Asia Pacific region. These home automations are used to save energy which in turn results in decreased electricity bills and increases the disposable income of homeowners.
Home Automation System Market Competitive Landscape
To get a detailed and profound idea about the Home automation system market insights, it is very important to create a competitive environment amongst the different key players at different market locations all around the country. All the market players are competing with each other globally in the international markets by implementing various types of strategies such as product launches and upgrades, mergers and acquisitions, partnerships, etc. The prime players of home automation system market include:-



HONEYWELL INTERNATIONAL INC. (U.S.)




ACUITY BRANDS, INC. (U.S.)




JOHNSON CONTROLS INC. (U.S.)




UNITED TECHNOLOGIES CORPORATION (U.S.)




CRESTRON ELECTRONICS, INC. (U.S.)




LEGRAND (FRANCE)




SCHNEIDER ELECTRIC SE (FRANCE)




ABB LTD. (SWITZERLAND)




SAMSUNG ELECTRONICS CO., LTD. (SOUTH KOREA)




SIEMENS AG (GERMANY)




SAVANT SYSTEMS LLC. (US)




CONTROL4 CORPORATION (US)




AMX LLC (US)




CRESTON ELECTRONICS INC. (US)



RECENT DEVELOPMENTS



In October 2020, the Honeywell home pro series security and the smart home platform was announced to be available in the market by RESIDEO, a US-based company. This product is expected to expand the overall portfolio of connected security services and solutions of RESIDEO. It is a fully integrated and all-in-one type of smart home solution and also includes entry-level security in its package. This pro series platform can be used for both residential and small businesses.




In February 2020, a provider of architectural lighting for non-residential buildings named focal point was acquired by LEGRAND. The acquisition was expected to strengthen the leading position of LEGRAND in us for providing lightning control solutions for both residential and commercial buildings.




In December 2019, wireless HORIZO EX keypads and dimmers were launched by Creston. This new series of wall box controllers allows its customers an advanced custom control solution as a part of the Creston smart home product.



INTENDED AUDIENCE



Automation & control vendors




Automation & control networking technology vendors




Real estate builders




System integrators




Homeowners




Project consultants




Designers/consultants (HVAC, security, and fire & safety)




Component manufacturers (sensors & controls)




Software and solution providers




Home management systems (product & service providers)




Associations & standards




Government bodies involved in green buildings



REPORT OVERVIEW
The Home automation system industry report presents a shift analysis that includes market drivers, opportunities, and restraints that are available in the global market. The report discusses the impact of covid-19 on the key players of this market. The report also tells about the market segmentation on a different basis and how a competitive environment is developed among the key players around the globe. At last, the report presents some recent developments in this industry.
Report Scope:
Report Attribute/Metric
Details
Market Size
USD 65,626.30 Billion (2027)
CAGR
12.35% (2020-2027)
Base Year
2019
Forecast Period
2020-2027
Historical Data
2018
Forecast Units
Value (USD Million)
Report Coverage
Revenue Forecast, Competitive Landscape, Growth Factors, and Trends
Segments Covered
Protocol & Technology, Product, Software & Algorithm
Geographies Covered
North America, Europe, Asia-Pacific, and Rest of the World (RoW)
Key Vendors
Honeywell International Inc. (U.S.), Acuity Brands, Inc. (U.S.), Johnson Controls Inc. (U.S.), United Technologies Corporation (U.S.), Crestron Electronics, Inc. (U.S.), Legrand (France), Schneider Electric Se (France), ABB Ltd. (Switzerland), Samsung Electronics Co., Ltd. (South Korea), Siemens Ag (Germany)
Key Market Opportunities
lack of awareness about home automation products and high initial investments in home automation
Key Market Drivers
widespread use of smartphones and the emergence of IoT technology
advancement in technology
Speak to Analyst
Ask for Customization
Frequently Asked Questions (FAQ) :
---