Global Gastroparesis Treatment Market Information, by Gastroparesis Type (Idiopathic, Diabetic, Post-surgical and Others), by Drug Class (Prokinetic drugs, Antiemetics, Antidepressants and Others) and by Other Treatment (Jejunostomy, Gastric electric stimulation (GES) and Parenteral Nutrition) - Forecast till 2023


Market Synopsis of Global Gastroparesis Treatment Market:
Market Scenario:
Gastroparesis is a condition of delayed gastric emptying because of partial paralysis of the stomach, resulting in food remaining in the stomach for an abnormally long time. The gastric muscles contracts to move food down into the small intestine which is controlled by the vagus nerve. Damage to the vagus nerve or the muscles of the stomach and intestines causes food to move slowly resulting in Gastroparesis. Gastroparesis predominantly affects young adult females. Although Gastroparesis is frequently associated with diabetes, idiopathic Gastroparesis accounts for the greatest number of cases.
The other market driving factors of Gastroparesis are surgery on the stomach or vagus nerve, anorexia nervosa, use of narcotics that slow gastric contractions, gastro esophageal reflux disease, disorders, such as amyloidosis and scleroderma, Parkinson's disease, metabolic disorders such as hypothyroidism etc.
The global market for Gastroparesis treatment is expected to reach around USD 5,323.62 million by the end of the forecast period and is expected to grow at a CAGR of ~ 3.8 %.

Study Objectives Global Gastroparesis Treatment Market:



To provide detail analysis of the market structure along with forecast for the next 6 years of the various segments and sub-segments of the global Gastroparesis Treatment market




To provide insights about factors affecting the market growth




To analyze the market based on various factors- price analysis, supply chain analysis, Porters Five Force analysis etc.




To provide historical and forecast revenue of the market segments and sub-segments with respect to four main geographies and their countries- Americas, Europe, Asia-Pacific, and Middle East & Africa.




To provide country level analysis of the market with respect to the current market size and future prospective




To provide country level analysis of the market for segments by Gastroparesis type, by drug class, by other treatment and other sub segments.




To provide overview of key players and their strategic profiling in the market, comprehensively analyzing their core competencies, and drawing a competitive landscape for the market




To track and analyze competitive developments such as joint ventures, strategic alliances, mergers and acquisitions, new product developments, and research and developments globally.



Global Gastroparesis Treatment Market Share, by Gastroparesis Type, 2016 (%):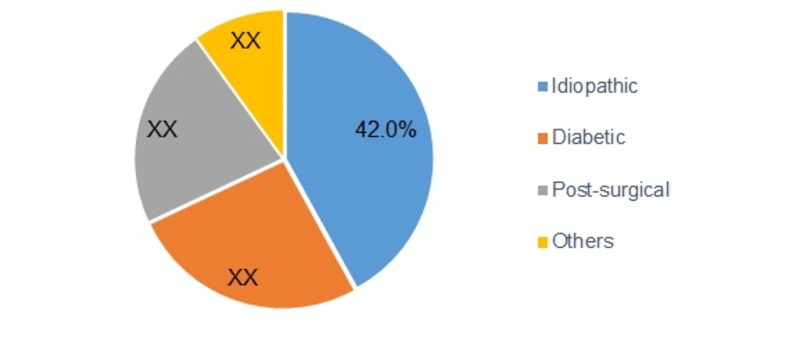 Key Players for
Global Gastroparesis Treatment
Market:
Some of the key players in this market are: Medtronic, Kimberly-Clark Corporation, Abbott Laboratories, Salix Pharmaceuticals, Inc., Boston Scientific Corporation, C. R. Bard, Inc., Janssen Global Services, LLC, Cardinal Health, Inc., Alfa Wassermann SPA, Evoke Pharma, Rhythm Pharmaceuticals, Inc. and others.

Segments:
Global Gastroparesis Treatment market has been segmented on the basis of Gastroparesis type which comprises idiopathic, diabetic, post-surgical and others. On the basis of drug class the market comprises of prokinetic drugs, antiemetics, antidepressants and others. On the basis of other treatment; market is segmented into jejunostomy, gastric electric stimulation (GES) and parenteral nutrition.


Regional Analysis of Global Gastroparesis Treatment Market:
Globally America is the largest market for Gastroparesis treatment. Europe is the second-largest market for Gastroparesis Treatment. Reasons for dominance of the developed regions is the faster market uptake, higher per capita income and excellent reimbursement scenario in these regions. Asia Pacific region is expected to be witness fastest growth and most of it will be led by Japan, China and India.


Intended Audience



Gastroparesis Treatment manufacturers




Gastroparesis Treatment suppliers




Private research laboratories




Research and development (R&D) companies




Market research and consulting service providers




Government research laboratories




The report for global Gastroparesis Treatment market of Market Research Future comprises extensive primary research along with the detail analysis of qualitative as well as quantitative aspects by various industry experts, key opinion leaders to gain the deeper insight of the market and industry performance. The report gives the clear picture of current market scenario which includes historical and projected market size in terms of value and volume, technological advancement, macro economical and governing factors in the market. The report provides detail information and strategies of the top key players in the industry. The report also gives a broad study of the different markets segments and regions.
1 Introduction

1.1 Definition

1.2 Scope of Study

1.3 Research Objective

1.4 Assumptions & Limitations

1.5 Market Structure:

2 Research Methodology

2.1 Research Process

2.2 Primary Research

2.3 Secondary Research

3 Market Dynamics

3.1 Drivers

3.2 Restraints

3.3 Opportunities

3.4 Challenges

3.5 Macroeconomic Indicators

4 Market Factor Analysis

4.1 Porter's five forces model

4.1.1 Bargaining Power of suppliers

4.1.2 Bargaining Power of Customer

4.1.3 Intensity of Competitor's

4.1.4 Threat of New Entrants

5 Global Gastroparesis Treatment Market, by Gastroparesis Type

5.1 Introduction

5.1.1 Idiopathic

5.1.2 Diabetic

5.1.3 Post-surgical

5.1.4 Others

6 Global Gastroparesis Treatment Market, by Drug Class

6.1 Introduction

6.1.1 Prokinetic drugs

6.1.2 Antiemetics

6.1.3 Antidepressants

6.1.4 Others

7 Global Gastroparesis Treatment Market, by Other Treatment

7.1 Introduction

7.1.1 Jejunostomy

7.1.3 Gastric electric stimulation (GES)

7.1.4 Parenteral Nutrition

8 Global Gastroparesis Treatment Market, by Regions

8.1 Introduction

8.1.1 Americas

8.1.1.1 North America

8.1.1.2 South America

8.1.2 Europe

8.1.2.1 Germany

8.1.2.2 France

8.1.2.3 UK

8.1.2.4 Italy

8.1.2.5 Spain

8.1.2.6 Rest of Europe

8.1.3 Asia Pacific

8.1.3.1 Japan

8.1.3.2 China

8.1.3.3 India

8.1.3.4 Republic of Korea

8.1.3.5 Rest of Asia Pacific

8.1.4 Middle East & Africa

9 Company Landscape

9.1 Introduction

9.1.1 Mergers Acquisitions

9.1.2 Collaborations

9.1.3 Release/New Product Launches

9.1.4 Other (Expansion, Updates, Partnership)

10 Company Profile

10.1 Medtronic

10.1.1 Company Overview

10.1.2 Product/Business Segment Overview

10.1.3 Financials

10.1.4 Key Developments

10.1.5 SWOT Analysis

10.2 Kimberly-Clark Corporation

10.2.1 Overview

10.2.2 Product/Business Segment Overview

10.2.3 Financials

10.2.4 Key Developments

10.2.5 SWOT Analysis

10.3 Abbott Laboratories

10.3.1 Overview

10.3.2 Product/Business Segment Overview

10.3.3 Financials

10.3.4 Key Developments

10.3.5 SWOT Analysis

10.4 Salix Pharmaceuticals, Inc.

10.4.1 Overview

10.4.2 Product/Business Segment Overview

10.4.3 Financials

10.4.4 Key Developments

10.4.5 SWOT Analysis

10.5 Boston Scientific Corporation

10.5.1 Overview

10.5.2 Product/Business Segment Overview

10.5.3 Financials

10.5.4 Key Developments

10.5.5 SWOT Analysis

10.6 C. R. Bard, Inc.

10.6.1 Overview

10.6.2 Product/Business Segment Overview

10.6.3 Financials

10.6.4 Key Developments

10.6.5 SWOT Analysis

10.7 Rhythm Pharmaceuticals, Inc.

10.7.1 Overview

10.7.2 Product/Business Segment Overview

10.7.3 Financials

10.7.4 Key Developments

10.7.5 SWOT Analysis

10.8 Cardinal Health, Inc.

10.8.1 Overview

10.8.2 Product/Business Segment Overview

10.8.3 Financials

10.8.4 Key Developments

10.8.5 SWOT Analysis

10.9 Alfa Wassermann SPA

10.9.1 Overview

10.9.2 Product/Business Segment Overview

10.9.3 Financials

10.9.4 Key Developments

10.9.5 SWOT Analysis

10.10 Evoke Pharma

10.10.1 Overview

10.10.2 Product/Business Segment Overview

10.10.3 Financials

10.10.4 Key Developments

10.10.5 SWOT Analysis

10.11 Others

11 Conclusion

11.1 Key Findings

11.1.1 From Ceo's Viewpoint

11.1.2 Unmet Needs of the Market

11.2 Key Companies to Watch

11.3 Prediction of Veterinary Surgical Instruments Industry

12 Appendix