Market Synopsis of Frequency Synthesizer Market:
Market Scenario:
The emerging trend in frequency synthesizer market is increasing usage of frequency synthesizer in mobile phone. Texas Instrument is one of the major player in frequency synthesizer market that has manufactured a range of frequency synthesizer product such as LMX2541 which is an ultra-low noise frequency synthesizer. Qorvo Inc. is one of the prominent player in FS market and has manufactured a wide range of frequency synthesizer and mixers. The device comprises of fractional N-synthesizer, voltage controlled oscillator and one or more high linearity mixers.
North America region is expected to dominate frequency synthesizer market and accounts for highest market share owing to major market players from the region. The region has made huge investment in military and aerospace, telecommunication and research which is contributing towards the growth of the market. Asia-Pacific region is the fastest growing in the frequency synthesizer market owing to upcoming 5G technologies in telecommunication industry and the emergence of many small and medium size enterprises from the region.
Frequency synthesizer has wide application in aerospace industry for generating numerous frequency that is required to communicate in space. It is used in mobile phones to produce different frequency range as per the location and enable users to communicate at remote location. Frequency synthesizer is used in military application for high-performance wireless communication. It is also used in equipment that requires high frequency changes. It has wide application in measuring equipment, defense and microwave backhaul. Frequency synthesizer is used in microwave communication equipment in which signal integrity plays a major part and depends on it for high frequency stability and accuracy.
Frequency synthesizer can be defined as a device that is used for generation of different hertz of frequency from a single reference frequency. The factors driving the frequency synthesizer market includes owing to its increase application in numerous industries such as aerospace and defense, telecommunication industry and research and measurement. By application telecommunication industry is expected to account for high market share owing to its growing usage in communication systems. By type analog frequency synthesizer holds for market share mainly due to its strong signal clarity and low noise production is boosting the market.
The frequency synthesizer market is expected to grow at approximately USD 1,707 Million by 2023, at 6% of CAGR between 2017 and 2023.
Frequency Synthesizer Market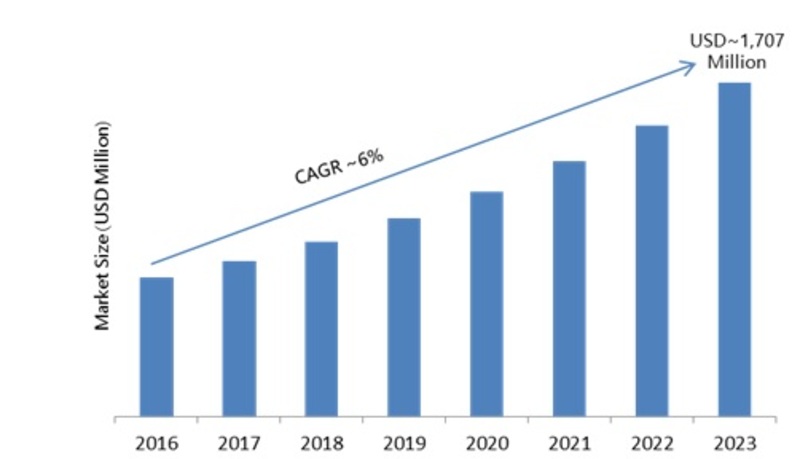 Key Players:
The prominent players in the frequency synthesizer market are – Ultra Electronics (U.K.), Texas Instruments Inc. (U.S.), Analog Devices Inc. (U.S.), National Instruments (U.S.), Qorvo, Inc. (U.S.), FEI-Elcom Tech Inc. (U.S.), Sivers IMA AB (Sweden), Programmed Test Sources Inc. (U.S.), Synergy Microwave Corp. (U.S.), Mercury United Electronics Inc. (U.S.) among others.

Segments:
Frequency Synthesizer market is segmented on the basis of component, type and application.
Frequency Synthesizer Market by Components:



Phase detectors




Loop Filters




Oscillators




Mixer




Dividers



Frequency Synthesizer Market by Type:
Frequency Synthesizer Market by Application:



Aerospace & Military




Research & Measurement




Telecommunication




Others



Intended Audience



Investors and consultants




System Integrators




Government Organizations




Research/Consultancy firms




Technology solution providers




IT Solution Providers




Original Equipment Manufacturers