Market Scenario:
Biomaterial is acquiring a huge demand for the treatment of different diseases and condition. They have got a special attention in the orthopedic segment. Many different type of implant are prepare by using biomedical. Increasing aging population is the major driver for the growth of orthopedic market in Europe Middle East and Africa. As this material did not cause any immunological reaction with the body, this makes it as a first choice of preference for manufacturing of the implants. Due to lack of exercise the many different bones and muscle related complication are occurred. This led to increase in the market of orthopedic biomedical in Europe and Middle East and Africa.
Europe, Middle East and Africa orthopedic medical market is expected to grow at a CAGR of 11.2% during forecasted period 2017-2023.
Study Objectives of Europe, Middle East and Africa Orthopedic Biomaterial Market information:



This report gives the complete detail analysis of competitive dynamics.




To provide the detail information about drivers and factors restraining the market growth.




Detail information about current opportunities and trend in the market.




To provide historical and forecast revenue of the market segments and sub-segments with respect to three main geographies and their countries.




To provide the overview of key players and their strategic profiles in the market and drawing a competitive landscape for the market.




To provide the market growth map over the forecasted period- 2017-2023.




To provide the graphs and analyze the market on various factors like- price analysis, supply chain analysis, porters five force analysis etc.



Figure 1- Europe, Middle East and Africa Orthopedic Biomaterial Market, by application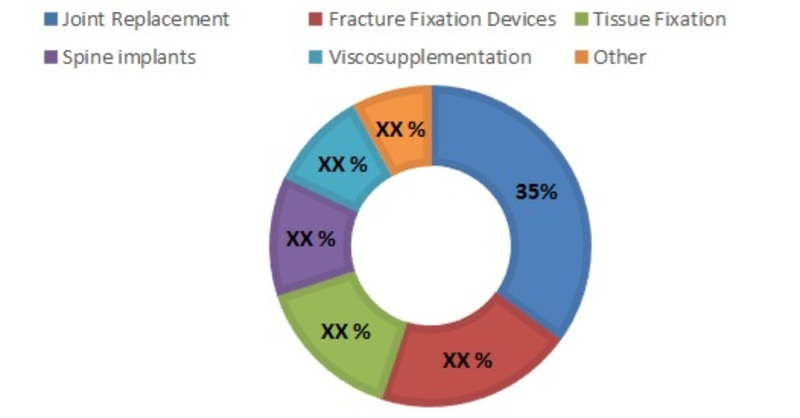 Key Players for Orthopedic Biomaterials Market:

Some of the major players in this market are: Materion Corporation (US), S&V Technologies (Germany), Rayner (UK), InVision Biomedical (US), Royal DSM (Netherlands), BASF SE (Germany), Carpenter Technology Corporation (US), Covestro (Germany), Invibio Ltd. (U.K.), Ulbrich Stainless Steel & Special Metals, Inc. (US), Corbion N.V. (Netherlands), CeramTec (Germany), Ceradyne (US), Heraeus Medical Components (US), Kyocera Corporation (Japan), Ticona GmbH (Germany), Johnson & Johnson (US), Osteotech, Inc. (US), Cam Bioceramics B.V. (Netherland), Evonik Industries AG (Germany) and many more.
Segments:
Orthopedic Biomaterials Market is segmented on the basis of, by type of material which is Metals and Non-metals. Metals are further sub segmented into stainless steel, Titanium Alloy, Cobalt alloy and others. Non Metal is sub segmented into Ceramic (Alumina, Calcium Phosphate, Zirconium dioxide. Carbon and Other), Polymeric (Polymethylmethacrylate, Polyethylene, Silicone, Polyester and Other), Natural Biomaterials (Collagen, Chitin & Chitosan and Other) and Others.
On the Basis of application the market is segmented into Joint Replacement, fracture Fixation Devices, Tissue Fixation, Spine implants, Viscosupplementation and Other. Joint replacement is sub segmented into Hip replacement, Knee replacement, Shoulder and elbow replacement and other. Tissue fixation is sub segmented into interference screws, suture anchors and others. Spine implants is further sub segmented into spine fusion, other. Fracture Fixation Devices are sub segmented into Screws, Plates for Bones, Rods and other.
Regional Analysis
Europe and Middle East and Africa are the two major region of the market. Europe has the second largest market for orthopedic biomedical globally. Patient with high level of pain in the bones has no option other than joint replacement which improves the quality of life. Germany and UK are invest ample amount of capital in import of the implants. This can serves as an opportunities for the manufacturer to develop the market in this countries. Due to limited infrastructure development Middle East and Africa has a least orthopedic biomedical market.
Market Assessment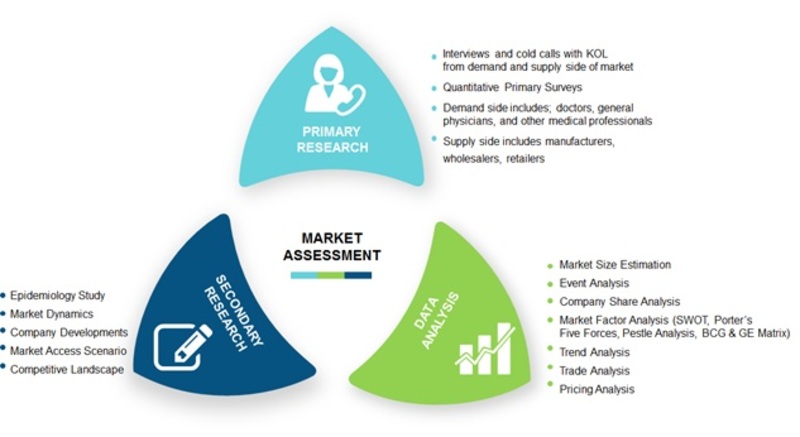 The report for Europe, Middle East and Africa Orthopedic Biomaterial Market of Market Research Future comprises of extensive primary research along with the detailed analysis of qualitative as well as quantitative aspects by various industry experts, key opinion leaders to gain the deeper insight of the market and industry performance. The report gives the clear picture of current market scenario which includes historical and projected market size in terms of value and volume, technological advancement, macro economical and governing factors in the market. The report provides details information and strategies of the top key players in the industry. The report also gives a broad study of the different markets segments and regions.
Intended Audience



Product manufacturers




Biomaterial manufacturer




Research and Development (R&D) Companies




Hospitals and Laboratories




Suppliers and distributor of biomaterial.




Medical Research Laboratories




Academic Medical Institutes and Universities



TABLE OF CONTENTS
1 REPORT PROLOGUE

2 MARKET INTRODUCTION

2.1 INTRODUCTION

2.2 SCOPE OF STUDY

2.3 RESEARCH OBJECTIVE

2.4 ASSUMPTIONS & LIMITATIONS

2.4.1 ASSUMPTIONS

2.4.2 LIMITATIONS

3 RESEARCH METHODOLOGY

3.1 RESEARCH PROCESS

3.2 PRIMARY RESEARCH

3.3 SECONDARY RESEARCH

4 MARKET DYNAMICS

4.1 DRIVERS

4.2 RESTRAINTS

5 MARKET FACTOR ANALYSIS

5.1 PORTER'S FIVE FORCES MODEL

5.1.1 BARGAINING POWER OF SUPPLIERS

5.1.2 BARGAINING POWER OF BUYERS

5.1.3 THREAT OF NEW ENTRANTS

5.1.4 THREAT OF SUBSTITUTES

5.1.5 INTENSITY OF RIVALRY

5.2 SUPPLY CHAIN ANALYSIS

6 EUROPE, MIDDLE EAST AND AFRICA ORTHOPEDIC BIOMATERIAL MARKET, BY TYPE OF MATERIAL

6.1 METAL

6.1.1 STAINLESS STEEL

6.1.2 TITANIUM ALLOY

6.1.3 COBALT ALLOY

6.1.4 OTHERS

6.2 NON- METAL

6.2.1 CERAMIC

6.2.1.1 ALUMINA

6.2.1.2 CALCIUM PHOSPHATE

6.2.1.3 ZIRCONIUM DIOXIDE

6.2.1.4 CARBON

6.2.1.5 OTHER

6.2.2 POLYMERIC

6.2.2.1 POLYMETHYLMETHACRYLATE (PMMA)

6.2.2.2 POLYETHYLENE

6.2.2.3 SILICONE

6.2.2.4 POLYESTER

6.2.2.5 OTHER

6.2.3 NATURAL BIOMATERIALS

6.2.3.1 COLLAGEN

6.2.3.2 CHITIN & CHITOSAN

6.2.3.3 OTHER

6.3 OTHERS.

7. EUROPE, MIDDLE EAST AND AFRICA ORTHOPEDIC BIOMATERIAL MARKET, BY APPLICATION

7.1 JOINT REPLACEMENT

7.1.1 HIP REPLACEMENT

7.1.2 KNEE REPLACEMENT

7.1.3 SHOULDER AND ELBOW REPLACEMENT

7.1.4 OTHER

7.2 FRACTURE FIXATION DEVICES

7.2.1 SCREWS

7.2.2 PLATES FOR BONES

7.2.3 RODS

7.2.4 OTHER

7.3 TISSUE FIXATION

7.3.1 INTERFERENCE SCREWS

7.3.2 SUTURE ANCHORS

7.3.3 OTHERS

7.4 SPINE IMPLANTS

7.5 VISCOSUPPLEMENTATION

7.6 OTHER

8 EUROPE, MIDDLE EAST AND AFRICA ORTHOPEDIC BIOMATERIAL MARKET, BY REGIONS

8.1 INTRODUCTION

8.2 EUROPE

8.3.1 WESTERN EUROPE

8.3.1.1 GERMANY

8.3.1.2 FRANCE

8.3.1.3 ITALY

8.3.1.4 SPAIN

8.3.1.5 UK

8.3.1.6 REST OF WESTERN EUROPE

8.3.2 EASTERN EUROPE

8.4 MIDDLE EAST & AFRICA

9.1 PRICING OF EUROPE, MIDDLE EAST AND AFRICA ORTHOPEDIC BIOMATERIAL MARKET

9.2 PRODUCTION CAPACITY OF MAJOR PLAYERS

10 COMPANY PROFILE

10.1 INVISION BIOMEDICAL

10.1.1 OVERVIEW

10.1.2 PRODUCT/BUSINESS SEGMENT OVERVIEW

10.1.3 FINANCIAL UPDATES

10.1.4 KEY DEVELOPMENTS

10.2 S&V TECHNOLOGIES

10.2.1 OVERVIEW

10.2.2 PRODUCT/BUSINESS SEGMENT OVERVIEW

10.2.3 FINANCIAL UPDATES

10.2.4 KEY DEVELOPMENTS

10.3 RAYNER

10.3.1 OVERVIEW

10.3.2 PRODUCT/BUSINESS SEGMENT OVERVIEW

10.3.3 FINANCIAL UPDATES

10.4 ROYAL DSM

10.4.1 OVERVIEW

10.4.2 PRODUCT/BUSINESS SEGMENT OVERVIEW

10.4.3 FINANCIAL UPDATES

10.4.4 KEY DEVELOPMENT

10.5 COVESTRO

10.5.1 OVERVIEW

10.5.2 PRODUCT/BUSINESS SEGMENT OVERVIEW

10.5.3 FINANCIAL UPDATES

10.5.4 KEY DEVELOPMENTS

10.6 OTHERS