Market Scenario:

Orthopedic biomaterials are synthetic or organic materials. They are used for the internal fracture fixation. Biomaterial has found most prominent application in orthopaedics. Increasing demand for the orthopedic biomaterial because of its application in Knee and hip replacement has driven the market growth. Due to increasing surgeries, various government support and rising aging population in America are the major driving factors for the market growth. While on other hand high cost of treatment and increasing failure of joints implants can be responsible to hinder the market growth. America's orthopedic biomaterials market has undergoing a swift changes due to many factors. Increase in the number of joint replacement surgeries in America has increase the market of orthopedic biomaterial significantly.

Study Objectives of Americas Orthopedic Biomaterial Market information:



This report gives the complete detail analysis of competitive dynamics




To provide the detail information about drivers and factors restraining the market growth.




To provide the market growth map over the forecasted period- 2017-2023




To provide detailed analysis of the market structure along with forecast for the next 6 years of the various segments and sub-segments of the Americas Orthopedic Biomaterial Market.




To provide the graphs and analyze the market on various factors like- price analysis, supply chain analysis, porters five force analysis etc.




To provide the trends and opportunities in Americas Orthopedic Biomaterial Market.




To provide historical and forecast revenue of the market segments and sub-segments with respect to three main geographies and their countries- USA, Canada and Rest of America




To provide the overview of key players and their strategic profiles in the market and drawing a competitive landscape for the market



Figure 1- Americas Orthopedic Biomaterial Market Share, by type of material (2016)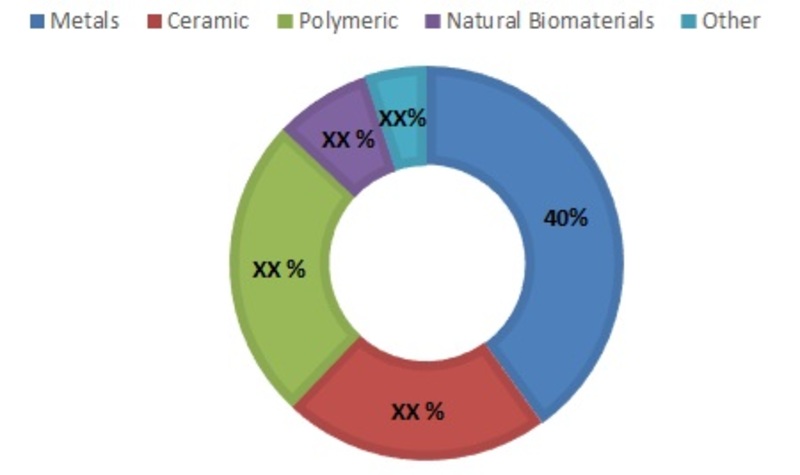 Americas orthopedic biomaterial market is expected to grow at a CAGR of 11.5% during forecasted period 2017-2023.
Key Players for Orthopedic Biomaterials Market:
Some of the major players in this market are: Materion Corporation (US), Carpenter Technology Corporation (US), Ulbrich Stainless Steel & Special Metals, Inc. (US), CeramTec (Germany), Ceradyne (US), Heraeus Medical Components (US), Kyocera Corporation (Japan), Ticona GmbH (Germany), Purac Biomaterials (US), Acumed (US), Amedica Corporation (US), Johnson & Johnson (US), Osteotech, Inc. (US), Cam Bioceramics B.V. (Netherland), Landec Corporation. (US) and many more.
Segments:

Orthopedic Biomaterials Market is segmented on the basis of, by type of material which is Metals and Non-metals. Metals are further sub segmented into stainless steel, Titanium Alloy, Cobalt alloy and others. Non Metal is sub segmented into Ceramic (Alumina, Calcium Phosphate, Zirconium dioxide. Carbon and Other), Polymeric (Polymethylmethacrylate (PMMA), Polyethylene, Silicone, Polyester and Other), Natural Biomaterials (Collagen, Chitin & Chitosan and Other) and Others.
On the Basis of application the market is segmented into Joint Replacement, fracture Fixation Devices, Tissue Fixation, Spine implants, Viscosupplementation and Other. Joint replacement is sub segmented into Hip replacement, Knee replacement, Shoulder and elbow replacement and other. Furthermore tissue fixation is sub segmented into interference screws, suture anchors and others. Spine implants is further sub segmented into spine fusion, other. Fracture Fixation Devices are sub segmented into Screws, Plates for Bones, Rods and other.
Regional Analysis Orthopedic biomaterial market of America is segmented into three major regions- US, Canada and Rest of America. US contribute a huge share in the orthopaedic biomaterial market. Due to increasing number of joint replacement surgeries and advances in the development has boosted the US market. In Orthopedic biomaterial market US is followed by Canada, Huge aging population in Canada has increased its market of orthopedic biomaterial.
Market Assessment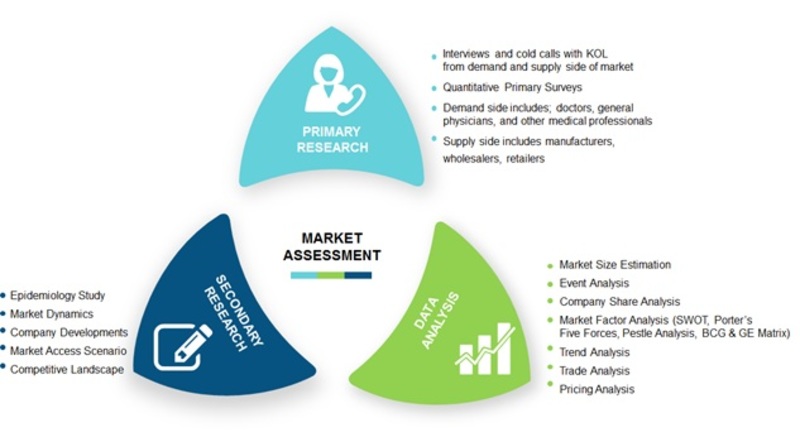 The report for Americas Orthopedic Biomaterial Market of Market Research Future comprises of extensive primary research along with the detailed analysis of qualitative as well as quantitative aspects by various industry experts, key opinion leaders to gain the deeper insight of the market and industry performance. The report gives the clear picture of current market scenario which includes historical and projected market size in terms of value and volume, technological advancement, macro economical and governing factors in the market. The report provides details information and strategies of the top key players in the industry. The report also gives a broad study of the different markets segments and regions.
TABLE OF CONTENTS
1 REPORT PROLOGUE

2 MARKET INTRODUCTION

2.1 INTRODUCTION

2.2 SCOPE OF STUDY

2.3 RESEARCH OBJECTIVE

2.4 ASSUMPTIONS & LIMITATIONS

2.4.1 ASSUMPTIONS

2.4.2 LIMITATIONS

3 RESEARCH METHODOLOGY

3.1 RESEARCH PROCESS

3.2 PRIMARY RESEARCH

3.3 SECONDARY RESEARCH

4 MARKET DYNAMICS

4.1 DRIVERS

4.2 RESTRAINTS

5 MARKET FACTOR ANALYSIS

5.1 PORTER'S FIVE FORCES MODEL

5.1.1 BARGAINING POWER OF SUPPLIERS

5.1.2 BARGAINING POWER OF BUYERS

5.1.3 THREAT OF NEW ENTRANTS

5.1.4 THREAT OF SUBSTITUTES

5.1.5 INTENSITY OF RIVALRY

5.2 SUPPLY CHAIN ANALYSIS

6 AMERICAS ORTHOPEDIC BIOMATERIAL MARKET, BY TYPE OF MATERIAL

6.1 METAL

6.1.1 STAINLESS STEEL

6.1.2 TITANIUM ALLOY

6.1.3 COBALT ALLOY

6.1.4 OTHERS

6.2 NON- METAL

6.2.1 CERAMIC

6.2.1.1 ALUMINA

6.2.1.2 CALCIUM PHOSPHATE

6.2.1.3 ZIRCONIUM DIOXIDE

6.2.1.4 CARBON

6.2.1.5 OTHER

6.2.2 POLYMERIC

6.2.2.1 POLYMETHYLMETHACRYLATE (PMMA)

6.2.2.2 POLYETHYLENE

6.2.2.3 SILICONE

6.2.2.4 POLYESTER

6.2.2.5 OTHER

6.2.3 NATURAL BIOMATERIALS

6.2.3.1 COLLAGEN

6.2.3.2 CHITIN & CHITOSAN

6.2.3.3 OTHER

6.3 OTHERS.

7. AMERICAS ORTHOPEDIC BIOMATERIAL MARKET, BY APPLICATION

7.1 JOINT REPLACEMENT

7.1.1 HIP REPLACEMENT

7.1.2 KNEE REPLACEMENT

7.1.3 SHOULDER AND ELBOW REPLACEMENT

7.1.4 OTHER

7.2 FRACTURE FIXATION DEVICES

7.2.1 SCREWS

7.2.2 PLATES FOR BONES

7.2.3 RODS

7.2.4 OTHER

7.3 TISSUE FIXATION

7.3.1 INTERFERENCE SCREWS

7.3.2 SUTURE ANCHORS

7.3.3 OTHERS

7.4 SPINE IMPLANTS

7.5 VISCOSUPPLEMENTATION

7.6 OTHER

8 AMERICAS ORTHOPEDIC BIOMATERIAL MARKET, BY REGIONS

8.1 US

8.2 CANADA

8.3 REST OF AMERICA

9 COMPETITIVE LANDSCAPE

9.1 PRICING OF AMERICAS ORTHOPEDIC BIOMATERIAL MARKET

9.2 PRODUCTION CAPACITY OF MAJOR PLAYERS

10 COMPANY PROFILE

10.1 MATERION CORPORATION

10.1.1 OVERVIEW

10.1.2 PRODUCT/BUSINESS SEGMENT OVERVIEW

10.1.3 FINANCIAL UPDATES

10.1.4 KEY DEVELOPMENTS

10.2 CARPENTER TECHNOLOGY CORPORATION

10.2.1 OVERVIEW

10.2.2 PRODUCT/BUSINESS SEGMENT OVERVIEW

10.2.3 FINANCIAL UPDATES

10.2.4 KEY DEVELOPMENTS

10.3 ULBRICH STAINLESS STEEL & SPECIAL METALS, INC

10.3.1 OVERVIEW

10.3.2 PRODUCT/BUSINESS SEGMENT OVERVIEW

10.3.3 FINANCIAL UPDATES

10.4 CERADYNE

10.4.1 OVERVIEW

10.4.2 PRODUCT/BUSINESS SEGMENT OVERVIEW

10.4.3 FINANCIAL UPDATES

10.4.4 KEY DEVELOPMENT

10.5 HERAEUS MEDICAL COMPONENTS

10.5.1 OVERVIEW

10.5.2 PRODUCT/BUSINESS SEGMENT OVERVIEW

10.5.3 FINANCIAL UPDATES

10.5.4 KEY DEVELOPMENTS

10.6 OTHERS