Synopsis of Epichlorohydrin Market
Global Epichlorohydrin is expected to witness a significant growth of 2580.04 Kilo Tons by 2027 with a CAGR of 5.2% between 2019 and 2027.
Epichlorohydrin also known as ECH, chloromethyloxirane, 2, 3-epoxypropyl chloride, oxirane. Epichlorohydrin have features such as excellent resistance to hydrocarbon oils & fuels, excellent resistance to ozone & weathering, low solvent & gas permeability, and durability from low to high temperature. Epichlorohydrin is used mainly for the production of epoxy resins, synthetic glycerin, water treatment chemicals, and others. Substantial growth in the demand of epoxy resins for various end-user industries anticipated to drive the epichlorohydrin market and high demand of synthetic glycerin due to increasing applications projected to drive the epichlorohydrin market. Epichlorohydrin is irritating and moderately toxic when it gets contact with skin and if swalloed, also it is carcinogenic. Hence concern of regulatory bodies regarding dangerous effects of epichlorohydrin on health as well as environment expected to hamper the global epichlorohydrin market growth.
Global Epichlorohydrin Market (2018-2027) (Kilo Tons)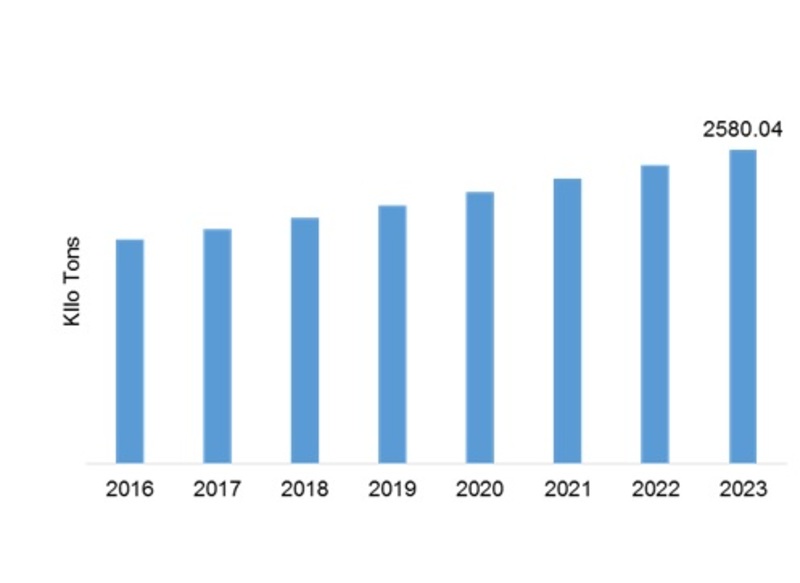 Regional Analysis
Asia Pacific is the largest market of epichlorohydrin due to demand in various applications such as epoxy resins and synthetic glycerin in China region followed by Japan. Increasing demand for epoxy resins and synthetic glycerin in the India, Taiwan, and South Korea has made Asia Pacific largest consumer of the global epichlorohydrin market followed by increasing in the consumption of epichlorohydrin market in Europe region. The third largest market of epichlorohydrin is North America. Latin America and Middle East also witnessed in growth of epichlorohydrin market due to various end user industry such as automotive, electronics, textiles, industrial, pharmaceutical, and others
Segmentation
The global epichlorohydrin market is majorly segmented on the basis of application, end users and region. Based on application of epichlorohydrin the market is segmented into epoxy resins, synthetic glycerin, water treatment chemicals, and others (elastomers, water-treatment resins, surfactants, ion exchange resins, plasticizers, dyestuffs, oil emulsifiers, lubricants, and adhesives). Based on end user the market segmented into automotive, electronics, textiles, pharmaceutical, construction industry, and others and based on region market is segmented into North America, Europe, APAC, Latin America, and Middle East & Africa.
Key Players
Key players of the global epichlorohydrin market are Solvay S.A. Chemicals company (Europe), Zachem SA (Europe), Samsung Fine Chemicals Co., Ltd. (Korea), Dow Chemical Company (US), Sumitomo Chemical Co. (Japan), Aditya Birla Chemicals (India), Osaka Soda Co., Ltd. (Japan), Formosa Plastics Corporation (US), Shandong Haili Chemical Industry Co. Ltd (China), NAMA Chemicals (Saudi Arabia), and others.
Geographic Analysis
The report covers brief analysis of geographical region such as: North America
Europe



Germany




France




Italy




Netherlands




U.K.




Rest of Europe



APAC



China




India




Japan




Rest of Asia-Pacific



RoW



South America




Middle East




Africa



The report about Global Epichlorohydrin Market by Market Research Future comprises of extensive primary research along with detail analysis of qualitative as well as quantitative aspects by various industry experts and key opinion leaders to gain a deeper insight of the market and industry performance. The report gives a clear picture of the current market scenario which includes past and estimated future market size in terms of value and volume, technological advancement, macro economical and governing factors in the market. The report further provides detail information about strategies used by top key players in the industry. It also gives a broad study about different market segments and regions.
Study Objectives of Epichlorohydrin Market



To provide detailed analysis of the market structure along with forecast for the next 7 years of the various segments and sub-segments of the Global Epichlorohydrin Market




To understand the supply and demand dynamics including supply and consumption concentration mapping




To provide region level market analysis and future outlook for North America, Europe, Asia, and Rest of the World (ROW) and their countries




To provide competitor positioning of the market




To provide company profiling of major players in the market along with their production and capacity




To provide regional trade analysis




To evaluate historical market trends, patents and technologies, and current government regulatory requirements that are relevant to the market



Intended Audience



Epichlorohydrin manufacturers




Traders and distributors of Epichlorohydrin




Production Process industries




Potential investors




Raw material suppliers




Nationalized laboratory



Frequently Asked Questions (FAQ) :
---