ePharmacy Market Overview
ePharmacy Market was valued at USD 62,587.0 Million in 2019 and is expected to register a CAGR of 12.5% during the forecast period of 2020 to 2027.
An E-Pharmacy is a pharmacy that operates over the internet and sends orders to customers through mail or shipping companies. The growth of the online pharmacies can be acknowledged from the following examples. The electronic prescription service (EPS) was aimed at rolling out in November 2019, according to the Department of Health, UK, claiming it would save the NHS through increasing efficiencies, reducing the amount of paper processing required, and reducing prescribing errors. In January 2019, Ping An Good Doctor, a one-stop healthcare ecosystem platform from China, announced that it had placed its One-minute Clinics across 8 provinces and cities in China and signed service contracts for nearly 1,000 units, providing healthcare services to more than 3 million users. Every One-minute Clinic has more than 100 categories of common drugs, all of which are cryogenically refrigerated to ensure their quality. New York in 2016 took the step of requiring prescribers to use electronic transmission of prescriptions to pharmacies.
Factors such as the convenience provided in the delivery of medication discounted price, and laws favoring the adoption of ePharmacy, are driving the growth of the ePharmacy market. Additionally, rising investment for small companies is also driving the growth of the ePharmacy market. However, the rising number of counterfeit online pharmacies is posing as a challenge for the growth of the ePharmacy market.
Market Dynamics
An online pharmacy, internet pharmacy, or mail-order pharmacy is a pharmacy that operates over the Internet and sends orders to customers through mail, shipping companies, or online pharmacy web portal. Key players operating in the ePharmacy market to provide cost-efficient and timely services to survive and succeed in an intensely competitive and growing market environment.
A shift in consumer preference toward the online purchase of medicines and rising penetration of high-speed internet is driving the growth of the ePharmacy market. An increase in the number of online pharmacies and the booming pharmaceutical industry further anticipates the ePharmacy market growth. As of January 2020, 50+ start-ups are operating in e-Pharmacy space in India, which provides quality and affordable medicines to about 5,000,000 patients per month across the country. The number of ePharmacy has grown with the rising investment in the sector. Stockholm-based online pharmacy Meds raised USD 5.7 million in a round led by Inbox Capital.
E-Pharmacy improves purchaser's comfort and access, this will above all advantage endless old-age patients living in family units, and patients who are not in a condition to go out to discover a drug store. Globally, the population aged 65 and over is growing faster than all other age groups. According to data from World Population Prospects: the 2019 Revision, by 2050, one in six people in the world will be over age 65 (16%), up from one in 11 in 2019 (9%). The number of people aged 65 or more living in nursing homes is huge and suffering from chronic conditions such as diabetes, arthritis, eye diseases, or cognitive impairment. About 1.4 to 1.5 million people were living in nursing homes in the state according to research conducted by the Ohio State University Wexner Medical Center. The large number of geriatric populations suffering from chronic disease is expected to fuel ePharmacy market growth.
Global ePharmacy Market Share, by Drug Type, 2019 (%)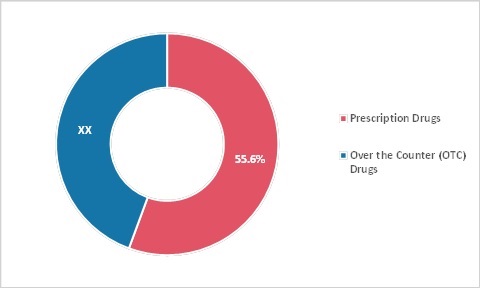 Source: MRFR Analysis
Segmentation
Global ePharmacy Market has been divided based on Drug Type, Operating Platform, and Business Model.
The ePharmacy market, based on Drug Type, has been segregated into prescription drugs and over the counter (OTC) drugs. The prescription drugs segment accounted for the largest market share of 55.6% in 2019. This largest share can be attributed to its preference as compared to over the counter drugs.
The ePharmacy market, based on operating platform, has been segregated into app and website. The app segment accounted for the largest market share of 57.6% in 2019. The rising number of retail pharmacies launching apps for the delivery of products globally is the key factor owing to the growth of this segment.
On the basis of business model, the ePharmacy market is segregated into the marketplace, pharmacy, and direct. The marketplace segment accounted for the largest market share with a value of USD 33,222.2 million in 2019 due to the increasing number of customers buying medications and refilling it online.
Global ePharmacy Market Share, by Region, 2019 (%)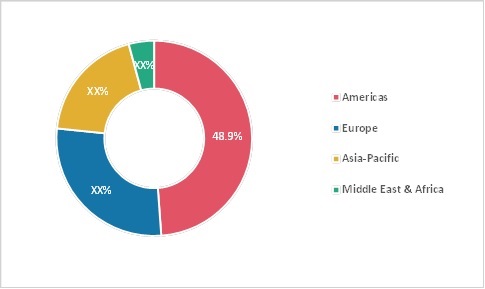 Source: MRFR Analysis
Regional Analysis
Global ePharmacy market, based on region, has been divided into the Americas, Europe, Asia-Pacific, and the Middle East & Africa. The Americas are likely to dominate the global ePharmacy market owing to the presence of major manufacturers, raising awareness, and rising product launches by major players in the region. In 2019, the Americas accounted for the largest market share of 48.9% in the global ePharmacy market. This large share is majorly attributed to the presence of major ePharmacy players, and reliance of the general population on the online delivery of consumable goods. According to the most recent Statistics Canada report, retail e-commerce sales reached USD 2.3 billion in November, accounting for 4.2% of total retail trade. On a year-over-year basis, retail e-commerce increased by 20.1%, while total unadjusted retail sales rose 1.1%.
Europe held a substantial share in the global ePharmacy market. The ePharmacy market in Europe is expected to propel during the forecast period, owing to factors such as increasing online orders, the rapid increase in e-commerce, rising prevalence of chronic diseases, an increase in the geriatric population, and well-developed IT infrastructures. For instance, according to NCBI in Europe, the amount of online pharmacies is continuously increasing, while the amount of physical pharmacies is slightly decreasing (21,602 pharmacies in the year 2008) with only 20,441 operating public pharmacies in 2015. Glovo is a Spanish start-up founded in Barcelona in 2015. It is an on-demand courier service that purchases, picks up, and delivers products ordered through its mobile app. In Spain, the company observed a 60% growth in pharmaceutical orders during the pandemic of coronavirus. As of April 2020, it has provided around 133,000 masks, 71,000 pairs of gloves, and 2,500 liters of hand sanitizer gel worldwide through couriers.
The fast growth of the Asia-Pacific region is due to rising diabetes cases and the increasing per capita income along with government initiatives to enhance the quality of healthcare. China, India, and Australia have a lucrative market for ePharmacy due to the growing older population. Moreover, according to the report published by the United Nations in 2015, the number of older people aged 60 years or above in the world is predicted to grow by 56% between 2015 and 2030. Nearly 66% of the older population out of the total global population would also reside in the Asia-Pacific region. The increasing geriatric population will lead to an increase in metabolic disorders, which will, in turn, increase the patient population in need of delivery of medications and lead to growth in the ePharmacy market.
The ePharmacy market growth in the Middle East & Africa can be attributed to the novel public-private partnerships (PPP) business model, developing healthcare infrastructure, and government support. South Africa's Gauteng department of health in partnership with Right to Care and Right ePharmacy launched a groundbreaking "ATM pharmacy" also known as pharmacy dispensing unit (PDU). Right ePharmacy is an innovative, strategic solution provider for the dispensing, distribution, and collection of medicine. Right ePharmacy is the center of excellence for its parent company, Right to Care, spearheading disruptive innovation, and enhancing differentiated models of pharmaceutical care in Africa. So far 16 pharmacy dispensing units have been installed near shopping malls in Alexandra, Soweto, and Diepsloot townships in Johannesburg, and have served thousands of patients between March and the end of May. During 2018, medication was picked up 19,352 times from PDUs.
Key Players
The Prominent Players in the Global ePharmacy Market are 3M, B. Braun Melsungen AG, Baxter International INC, Smith & Nephew Plc, Cardinal Health, Coloplast Corp., ConvaTec Group Plc, Integra Lifesciences Holdings Corporation, Mölnlycke Health Care AB and Avery Dennison Corporation.
Market Segmentation
ePharmacy Market, by Drug type
ePharmacy Market, by operating platform
ePharmacy Market, by Business model



Hospitals and Clinics




Home Care Settings




Others



ePharmacy Market, by Region



Americas







North America







Latin America











Europe







Western Europe







Germany




UK




France




Italy




Spain




Rest of Western Europe









Eastern Europe











Asia-Pacific







China




Japan




India




Australia




South Korea




Rest of Asia-Pacific








Available Additional Customizations



Additional 5 Company Profiles



Intended Audience
Report Scope:
Report Attribute/Metric
Details
Market Size
2019: USD 62,587.0 Million
2027: Significant Value
CAGR
12.5% (2020-2027)
Base Year
2019
Forecast Period
2020-2027
Historical Data
2018
Forecast Units
Value (USD Million)
Report Coverage
Revenue Forecast, Competitive Landscape, Growth Factors, and Trends
Segments Covered
Drug Type, Operating platform, Business model and Region
Geographies Covered
North America, Europe, Asia-Pacific, and Rest of the World (RoW)
Key Vendors
3M, B. Braun Melsungen AG, Baxter International INC, Smith & Nephew Plc, Cardinal Health, Coloplast Corp., ConvaTec Group Plc, Integra Lifesciences Holdings Corporation, Mölnlycke Health Care AB and Avery Dennison Corporation
Key Market Opportunities
Low penetration of advanced technology
The rapid increase in e-commerce
Rising prevalence of chronic diseases
An increase in the geriatric population and well-developed IT infrastructures.
Key Market Drivers
Increasing online orders
The convenience provided in the delivery of medication discounted price
Laws favoring the adoption of ePharmacy
Rising investment for small companies
The rising number of counterfeit online pharmacies
Frequently Asked Questions (FAQ) :
---