Effervescent Packaging Market Scenario:
Effervescent packaging market is expected to grow at a CAGR of 7.1% during the forecast period.
On the basis of regions, global effervescent packaging market is segmented as North America, Europe, Asia-Pacific and Rest of the World (RoW). Europe dominates the global effervescent packaging market. Countries such as Germany, France and U.K. have a very high healthcare expenditure. Rising consumer demand in preventive health and increased spending by the government on healthcare are some factors driving the growth of the market. North America is the second largest region in the market. It is expected to grow at the highest CAGR during the forecast period. Continuously growing pharmaceutical market in North America region has a positive influence on the growth of the market.
Key Players:
The prominent players in the effervescent Packaging market include Sanner GmbH (Germany), Romaco Pharmatechnik GmbH (Germany), Nutrilo GmbH (Germany), Unither Pharmaceuticals (France), Amerilab Technologies, Inc. (U.S.), Hebei Xinfuda Plastic Products Co., Ltd. (China), Parekhplast India Ltd. (India), Zhejiang Sorfa Life Science Research Co., Ltd (China), and GEA Group (Germany).
Segmentation: Global Effervescent Packaging Market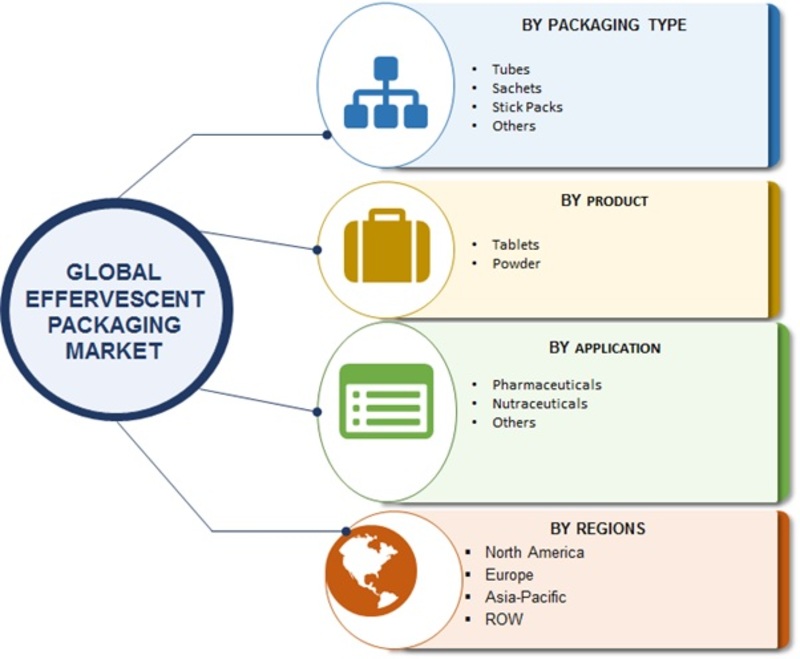 The global effervescent packaging market has been segmented based on packaging type, product, application and region. On the basis of packaging type, the market is segmented as tubes, sachets, stick packs, and others. The Tubes segment dominates the packaging type segment of the market. Effervescent tablet tubes are non-toxic and immune to microbiological attack. Additionally, these tubes are customer friendly and optimal for daily use. On the basis of product, the market is segmented as tablets and powder. The tablets segment dominates the product segment of the market. Effervescent tablets are a widely used dosage form in the pharmaceutical industry, for example for treating pain, fever or respiratory diseases. These tablets ease the intake of medicines for patients, especially for those with difficulty in swallowing. Powder product is also expected to contribute significantly during the forecast period.
Effervescent Packaging is used for packing effervescent tablets and powders. Effervescent tablets are high on vitamin content, and in contact with liquid, they break up and form a solution.
The report for global effervescent packaging market of Market Research Future comprises of extensive primary research along with the detailed analysis of qualitative as well as quantitative aspects by various industry experts, key opinion leaders to gain the deeper insight of the market and industry performance. The report gives the clear picture of current market scenario which includes historical and projected market size in terms of value, technological advancement, macro economical and governing factors in the market. The report provides details information and strategies of the top key players in the industry. The report also gives a broad study of the different market segments and regions.
Report Scope:
Report Attribute/Metric
Details
Market Size
2027: Significant Value
CAGR
7.1% CAGR (2020-2027)
Base Year
2019
Forecast Period
2020-2027
Historical Data
2018
Forecast Units
Value (USD Million)
Report Coverage
Revenue Forecast, Competitive Landscape, Growth Factors, and Trends
Segments Covered
Packaging Type, Product, Application
Geographies Covered
North America, Europe, Asia-Pacific, and Rest of the World (RoW)
Key Vendors
Sanner GmbH (Germany), Romaco Pharmatechnik GmbH (Germany), Nutrilo GmbH (Germany), Unither Pharmaceuticals (France), Amerilab Technologies, Inc. (U.S.), Hebei Xinfuda Plastic Products Co., Ltd. (China), Parekhplast India Ltd. (India), Zhejiang Sorfa Life Science Research Co., Ltd (China), and GEA Group (Germany)
Key Market Opportunities
Continuously growing pharmaceutical market
Positive influence on the growth
Key Market Drivers
Rising consumer demand in preventive health
Increased spending by the government on healthcare
Frequently Asked Questions (FAQ) :
---