Market Synopsis
Global Discrete Semiconductor Market is expected to grow from USD 21.63 Billion in 2018 to USD 44 Billion by 2025, at a CAGR of 11% during the forecast period. Nowadays, electronic manufacturers are looking for components that are fast, small, and capable of improving the efficiency of the product. Discrete components including various types of diodes, transistors, thyristors, and modules fulfill these requirements. Thus, the growing need for high-energy and power-efficient devices is driving the growth of discrete semiconductor market. Additionally, growing demand for MOSFETs and IGBTs in electronics and automobiles is boosting the growth of the market. Thus, the increased demand for discrete semiconductors from consumer electronics and the automotive industry is a major factor responsible for market growth. Consumer electronics manufacturers are heavily spending in the research and development to provide better products to their customers. This is expected to impact the demand for discrete semiconductors during the forecast period. Furthermore, the demand for green energy power generation drives is further expected to fuel the growth of the market in the coming years. However, the inclination of product manufacturers toward integrated circuits is expected to hamper the growth of the market.
Discrete semiconductors comprise discrete components such as diodes, transistors, and modules among others that are used in amplifiers and other electronic products that need large amounts of current. On a circuit board, these semiconductors are intermingled with the chips. Almost all the electronic product consists of at least one or two discrete resistors or capacitors. It is designed to perform elementary electronic functions and is not divisible into separate components to function independently, instead they are connected together on some kind of circuit board or terminal strip. Discrete semiconductors are ideal for operating in a wide temperature range and environments, and thus, can be integrated into devices or systems that are used in aerospace, industrial, and military applications.
Key Developments



In August 2019

, Diodes Incorporated acquired On Semiconductor Corporation to broadens Diodes' discrete and bipolar IC product offerings in Asia with a complementary product portfolio






In April 2019

, ROHM Semiconductor acquired

part of the diode and transistor business of Panasonic Semiconductor Solutions to expand its business in bipolar transistors, circuit protective Zener diodes, TVS diodes, and other products






In March 2019

, Toshiba Electronic Devices & Storage Corporation (TDSC) consolidated its two subsidiaries, Toshiba Microelectronics Corporation (TOSMEC) and Toshiba Discrete Semiconductor Technology Corporation (TDIT), into a new company, called Toshiba Electronic Device Solutions Corporation (TEDS) to strengthen the capabilities in proposing solutions and bringing greater efficiency to R&D for the semiconductor business. The TDIT business covers product development and technical sales for discrete semiconductors and is responsible for product planning, product development, failure analysis and solution proposals for the semiconductor business



Segmentation
The Global Discrete Semiconductor Market has been segmented based on type, end-user, and region.
On the basis of type, the market has been segmented into diodes, transistors, thyristors, and modules. The diodes segment has been sub-segmented into general-purpose rectifiers, high-speed rectifiers, switching diodes, Zener diodes, ESD protection diodes, and variable-capacitance diodes. The transistors segment has been further segmented into MOSFET, IGBT, and bipolar transistors.
Based on end-user, the market has been segmented into automotive, consumer electronics, communication, industrial, and others.
The global discrete semiconductor market, by region, has been classified into North America, Europe, Asia-Pacific, the Middle East & Africa, and Central and South America.
Regional Analysis
The Global Discrete Semiconductor Market is projected to grow at a significant rate during the forecast period from 2019 to 2025. The geographic analysis of the discrete semiconductor market has been done for North America, Europe, Asia-Pacific, the Middle East & Africa, and Central and South America.
Asia-Pacific region dominates the discrete semiconductor market owing to the strong presence of semiconductor industries in China, Taiwan, South Korea, and India. North America and Europe are also expected to hold significant share in this market due to the growing development of AI-based semiconductors and continuous demand for semiconductors from the automotive industry.
Discrete Semiconductor Market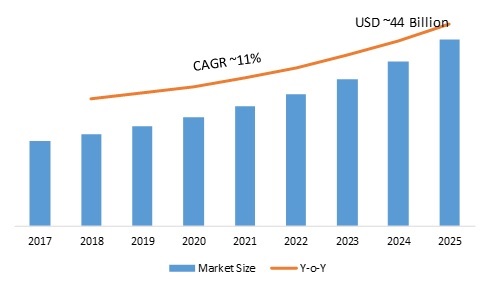 Source: MRFR Analysis
Competitive Analysis
The demand for discrete devices is exceeding supply owing to the increasing demand for better and efficient components from communications, consumer electronics, and other equipment makers. The key players in the market are acquiring other companies who specifically deal with these products to boost the market share and increase their customer base. The semiconductor market is expected to stay competitive in terms of innovations, product development, and supply chain opportunities. Therefore, manufacturers have started shifting their core businesses from low-cost production areas to technology-based high-value product lines to increase their sales.
Key Players
The Key Players in the Discrete Semiconductor Market are ABB Ltd (Switzerland), On Semiconductor Corporation (US), Infineon Technologies AG (Germany), STMicroelectronics NV (Switzerland), Toshiba Electronic (Japan), NXP Semiconductors NV (Netherlands), Diodes Incorporated (US), Nexperia BV (Netherlands), Qualcomm Incorporated (US), D3 Semiconductor LLC (US), Eaton Corporation PLC (Ireland), Hitachi Ltd (Japan), Mitsubishi Electric Corp. (Japan), Fuji Electric Corp. (US), Murata Manufacturing Co. Ltd (Japan), and Taiwan Semiconductor Manufacturing Company Ltd (Taiwan).
Intended Audience



Component manufacturers and distributors




Row material providers




Device distributors




Device manufacturers




Cockpit electronics manufacturers




Industry associations




Technology providers




Original equipment manufacturers




Equipment distributors and suppliers




Technology standards organizations




Technology investors




System Integrators




Research institutes, organizations, and consulting companies



Report Scope:
Report Attribute/Metric
Details
Market Size
USD 44 Billion
CAGR
11%
Base Year
2019
Forecast Period
2020-2027
Historical Data
2018
Forecast Units
Value (USD Billion)
Report Coverage
Revenue Forecast, Competitive Landscape, Growth Factors, and Trends
Segments Covered
Type, End User
Geographies Covered
North America, Europe, Asia-Pacific, and Rest of the World (RoW)
Key Vendors
ABB Ltd (Switzerland), On Semiconductor Corporation (US), Infineon Technologies AG (Germany), STMicroelectronics NV (Switzerland), Toshiba Electronic (Japan), NXP Semiconductors NV (Netherlands), Diodes Incorporated (US), Nexperia BV (Netherlands), Qualcomm Incorporated (US), D3 Semiconductor LLC (US), Eaton Corporation PLC (Ireland), Hitachi Ltd (Japan), Mitsubishi Electric Corp. (Japan), Fuji Electric Corp. (US), Murata Manufacturing Co. Ltd (Japan), and Taiwan Semiconductor Manufacturing Company Ltd (Taiwan)
Key Market Opportunities
The growing development of AI-based semiconductors and continuous demand for semiconductors from the automotive industry.
Key Market Drivers
The growing need for high-energy and power-efficient devices.
Growing demand for MOSFETs and IGBTs in electronics and automobiles
Speak to Analyst
Ask for Customization
Frequently Asked Questions (FAQ) :
---