Global Cloud Computing Market research report by cloud service type (SaaS, PaaS, IaaS), deployment model (private cloud, public cloud, hybrid cloud, community cloud), application (government, banking, healthcare) – Forecast till 2027
Market Synopsis
Cloud computing is a shared computing resources rather than having local servers or personal devices to handle applications. Cloud computing boasts several attractive benefits for businesses and end users. Some of them are self service provisioning, elasticity, pay per use, workload resilience, and migration flexibility.
The cloud's main appeal is to reduce the time to market of applications that need to scale dynamically. Increasingly, however, developers are drawn to the cloud computing due to various advanced new services that can be incorporated into applications such as from machine learning to internet-of-things connectivity.
Businesses migrate legacy applications to the cloud to reduce data center resource requirements, the real benefits accrue to new applications that take advantage of cloud services and cloud native attributes. The latter include microservices architecture, Linux containers to enhance application portability, and container management solutions such as Kubernetes that orchestrate container-based services. Cloud-native approaches and solutions can be part of either public or private clouds and help enable highly efficient DevOps-style workflows.
Cloud computing can be divided into several sub-categories depending on the physical location of the computing resources and users. Public cloud vendors offer their computing services to anyone in the general public. They maintain large data centers full of computing hardware, and their customers share access to that hardware. By contrast, a private cloud is a cloud environment set aside for the exclusive use of one organization. Some large enterprises choose to keep some data and applications in a private cloud for security reasons, and some are required to use private clouds in order to comply with various regulations. A hybrid cloud is a combination of both a public and private cloud with some level of integration between the two. For example, in a practice called "cloud bursting" a company may run Web servers in its own private cloud most of the time and use a public cloud service for additional capacity during times of peak use.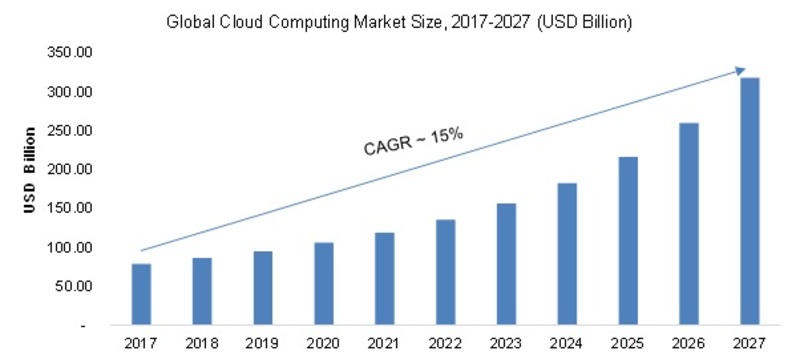 The global cloud computing market is expected to grow at 15% CAGR through the forecast period
Segmentation
The market for global cloud computing is segmented on the basis of cloud service type, deployment model, application and region. On the basis of cloud service type the segment is further classified into software as a service (SaaS), platform as a service (PaaS), and infrastructure as a service (IaaS) among others. On the basis of deployment model the segment is further classified into private cloud, public cloud, hybrid cloud and community cloud. The cloud computing is having wide range of application areas such as government, BFSI, healthcare and many more.
Key Findings



Joyent, a software and Services Company, a serverless microservices platform, recently announced they are teaming up to support multi-cloud serverless applications. The partnership provides an alternative to AWS Lambda, Google Functions, Azure Functions and IBM OpenWhisk.




Amazon last month quietly started offering enterprise customers its own version of Linux called Linux 2. Customers can run Linux 2 in Amazon's cloud or on their own in-house servers.



Regional Analysis
North America, especially U.S. cloud computing market size accounted for over 50% total share of global cloud computing market. Since North America is home to largest companies in terms of revenue which includes Amazon web service, Salesforce, Google, Microsoft, IBM and other major companies are the main reason for the growth. In Asia Pacific the cloud computing market is expected to grow at a very rapid speed. The key underlying theme across the markets is the increase in demand for managed cloud services. This arises due to Big Data and complex workloads being increasingly migrated to cloud platforms. In addition, enterprises are also turning to third-party service providers to better address their cloud security concerns.
Some of the major players in Global Cloud Computing Market include Akamai Technologies Inc. (U.S.), Amazon Web Services LLC (U.S.), CA Technologies (U.S.), Dell Inc. (U.S.), Flexiant Ltd. (U.K.), Google Inc. (U.S.), Hewlett-Packard Development Company L.P. (U.S.), IBM Corporation (U.S.), Joyent Inc. (U.S.), and Microsoft Corporation (U.S.) among others.
Intended Audience



Hardware Providers




Research organization




Software Providers




Application Developers



TABLE OF CONTENTS

1 Executive Summary

2 Scope of the Report

2.1 Market Definition

2.2 Scope of the Study

2.2.1 Research Objectives

2.2.2 Assumptions & Limitations

2.3 Markets Structure

3 Market Research Methodology

3.1 Research Process

3.2 Secondary Research

3.3 Primary Research

3.4 Forecast Model

4 Market Landscape

4.1 Porter's Five Forces Analysis

4.1.1 Threat of New Entrants

4.1.2 Bargaining power of buyers

4.1.3 Threat of substitutes

4.1.4 Segment rivalry

4.2 Value Chain/Supply Chain of Global Cloud Computing Market

5 Industry Overview of Global Cloud Computing Market

5.1 Introduction

5.2 Growth Drivers

5.3 Impact analysis

5.4 Market Challenges

6 Market Trends

6.1 Introduction

6.2 Growth Trends

6.3 Impact analysis

7. Global Cloud Computing Market by Cloud Service Type

7.1 Introduction

7.2 Software as a service (SaaS)

7.2.1 Market Estimates & Forecast, 2017-2023

7.2.2 Market Estimates & Forecast by Region, 2017-2023

7.3 Platform as a service (PaaS)

7.3.1 Market Estimates & Forecast, 2017-2023

7.3.2 Market Estimates & Forecast by Region, 2017-2023

7.4 Infrastructure as a service (IaaS)

7.4.1 Market Estimates & Forecast, 2017-2023

7.4.2 Market Estimates & Forecast by Region, 2017-2023
8. Global Cloud Computing Market by Deployment Model

8.1 Introduction

8.2 Private cloud

8.2.1 Market Estimates & Forecast, 2017-2023

8.2.2 Market Estimates & Forecast by Region, 2017-2023

8.3 Public cloud

8.3.1 Market Estimates & Forecast, 2017-2023

8.3.2 Market Estimates & Forecast by Region, 2017-2023

8.4 Hybrid cloud

8.4.1 Market Estimates & Forecast, 2017-2023

8.4.2 Market Estimates & Forecast by Region, 2017-2023

8.5 Community cloud

8.5.1 Market Estimates & Forecast, 2017-2023

8.5.2 Market Estimates & Forecast by Region, 2017-2023


9. Global Cloud Computing Market by Application

9.1 Introduction

9.2 Government

9.2.1 Market Estimates & Forecast, 2017-2023

9.2.2 Market Estimates & Forecast by Region, 2017-2023

9.3 BFSI

9.3.1 Market Estimates & Forecast, 2017-2023

9.3.2 Market Estimates & Forecast by Region, 2017-2023

9.4 Healthcare

9.4.1 Market Estimates & Forecast, 2017-2023

9.4.2 Market Estimates & Forecast by Region, 2017-2023

9.5 Others

9.5.1 Market Estimates & Forecast, 2017-2023

9.5.2 Market Estimates & Forecast by Region, 2017-2023


10. Global Cloud Computing Market by Region

10.1 Introduction

10.2 North America

10.2.1 Market Estimates & Forecast, 2017-2023

10.2.2 Market Estimates & Forecast by Cloud Service Type, 2017-2023

10.2.3 Market Estimates & Forecast by Deployment Model, 2017-2023

10.2.4 Market Estimates & Forecast by Application, 2017-2023

10.2.5 U.S.

10.2.5.1 Market Estimates & Forecast, 2017-2023

10.2.5.2 Market Estimates & Forecast by Cloud Service Type, 2017-2023

10.2.5.3 Market Estimates & Forecast by Deployment Model, 2017-2023

10.2.5.4 Market Estimates & Forecast by Application, 2017-2023
10.2.6 Mexico

10.2.6.1 Market Estimates & Forecast, 2017-2023

10.2.6.2 Market Estimates & Forecast by Cloud Service Type, 2017-2023

10.2.6.3 Market Estimates & Forecast by Deployment Model, 2017-2023

10.2.6.4 Market Estimates & Forecast by Application, 2017-2023
10.2.7 Canada

10.2.7.1 Market Estimates & Forecast, 2017-2023

10.2.7.2 Market Estimates & Forecast by Cloud Service Type, 2017-2023

10.2.7.3 Market Estimates & Forecast by Deployment Model, 2017-2023

10.2.7.4 Market Estimates & Forecast by Application, 2017-2023
10.3 Europe

10.3.1 Market Estimates & Forecast, 2017-2023

10.3.2 Market Estimates & Forecast by Cloud Service Type, 2017-2023

10.3.3 Market Estimates & Forecast by Deployment Model, 2017-2023

10.3.4 Market Estimates & Forecast by Application, 2017-2023

10.3.5 Germany

10.3.5.1 Market Estimates & Forecast, 2017-2023

10.3.5.2 Market Estimates & Forecast by Cloud Service Type, 2017-2023

10.3.5.3 Market Estimates & Forecast by Deployment Model, 2017-2023

10.3.5.4 Market Estimates & Forecast by Application, 2017-2023
10.3.6. France

10.3.6.1 Market Estimates & Forecast, 2017-2023

10.3.6.2 Market Estimates & Forecast by Cloud Service Type, 2017-2023

10.3.6.3 Market Estimates & Forecast by Deployment Model, 2017-2023

10.3.6.4 Market Estimates & Forecast by Application, 2017-2023
10.3.7 Italy

10.3.7.1 Market Estimates & Forecast, 2017-2023

10.3.7.2 Market Estimates & Forecast by Cloud Service Type, 2017-2023

10.3.7.3 Market Estimates & Forecast by Deployment Model, 2017-2023

10.3.7.4 Market Estimates & Forecast by Application, 2017-2023
10.3.8 Spain

10.3.8.1 Market Estimates & Forecast, 2017-2023

10.3.8.2 Market Estimates & Forecast by Cloud Service Type, 2017-2023

10.3.8.3 Market Estimates & Forecast by Deployment Model, 2017-2023

10.3.8.4 Market Estimates & Forecast by Application, 2017-2023
10.3.9 U.K

10.3.9.1 Market Estimates & Forecast, 2017-2023

10.3.9.2 Market Estimates & Forecast by Cloud Service Type, 2017-2023

10.3.9.3 Market Estimates & Forecast by Deployment Model, 2017-2023

10.3.9.4 Market Estimates & Forecast by Application, 2017-2023
10.4 Asia Pacific

10.4.1 Market Estimates & Forecast, 2017-2023

10.4.2 Market Estimates & Forecast by Cloud Service Type, 2017-2023

10.4.3 Market Estimates & Forecast by Deployment Model, 2017-2023

10.4.4 Market Estimates & Forecast by Application, 2017-2023

10.4.5 China

10.4.5.1 Market Estimates & Forecast, 2017-2023

10.4.5.2 Market Estimates & Forecast by Cloud Service Type, 2017-2023

10.4.5.3 Market Estimates & Forecast by Deployment Model, 2017-2023

10.4.5.4 Market Estimates & Forecast by Application, 2017-2023

10.4.6 India

10.4.6.1 Market Estimates & Forecast, 2017-2023

10.4.6.2 Market Estimates & Forecast by Cloud Service Type, 2017-2023

10.4.6.3 Market Estimates & Forecast by Deployment Model, 2017-2023

10.4.6.4 Market Estimates & Forecast by Application, 2017-2023

10.4.7 Japan

10.4.7.1 Market Estimates & Forecast, 2017-2023

10.4.7.2 Market Estimates & Forecast by Cloud Service Type, 2017-2023

10.4.7.3 Market Estimates & Forecast by Deployment Model, 2017-2023

10.4.7.4 Market Estimates & Forecast by Application, 2017-2023

10.4.8 Rest of Asia Pacific

10.4.8.1 Market Estimates & Forecast, 2017-2023

10.4.8.2 Market Estimates & Forecast by Cloud Service Type, 2017-2023

10.4.8.3 Market Estimates & Forecast by Deployment Model, 2017-2023

10.4.8.4 Market Estimates & Forecast by Application, 2017-2023

10.5 Rest of the world

10.5.1 Market Estimates & Forecast, 2017-2023

10.5.2 Market Estimates & Forecast by Cloud Service Type, 2017-2023

10.5.3 Market Estimates & Forecast by Deployment Model, 2017-2023

10.5.4 Market Estimates & Forecast by Application, 2017-2023

10.5.5 The Middle East & Africa

10.5.5.1 Market Estimates & Forecast, 2017-2023

10.5.5.2 Market Estimates & Forecast by Cloud Service Type, 2017-2023

10.5.5.3 Market Estimates & Forecast by Deployment Model, 2017-2023

10.5.5.4 Market Estimates & Forecast by Application, 2017-2023
10.5.6 Latin Countries

10.5.6.1 Market Estimates & Forecast, 2017-2023

10.5.6.2 Market Estimates & Forecast by Cloud Service Type, 2017-2023

10.5.6.3 Market Estimates & Forecast by Deployment Model, 2017-2023

10.5.6.4 Market Estimates & Forecast by Application, 2017-2023
11. Company Landscape

12. Company Profiles

12.1 Akamai Technologies Inc. (U.S.)

12.1.1 Company Overview

12.1.2 Deployment Model/Business Segment Overview

12.1.3 Financial Updates

12.1.4 Key Developments

12.2 Amazon Web Services LLC (U.S.)

12.2.1 Company Overview

12.2.2 Deployment Model/Business Segment Overview

12.2.3 Financial Updates

12.2.4 Key Developments

12.3 CA Technologies (U.S.)

12.3.1 Company Overview

12.3.2 Deployment Model/Business Segment Overview

12.3.3 Financial Updates

12.3.4 Key Developments

12.4 Dell Inc. (U.S.)

12.4.1 Company Overview

12.4.2 Deployment Model/Business Segment Overview

12.4.3 Financial Updates

12.4.4 Key Developments

12.5 Flexiant Ltd. (U.K.)

12.5.1 Company Overview

12.5.2 Deployment Model/Business Segment Overview

12.5.3 Financial Updates

12.5.4 Key Developments

12.6 Google Inc. (U.S.)

12.6.1 Company Overview

12.6.2 Deployment Model/Business Segment Overview

12.6.3 Financial Updates

12.6.4 Key Developments

12.7 Hewlett-Packard Development Company L.P. (U.S.)

12.7.1 Company Overview

12.7.2 Deployment Model/Business Segment Overview

12.7.3 Financial Updates

12.7.4 Key Developments

12.8 IBM Corporation (U.S.)

12.8.1 Company Overview

12.8.2 Deployment Model/Business Segment Overview

12.8.3 Financial Updates

12.8.4 Key Developments

12.9 Joyent Inc. (U.S.)

12.9.1 Company Overview

12.9.2 Deployment Model/Business Segment Overview

12.9.3 Financial Updates

12.9.4 Key Developments

12.10 Microsoft Corporation (U.S.)

12.10.1 Company Overview

12.10.2 Deployment Model/Business Segment Overview

12.10.3 Financial Updates

12.10.4 Key Developments
13 Conclusion

 



LIST OF TABLES
Table 1 Global Cloud Computing Market: By Region, 2017-2023

Table 2 North America Cloud Computing Market: By Country, 2017-2023

Table 3 Europe Cloud Computing Market: By Country, 2017-2023

Table 4 Asia-Pacific Cloud Computing Market: By Country, 2017-2023

Table 5 Middle East & Africa Cloud Computing Market: By Country, 2017-2023

Table 6 Latin America Cloud Computing Market: By Country, 2017-2023

Table 7 Global Cloud Computing by Cloud Service Type Market: By Regions, 2017-2023

Table 8 North America Cloud Computing by Cloud Service Type Market: By Country, 2017-2023

Table 9 Europe Cloud Computing by Cloud Service Type Market: By Country, 2017-2023

Table10 Asia-Pacific Cloud Computing by Cloud Service Type Market: By Country, 2017-2023

Table11 Middle East & Africa Cloud Computing by Cloud Service Type Market: By Country, 2017-2023

Table12 Latin America Cloud Computing by Cloud Service Type Market: By Country, 2017-2023

Table13 Global Cloud Computing by Deployment Model Market: By Regions, 2017-2023

Table14 North America Cloud Computing by Deployment Model Market: By Country, 2017-2023

Table15 Europe Cloud Computing by Deployment Model Market: By Country, 2017-2023

Table16 Asia-Pacific Cloud Computing by Deployment Model Market: By Country, 2017-2023

Table17 Middle East & Africa Cloud Computing by Deployment Model Market: By Country, 2017-2023

Table18 Latin America Cloud Computing by Deployment Model Market: By Country, 2017-2023

Table19 North America Cloud Computing for Form Market: By Country, 2017-2023

Table20 Europe Cloud Computing for Form Market: By Country, 2017-2023

Table21 Asia-Pacific Cloud Computing for Form Market: By Country, 2017-2023

Table22 Middle East & Africa Cloud Computing for Form Market: By Country, 2017-2023

Table23 Latin America Cloud Computing for Form Market: By Country, 2017-2023

Table24 Global Cloud Service Type Market: By Region, 2017-2023

Table25 North America Cloud Computing Market, By Country

Table26 North America Cloud Computing Market, By Cloud Service Type

Table27 North America Cloud Computing Market, By Deployment Model

Table28 North America Cloud Computing Market, By Application

Table29 Europe: Cloud Computing Market, By Country

Table30 Europe: Cloud Computing Market, By Cloud Service Type

Table 31 Europe: Cloud Computing Market, By Deployment Model

Table32Europe Cloud Computing Market, By Application

Table33 Asia-Pacific: Cloud Computing Market, By Country

Table34 Asia-Pacific: Cloud Computing Market, By Cloud Service Type

Table 35 Asia-Pacific: Cloud Computing Market, By Deployment Model

Table36 Asia-Pacific Cloud Computing Market, By Application

Table37 Middle East & Africa: Cloud Computing Market, By Country

Table38 Middle East & Africa Cloud Computing Market, By Cloud Service Type

Table39 Middle East & Africa: Cloud Computing Market, By Deployment Model

Table40 Middle East & Africa Cloud Computing Market, By Application

Table41 Latin America: Cloud Computing Market, By Country

Table42 Latin America Cloud Computing Market, By Cloud Service Type

Table43 Latin America: Cloud Computing Market, By Deployment Model

Table44 Latin America Cloud Computing Market, By Application

Table45 Latin America Cloud Computing Market, By Product
LIST OF FIGURES
FIGURE 1 Global Cloud Computing Market segmentation

FIGURE 2 Forecast Methodology

FIGURE 3 Five Forces Analysis of Global Cloud Computing Market

FIGURE 4 Value Chain of Global Cloud Computing Market

FIGURE 5 Share of Global Cloud Computing Market in 2017, by country (in %)

FIGURE 6 Global Cloud Computing Market, 2017-2023,

FIGURE 7 Sub segments of Cloud Service Type

FIGURE 8 Global Cloud Computing Market size by Cloud Service Type, 2017

FIGURE 9 Share of Global Cloud Computing Market by Cloud Service Type, 2017 TO 2023

FIGURE 10 Global Cloud Computing Market size by Deployment Model, 2017 TO 2023

FIGURE 11 Share of Global Cloud Computing Market by Deployment Model, 2017 TO 2023

FIGURE 12 Global Cloud Computing Market size by Application, 2017 TO 2023

FIGURE 13 Share of Global Cloud Computing Market by Application, 2017 TO 2023