Digital Transformation Market Overview
Digital Transformation Market was valued at USD 250.65 Billion in 2018 and is expected to reach USD 817.05 Billion by 2025 growing at a CAGR of 18.87% during the forecast period 2019–2025. The increasing number of mobile devices, increasing IT spending to deploy digital solutions by business, and developing advanced communication and networking infrastructure are some of the key factors driving market growth. However, the lack of skill set required to develop and deploy the digital technologies and stringent regulations of the ICT sector are some of the factors restraining the market.
Some of the use cases: Data Privacy & governance, IT transformation, and Governance, Risk & Compliance among others.
Global Digital Transformation Market, 2018–2025 (USD Billion)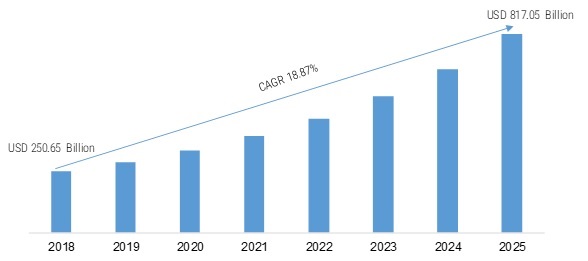 Source: Company websites, Annual Reports, Secondary research, Press Releases, Paid Database, Expert interviews, White papers, Journals, Case Studies, MRFR Analysis
Key Players
The Prominent Players active in the Digital Transformation Market are IBM Corporation (US), Microsoft Corporation (US), SAP SE (Germany), Google (US), Dell EMC (US), Accenture Plc (Ireland), Cisco Systems, Inc. (US), Oracle Corporation (US), Tibco Software Inc (US), Hewlett Packard Enterprise (US), Cognizant (US), Marlabs (US), Equinix Inc. (US), CA Technologies (US), Rockwell Automation Inc. (US), Salesforce.com, Inc. (US) and HCL Technologies (India).
Recent Developments



December 2019

, KPMG and Microsoft signed a five-year agreement. As part of this agreement, KPMG is going to transform its workplace with digital solutions provided by Microsoft such as its 365 suite of cloud-based solutions.






In December 2019

, Rockwell automation introduced its first digital transformation experience center in Gurgaon, India. This center is integrated with key technology platforms for IT-OT convergence and is all set to provide consulting services to its customers for technology platforms such as network cybersecurity, industrial data center, machine learning, augmented reality, and virtual reality.






November 2019

: Microsoft Corporation and Nokia collaborate to integrate digital technology into their communication and network solutions.






September 2019:

Mahindra and Mahindra company partnership with Salesforce.com to incorporate digital technologies into its value chain which includes sales, service, and marketing departments.



Market Introduction
Digital transformation is the process of integrating digital technologies into the business operations which are related to their products and services, customers, workforce optimization, infrastructure, and financial operations. These digital technologies are cloud computing, big data analytics, artificial intelligence, IoT, blockchain, and others. According to the World Economic Forum, the digitalization value would reach USD 100 trillion over the next six years owing to high growth in data traffic, online users, connected objects, and cloud computing technologies across the globe.
Segmentation
The Global Digital Transformation Market has been segmented on the basis of Technology, Deployment, Organization Size, Vertical, and Region.
By Technology, the digital transformation market has been segmented into cloud computing, big data & analytics, artificial intelligence (AI), internet of things (IoT), blockchain, and others.
By Deployment, the digital transformation market has been segmented into on-premise and on-cloud.
By Organization Size, the digital transformation market has been segmented into small and medium-sized enterprises and large enterprises.
By Vertical, the digital transformation market has been categorized into BFSI, healthcare, IT and telecommunication, government, retail, education, and media & entertainment among others.
By Region, the digital transformation market has been segmented into North America, Europe, Asia-Pacific, the Middle East and Africa, and South America.
Regional Analysis
Market Research Future (MRFR) study has covered the following countries in the regional analysis of the digital transformation market: the US, Canada, and Mexico in North America. Germany, the UK, France, Spain, Norway, Benelux, and Italy in Europe. China, Japan, India, South Korea, Australia, Malaysia, Indonesia, and the Philippines in Asia-Pacific. Saudi Arabia, Israel, Turkey, and South Africa in the Middle East & Africa. Brazil, Peru, Chile, and Argentina in South America.
The global digital transformation market is currently dominated by North America. The region is an early adopter of technology and also holds the presence of a majority of key players operating in this market. The US, among all the countries, accounts for the largest market share owing to factors such as highly skilled expertise and research and development capabilities which aims at developing solutions and services among others.
Europe is following North America in terms of market share in the global digital transformation market. Increasing adoption of cloud-based solutions, growth of industry 4.0, and high adoption of mobile devices at workplaces are some of the driving factors for the market growth. Asia-Pacific is projected to be the fastest-growing region during the forecast period. Government initiatives supporting digitalization and increasing adoption of cloud platforms by enterprises is expected to elevate the demand for digital transformation in the region.
Intended Audience



Investors and consultants




Research/Consultancy firms




Technology solution providers




Government agencies




Digital solution and services providers




Independent Software Vendors (ISVs)




IT Agencies




Cloud service providers




Managed Security Service Providers



Speak to Analyst
Ask for Customization
Frequently Asked Questions (FAQ) :
---