Call Control (PBX-IP PBX) Market Synopsis
Call Control (PBX-IP PBX) Market is estimated to reach USD 46.61 Billion by 2026, registering a CAGR of 12.4% during the forecast period of 2020–2026.
PBX manufacturers have moved into IP communications and are now using protocols that can communicate and integrate with other existing applications. An IP-PBX is a PBX phone system that uses IP (Internet Protocol) data networks to manage call switching, route calls and handle other messaging. IP-PBX technology includes advanced communication features, like voicemail to email, but also provides scalability and the ability to connect to traditional PSTN (Public Switched Telephone Service) lines, so there is no need to change carriers. An IP-PBX business phone system consists of one or more IP-Phones, an IP-PBX server and an optional VoIP gateway to connect to existing PSTN lines. The IP-PBX server functions in a similar manner as a hosted VoIP proxy server but resides in most cases on premise: connecting SIP clients, being either soft phones or hardware-based IP-Phones. The IP-PBX server establishes a directory of registered IP-Phones and their corresponding SIP addresses and connects internal network (LAN) calls or routes outgoing calls either to a VoIP gateway or a VoIP service provider.
Key Players
MRFR recognizes the Key Players in the Call Control (PBX-IP PBX) Market. These include Cisco Systems, Inc., Avaya, Panasonic, Mitel, Alcatel-Lucent Enterprise, NEC Corporation, Call Control LLC, Polycom LLC, EIL Global, ERGOMAN GmbH, Voxter, Ribbon Communications Operating Company Inc., Telynx, and Telus. These players focus on innovation and thus, invest in research and development to present a cost-effective product portfolio. There have been recent mergers and acquisitions among the key players, a strategy the business entities leverage to strengthen their reach to the customers.
Segmentation
Call Control (PBX-IP PBX) Market has been segmented based on Product, Application and Region.
By Product, the Call Control (PBX-IP PBX) Market has been segmented into IP extensions and TDM extensions.
By Application, the Call Control (PBX-IP PBX) Market has been segmented into commercial and industrial.
By region, the Call Control (PBX-IP PBX) Market has been segmented into North America, Europe, Asia-Pacific, and the rest of the world.
Call Control (PBX-IP PBX) Market, 2018–2026 (USD Million)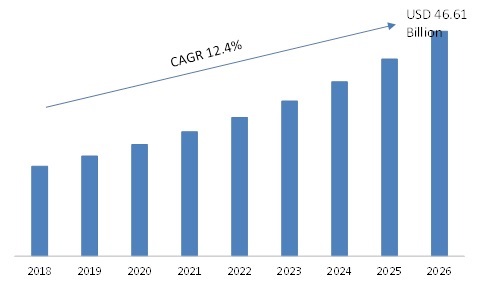 Source: MRFR Analysis
Regional Analysis
Call Control (PBX-IP PBX) Market is estimated to grow at a significant rate during the forecast period from 2020 to 2026. The geographic analysis of Call Control (PBX-IP PBX) Market has been conducted for North America (the US, Canada, and Mexico), Europe (the UK, Germany, France, Spain, Italy, and the rest of Europe), Asia-Pacific (China, Japan, India, and the rest of Asia-Pacific), and the rest of the world (the Middle East and Africa and South America). Among these regions, North America has dominated the global market in 2019 and is expected to maintain its dominance throughout the forecast period. On the other hand, the Asia-Pacific region is expected to witness the fastest growth during the forecast period. Increasing 5G deployments and rise in bring your own device trend has attributed to the growth of PBX-IP PBX devices in the region.
Industry News


In February 2021, G12 Communications has added the Microsoft Connect to Teams IP PBX Service. The new Connect to Teams IP PBX Service allows customers with existing phone systems to migrate to Microsoft Teams easily and cost-effectively and enable PSTN calling.


In February 2021, VitalPBX has launched a unified communications system for businesses. The VitalPBX's VitXi offers a set of tools to allow companies to communicate no matter where they are located. The solution allows companies to have a WebRTC based soft-phone on their browser, with features like chat, file-share, audio or video calls.


In June 2020, Yeastar has integrated its S-Series VoIP PBX, Cloud PBX, and K2 IP-PBX with Microsoft Teams to deliver exceptional calling experience to Teams users. The integration makes regular extensions on Yeastar so that they can while enjoying a variety of advanced calling features.


In October 2019, Angie Hospitality has seamlessly integrated its newly expanded line of Angie devices with hotel internet protocol private branch exchange systems, eliminating the need for hoteliers to make additional guestroom equipment purchases. Compatible with IP-PBX systems used by many hoteliers today, the Angie device serves as an in-room Standard Initiation Protocol device, giving guests the ability to either make offsite calls or connect with hotel personnel in various departments using Angie's built-in voice control or high-resolution touch-screen.


Intended Audience



Investors and Consultants




Government Organizations




Research/Consultancy Firms




Manufacturers




Industries



Report Scope:
Report Attribute/Metric
Details
Market Size
USD 46.61 Billion
CAGR
12.4% (2020-2026)
Base Year
2019
Forecast Period
2020-2027
Historical Data
2018
Forecast Units
Value (USD Billion)
Report Coverage
Revenue Forecast, Competitive Landscape, Growth Factors, and Trends
Segments Covered
Product, Application and Region
Geographies Covered
North America, Europe, Asia-Pacific, and Rest of the World (RoW)
Key Vendors
Cisco Systems, Inc., Avaya, Panasonic, Mitel, Alcatel-Lucent Enterprise, NEC Corporation, Call Control LLC, Polycom LLC, EIL Global, ERGOMAN GmbH, Voxter, Ribbon Communications Operating Company Inc., Telynx, and Telus
Key Market Opportunities
New product development, mergers, and acquisitions
Key Market Drivers
Increasing 5G deployments
Rise in bring your own device trend
Speak to Analyst
Ask for Customization