Bottled Water Packaging Market Synopsis
Bottled Water Packaging Market is projected to be worth USD 288.51 billion by 2028, registering a CAGR of 7.1% during the forecast period (2021 - 2028)., The market was valued at USD 183.25 billion in 2021.
Packaging plays a crucial role in protecting food and avoiding unnecessary waste. Moreover, it helps protect the original purity and unique specificities of natural mineral waters, ensuring they remain pure and microbiologically safe. Bottled water is drinking water packaged, generally, in plastic bottles and regulated by national and local agencies. These are used to store ample amount of water and can be easily transported to the required site. Earlier, bottled drinking water was privileged to high class, foreign tourists and highly health conscious people but the present decade has witnessed increasing popularity among average consumers. Factors such as increasing living standards, disposable income, education and awareness among the consumers, sophisticated business houses and offices has increased rapidly the sales of bottled water in recent years.
One of widely used consumer product in the world is bottled water or mineral water. It is available in different sizes and available almost everywhere. In that, PET remains the package of choice for water globally, but glass, and other types of containers are recovering market share due to premium bottled water offerings in North America, Western Europe and Brazil. Moreover, stringent environment regulations imposed by the government due to improper disposal of plastic bottles is likely to curb the bottled water packaging market size over the forecast period.
Rapid economic growth and increase in disposable income, result in changing lifestyle patterns in emerging countries, such as China, India and open new growth opportunities for bottle packaging market over the coming years. Improving disposable income, and rising awareness and changing standard of living have augmented the demand for bottled water packaging products.
A new trend witnessed in the market is research and development carried out by packaging manufacturers with focus on profitable locations for production and short-distance supply to reduce costs. Moreover, innovative design and new packaging solutions have also contributed in improvements in packaging and weight reduction. Some producers are also looking for alternative materials in the production of their new bottles. PET, nonetheless, remains one of the most durable, lightweight and resistant packaging currently available, while being 100% recyclable.
Bottled Water Packaging market is expected to flourish during the forecast period due to the major driving factors such increasing usage of recyclable packaging material to reduce hazardous material in the environment and changing lifestyle of consumers. The bottled water packaging market is undergoing various changes with evolving customer expectations such as availability in small sizes, acceleration of technological innovation and shifts in competitive power. The demand for bottled water is growing due to the scarcity of clean drinking water and the quality of tap water. It has become an icon of healthy lifestyle emerging countries. Moreover, bottled water is convenient because boiling water at home is time-consuming and not energy efficient. Also, bottled mineral water is purified and fortified with dissolved minerals, which provides added health benefits to consumers.
Key Players
The key players of global bottled water packaging market includes Amcor Ltd. (Australia), SKS Bottle & Packaging Inc. (U.S.), Greif, Inc. (U.S.), Silgan Holdings (U.S.), ExoPackaging (India), American Pacific Corporation (U.S.), Berry Global, Inc. (U.S.), CKS Packaging (U.S.), Sidel Group (Italy) and Kaufman Container (U.S.)
Bottled Water Packaging Market, By Segment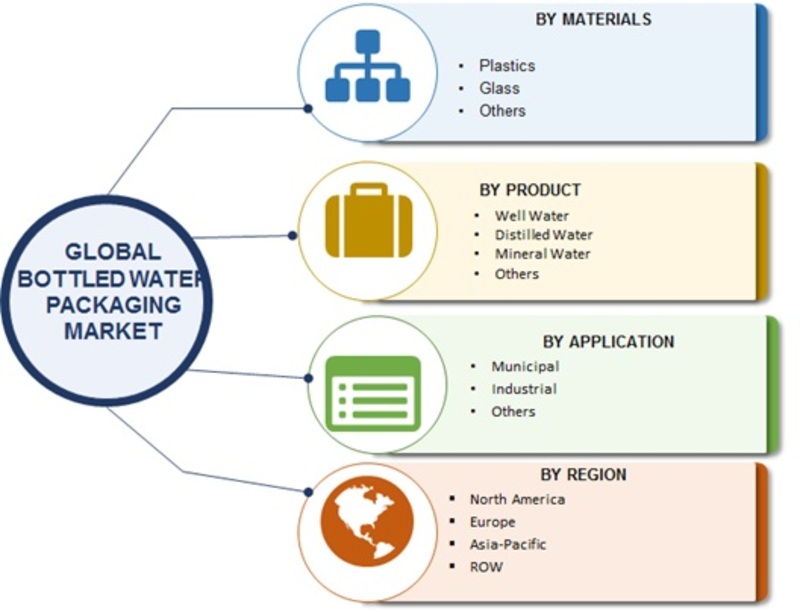 Regional Analysis
In terms of region, global bottled water packaging market has been segmented into four major regions of North America, Europe, Asia Pacific and RoW. In terms of geography, North America accounted for the majority market share and will continue to dominate the market in the forecast period. According to the International Bottled Water Association (IBWA) and the Beverage Marketing Corporation (BMC), Americans are drinking more bottled water than any other packaged beverage, carbonated soft drinks. Health awareness, higher standard of living, and rising demand and consumption of bottled water are some of the major driving factors for the growth of bottled water packaging in North America. Furthermore, rising population & increasing purchasing power of consumers in developing regions of Asia Pacific is likely to stimulate the bottled water packaging market size during the forecast period.
Extensive research in this market has brought to light that expansion is the key strategy adopted by the major players in the global bottled water packaging market. This strategy is widely adopted to spread their geographical presence and achieve operational efficiencies.
The report for Global Bottled Water Packaging Market of Market Research Future comprises of extensive primary research along with the detailed analysis of qualitative as well as quantitative aspects by various industry experts, key opinion leaders to gain the deeper insight of the market and industry performance. The report gives the clear picture of current market scenario which includes historical and projected market size in terms of value and volume, technological advancement, macro economical and governing factors in the market. The report provides details information and strategies of the top key players in the industry. The report also gives a broad study of the different market segments and regions.
Report Scope:
Report Attribute/Metric
Details
Market Size
2028: USD 288.51 billion
CAGR
7.1% CAGR (2021-2028)
Base Year
2020
Forecast Period
2021-2028
Historical Data
2019
Forecast Units
Value (USD Million
Report Coverage
Revenue Forecast, Competitive Landscape, Growth Factors, and Trends
Segments Covered
Material, Product and Application
Geographies Covered
North America, Europe, Asia-Pacific, and Rest of the World (RoW)
Key Vendors
Amcor Ltd. (Australia), SKS Bottle & Packaging Inc. (U.S.), Greif, Inc. (U.S.), Silgan Holdings (U.S.), ExoPackaging (India), American Pacific Corporation (U.S.), Berry Global, Inc. (U.S.), CKS Packaging (U.S.), Sidel Group (Italy) and Kaufman Container (U.S.)
Key Market Opportunities
Rapid economic growth and increase in disposable income
Changing lifestyle patterns in emerging countries
Key Market Drivers
Increasing usage of recyclable packaging material
Frequently Asked Questions (FAQ) :
---