Market Overview:
The short and long-term outlook for the Botanical Extracts Market is very promising. The CAGR for this market until 2025 is 5.45%. The Botanical Extracts Market is expected to be worth 25, 151.7 million in US dollars by 2025. Botanical extracts are (primarily) oils that are extracted from a variety of plants.
Their usage and importance is growing because a greater number of industries use Botanical Extracts in their food and beverage products. While the Botanical Extracts Market does indeed have a bright future, it has some short-term obstacles to overcome. These include changing market prices of botanical extracts and the fact that the number of plants to extract oils from is limited in the natural environment.
COVID-19 Analysis:
The Botanical Extracts Market has indeed been negatively impacted in the short-term by COVID. Many businesses have closed, and many national governments have either instituted indefinite lockdowns (India) or temporary quarantines (USA!) The result has been a decline in the workers who process and sell the raw materials needed to produce these extracts.
Some studies estimate that more than 75% of companies in the Botanical Extracts Market have seen their supply chains being negatively affected. Various governments realize the necessity of the Botanical Extracts Market. They are taking many measures to ensure that the Botanicals Extract for Suppliers are as productive as possible. They are implementing programs that allow maximum production with as few people as necessary. Governments are also implementing sanitation programs and initiating newer and stricter guidelines for cleanliness.
Market Dynamics:
Drivers:
Increasing awareness of health among the emerging and growing global middle classes has spurred a dramatic increase in demand for Functional Beverages. This is one of the main factors that has been driving growth in the Botanical Extracts Market. Another important driver has been increasing demand in health and superfoods.
Middle classes worldwide increasingly crave functional beverages because of their many valuable Botanical Extracts. These are minerals, vitamins, herbs, amino acids, electrolytes, and good bacteria that promote improved immune system function and cardiovascular health. These are just two of the many benefits of foods and beverages that contain Botanical Extracts.

Global Botanical Extracts Market Revenue, by Application, 2025 (USD Million)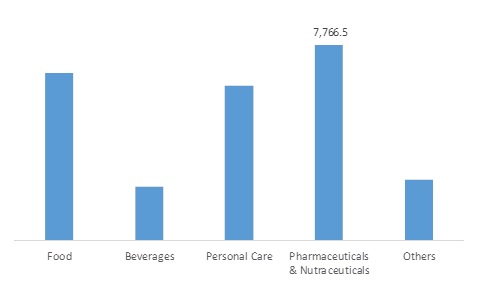 Sources: MRFR Analysis
Opportunities:

A growing number of food and beverage companies are incorporating Botanical Extracts into their products. Part of the reason for this is because they genuinely care about their customers' health. But the main reason for this is because the Botanical Extracts Market is currently very lucrative and experiencing a high growth rate. These two variables don't show any sign of either slowing down or disappearing any time soon!
Restraints:
One of the main restraints is the current decrease in the supply of the raw materials needed to make products with Botanical Extracts. Another equally important restraint is the fact that these raw materials can fluctuate widely in price throughout either a week or even a day! This unpredictability can make it harder for food and beverage companies to plan in terms of the overall production for a certain period.
Challenges:
A key challenge that the entire Botanical Extracts Market face in the long-term and especially in the short-term is being able to procure raw materials from sources that are consistent, reliable, and affordable.
Cumulative Growth Analysis:
Global Botanical Extracts Market Analysis reveals that the future for the and Botanical Extracts Market is bright. This is even with the restraints and challenges that the entire industry faces because of COVID-19. CAGR in the industry is at least 5% for the next four years. It is projected to rise as the general world population develops herd immunity to COVID-19 and as more people become aware of the benefits of probiotics, supplements, and botanical extracts for their overall health.
Value Chain Analysis:
The Botanical Extracts Market continue to be a very lucrative one with lots of value. The reason for this is because these raw materials do enhance and improve people's overall health once incorporated into various food and beverage products. But the benefits don't stop at food and beverages. Many people find that Botanical Extract Benefits extend to medicines and many personal care items like makeup and lotions.
Segment Overview:
By Service:
Probiotics and botanical extracts are already being incorporated into a wide variety of food products. This trend is expected to accelerate in the coming years. Some food products that they are incorporated into include bread, donuts, and other baked goods, confectionery products, dairy products, and meat products.
Some extracts like Chamomile and honey are increasingly used in various bread and pastries. Spices like ginger, saffron, and sage are increasingly being used in confectionery products.
By Technology:
The equipment used to process these extracts is constantly improving in terms of technology and sanitary conditions. This leads to the production of larger quantities of safer and higher quality extracts. This is being combined with increasingly stringent standards, rules, regulations, and best practices which are being driven by more education and radical innovations in equipment design and function.
By Type:
There are many types of Botanical Extracts. These are amino acids, vitamins, minerals, antioxidants, herbs, and bacteria. For example, Chamomile and honey belong to the mineral family. Sage, ginger, and saffron belong to the herb family. All of these types of extracts and probiotics have good effects on peoples' overall health and wellbeing.
By Vertical:
Supplements, probiotics, and botanical extracts are used in a variety of industries. These include food, beverage, personal care, pharmaceuticals, nutraceuticals, etc. Of all of these verticals, the pharmaceuticals and nutraceuticals industries are expected to be the primary drivers in terms of sales, demand, and overall market growth.
Global Botanical Extracts Market Share, by Region, 2018 (%)
Sources: MRFR Analysis
Regional Analysis:
While Botanical Extracts are well received around the world in general, some regions are far more accepting of these extracts being incorporated into various consumable products than others. For example, the North American region is expected to be the main driver in terms of overall consumption and short and long-term growth.
The North American Market alone is expected to grow at a CAGR of 5.36% from 2019 to 2025. Some of the main factors driving this strong growth are the increasing cost of prescription medicines (they are practically unaffordable for many), the growing preference for products that enhance overall health like dietary supplements, and the general desire to always enjoy good health and well-being.
Competitive Landscape:
The competition in this industry is very healthy. The main reasons being the few barriers to entry and the high cost of these products - this makes the market very lucrative. Companies are finding that they have to be innovative to continue to survive financially. One thing that they are doing is increasing their global presence by mergers and acquisitions, expansion, and by constantly introducing newer and more effective/healthier products to the market.
Ransom Naturals Limited is one of the strategic players in this industry. Its overall success is largely attributed to better methods of extracting and processing botanical extracts and the constant introduction of newer and better products.
The major companies in the Botanical Extracts Market are:


Ransom Naturals Limited - UK


International Flavors and Fragrances Inc - USA


Synthite Industries Limited - India


Martin Bauer Group - Germany


Prinova Group LLC - USA


Synergy Flavors Inc - USA


Kalsec Inc - USA


Recent Developments:


Bio-Botanica enters into a JV with Genomatica to create and launch a new line of extracts that are made with novel amino acids


Growth in the herbal supplement market is largely being driven by increasingly health-conscious women


Cronus Partners announces that it will fund many companies in the botanical extracts industry in terms of research and development and new product launches.


Report Overview:


The Global Botanical Extracts Market is experiencing strong growth of at least 5% a year on the global level.


An increase in health awareness and an increasingly health-conscious global middle class with growing purchasing power is driving this growth


COVID-19 has impacted the industry by presenting challenges to the suppliers of the raw materials


Governments are responding by passing legislation to allow suppliers to operate to full capacity with as little manpower as possible


The strongest growth has been in the North American region.


Report Scope:
Report Attribute/Metric
Details
Market Size
USD 25, 151.7 Million (2025)
CAGR
5.45% (2019-2025)
Base Year
2019
Forecast Period
2027
Historical Data
2018
Forecast Units
Value (USD Million)
Report Coverage
Revenue Forecast, Competitive Landscape, Growth Factors, and Trends
Segments Covered
Form, Source, Application
Geographies Covered
North America, Europe, Asia-Pacific, and Rest of the World (RoW)
Key Vendors
Ransom Naturals Ltd (UK), International Flavors & Fragrances Inc. (US), Synthite Industries Limited (India), Martin Bauer Group (Germany), Prinova Group LLC (US), Synergy Flavors Inc. (US), and Kalsec Inc. (US)
Key Market Opportunities
Lucrative and Experiencing a High Growth Rate
Key Market Drivers
Increasing Demand in Health and Superfoods.
Increasing Awareness of Health
Frequently Asked Questions (FAQ) :
---