Global Automotive Fog Lights Market, By Technology (Halogen, LED and HID), By Vehicle Type (Passenger Car, Light Commercial Vehicle and Heavy Commercial Vehicle), By End Market (OEM and Aftermarket) and Region - Forecast 2017-2023
Market Synopsis
The global automotive fog lights market has been experiencing substantial growth in recent years primarily due to sales of new vehicles. The increase in the sales of new vehicles has mainly been because of competitive and diverse options available for finance. The availability of finance has eased the purchase of vehicles, which in turn has increased the demand for fog lights in automotive industry. Another factor driving the vehicle sales, is the macroeconomic development and the rise in the global middle class consumers. According to OICA, the sales of new vehicles have been increased from 2013 to 2016. In 2013, the number of vehicle sold were 85.6 million while in 2016 it was 93.8 million.
Furthermore, with the global economy undergoing an unprecedented level of shift, major emerging countries such as China, India, Thailand, and Indonesia are becoming manufacturing hubs for global automotive players. As a result of increasing prosperity in the emerging economies, more and more people are able to afford their own car, particularly in emerging Asian economies such as China and India. In order to tap these rising consumer automobile preferences, leading global automotive players such as Volkswagen, BMW, Toyota, and Ford, among others are entering into new emerging markets for business expansion. As the global auto-manufacturers continue to expand into growing and emerging markets, the demand for automotive fog lights will also escalate.
The major restraint for the market is the underdeveloped aftermarket services which can be used by the end users for product support, warranties, contracts, and parts procurements. The life time of cars is long and carmakers don't like changing electronic components too often. On an average, the life cycle of fog lights in an automobile is very long, approximately 15-20 years. On the other hand, globally, aftermarket services for automotive fog lights are very less compared to the OEMs.
However, with increased safety considerations coming into place along with rising government regulations, leading automotive fog lights manufacturers have started to enter in this market to cater to growing end user lighting requirements.

Segmentation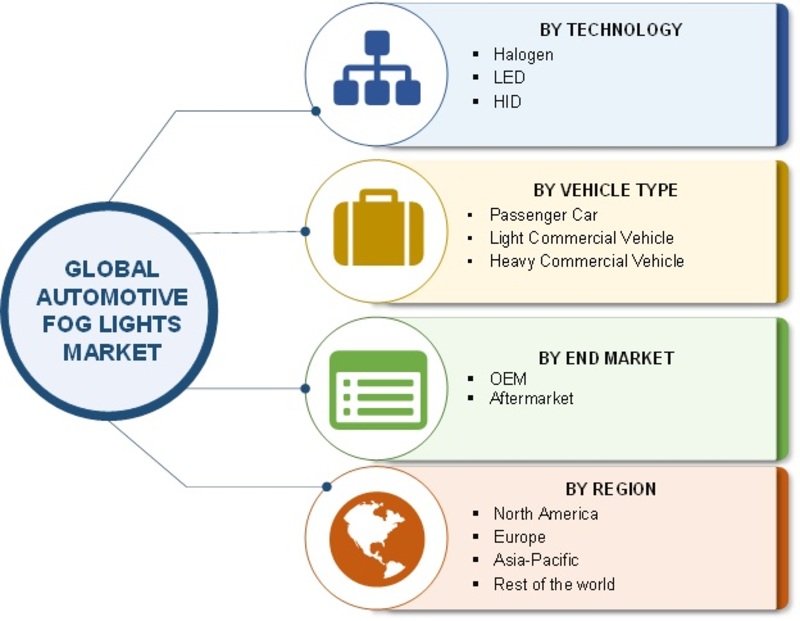 Based on end market, it is segmented as OEM and Aftermarket. Most of the automotive manufacturers purchase automotive Fog Lights from the OEMs and after that they assembles it into the automotive manufacturers. At the time of replacements or maintenance, most of the end users prefer to go for OEM rather than aftermarket. Thus, OEM accounted the largest market share in 2016. Aftermarket is the second leading market for global automotive fog lights market by end market. Aftermarket is generally the secondary market for automotive concerned with manufacturing, distribution, retailing and installation of vehicle parts.
Currently, Asia-Pacific is the leading market and has accounted for largest share for automotive fog lights market followed by North America and Europe. Major factors that have driven the automotive fog lights market are rapidly increasing sales of new vehicles, rising concern over road safety, major development on fog light by key players in emerging economies, shifting preference for aftermarket services and others.
The major player operating in the market are General Electric (U.S.), Magneti Marelli (Italy), Stanley Electric Co. Ltd. (Japan), HELLA KGaA Hueck & Co (Germany), OSRAM (Germany), Valeo S.A. (France), Warn Industries, Inc. (U.S.), Autolite (India) Ltd. (India), PIAA Corporation (U.S.) and J.W. Speaker (U.S.).
Fog lights are one of the most important parts in vehicle as they are used for clear visibility in darkness and helps in viewing the better road condition in darkness. Fog lights are placed bottom of head lights and mounted on bumpers. The global automotive fog lights market revenue is forecast to reach USD 3,928.5 Million in 2023 with a CAGR 6.92% in the forecast period.
The report for Global Automotive Fog Lights Market of Market Research Future comprises of extensive primary research along with the detailed analysis of qualitative as well as quantitative aspects by various industry experts, key opinion leaders to gain the deeper insight of the market and industry performance. The report gives the clear picture of current market scenario which includes historical and projected market size in terms of value and volume, technological advancement, macro economical and governing factors in the market. The report provides details information and strategies of the top key players in the industry. The report also gives a broad study of the different market segments and regions.