Global Aircraft MRO Market Information Report by MRO Type (Engine, Component, Line Maintenance, Airframe, and Modifications), By Aircraft type (Narrow-body, Wide-body, and Others), By Application (Commercial Air Transport, Business and General Aviation, and Military Aviation) and by Region (North America, Europe, Asia-Pacific, Middle East and Africa, and Latin America) - Forecast to 2023
Market Drivers
Rapid fleet expansion and MRO outsourcing are some of the major factors driving the global aircraft MRO market. As of 2016, there were more than 22,000 active commercial wide body and narrow body aircraft across the globe. The existing commercial fleets are expected to be replaced by more than 40,000 new aircraft, over the next 20 years. The expansion of the existing commercial aircraft fleets along with the launch of new airlines, would result in increased MRO activities in the future. Hence, it is expected that the rapid fleet expansion would eventually drive the aircraft MRO market. In addition, the increased focus of OEMs on providing aircraft MRO would add funds to the market.
Regional Analysis
Asia had the largest share of the global aircraft MRO market in 2016. It is an emerging region in the long-haul international market and it relies heavily on the small and medium wide-body aircraft. As a result, a number of airlines such as Indigo, Tigerair Singapore, Tigerair Australia, and Air Asia have been entering into service. Moreover, Asia-Pacific is home to major MRO service providers such as HAECO, GMF AeroAsia, and ST Aerospace, and is projected to witness the highest growth rate, during the forecast period. In addition, due to the low labor rates, North American airlines outsource 60% of thir heavy maintenance and airframe MRO, to Asia, where it is a major source of income.
Key Players
The key players of the global aircraft MRO market are Airbus Group, Air France KLM Engineering & Maintenance, Air Works, Delta TechOps, HAECO, Honeywell International, GMF AeroAsia, Lufthansa Technik, Jet Maintenance Solutions, and ST Aerospace.. In 2016, Airbus Group, Air France KLM Engineering & Maintenance, Lufthansa Technik, and ST Aerospace accounted for over 35% of the global market.
Market Segmentation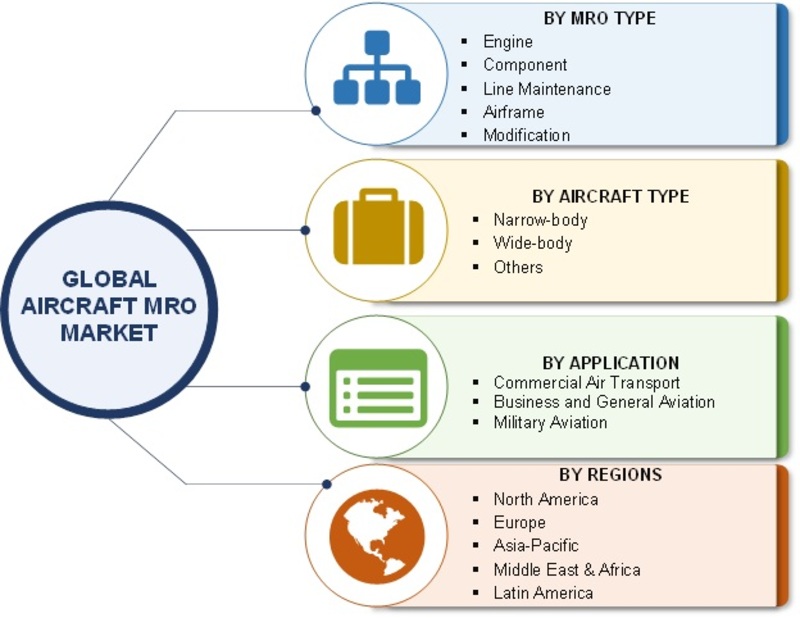 Market Scenario
Air travel in emerging countries is growing, thus increasing the demand for aircraft MRO services. Many new MRO service centers have been setup in numerous countries in recently. This increases the participation of regional companies (tier-II or tier-III suppliers) in the field of aircraft MRO. Moreover, the growing international trade between countries have increased frequencies of cargo planes. Thus, it is essential to conduct timely checks and repairs on airplanes to ensure efficient performance and safe air travel. The market is driven by various factors such as increased focus of OEMs on aircraft MRO service and rapid aircraft fleet expansion. Also, the increased need for proper maintenance of engines & components, is driving the growth of the aircraft MRO market. The global aircraft MRO market is expected to surpass USD 95 billion, by 2023, growing at a CAGR of more than 5%, during the forecast period.
Intended Audience



Distributers & Supplier companies




End Users




Consultants and Investment bankers




Government as well as Independent Regulatory Authorities



Product Analysis
Additional Information



Regulatory Landscape




Pricing Analysis




Macroeconomic Indicators



Geographic Analysis
Company Information



Profiling of 10 key market players




In-depth analysis including SWOT analysis, and strategy information of related to report title




Competitive landscape including emerging trends adopted by major companies



The report for Global Aircraft MRO Market of Market Research Future comprises of extensive primary research along with the detailed analysis of qualitative as well as quantitative aspects by various industry experts, key opinion leaders to gain the deeper insight of the market and industry performance. The report gives the clear picture of current market scenario which includes historical and projected market size in terms of value, technological advancement, macro economical and governing factors in the market. The report provides details information and strategies of the top key players in the industry. The report also gives a broad study of the different market segments and regions.