Market Synopsis
Global UV Disinfection Equipment Market is estimated to reach USD 8.40 Billion by 2026, registering a CAGR of 12.4% during the forecast period of 2020–2026.
Ultraviolet disinfection uses short-wavelength ultraviolet light to disinfect water by killing bacteria through destruction of nucleic acids and DNA disruption. The process disables microorganisms so they cannot perform vital cellular functions. Ultraviolet disinfection equipment uses LEDs, lamps or bulbs in close contact with water to disinfect it. The COVID-19 pandemic has impacted the UV disinfection equipment market, resulting in increased shipments of UV disinfection equipment as well as related components and the revenues generated from them. This is expected to grow in the coming years as the demand is expected to increase due to rising concerns for surface disinfection. One of the major factors influencing the growth of the global market includes extensive use of UV disinfection equipment for disinfecting hospitals and medical facilities.
Industry News


In February 2021, OPTEC International, Inc., a developer of UV and UV-C safety products using related advanced technologies specific to personal protection equipment (PPE), has launched the Z2O PRO App on the Apple store to begin marketing and onboarding for Z2O cleaning and sanitization professionals in the Austin, Texas area, with a particular focus on pandemic related services.




In August 2020, Xylem has developed a sanitaire aeration system for clean water plant. The solution includes aeration systems for the aerobic tanks and a digester, six Flygt 4410 mixers and two Flygt 4630 mixers, new blowers, air control valves, air flow meters and fiberglass baffle walls.




In June 2020, Siemens Smart Infrastructure USA has introduced UV light systems to disinfect aircraft cabins or buildings such as FBOs. The equipment uses technology developed by a company called Violet Defense, can be customized according to the size and layout of the areas to be cleaned.


Segmentation
Global UV Disinfection Equipment Market has been segmented based on Component, Deployment, Application, End-User, and Region.
By component, the market has been segmented into UV lamps, reactor chambers, quartz sleeves, controller units, and others. The UV lamps segment is further segmented into Mercury UV lamps and UV-C LEDs.
By deployment, the market has been segmented into portable, wall-mounted, and others.
By application, the market has been segmented into water and wastewater disinfection, process water disinfection, air disinfection, surface disinfection, food & beverage disinfection, and others.
By end-user, the market has been segmented into residential, commercial, industrial, and others.
By region, the market has been segmented into North America, Europe, Asia-Pacific, and the rest of the world.
Global UV Disinfection Equipment Market, 2018–2026 (USD Million)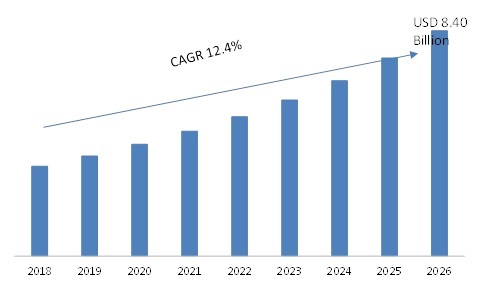 Source: MRFR Analysis
Regional Analysis
Global UV Disinfection Equipment Market is estimated to grow at a significant rate during the forecast period from 2020 to 2026. The geographic analysis of UV disinfection equipment has been conducted for North America (the US, Canada, and Mexico), Europe (the UK, Germany, France, Spain, Italy, and the rest of Europe), Asia-Pacific (China, Japan, India, and the rest of Asia-Pacific), and the rest of the world (the Middle East and Africa and South America). Among these regions, Asia-Pacific has dominated the global market in 2019 and is expected to maintain its dominance throughout the forecast period. The growth of the UV disinfection equipment market in this region can be attributed to the increasing population and the growing requirement for clean and safe water to avoid the spread of water-borne diseases. On the other hand, the North American region is expected to witness the fastest growth during the forecast period. Increasing demand for purified water and deployment of water and wastewater treatment plants are some of the factors that are expected to fuel the market growth in this region.
Key Players
MRFR recognizes the Key Players in the Global UV Disinfection Equipment Market. These include Advanced UV, Inc. (US), Alfaa UV (India), American Ultraviolet (US), Aquanetto Group GmbH (Switzerland), Aquatic Solutions (India), Atlantic Ultraviolet Corporation (US), Atlantium Technologies Ltd. (Israel), Australian Ultra Violet Services Pty. Ltd. (Australia), Danaher Corporation (US), Evoqua Water Technologies LLC (US), Halma PLC (UK), Hitech Ultraviolet Pvt. Ltd. (India), Hoenle AG (Germany), Integrated Aqua Systems, Inc. (US), Koninklijke Philips N.V. (Netherlands), Kuraray Co., Ltd (Japan), LIT UV Elektro GmbH (Germany), Lumalier Corporation (US), Nectar Solutions (India), S.I.T.A. Srl (Italy), Seoul Viosys Co., Ltd. (South Korea), Severn Trent PLC (UK), Steris Corporation (US), SUEZ Water Technologies & Solutions (France), Typhon Treatment Systems Ltd. (UK), Ultraaqua (Denmark), UV Pure Technologies (Canada), UVO3 Ltd. (UK), Xenex (US), and Xylem Inc. (US). These players focus on innovation and thus, invest in research and development to present a cost-effective product portfolio. There have been recent mergers and acquisitions among the key players, a strategy the business entities leverage to strengthen their reach to the customers.
Intended Audience



Investors and Consultants




Government Organizations




Research/Consultancy Firms




Manufacturers




Safety Providers




Industries



Report Scope:
| Report Attribute/Metric | Details |
| --- | --- |
| Market Size | USD 8.40 Billion |
| CAGR | 12.4% (2020-2026) |
| Base Year | 2019 |
| Forecast Period | 2020-2027 |
| Historical Data | 2018 |
| Forecast Units | Value (USD Billion) |
| Report Coverage | Revenue Forecast, Competitive Landscape, Growth Factors, and Trends |
| Segments Covered | Component, Application, End User and Region |
| Geographies Covered | North America, Europe, Asia-Pacific, and Rest of the World (RoW) |
| Key Vendors | Advanced UV, Inc. (US), Alfaa UV (India), American Ultraviolet (US), Aquanetto Group GmbH (Switzerland), Aquatic Solutions (India), Atlantic Ultraviolet Corporation (US), Atlantium Technologies Ltd. (Israel), Australian Ultra Violet Services Pty. Ltd. (Australia), Danaher Corporation (US), Evoqua Water Technologies LLC (US), Halma PLC (UK), Hitech Ultraviolet Pvt. Ltd. (India), Hoenle AG (Germany), Integrated Aqua Systems, Inc. (US), Koninklijke Philips N.V. (Netherlands), Kuraray Co., Ltd (Japan), LIT UV Elektro GmbH (Germany), Lumalier Corporation (US), Nectar Solutions (India), S.I.T.A. Srl (Italy), Seoul Viosys Co., Ltd. (South Korea), Severn Trent PLC (UK), Steris Corporation (US), SUEZ Water Technologies & Solutions (France), Typhon Treatment Systems Ltd. (UK), Ultraaqua (Denmark), UV Pure Technologies (Canada), UVO3 Ltd. (UK), Xenex (US), and Xylem Inc. (US) |
| Key Market Opportunities | Rising concerns for surface disinfection |
| Key Market Drivers | Extensive use of UV disinfection equipment for disinfecting hospitals and medical facilities |