Market Scenario:
Melanoma is a type of cancer that develops from pigment containing cells known as melanocytes. It is the most dangerous type of skin cancer. Sometimes they develop from moles showing significant change in color, increase in size, itchiness, irregular edges, changein color or skin breakdown. Exposure to ultra violet light in people with low pigment levels. The tumor can be either malignant or benign. Types of melanoma are superficial spreading melanoma, nodular melanoma, lentigo maglina melanoma, acral lentigious melanoma and others. About 98% of melanoma is localized in the US. Skin cancer are most common cancers in the US. Treatment available for melanoma include biologic therapy, immune therapy, radiation therapy, chemotherapy and surgery. Ultra violet exposure is known as risk factor of melanoma. Superficial spreading melanoma is the type of melanoma affecting large number of people in the US. The disease is more common in men than women.
The US market of melanoma is expected to reach US$ 3.2 billion in 2023 from US$ 2.4 billion in 2016 with a CAGR of approximately 8.3%.
Market Synopsis of Melanoma Market Share by Type, 2016 (%):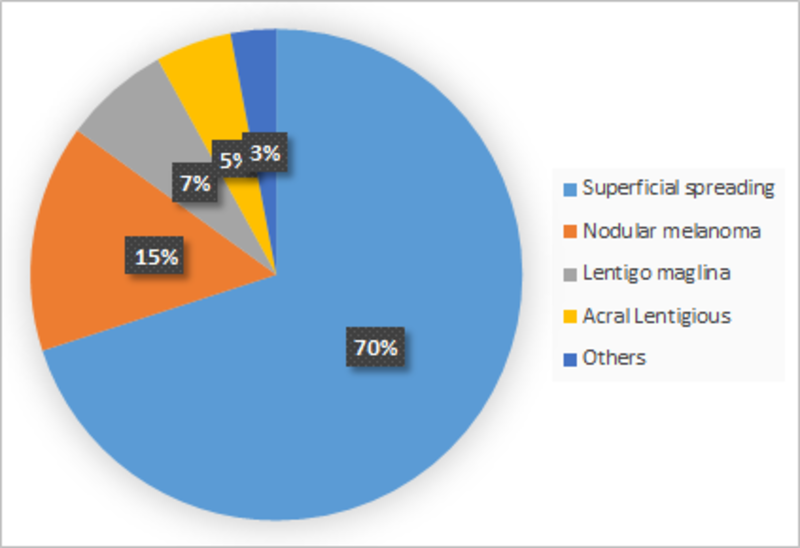 Study Objectives of Melanoma Market:



To provide detailed analysis of the market structure along with forecast for the next six years of various segments and sub-segments of the melanoma market.




To provide insights about factors affecting the market's growth.




To analyze the melanoma market based on various factors price analysis, supply chain analysis, Porters Five Force analysis etc.




To provide historical and forecast revenue of the market segments and sub-segments with respect to the US.




To provide country level analysis of the market with respect to the current market size and future prospective.




To provide country level analysis of the market for segments by type, by end users and its sub-segments.




To provide overview of key players and their strategic profiling in the market, comprehensively analyzing their core competencies, and drawing a competitive landscape for the market.




To track and analyze competitive developments such as joint ventures, strategic alliances, mergers and acquisitions, new product developments, and research and developments in the US melanoma market.



Intended Audience



Hospitals




Pharmaceutical companies




Research and development (R&D) companies




Academic medical institutes and universities




Melanoma drug manufactures




Melanoma drug suppliers



Segments:
US melanoma market has been segmented on the basis of type (superficial spreading, nodular, lentigo maglina, acral lentigious and others), by gender (male and female), by treatment (immunotherapy, biologic therapy, radiation therapy, chemotherapy, surgery and others), by diagnosis (ABCDE, ugly duckling, biopsy, and others) and by end users (hospitals, pharmaceutical companies, research centers, clinics, laboratories).
Regional Analysis of Melanoma Market:
Melanoma market in the US is divided into states comprising of Georgia, New Jersey, North Carolina, New York, Florida, Illinois, Ohio, Pennsylvania, Texas, Washington, California and, Virginia and Rest of US. California accounts for the largest market for melanoma in US followed by Florida and Ohio. California and Florida are key regions for melanoma market. Large number of melanoma cases are found in this region. New York is the third largest market after Florida. According to American Society of Dermatology, prevalence of melanoma is gradually increasing. and this spreads across the body. Number of skin cancer patients is growing steadily in Florida and Texas. This is due to their exposure to ultraviolet rays and extensive use of tanning beds in these regions. Technological advancement in the field of treatment and diagnosis of melanoma in the US also drives this market. The Food and Drug Administration (FDA) classifies tanning beds as "moderate risk" devices.
Key Players for Melanoma Market:
Some of the Key Players in this market are: Amgen, Inc., Bristol-Myers Squibb, Eisai Co. Ltd., F. Hoffmann-La Roche Ltd., Genentech Inc. Janssen Biotech, Inc., and Novartis International AG. Pfizer, Vical and Ziopharm.
The report for US melanoma market of Market Research Future comprises of extensive primary research along with the detailed analysis of qualitative as well as quantitative aspects by various industry experts, key opinion leaders to gain the deeper insight of the market and industry performance. The report gives the clear picture of current market scenario which includes historical and projected market size in terms of value and volume, technological advancement, macro economical and governing factors in the market. The report provides details information and strategies of the top key players in the industry. The report also gives a broad study of the different markets segments and regions.
Table of Contents

1 Report Prologue

2 Market Introduction

2.1 Introduction

2.2 Scope of Study

2.3 Research Objective

2.4 Assumptions & Limitations

2.4.1 Assumptions

2.4.2 Limitations

3 Research Methodology

3.1 Research Process

3.2 Primary Research

3.3 Secondary Research

4 Market Dynamics

4.1 Drivers

4.1.1 Increasing awareness regarding skin cancer

4.1.2 Increased emphasis on early detection of cancer

4.1.3 Increasing inclination towards preventive care

4.2 Restrains

4.2.1 Risk Associated with blood transfusion

5 Market Factor Analysis

5.1 Porter's Five Forces Model

5.1.1 Bargaining power of suppliers

5.1.2 Bargaining Power of Buyers

5.1.3 Threat of New Entrants

5.1.4 Threat of Substitutes

5.1.5 Intensity of Rivalry

5.2 Supply Chain Analysis

6 US Melanoma Market, By Type

6.1 Superficial melanoma

6.2 Nodular Melanoma

6.3 Lentigo Maglina Melanoma

6.4 Acral Lentigious

6.5 Others

7 US Melanoma Market, By Gender

7.1 Male

7.2 Female

8 US Melanoma Market, By Treatment

8.1 Immunotherapy

8.2 Biological therapy

8.3 Radiation

8.4 Chemotherapy

8.5 Surgery

8.6 Others

9 US Melanoma Market, By Diagnosis

9.1 ABCDE

9.2 Ugly Duckling

9.3 Biopsy

9.4 Others

10 US Melanoma Market, By End User

10.1 Hospitals

10.2 Pharmaceutical Companies

10.3 Research centres

10.4 Clinics

10.5 Laboratories

11 Competitive Landscape

11.1 Pricing of drugs for melanoma

11.2 Production Capacity of Major Players

12 Company Profile

12.1 Amgen Inc.

12.1.1 Overview

12.1.2 Product/Business Segment Overview

12.1.3 Financial Updates

12.1.4 Key Developments

12.2 Eristol-Mayers Squibb

12.2.1 Overview

12.2.2 Product/Business Segment Overview

12.2.3 Financial Updates

12.2.4 Key Developments

12.3 Eisai Co Ltd.

12.3.1 Overview

12.3.2 Product/Business Segment Overview

12.3.3 Financial Updates

12.4 F Hoffmann-La Roche Ltd

12.4.1 Overview

12.4.2 Product/Business Segment Overview

12.4.3 Financial Updates

12.5 Genetech Inc.

12.5.1 Overview

12.5.2 Product/Business Segment Overview

12.5.3 Financial Updates

12.5.4 Key Developments

12.6 Janssen Biotech

12.6.1 Overview

12.6.2 Product/Business Segment Overview

12.6.3 Financial Updates

12.6.4 Key Developments

12.7 Pfizer

12.7.1 Company Overview

12.7.2 Product/Business Segment Overview

12.7.3 Financial Updates

12.7.4 Key Development

12.8 Novartis

12.8.1 Overview

12.8.2 Product/Business Segment Overview

12.8.3 Financial Overview

12.9 Vical

12.9.1 Overview

12.9.2 Product/Business Segment Overview

12.9.3 Financial Overview

12.10 Ziopharm

12.10.1 Overview

12.10.2 Product/Business Segment Overview

12.10.3 Financial Overview

13 Bibliography