Transparent Barrier Packaging Films Market Scenario
Transparent barrier packaging films market is anticipated to grow at a CAGR of 5.45% during the forecast period.
The growth of global transparent barrier packaging films market can majorly be attributed to increased consumption of processed food items and ready to eat food products. In addition, rapid urbanization coupled with changing food preferences of consumers due to increasing disposable income is expected to boost the market growth. However, rising competition from substitutes such as aluminum foil is the major restraint that could hinder the market growth.
Based on end-users, food segment accounted for the largest share in 2016, owing to rising acceptance of packaged food products across the globe. The food products that are packaged using these films contain less preservatives compared to canned food products, helping the health conscious consumers. In consumer goods, the products packaged with transparent barrier packaging films have longer shelf life, less prone to environmental factors such as moisture and UV.
Prominent Players
Amcor Ltd. (Australia), Bemis Company, Inc. (U.S.), 3M Company (U.S.), Mitsubishi Plastic (Japan), AMPAC (U.S.), Berry Global, Inc. (U.S.), Innovia Films (U.K.), Toppan Printing Co., Ltd. (Japan), Daibochi Plastic & Packaging Industry Bhd (Malaysia), and LINPAC Group (U.K.) are some of the leading players operating in the global transparent barrier packaging films market. Transparent barrier packaging films are made of plastic and can be moulded into various shapes. This films offer transparency to the product and protect them against gases, dust, moistness, and aroma.
Segmentation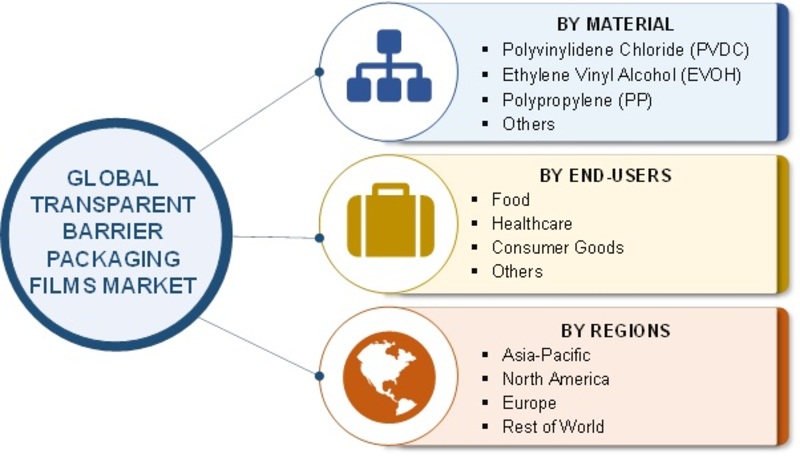 The global transparent barrier packaging films market has the highest share in Asia-Pacific. Factors such as surging demand for processed food, increasing purchasing power of consumers across the globe and the growth of developing economies such as China and India is driving the growth of the market. In addition, the growing e-commerce industry and international trade will also augment the demand for transparent barrier packaging films in the region. Furthermore, the presence of large untapped consumer base will provide considerable growth opportunities to the market in the region.
The report for global transparent barrier packaging films market of Market Research Future comprises of extensive primary research along with the detailed analysis of qualitative as well as quantitative aspects by various industry experts, key opinion leaders to gain the deeper insight of the market and industry performance. The report gives the clear picture of current market scenario which includes historical and projected market size in terms of value and volume, technological advancement, macro economical and governing factors in the market. The report provides details information and strategies of the top key players in the industry. The report also gives a broad study of the different market segments and regions.
Report Scope:
Report Attribute/Metric
Details
Market Size
2027: Significant Value
CAGR
5.45% CAGR (2020-2027)
Base Year
2019
Forecast Period
2020-2027
Historical Data
2018
Forecast Units
Value (USD Million)
Report Coverage
Revenue Forecast, Competitive Landscape, Growth Factors, and Trends
Segments Covered
Material, End-Users
Geographies Covered
North America, Europe, Asia-Pacific, and Rest of the World (RoW)
Key Vendors
Amcor Ltd. (Australia), Bemis Company, Inc. (U.S.), 3M Company (U.S.), Mitsubishi Plastic (Japan), AMPAC (U.S.), Berry Global, Inc. (U.S.), Innovia Films (U.K.), Toppan Printing Co., Ltd. (Japan), Daibochi Plastic & Packaging Industry Bhd (Malaysia), and LINPAC Group (U.K.)
Key Market Opportunities
Increasing disposable income is expected to boost the market growth
Key Market Drivers
Increased consumption of processed food items
Rapid urbanization
Growing e-commerce industry
Speak to Analyst
Ask for Customization
Frequently Asked Questions (FAQ) :
---