Market Synopsis of Streaming Analytics Market:
Market Scenario:
The regional analysis of streaming analytics market is being studied for regions such as Asia Pacific, Americas, Europe and Rest of the World. North America region accounts for highest market share in streaming analytics market owing to presence of major players in the region and adoption of advanced analytics tools by small and big enterprises is propelling the market in the region. Countries such as US and Canada contributes large amount of revenue in the streaming analytics market in the region. Asia‐Pacific region is expected to be growing at the highest CAGR. Enterprises in the region are investing huge in streaming analytical tools to improve business efficiency and productivity, adoption of BI analytics and numerous opportunities in varied industrial vertical is boosting the market in the region.
The streaming analytics market is segmented on the basis of components, application, deployment, organization size and vertical. The component segment includes software and service. The service segment includes managed service and professional service. Managed Services can be defined as proactive management of an information technology asset or object, by a third party typically known as a MSP, on behalf of the end-user. The operative distinction that sets apart a managed service program is the proactive delivery of their service, as compared to reactive IT services, which have been around for decades. The key drivers contributing to the growth of the managed services are rise in digital information, the need to secure it, increasing trend of bring your own devices, flexibility to match custom requirements, continuous upsurge in dependency over heterogeneous networks, and persistent rise in the complexity of technological solutions.
The segmentation on the basis of deployment includes cloud and on-premise. Cloud solution accounts for highest market share as it helps enterprises by minimizing cost associated with the IT infrastructure. Cloud solution enables enterprise to focus on core business competencies. It provides enterprises with data protection and security, efficiently manage storage and privacy issues, offers data integrity and provides information related to managing and coordinating business activities and helps in increasing the overall business productivity.
The streaming analytics market is expected to grow at approximately USD 16 Billion by 2023, at 33% of CAGR between 2017 and 2023.
Streaming Analytics Market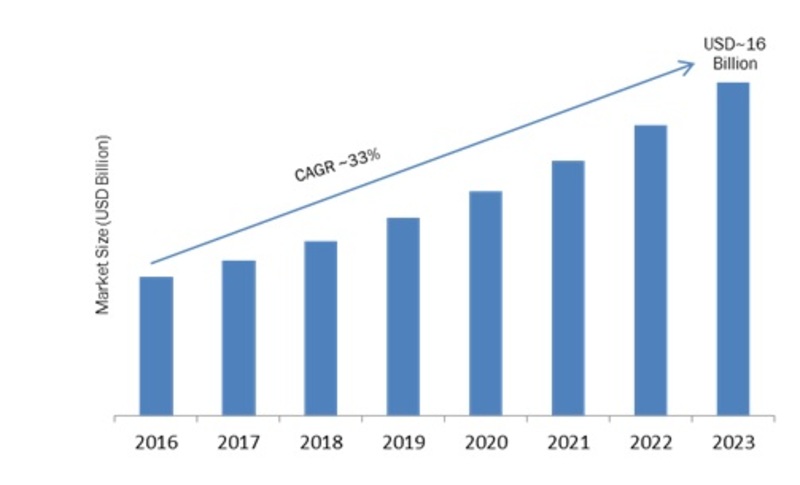 Key Players:
The prominent players in the streaming analytics market are – Apache Software Foundation (U.S.), Microsoft Corporation (U.S.), Datatorrent (U.S.), SAP SE (Germany), Oracle Corporation (U.S.), Informatica Corporation (U.S.), Software Ag (Germany), Tibco Software (U.S.), Impetus Technologies (U.S.), SQLstream (U.S.) among others.
Segments:
Streaming Analytics market for segment on the basis of component, application, deployment, organization size and vertical.
Streaming Analytics Market by Component:
By Software
By Service



Professional services




Managed services



Streaming Analytics Market by Application:



Fraud Detection




Sales And Marketing Management




Predictive Asset Maintenance




Risk Management




Network Management And Optimization




Location Intelligence




Operations Management




Others



Streaming Analytics Market by Deployment:
Streaming Analytics Market by Organization Size:
Streaming Analytics Market by Vertical:



Government and Defense




BFSI




IT and Telecommunication




Healthcare




Retail




Education




Energy & Utilities




Others



Intended Audience



Investors and consultants




System Integrators




Government Organizations




Research/Consultancy firms




Technology solution providers




IT Solution Providers



Report Scope:
| Report Attribute/Metric | Details |
| --- | --- |
| Market Size | USD 16 Billion (2023) |
| CAGR | 33% (2017-2023) |
| Base Year | 2019 |
| Forecast Period | 2020-2027 |
| Historical Data | 2018 |
| Forecast Units | Value (USD Billion) |
| Report Coverage | Revenue Forecast, Competitive Landscape, Growth Factors, and Trends |
| Segments Covered | By Component, By Service, By Application |
| Geographies Covered | North America, Europe, Asia-Pacific, and Rest of the World (RoW) |
| Key Vendors | Apache Software Foundation (U.S.), Microsoft Corporation (U.S.), Datatorrent (U.S.), SAP SE (Germany), Oracle Corporation (U.S.), Informatica Corporation (U.S.), Software Ag (Germany), Tibco Software (U.S.), Impetus Technologies (U.S.), SQLstream (U.S.) |
| Key Market Opportunities | Enterprises in the region are investing huge in streaming analytical tools to improve business efficiency and productivity, adoption of BI analytics and numerous opportunities in varied industrial vertical is boosting the market in the region. |
| Key Market Drivers | The key drivers contributing to the growth of the managed services are rise in digital information, the need to secure it, increasing trend of bring your own devices, flexibility to match custom requirements, continuous upsurge in dependency over heterogeneous networks, and persistent rise in the complexity of technological solutions. |
Frequently Asked Questions (FAQ) :
---