Global Stem Cell Reconstructive Market Research Report: By Sources (Allogeneic, Autologous, Syngeneic And Other), By Cell Types (Embryonic Stem Cell, Adult Stem Cell), By Application (Cancer, Diabetes, Traumatic Skin Defect, Severe Burn), By End Users (Hospital, Research Institutes) - Forecast Till 2023
Study Objectives



Detailed analysis of the global stem cell reconstructive market with region specific growth and competitive analysis on the basis of major players present in the market




Detailed analysis of different drivers and restraints affecting the growth of the market




Detailed analysis of the historical and forecasted market analysis on the basis of factors like- Price Analysis, Supply Chain Analysis, Porters Five Force Analysis, etc.




To track and analyze competitive developments such as joint ventures, strategic alliances, mergers and acquisitions, new product developments, and research and developments in the global stem cell reconstructive market.




Detailed analysis on the possible segments and sub segments of the market and regional analysis of the market in the four major geographies - America, Europe, Asia Pacific and the Middle East and Africa.




Insights on the major countries/regions in which these major industries are flourishing and to also identify the untapped regions which could be the potential markets in future



Intended Audience



Academic Medical Institutes And Universities




Independent Research Laboratories




Contract Research Organizations



Figure 1- Global Stem Cell Reconstructive Market, by region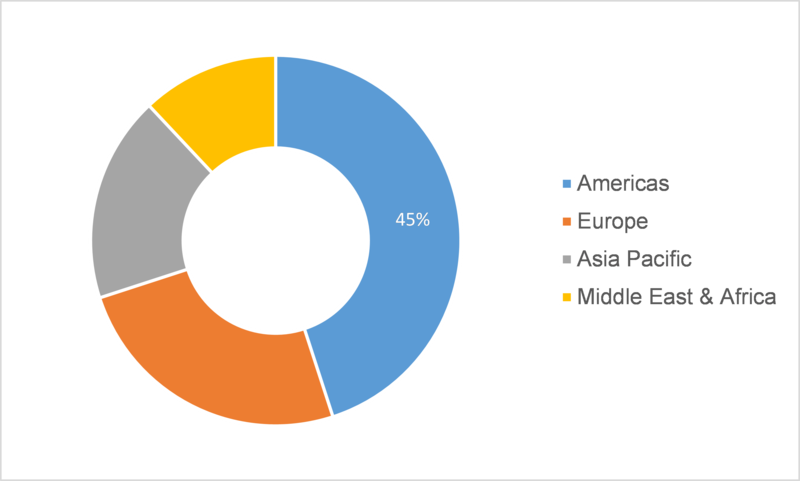 Source- Annual reports, white paper, company presentation
Market Scenario
Stem cell reconstructive surgery involves the treatment of injured or damaged part of body. Stem cells are undifferentiated biological cells, which divide to produce more stem cells. The major factors contributing to the market growth are increasing number of geriatric population, rising number of patients suffering from chronic diseases, and continuous development in the technology. Furthermore, the increasing need for the alternative treatments, government support for the development of the new products, and increasing healthcare expenditure have fuelled the growth of the market. However, higher cost for treatment and strict regulatory rules by the government for approval of the therapy may restraint the growth of the market.
The global stem cell reconstructive market is expected to grow at a CAGR of 22.6% during the forecast period 2017-2023.
Segmentation
The global stem cell reconstructive market is segmented into sources, cell types, applications, and end users. On the basis of sources the market is categorized: allogeneic, autologous, syngeneic, and others. Autologous is further segmented into bone marrow, adipose tissue, and blood. On the basis of cell types, the market is segmented into embryonic stem cell and adult stem cell. On the basis of application the market is segmented into cancer, diabetes, traumatic skin defect, severe burn, and others. On the basis of end users, the market is segmented into hospital, research institutes, and others.
Regional Analysis
America accounts for the largest share in the global stem cell reconstructive market owing to large patient population base and well developed healthcare sector. Europe is the second largest global stem cell reconstructive market, which is followed by Asia Pacific. Asia Pacific is a developing market for stem cell reconstructive surgeries. Japan and Australia are the major contributor in the market in Asia Pacific region.
Key Players for Global Stem Cell Reconstructive Market
The major key player in the global stem cell reconstructive market: Baxter (US), Cytori Therapeutics Inc. (U.S), Eleveflow (France), Mesoblast Ltd. (Australia), NuVasive Inc. (US), Osiris Therapeutics, Inc. (US), Micronit Microfluidics (Netherlands), TAKARA BIO INC.(Japan), Tigenix (Belgium), Cynata (Australia), Celyad (Belgium), Capricor Therapeutics (Canada), Astellas Pharma US, Inc. (US), Pfizer Inc. (US), StemCells Inc (US), STEMCELL Technologies Inc. (US), Caladrius (US).
Market Assessment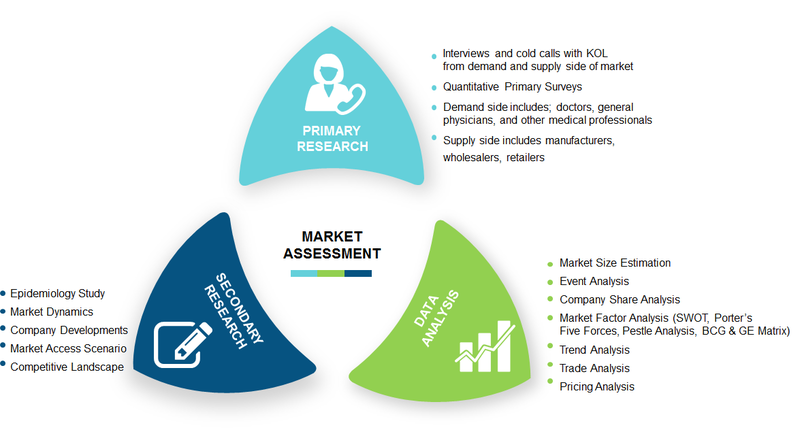 Sources- World Health Organization (WHO), American Diabetic Association, National Cancer Institute, annual reports, white paper, company presentation.
The report for global stem cell reconstructive market of Market Research Future comprises of extensive primary research along with the detailed analysis of qualitative as well as quantitative aspects by various industry experts, key opinion leaders to gain the deeper insight of the market and industry performance. The report gives a clear picture of the current market scenario which includes historical and projected market size in terms of value and volume, technological advancement, macro economical and governing factors in the market. The report provides details information and strategies of the top key players in the industry. The report also gives a broad study of the different markets segments and regions.
TABLE OF CONTENTS
1 INTRODUCTION


1.1 DEFINITION


1.2 SCOPE OF STUDY


1.2.1 RESEARCH OBJECTIVE


1.2.2 ASSUMPTIONS & LIMITATIONS


1.2.2.1 ASSUMPTIONS


1.2.2.2 LIMITATIONS


1.3 MARKET STRUCTURE


2 RESEARCH METHODOLOGY


2.1 RESEARCH PROCESS:


2.2 PRIMARY RESEARCH


2.3 SECONDARY RESEARCH:


3 MARKET DYNAMICS


3.1 DRIVERS


3.2 RESTRAINTS


3.3 OPPORTUNITIES


3.4 MACROECONOMIC INDICATORS


4 MARKET FACTOR ANALYSIS


4.1 PORTERS FIVE FORCES MODEL


4.2 BARGAINING POWER OF SUPPLIERS


4.3 BARGAINING POWER OF BUYERS


4.4 THREAT OF NEW ENTRANTS


4.5 THREAT OF SUBSTITUTES


4.6 INTENSITY OF RIVALRY


5. GLOBAL STEM CELL RECONSTRUCTIVE MARKET, BY SOURCES


5.1 ALLOGENEIC


5.2 AUTOLOGOUS


5.2.1 BONE MARROW


5.2.2 ADIPOSE TISSUE


5.2.3 BLOOD


5.3 SYNGENEIC


5.4 OTHER


6. GLOBAL STEM CELL RECONSTRUCTIVE MARKET, BY CELL TYPES


6.1 EMBRYONIC STEM CELL


6.2 ADULT STEM CELL


7. GLOBAL STEM CELL RECONSTRUCTIVE MARKET, BY APPLICATION


7.1 CANCER


7.2 DIABETES


7.3 TRAUMATIC SKIN DEFECT


7.4 SEVERE BURN


7.5 OTHER


8 GLOBAL STEM CELL RECONSTRUCTIVE MARKET, BY END USER


8.1 HOSPITALS


8.2 RESEARCH INSTITUTE


8.3 OTHERS


9. GLOBAL STEM CELL RECONSTRUCTIVE MARKET, BY REGION


9.1 INTRODUCTION


9.2 AMERICA


9.2.1 NORTH AMERICA


9.2.1.1 US


9.2.1.2 CANADA


9.2.2 SOUTH AMERICA


9.3 EUROPE


9.3.1 WESTERN EUROPE


9.3.1.1 GERMANY


9.3.1.2 FRANCE


9.3.1.3 ITALY


9.3.1.3 SPAIN


9.3.1.5 UK


9.3.1.6 REST OF WESTERN EUROPE


9.3.2 EASTERN EUROPE


9.4 ASIA PACIFIC


9.4.1 JAPAN


9.4.2 CHINA


9.4.3 INDIA


9.4.4 AUSTRALIA


9.4.5 REPUBLIC OF KOREA


9.4.6 REST OF ASIA-PACIFIC


9.5 MIDDLE EAST & AFRICA


9.5.1 UNITED ARAB EMIRATES


9.5.2 SAUDI ARABIA


9.5.3 OMAN


9.5.4 KUWAIT


9.5.5 QATAR


9.5.6 REST OF MIDDLE EAST & AFRICA


10. COMPETITIVE LANDSCAPE


10.1 MAJOR STRATEGIES ADOPTED BY MARKET PLAYERS


10.1.1 STRATEGIC PARTNERSHIP


10.1.2 MERGER & ACQUISITION


11 COMPANY PROFILE


11.1 CYTORI THERAPEUTICS INC


11.1.1 OVERVIEW


11.1.2 PRODUCT OVERVIEW


11.1.3 FINANCIALS


11.1.4 KEY DEVELOPMENTS


11.2 ELEVEFLOW


11.2.1 OVERVIEW


11.2.2 PRODUCT OVERVIEW


11.2.3 FINANCIALS


11.2.4 KEY DEVELOPMENTS


11.3 MICRONIT MICROFLUIDICS


11.3.1 OVERVIEW


11.3.2 PRODUCT OVERVIEW


11.3.3 FINANCIALS


11.3.4 KEY DEVELOPMENT


11.4 CYNATA THERAPEUTICS


11.4.1 OVERVIEW


11.4.2 PRODUCT OVERVIEW


11.4.3 FINANCIALS


11.4.4 KEY DEVELOPMENTS


11.5 CELYAD


11.5.1 OVERVIEW


11.5.2 PRODUCT OVERVIEW


11.5.3 FINANCIALS


11.5.4 KEY DEVELOPMENTS


11.6 BAXTER


11.6.1 OVERVIEW


11.6.2 PRODUCT OVERVIEW


11.6.3 FINANCIALS


11.6.4 KEY DEVELOPMENTS


11.7 MESOBLAST LTD


11.7.1 OVERVIEW


11.7.2 PRODUCT OVERVIEW


11.7.3 FINANCIALS


11.7.4 KEY DEVELOPMENTS


11.8 NUVASIVE INC


11.8.1 OVERVIEW


11.8.2 PRODUCT OVERVIEW


11.8.3 FINANCIALS


11.8.4 KEY DEVELOPMENTS


11.9 OSIRIS


11.9.1 OVERVIEW


11.9.2 PRODUCT OVERVIEW


11.9.3 FINANCIALS


11.9.4 KEY DEVELOPMENTS


11.10 PFIZER INC


11.10.1 OVERVIEW


11.10.2 PRODUCT OVERVIEW


11.10.3 FINANCIALS


11.10.4 KEY DEVELOPMENTS


11.11 OTHERS


12 CONCLUSION


13.1 KEY FINDINGS


13.1.1 FROM CEO'S VIEWPOINT


13.1.2 UNMET NEEDS OF THE MARKET


13.2 KEY COMPANIES TO WATCH


13.3 PREDICTION OF LIFE SCIENCE INDUSTRY


14 APPENDIX
LIST OF TABLES


Table 1 Stem Cell Reconstructive Industry Synopsis, 2017–2023


Table 2 Global Stem Cell Reconstructive Market Estimates & Forecast, 2017–2023, (USD Million)


Table 3 Global Stem Cell Reconstructive Market, by Region, 2017–2023, (USD Million)


Table 4 Global Stem Cell Reconstructive Market, by Source, 2017–2023, (USD Million)


Table 5 Global Stem Cell Reconstructive Market, by Cell Type, 2017–2023, (USD Million)


Table 6 Global Stem Cell Reconstructive Market, by Application, 2017–2023, (USD Million)


Table 7 Global Stem Cell Reconstructive Market, by End-User, 2017–2023, (USD Million)


Table 8 North America Stem Cell Reconstructive Market, by Source, 2017–2023, (USD Million)


Table 9 North America Stem Cell Reconstructive Market, by Cell Type, 2017–2023, (USD Million)


Table 10 North America Stem Cell Reconstructive Market, by Application, 2017–2023, (USD Million)


Table 11 North America Stem Cell Reconstructive Market, by End-User, 2017–2023, (USD Million)


Table 12 U.S. Stem Cell Reconstructive Market, by Source, 2017–2023, (USD Million)


Table 13 U.S. Stem Cell Reconstructive Market, by Cell Type, 2017–2023, (USD Million)


Table 14 U.S. Stem Cell Reconstructive Market, by Application, 2017–2023, (USD Million)


Table 15 U.S. Stem Cell Reconstructive Market, by End-User, 2017–2023, (USD Million)


Table 16 Canada Stem Cell Reconstructive Market, by Source, 2017–2023, (USD Million)


Table 17 Canada Stem Cell Reconstructive Market, by Cell Type, 2017–2023, (USD Million)


Table 18 Canada Stem Cell Reconstructive Market, by Application, 2017–2023, (USD Million)


Table 19 Canada Stem Cell Reconstructive Market, by End-User, 2017–2023, (USD Million)


Table 20 South America Stem Cell Reconstructive Market, by Source, 2017–2023, (USD Million)


Table 21 South America Stem Cell Reconstructive Market, by Cell Type, 2017–2023, (USD Million)


Table 22 South America Stem Cell Reconstructive Market, by Application, 2017–2023, (USD Million)


Table 23 South America Stem Cell Reconstructive Market, by End-User, 2017–2023, (USD Million)


Table 24 Europe Stem Cell Reconstructive Market, by Source, 2017–2023, (USD Million)


Table 25 Europe Stem Cell Reconstructive Market, by Cell Type, 2017–2023, (USD Million)


Table 26 Europe Stem Cell Reconstructive Market, by Application, 2017–2023, (USD Million)


Table 27 Europe Stem Cell Reconstructive Market, by End-User, 2017–2023, (USD Million)


Table 28 Western Europe Stem Cell Reconstructive Market by Source, 2017–2023, (USD Million)


Table 29 Western Europe Stem Cell Reconstructive Market, by Cell Type, 2017–2023, (USD Million)


Table 30 Western Europe Stem Cell Reconstructive Market, by Application, 2017–2023, (USD Million)


Table 31 Western Europe Stem Cell Reconstructive Market, by End-User, 2017–2023, (USD Million)


Table 32 Eastern Europe Stem Cell Reconstructive Market, by Source, 2017–2023, (USD Million)


Table 33 Eastern Europe Stem Cell Reconstructive Market, by Cell Type, 2017–2023, (USD Million)


Table 34 Eastern Europe Stem Cell Reconstructive Market, by Application, 2017–2023, (USD Million)


Table 35 Eastern Europe Stem Cell Reconstructive Market, by End-User, 2017–2023, (USD Million)


Table 36 Asia Pacific Stem Cell Reconstructive Market, by Source, 2017–2023, (USD Million)


Table 37 Asia Pacific Stem Cell Reconstructive Market, by Cell Type, 2017–2023, (USD Million)


Table 38 Asia Pacific Stem Cell Reconstructive Market, by Application, 2017–2023, (USD Million)


Table 39 Asia Pacific Stem Cell Reconstructive Market, by End-User, 2017–2023, (USD Million)


Table 40 Middle East & Africa Stem Cell Reconstructive Market, by Source, 2017–2023, (USD Million)


Table 41 Middle East & Africa Stem Cell Reconstructive Market, by Cell Type, 2017–2023, (USD Million)


Table 42 Middle East & Africa Stem Cell Reconstructive Market, by Application, 2017–2023, (USD Million)


Table 43 Middle East & Africa Stem Cell Reconstructive Market, by End-User, 2017–2023, (USD Million) 


LIST OF FIGURES


Figure 1 Research Process


Figure 2 Segmentation for Global Stem Cell Reconstructive Market


Figure 3 Segmentation Market Dynamics for Stem Cell Reconstructive Market


Figure 4 Global Stem Cell Reconstructive Market Share, by Source 2016


Figure 5 Global Stem Cell Reconstructive Market Share, by Cell Type 2016


Figure 6 Global Stem Cell Reconstructive Market Share, by Application 2016


Figure 7 Global Stem Cell Reconstructive Market Share, by End User, 2016


Figure 8 Global Stem Cell Reconstructive Market Share, by Region, 2016


Figure 9 North America Stem Cell Reconstructive Market Share, by Country, 2016


Figure 10 Europe Stem Cell Reconstructive Market Share, by Country, 2016


Figure 11 Asia Pacific Stem Cell Reconstructive Market Share, by Country, 2016


Figure 12 Middle East & Africa Stem Cell Reconstructive Market Share, by Country, 2016


Figure 13 Global Stem Cell Reconstructive Market: Company Share Analysis, 2016 (%)