Market Scenario
Stand-up pouches are laminated film bags, typically made of plastic or a blend of plastic and aluminum film. Stand-up pouches require less packaging material and occupy less space as compared to other traditional packaging methods such as cartons or boxes. They also can stand securely on shelves which aid the product visibility. A stand-up pouch contains various features such as zippers, spouts & fitments, slider closures, pour spouts, and release valves.
Stand-up packaging protects the products from vapor, odor, moisture, and pests. Stand-up packages are fully customized for marketing purposes, owing to their product display design. Stand-up pouches are used in single-serve beverages, processed foods, cookies, snacks, breakfast cereals, confectionery items, pet treats & pet foods, as well as in a wide range of other value-added product applications. Prominent companies are finding ways to introduce their products in the market with the help of stagnant design. They also attempt to add consumer convenience through improved methods of reclosability and innovative marketing approach to stimulate the sales of a stagnant brand or increase the acceptance and success of a new product.
Growing preferences for packaged food and beverages in the developing countries along with the increasing consumer interest towards lightweight pouches are some of the factors driving the market growth. The distinctive features of stand-up pouches such as easy portability, lightweight, and ease of handling further increases the growth of the market. The market is also expected to be driven by its ability to reduce shipping expenses. In the developing countries, the increasing demand for packaged food and beverages from consumers is also driving the growth of the market for stand-up pouches. The market is driven by the changing consumer preferences towards food products that are of high-value and quality and have a longer shelf life. Additionally, the inclination for packaged food and beverages with changing customer lifestyle and higher standard of living is expected to increase the demand for stand-up pouches market and boost its sales over the forecast period. However, the requirement of large production space and huge investment in raw materials required for the production of stand-up pouches are hindering the growth of the market.
Segmentation: Global Stand-up Pouches Market
Global stand-up packaging market has been segmented on the basis of material, type, application, and region. On the basis of material, the market has been segmented into plastic, metal, paper, and others. On the basis of type, the market has been segmented into aseptic, standard, and retort. Whereas, on the basis of application, the market has been segmented into food & beverages, healthcare, personal care, and others.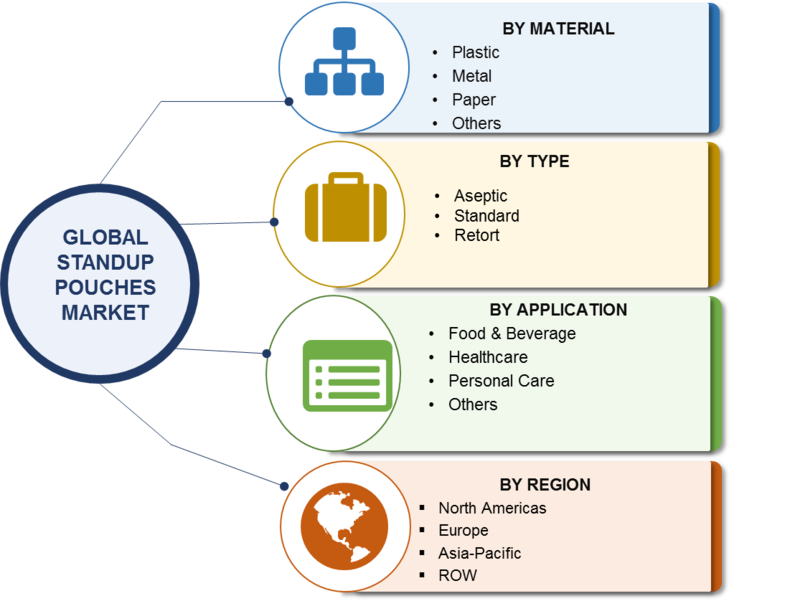 Source: MRFR Analysis
Regional Analysis: Global Stand-Up Pouches Market
North America has growing infrastructure facilities to support food packaging industries which further drives the standup pouches market. Asia Pacific accounts for more than 60% share of stand-up pouches market due to rising demand for ready to eat or convenience food. Increasing population, as well as growing middle-income groups, are positively influencing the demand for stand-up pouches. Moreover, the increasing the purchasing power and disposable income of consumers is expected to drive the overall growth of the stand-up pouches in the Asia-Pacific region.
Key Players:
The key players of stand-up pouches market are Amcor Ltd. (Australia), The Dow Chemical Company (US), Berry Plastics Corporation(US), Smurfit Kappa Group (Dublin), Ampac Holdings LLC (US), Clondalkin Group (Netherlands), Sealed Air Corporation (US), Astrapak Limited (South Korea), Bemis Company, Inc. (US), Coveris Holdings S.A. (US), Mondi Plc. (Austria), Sonoco Products (US) and others.
In June 5, 2018, Company, Inc. launched Encore ultra-clear recyclable film, a technology that combines readily recyclable material with shelf-appealing transparency. The film offers low haze, stiffness, and high gloss which makes it suitable for use in manufacturing stand-up pouches. New product launches, expansions, mergers, and acquisitions are the key strategies followed by major market players to expand the business of standup pouches market. Furthermore, stand-up pouches require raw materials, manufacturing facilities, and machines thus new entrants find it hard to compete with the active key players.
The report for global stand-up pouches market of Market Research Future comprises extensive primary research along with the detailed analysis of qualitative as well as quantitative aspects by various industry experts, key opinion leaders to gain the deeper insight into the market and industry performance. The report gives a clear picture of the current market scenario which includes historical and projected market size in terms of value and volume, technological advancement, macroeconomic, and governing factors of the market. The report also provides detailed information and strategies of the top key players in the industry. The report also gives a broad study of the different market segments and regions.
Frequently Asked Questions (FAQ) :
---