Market Synopsis
The global smart spaces market was valued at USD 8,302.5 Million in 2017 and is expected to register a CAGR of 16.4% during the forecast period to reach USD 27,074 million by 2024. The market growth is attributed to the growing adoption of digital twins, development of augmented reality and virtual reality technologies to reduce the space constraints, adoption of smart devices in the building, and Internet of Things (IoT).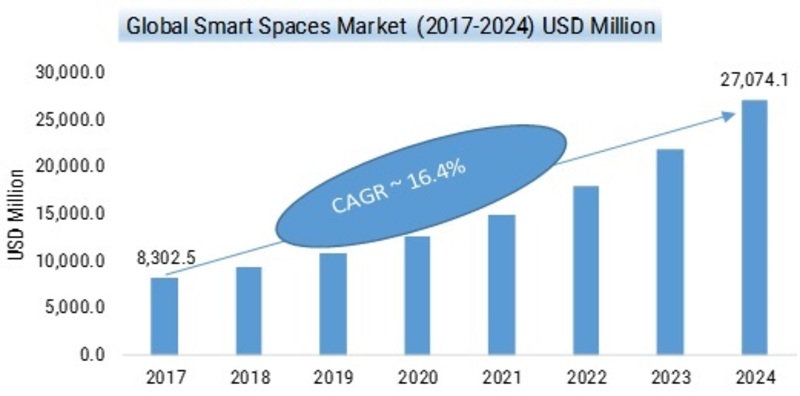 Source: MRFR Analysis
A smart space is a digital ecosystem that includes humans, connected devices, and software systems that allow free flow of information inside a facility center, building, and in open public area. This integrated ecosystem operates as a connected, coordinated, and intelligent ecosystem that contributes to a smart space.
Rapid urbanization across emerging economies such as China, India, and Brazil, and other densely populated areas have become one of the challenges for government bodies to provide a congestion-free network environment. Also, the increasing number of government initiatives for smart city projects are likely to drive the demand for the smart spaces market during the forecast period.
The adoption of Internet of Things (IoT) connectivity helps enterprises to modernize the workspace and offer them with a collaborative solution to become more efficient and productive. Furthermore, the smart space solution allows the real estate sector to reduce operational costs and increase space optimization. This has increased the adoption of smart building solutions among commercial and residential areas, which in turn is expected to propel the growth of smart space market during the forecast period.
On the other hand, high deployment cost, security concerns, and lack of technical expertise associated with smart spaces are some of the factors that can hinder the growth of the smart spaces market over the next few years.
Key Developments
In January 2019, SmartSpace Software Plc., a provider of integrated space management software for smart buildings, commercial spaces, and hospitality industry, acquired Swiped On Limited, a provider of visitor management solutions, to strengthen its position as a provider of workspace management software solution. The acquisition further allows SmartSpace Software Plc. to strengthen its existing meeting room, desk management, wayfinding, and car parking solutions.
In August 2018, Ubisense Group plc., one of the providers of smart space solutions, partnered with Quuppa, a provider of location-based services and applications to integrate location and identification technologies with its smart space software platform. This enables customers to implement digital twin technology for manufacturing purpose.
Segmentation
The global smart spaces market has been segmented based on component, application, premise type, and region.
By component, the global smart spaces market has been divided into solutions and services. The services segment has been sub-divided into professional services and managed services. Furthermore, the professional services segment has been further sub-categorized into consulting services, deployment and integration services, and support and maintenance services.
Based on application, the global smart spaces market has been bifurcated into energy management and optimization, emergency management, and security management.
Based on the premise type, the global smart spaces market has been categorized as commercial areas, residential areas, and others.
Key Players
Some of the key players in the global smart spaces market include ABB (Switzerland), Cisco Systems Inc., (US), ICONICS, Inc. (US), Coor (Sweden), Siemens AG (Germany), FASEAS SPACEWELL (Belgium), Eutech Cybernetic Pte. Ltd (Singapore), Huawei Technology Co Ltd (China), Schneider Electric (France), Smarten Spaces (Singapore), Smart Space Software Plc (UK), Hitachi Vantara Corporation (US), Ubisense (UK), and Adappt (US).
The key strategies adopted by most of the players are partnerships, agreements, collaborations, and the development and launch of new solutions to gain a significant market share in the smart spaces market during the forecast period.
Competitive Analysis
The vendors operating in the smart spaces are mainly from the US and Europe. The market players are witnessing an organic growth approach to expand its businesses through new product development and integrating disruptive technologies such as artificial intelligence (AI), digital twins, augmented reality (AR) and virtual reality (VR).
Regional Analysis
Geographically, the global smart spaces market has been categorized into North America, Europe, Asia-Pacific, the Middle East and Africa, and South America.
North America accounted for the largest market share in 2018 and expected to dominate the global smart spaces market during the forecast period. The market growth can be attributed to the highly skilled workforce and the presence of market giants such as Cisco System Inc., IBM Corporation, and SmartSpace Software Plc.
Asia-Pacific is expected to be the fastest growing segment in the smart spaces market during the assessment period. The market growth is attributed to increasing smart city initatives in the emerging economies of China, India, and Vietnam.
Intended Audience



Smart Spaces solutions providers




Systems integrators




Government organizations




OEMS, and software vendors




Local/Government Agencies




Analytical Software Providers




Cloud Service Providers




IT Providers




Value-added Resellers




Cloud Infrastructure Agencies




Research Firms



Frequently Asked Questions (FAQ) :
---