Global Smart Parking Market Information by Parking site (On-street, Off-street), by Solutions (Security & Surveillance, Valet & Parking Reservation and other) By Application (Transport Transit, Government, Commercial) - Forecast to 2022

Market Synopsis of Smart parking Market
The growth in the Automobile Industry directly translates into increasing demand in the smart parking market. Smart parking systems enables individuals to save time and reduce traffic problems as well as improves the way people commute. Increasing number of automobile and lack of efficient parking management systems are some of the factors driving the demand for smart parking across the globe. These systems help in making the cities greener, cleaner, and technologically advanced by offering several opportunities for the reuse of commercial and municipal parking areas and garages. Moreover, cellphone-enabled automated solutions and low-cost sensors boosting the market for smart parking.
However, the lack of awareness about the smart parking advantages especially in under-developed regions is projected to limit the growth opportunities. The lack of funding initiatives is further projected to hinder the industry growth for smart parking.
The global smart parking market size was valued at around USD XX Billion in 2015 and is expected to cross USD XX Billion at CAGR of XX% by 2022.
Study Objectives of Smart parking Market



To provide detailed analysis of the market structure along with forecast for the next 6 years of various segments and sub-segments of the global smart parking market




To provide insights about factors affecting the market growth




To analyze the global smart parking market based on various tools such as price analysis, supply chain analysis, porters five force analysis etc.




To provide historical and forecast revenue of the market segments and sub-segments with respect to four main geographies and their countries, namely, North America, Europe, APAC, and Rest of the World (ROW)




To provide country level analysis of the market with respect to the current market size and future prospective




To provide country level analysis of the market for segment by parking site, technology, application and regions




To provide strategic profiling of the key players in the market, comprehensively analyzing their core competencies, and drawing a competitive landscape for the market




To track and analyze competitive developments such as joint ventures, strategic alliances, mergers and acquisitions, new product developments, and research and developments in the global smart parking market



Segmentation: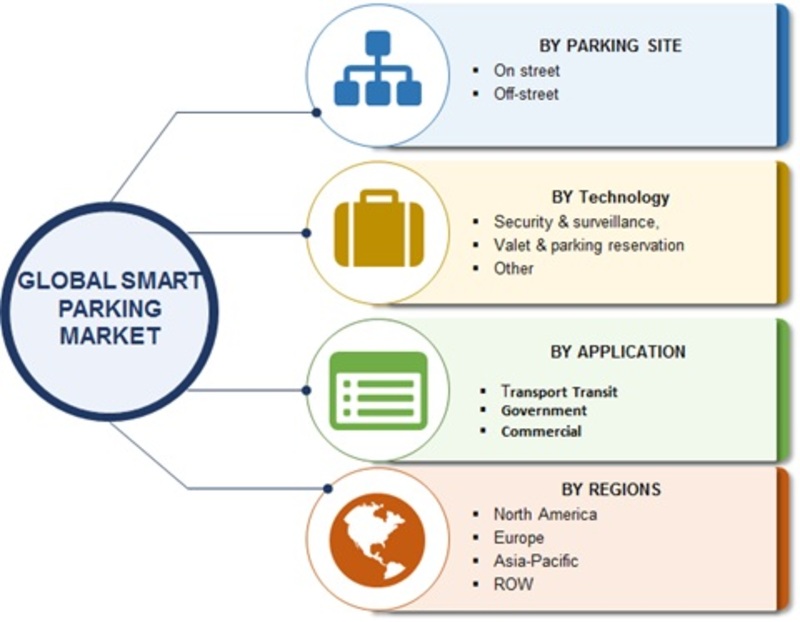 Regional Analysis of Global Smart parking Market
Currently, North America dominates the global smart parking systems market share but Asia pacific region is expected to have the fastest growth during the forecast period. The need for minimizing traffic congestion, owing to the increasing number of vehicles in the U.S. and Canada, is expected to trigger the demand for efficient parking management systems.
Rising demand for automobiles in Asian countries such as India and China is expected to induce growth in the smart parking market. Rapid growth in the demand for management of off-street parking garages and lots is estimated to boost the growth of smart parking systems.
Moreover, European region is expected to have significant opportunities such as industry expansion, favorable government initiatives for the use of smart parking systems to minimize pollution and thus creating a sustainable environment


Market Size of Smart parking market by Regions (USD Billion)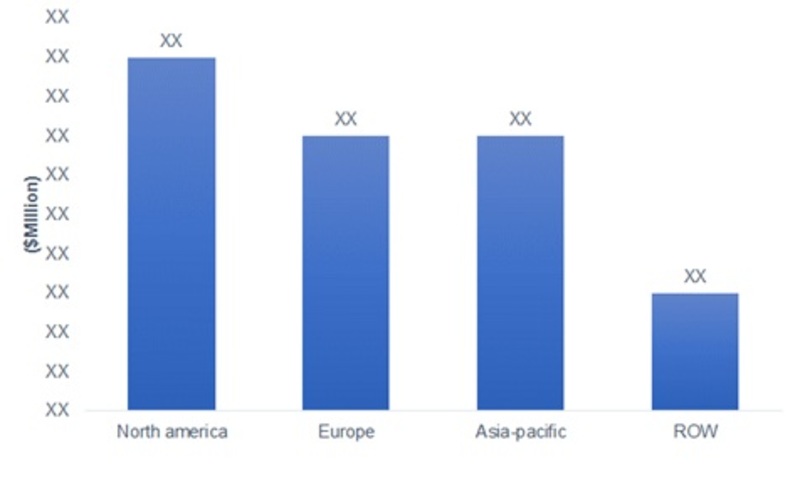 Key Players
The key players of global smart parking market are BMW Group (Germany), Robert Bosch GmbH (Germany), Valeo SA( France), Cubic Corporation (U.S.), Amco S.A.(Greece), Siemens AG, Xerox Corp.(U.S), Altiux Innovations(Bangalore), Continental AG (Germany ), CivicSmart, Inc.(U.S) and others.


Target Audience



Manufactures




Raw Materials Suppliers




Aftermarket suppliers




Research Institute / Education Institute




Potential Investors




Key executive (CEO and COO) and strategy growth manager



Product Analysis
Additional Information



Regulatory Landscape




Pricing Analysis




Macroeconomic Indicators



Geographic Analysis
Company Information



Profiling of 10 key market players




In-depth analysis including SWOT analysis, and strategy information of related to report title




Competitive landscape including emerging trends adopted by major companies



The report for Global Smart parking Market of Market Research Future comprises of extensive primary research along with the detailed analysis of qualitative as well as quantitative aspects by various industry experts, key opinion leaders to gain the deeper insight of the market and industry performance. The report gives the clear picture of current market scenario which includes historical and projected market size in terms of value and volume, technological advancement, macro economical and governing factors in the market. The report provides details information and strategies of the top key players in the industry. The report also gives a broad study of the different market segments and regions.


Table of Contents

1. Executive Summary

2. Research Methodology

2.1. Scope of the study

2.1.1. Definition

2.1.2. Research Objective

2.1.3. Assumptions

2.1.4. Limitations

2.2. Research Process

2.2.1. Primary Research

2.2.2. Secondary Research

2.3. Market size Estimation

2.4. Forecast Model

3. Market Dynamics

3.1. Market Drivers

3.2. Market Inhibitors

3.3. Supply/Value Chain Analysis or Market Ecosystem

3.4. Porter's Five Forces Analysis

4. Market, by Parking site

4.1. Introduction

4.2. On-street

4.3. Off-street

5. Market, by Solutions

5.1. Introduction

5.2. Security & Surveillance,

5.3. Valet & Parking Reservation

5.4. Other

6. Market, By Application

6.1. Introduction

6.2. Transport Transit

6.3. Government

6.4. Commercial

7. Regional Market Analysis

7.1. Introduction

7.2. North America

7.2.1. U.S.

7.2.2. Canada

7.2.3. Mexico

7.3. Europe

7.3.1. U.K.

7.3.2. France

7.3.3. Germany

7.3.4. Russia

7.3.5. Rest of Europe

7.4. Asia-Pacific

7.4.1. China

7.4.2. Japan

7.4.3. India

7.4.4. Australia

7.4.5. South Korea

7.4.6. Rest of Asia-Pacific

7.5. ROW

8. Competition Analysis

8.1. Introduction

8.2. Competitive Scenario

8.2.1. Market Share Analysis

8.2.2. Market Development Analysis

8.2.3. Product/Service Benchmarking

8.3. BMW Group

8.3.1. Overview

8.3.2. Product/Service Offering

8.3.3. Strategy

8.4. Robert Bosch GmbH

8.4.1. Overview

8.4.2. Product/Service Offering

8.4.3. Strategy

8.5. Valeo S.A

8.5.1. Overview

8.5.2. Product/Service Offering

8.5.3. Strategy

8.6. Cubic Corporation

8.6.1. Overview

8.6.2. Product/Service Offering

8.6.3. Strategy

8.7. Amco S.A

8.7.1. Overview

8.7.2. Product/Service Offering

8.7.3. Strategy

8.8. Siemens

8.8.1. Overview

8.8.2. Product/Service Offering

8.8.3. Strategy

8.9. Xerox Corp

8.9.1. Overview

8.9.2. Product/Service Offering

8.9.3. Strategy

8.10. Altiux Innovations

8.10.1. Overview

8.10.2. Product/Service Offering

8.10.3. Strategy

8.11. Continental AG

8.11.1. Overview

8.11.2. Product/Service Offering

8.11.3. Strategy

8.12. CivicSmart

8.12.1. Overview

8.12.2. Product/Service Offering

8.12.3. Strategy