Market Synopsis of Security Systems Market:

The security system holds some of the major and diversified key players such as Cisco systems Inc (US), ASSA Abloy (Sweden), FLIR systems (US), Bosch security systems (Germany), ADT Corporation (US), Brocade communication systems Inc (US), Honeywell International, Inc (US), Symantec Corporation (US) and Fortinet (US).
The security systems market is growing at a positive rate including the wireless and electronic security systems. This is majorly due to emerging economies such as China, India and Japan investing more in defense and automation in industries like retail, Banking & Finance and Transportation. However, North America is the leader in the security system market largely due to the factors like early adoption towards industrial automation and highly advanced Aerospace & defense industry.
The market of Security systems can be bifurcated further by Deployment, Product, End – User and Region. On the basis of Deployment, Security system market can be divided into Commercial security and industrial security. Industrial security can again be divided into Large and SME's. Out of these, Commercial security market holds the larger market share in global terms compared to the industrial security systems. However, the industrial security is higher when compared in terms of wireless security systems. The commercial security is high due to higher penetration of Internet, digitalization of Retail and Banking & Finance industries and technological advancements in the Transportation sector.
Many large organizations having remote connectivity in their worldwide offices are investing much more in wireless and electronic security because of a huge threat of internet based applications and cyber-attacks to prevent the sensitive and confidential data. Apart from the industrial usage of security systems, commercial systems in Banking, retail and Transportation sectors are high users of security systems. This is mainly to secure the data (personal and sensitive customer information) for banking and Finance. Due to the technological advancements, retail industry is moving off the brick and mortar and largely on the internet having to face the threats of data theft, warehouse security and logistics.
Security systems market is a dynamic and very highly growing market in terms of wireless industrial security, electronic security, smart devices (smart cards, smart locks and alarms), connected home security and Asset tracking.
Security System Market, USD Billion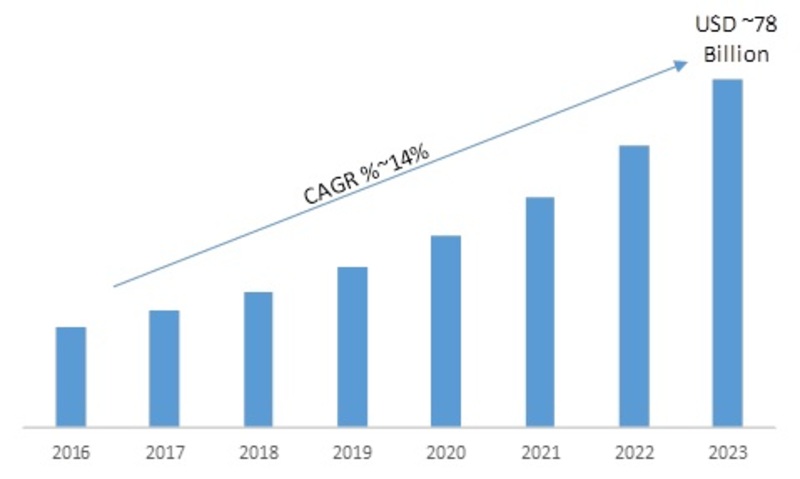 The competitive landscape of Security systems market is formed by various dynamic and diversified and dynamic international organizations having global presence and remotely connected, regional organizations dealing mainly in commercial spaces and as well as new entrants. The key leaders in the market are continuously innovating and investing in the Research and Development and cost effective portfolio. The smart security market has driven many industries like transportation, retail and aerospace & defense to invest more in security systems.
The Security system market is expected to reach approximately 78.56 USD billion by the end of 2023 with 14.47 % CAGR during the forecasted period from 2017 – 2023.
Segments For the purpose of this study, Market Research Future has segmented the market of Industrial Cyber Security into product, solutions, industries, organization size and region.
Product



Hardware




Software solutions



Deployment



Commercial security




Industrial Security



End – User



Transportation




Commercial




Industrial




Retail




Banking & Finance




Aerospace & Defense



Region



North America




Europe




Asia pacific




Rest of the world.



Intended Audience



Device manufacturers




Network Security providers




Distributors




Suppliers




Research firms




Software investors




Software Developers




IT enablers




Vendors




Wireless security system service providers




Security Agencies




Security Equipment Providers



Frequently Asked Questions (FAQ) :
---
TABLE OF CONTENTS

1 MARKET INTRODUCTION

1.1 INTRODUCTION

1.2 SCOPE OF STUDY

1.2.1 RESEARCH OBJECTIVE

1.2.2 ASSUMPTIONS

1.2.3 LIMITATIONS

1.3 MARKET STRUCTURE

2 RESEARCH METHODOLOGY

2.1 RESEARCH SECURITY SYSTEMS MARKET

2.2 PRIMARY RESEARCH

2.3 SECONDARY RESEARCH

2.4 FORECAST MODEL

2.4.1 MARKET DATA COLLECTION, ANALYSIS & FORECAST

2.4.2 MARKET SIZE ESTIMATION

3 MARKET DYNAMICS

3.1 INTRODUCTION

3.2 MARKET DRIVERS

3.3 MARKET CHALLENGES

3.4 MARKET OPPORTUNITIES

3.5 MARKET RESTRAINTS

4. EXECUTIVE SUMMARY

5. MARKET FACTOR ANALYSIS

5.1 PORTER'S FIVE FORCES ANALYSIS

5.2 SUPPLY CHAIN ANALYSIS

6 SECURITY SYSTEMS MARKET, BY SEGMENTS

6.1 INTRODUCTION

6.2 MARKET STATISTICS

6.2.1 BY PRODUCT

6.2.1.1 HARDWARE

6.2.1.2 SOFTWARE SOLUTIONS

6.2.2 BY DEPLOYMENT

6.2.2.1 COMMERCIAL SECURITY

6.2.2.2 INDUSTRIAL SECURITY

6.2.3 BY END - USER

6.2.3.1 TRANSPORTATION

6.2.3.2 COMMERCIAL

6.2.3.3 INDUSTRIAL

6.2.3.4 RETAIL

6.2.3.5 BANKING & FINANCE

6.2.3.6 AEROSPACE & DEFENSE

6.2.4 BY REGION

6.2.4.1 NORTH AMERICA

6.2.4.1.1 US

6.2.4.1.1 CANADA

6.2.4.2 EUROPE

6.2.4.2.1 UK

6.2.4.2.2 GERMANY

6.2.4.2.3 FRANCE

6.2.4.2.4 SWEDEN

6.2.4.3 APAC

6.2.4.3.1 CHINA

6.2.4.3.2 JAPAN

6.3.4.3.3 INDIA

6.2.4.4 REST OF THE WORLD

7 COMPETITIVE ANALYSIS

7.1 MARKET SHARE ANALYSIS

7.2 COMPANY PROFILES

7.2.1 CISCO SYSTEMS, INC (U.S.)

7.2.2 ASSA ABLOY (SWEDEN)

7.2.3 FLIR SYSTEMS (U.S)

7.2.4 BOSCH SECURITY SYSTEMS (GERMANY)

7.2.5 ADT CORPORATION (U.S)

7.2.6 BROCADE COMMUNICATION SYSTEM, INC (U.S.)

7.2.7 HONEYWELL INTERNATIONAL, INC (U.S.)

7.2.8 SYMANTEC CORPORATION (U.S.)

7.2.9 FORTINET (U.S)

7.2.10 OTHERS
LIST OF TABLES

TABLE 1 SECURITY SYSTEMS MARKET, BY PRODUCT

TABLE 2 SECURITY SYSTEMS MARKET, BY DEPLOYMENT

TABLE 3 SECURITY SYSTEMS MARKET, BY END USER

TABLE 4 SECURITY SYSTEMS MARKET, BY REGION

TABLE 5 NORTH AMERICA SECURITY SYSTEMS MARKET, BY PRODUCT

TABLE 6 NORTH AMERICA SECURITY SYSTEMS MARKET, BY DEPLOYMENT

TABLE 7 NORTH AMERICA SECURITY SYSTEMS MARKET, BY END USER

TABLE 8 U.S SECURITY SYSTEMS MARKET, BY PRODUCT

TABLE 9 U.S SECURITY SYSTEMS MARKET, BY DEPLOYMENT

TABLE 10 U.S. SECURITY SYSTEMS MARKET, BY END USER

TABLE 11 CANADA SECURITY SYSTEMS MARKET, BY PRODUCT

TABLE 12 CANADA SECURITY SYSTEMS MARKET, BY DEPLOYMENT

TABLE 13 CANADA SECURITY SYSTEMS MARKET, BY END USER

TABLE 14 EUROPE SECURITY SYSTEMS MARKET, BY PRODUCT

TABLE 15 EUROPE SECURITY SYSTEMS MARKET, BY DEPLOYMENT

TABLE 16 EUROPE SECURITY SYSTEMS MARKET, BY END USER

TABLE 17 GERMANY SECURITY SYSTEMS MARKET, BY PRODUCT

TABLE 18 GERMANY SECURITY SYSTEMS MARKET, BY DEPLOYMENT

TABLE 19 FRANCE SECURITY SYSTEMS MARKET, BY PRODUCT

TABLE 20 FRANCE SECURITY SYSTEMS MARKET, BY DEPLOYMENT

TABLE 21 U.K. SECURITY SYSTEMS MARKET, BY PRODUCT

TABLE 22 U.K. SECURITY SYSTEMS MARKET, BY DEPLOYMENT

TABLE 23 REST OF EUROPE SECURITY SYSTEMS MARKET, BY PRODUCT

TABLE 24 REST OF EUROPE SECURITY SYSTEMS MARKET, BY DEPLOYMENT

TABLE 25 ASIA-PACIFIC SECURITY SYSTEMS MARKET, BY PRODUCT

TABLE 26 ASIA-PACIFIC SECURITY SYSTEMS MARKET, BY DEPLOYMENT

TABLE 27 ASIA-PACIFIC SECURITY SYSTEMS MARKET, BY END USER

TABLE 28 CHINA SECURITY SYSTEMS MARKET, BY PRODUCT

TABLE 29 CHINA SECURITY SYSTEMS MARKET, BY DEPLOYMENT

TABLE 30 CHINA SECURITY SYSTEMS MARKET, BY END USER

TABLE 31 JAPAN SECURITY SYSTEMS MARKET, BY PRODUCT

TABLE 32 JAPAN SECURITY SYSTEMS MARKET, BY DEPLOYMENT

TABLE 33 JAPAN SECURITY SYSTEMS MARKET, BY END USER

TABLE 34 INDIA SECURITY SYSTEMS MARKET, BY PRODUCT

TABLE 35 INDIA SECURITY SYSTEMS MARKET, BY DEPLOYMENT

TABLE 36 INDIA SECURITY SYSTEMS MARKET, BY END USER

TABLE 37 REST OF THE WORLD SECURITY SYSTEMS MARKET, BY PRODUCT

TABLE 38 REST OF THE WORLD SECURITY SYSTEMS MARKET, BY DEPLOYMENT

TABLE 39 REST OF THE WORLD SECURITY SYSTEMS MARKET, BY END USER
LIST OF FIGURES

FIGURE 1 RESEARCH METHODOLOGY

FIGURE 2 SECURITY SYSTEMS MARKET, BY PRODUCT (%)

FIGURE 3 SECURITY SYSTEMS MARKET, BY DEPLOYMENT (%)

FIGURE 5 SECURITY SYSTEMS MARKET, BY END USER (%)

FIGURE 6 SECURITY SYSTEMS MARKET, BY REGION (%)

FIGURE 7 NORTH AMERICA SECURITY SYSTEMS MARKET, BY PRODUCT (%)

FIGURE 8 NORTH AMERICA SECURITY SYSTEMS MARKET, BY DEPLOYMENT (%)

FIGURE 8 NORTH AMERICA SECURITY SYSTEMS MARKET, BY END USER (%)

FIGURE 8 U.S SECURITY SYSTEMS MARKET, BY PRODUCT

FIGURE 9 U.S SECURITY SYSTEMS MARKET, BY DEPLOYMENT

FIGURE 10 U.S. SECURITY SYSTEMS MARKET, BY END USER

FIGURE 11 CANADA SECURITY SYSTEMS MARKET, BY PRODUCT

FIGURE 12 CANADA SECURITY SYSTEMS MARKET, BY DEPLOYMENT

FIGURE 13 CANADA SECURITY SYSTEMS MARKET, BY END USER

FIGURE 14 EUROPE SECURITY SYSTEMS MARKET BY PRODUCT (%)

FIGURE 15 EUROPE SECURITY SYSTEMS MARKET, BY SOLUTIONS (%)

FIGURE 16 EUROPE SECURITY SYSTEMS MARKET, BY INDUSTRIES (%)

FIGURE 17 GERMANY SECURITY SYSTEMS MARKET, BY PRODUCT

FIGURE 18 GERMANY SECURITY SYSTEMS MARKET, BY DEPLOYMENT

FIGURE 19 FRANCE SECURITY SYSTEMS MARKET, BY PRODUCT

FIGURE 20 FRANCE SECURITY SYSTEMS MARKET, BY DEPLOYMENT

FIGURE 21 U.K. SECURITY SYSTEMS MARKET, BY PRODUCT

FIGURE 22 U.K. SECURITY SYSTEMS MARKET, BY DEPLOYMENT

FIGURE 23 REST OF EUROPE SECURITY SYSTEMS MARKET, BY PRODUCT

FIGURE 24 REST OF EUROPE SECURITY SYSTEMS MARKET, BY DEPLOYMENT

FIGURE 25 ASIA-PACIFIC SECURITY SYSTEMS MARKET, BY PRODUCT (%)

FIGURE 26 ASIA-PACIFIC SECURITY SYSTEMS MARKET, BY SOLUTIONS (%)

FIGURE 27 REST OF THE WORLD SECURITY SYSTEMS MARKET, BY PRODUCT (%)

FIGURE 28 REST OF THE WORLD SECURITY SYSTEMS MARKET, BY SOLUTIONS (%)