Market Overview
Global Recycled Carbon Fiber Market is projected to register a CAGR of 12.75% to reach USD 276,021.5 Thousand by 2027.
Recycled carbon fiber is sourced from waste carbon fiber generated as a result of the processing of thermoset carbon fiber-reinforced composites and various dry fiber and prepreg scrap sources. Around 30% of carbon fiber produced ends up as waste during the production of carbon fiber-based end products. Recycled carbon fibers exhibit similar properties as virgin carbon fiber, including high tensile strength, resistance to chemicals, low thermal expansion, and lightweight.
The growth of the global market is primarily driven by the high demand for lightweight materials in the automotive and aerospace and defense industries. Recycled carbon fiber offers benefits such as cost-effectiveness, energy-efficiency, lightweight, and environmental sustainability. These fibers are used in battery boxes, pressure vessels, and lift gate systems.
The increasing demand for lightweight and environment-friendly materials due to the increasingly strict environmental regulations by the regulatory agencies such as the European Union (EU) and the US Environmental Protection Agency (EPA) to reduce carbon emissions is fueling the demand for recycled carbon fibers. Additionally, increasing emission standards in India and China has also resulted in high demand for lightweight automobile materials.
Global Recycled Carbon Fiber Market Revenue, By End-Use Industry, 2019 (USD Thousand)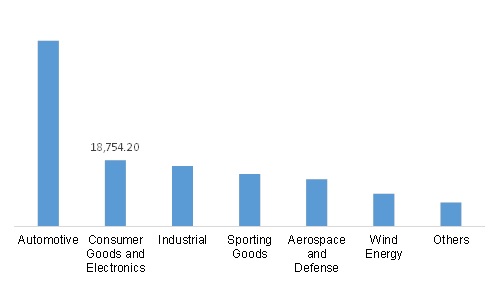 Sources: MRFR Analysis
Segmentation
Global Recycled Carbon Fiber Market is segmented based on Type, End-Use Industry, and Region.
Based on type, the global recycled carbon fiber market is classified into non-woven mats, milled carbon fiber, and chopped carbon fiber. Among these, the non-woven mats segment was the leading segment with a value of USD 53,473.3 thousand in 2019. This is owing to the rising need for cost-effective alternatives to virgin carbon fiber for vehicle light-weighting by OEMs in the transportation sector.
By end-use industry, the recycled carbon fiber market is divided into electronics, oil & gas, aerospace, sporting goods, wind energy, and others. The automotive segment was valued at USD 52,596.7 thousand in 2019, with the highest CAGR of 13.95%.
Global Recycled Carbon Fiber Market Share, By Region, 2019 (%)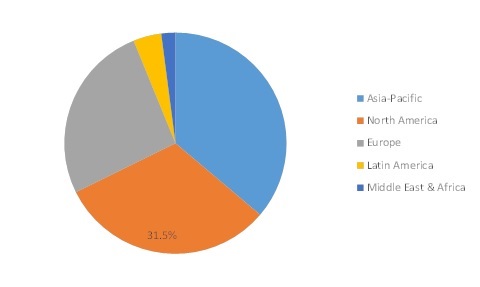 Sources: MRFR Analysis
Regional Analysis
Global Recycled Carbon Fiber Market has been studied across five regions, namely, Asia-Pacific, North America, Europe, Latin America, and the Middle East & Africa. The market in Asia-Pacific held the largest market share of over 35% in 2019, with a market value of around USD 48,080.8 thousand. The high growth in this region can be attributed to the rapid industrialization and growing economic conditions in growth-centric countries such as India, South Korea, and Malaysia. The sale of commercial vehicles in the Indian market increased by 66% from 2014 to 2018. Similarly, the sale of commercial vehicles in China increased by over 15% during the same period.
Key Players
Key Players operating in the Global Recycled Carbon Fiber Market include SGL Carbon (Germany), Sigmatex (UK), Teijin Limited (Japan), ZOLTEK Corporation (US), ELG Carbon Fibre Ltd (UK), Carbon Conversions (US), Carbon Fiber Recycling (US), CFK Valley Stade Recycling GmbH & Co. KG (Germany), Hadeg (Germany), PROCOTEX CORPORATION (Belgium), Shocker composites LLC (US), and Vartega Inc (US).
Companies such as SGL Carbon, Sigmatex, Teijin Limited, ZOLTEK Corporation, and ELG Carbon Fibre Ltd are the dominant players owing to their high revenue generation, strong brand identity, partnerships and customized services, and wide distribution networks.
Key strategic initiatives such as partnerships, agreements, expansion, and product launches were followed by the players with an aggressive approach. For instance, in July 2020, Teijin announced that it would supply its carbon fiber materials, Tenax Dry Reinforcements (DR), for the Airbus A320neo wing spoilers using a Resin Transfer Molding (RTM) process developed by Spirit AeroSystems Inc. The highly automated RTM solution incorporates Tenax Dry Reinforcements Non-Crimp Fabrics (DRNF) and Tenax Braided Fibers (DRBF) to form skins and stiffeners while maintaining existing product interfaces, allowing direct replacement of all final spoiler components.
Market Segmentation
Global Recycled Carbon Fiber Market, By Type



Non-Woven Mats




Milled Carbon Fiber




Chopped Carbon Fiber



Global Recycled Carbon Fiber Market, By End-Use Industry
Global Recycled Carbon Fiber Market, By Region



North America







Europe







Germany




UK




Russia




France




Spain




Italy




Rest of Europe









Asia-Pacific







China




Japan




India




Australia & New Zealand




South Korea




Rest of Asia-Pacific









Latin America







Mexico




Brazil




Argentina




Rest of Latin America









Middle East & Africa






Available Additional Customizations



Customer Analysis of Major Consumers




Additional Company Profiles



Intended Audience



Recycled Carbon Fiber Manufacturers




Suppliers and Traders of Recycled Carbon Fiber and Related Products




Government, Associations, and Industrial Associations




Investors and Trade Experts




Consulting in Chemical Experts



Frequently Asked Questions (FAQ) :
---