Power System Simulator Market Scenario
Power System Simulator Market size is projected to reach USD 1,461.8 Million by 2025 from an estimated USD 962.7 Million, with 7.21% CAGR from 2019 to 2025.
The power system simulator industry includes a simulation system involving power system modeling and network simulation which is used by power system engineers to simulate power transmission networks, power plants, and substations. The power system simulator generally focuses on three major areas in power system analysis, namely, faults calculation, power flow calculation, and economic dispatch calculation. The simulators act as power system real-time simulator and analyze grid faults in real-time and countermeasures with increasing renewable power generation. Moreover, solar power system simulators are also installed for calculation, sizing, and control of photovoltaic installations connected to the grid. Similarly, a double power system simulator also offers real-time simulation with comprehensive accessories including amplifiers, communication devices, and distribution accessories.
The primary drivers of the power system simulator market include the growing power sector, especially renewable power generation and rising adoption of IoT & cloud platforms. Power system simulator possesses certain features which makes it an integral part of any power system. These features include high-resolution & long-time analysis, compatibility with renewable energy resources, and high reproducibility for grid phenomena. All these features of power system simulators are likely to increase the demand for power system simulator.
The global power system simulator market is projected to grow at a high rate during the forecast period. Increasing power sector requires an adequate electrical power system simulator system involving analysis of electrical power systems using real-time data. The power system simulator also allows the testing of various system topologies in commercial facilities, industrial power systems, utility transmission, renewable, and railway power system. Power system simulator, being an integral part of these end-users, is likely to witness a strong growth rate as these end users are having a growing trend all across the globe. However, power system simulators exposed to the risk of data security, which could hinder the growth of the global Power System Simulator market.
Major players are engaged in manufacturing power system simulators that are highly competitive and provide significant benefits to end-users. Moreover, these players are actively participating in offering their products to end-users in order to enhance their market position. For instance, in 2018, GSE Systems signed two contracts worth USD 4 million in order to upgrade nuclear power systems in China. Under this contract, GSE has provided simulation technology and engineering services for high-fidelity nuclear power plant simulator. Similarly, PowerWorld simulators also provide promising power world simulator software packages to end-users. Such contracts made and innovative products offered by the power system simulator manufacturers is likely to drive the growth of the power system simulator market.
The global Power System Simulator Market has been segmented based on module, component, and end-user. By module, the global market is classified into load flow, harmonics, short circuit, device coordination selectivity, arc flash, and others. The load flow segment is set to dominate the global market owing to various load flow techniques available for power system simulator. Moreover, load flow software can also create and validate system models and obtain accurate and reliable results. The development of smart cities especially in the Asia Pacific would create an opportunity for the power system simulator market players.
The global market for Power System Simulator is expected to grow at ~7.21% CAGR during the forecast period.

Key Players
The key players operating in the Global Power System Simulator Market are ABB (Switzerland), Schneider Electric (France), Eaton (Ireland), Siemens (Germany), GE (US), ETAP (US), Open Systems International, Inc. (US), The MathWorks, Inc. (US), Opal-RT Technologies, Inc. (Canada), PowerWorld Corporation (US), Neplan AG (Switzerland), RTDS Technologies Inc. (Canada), Energy Exemplar (Australia), Fuji Electric (Japan), and Atos SE (France).
Market Segmentation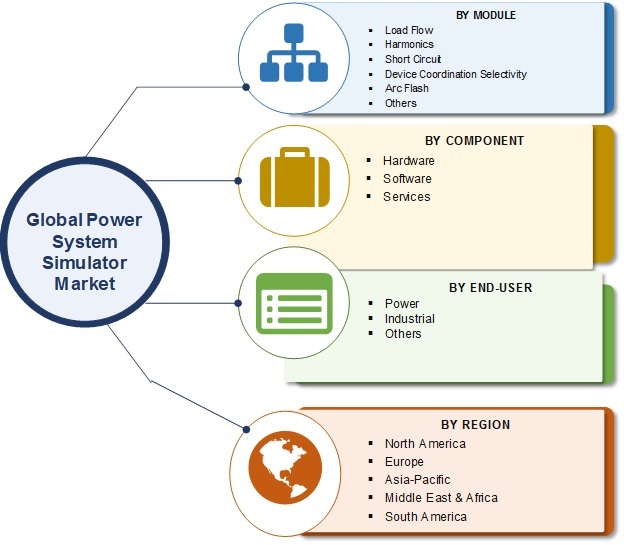 The market is expected to witness high growth during the forecast period owing to the growing power sector and technological advancement in IoT based cloud.
By region, the global power system simulator market is segmented as Asia-Pacific, North America, Europe, the Middle East & Africa, and South America. Moreover, with increasing power generation, especially renewable power generation, the complexity of power transmission network tends to become complex, requiring a proper simulation system to analyze electrical power systems using real-time data.
Intended Audience



Government and research organization




Manufacturing companies of Power System Simulators




Investors and shareholders




Oilfield operators



Report Scope:
Report Attribute/Metric
Details
Market Size
2025:USD 1,461.8 Million
CAGR
7.21% CAGR(2020-2027)
Base Year
2019
Forecast Period
2020-2027
Historical Data
2018
Forecast Units
Value (USD Million)
Report Coverage
Revenue Forecast, Competitive Landscape, Growth Factors, and Trends
Segments Covered
Module, Component and End-user
Geographies Covered
North America, Europe, Asia-Pacific, and Rest of the World (RoW)
Key Vendors
ABB (Switzerland), Schneider Electric (France), Eaton (Ireland), Siemens (Germany), GE (US), ETAP (US), Open Systems International, Inc. (US), The MathWorks, Inc. (US), Opal-RT Technologies, Inc. (Canada), PowerWorld Corporation (US), Neplan AG (Switzerland), RTDS Technologies Inc. (Canada), Energy Exemplar (Australia), Fuji Electric (Japan), and Atos SE (France).
Key Market Opportunities
Development of smart cities
Key Market Drivers
Growing power sector
Renewable power generation
Rising adoption of IoT & cloud platforms
Frequently Asked Questions (FAQ) :
---