Market Synopsis of Pharmaceutical filtration Devices Market:
Market Scenario:
Filtration in pharmaceutical has been used to purify or separate the component and also to maintain the sterile conditions during the process to prevent contamination. Various methods are being used for filtration depends on the component that need to be filtered. Major factors such as increasing growth of pharmaceutical industry and rapid growth in the generic drug production are the main reasons driving the market growth. On the other hand the huge capital required to set up new production facilities and stringent government regulations to legalize the filtration process are expected to limit market growth to a certain extent. Globally, the market is growing rapidly and it is anticipated to show an exponential growth reaching approximately USD 23 Billion in 2022.
Study Objectives of Pharmaceutical filtration Devices Market:



To provide detailed analysis of the market structure along with forecast for the next 7 years of the various segments and sub-segments of the pharmaceutical filtration market




To provide insights about factors affecting the market growth




To analyze the market based on various factors- price analysis, supply chain analysis, porters five force analysis etc.




To provide historical and forecast revenue of the market segments and sub-segments with respect to four main geographies and their countries- Americas, Europe, Asia-Pacific, and Middle East & Africa.




To provide country level analysis of the market with respect to the current market size and future prospective




To provide country level analysis of the market for segments by type, by application, by end user and its sub-segments.




To provide overview of key players and their strategic profiling in the market, comprehensively analyzing their core competencies, and drawing a competitive landscape for the market




To track and analyze competitive developments such as joint ventures, strategic alliances, mergers and acquisitions, new product developments, and research and developments in the global pharmaceutical filtration market.



U.S Pharmaceutical filtration Market, by Type (USD Million):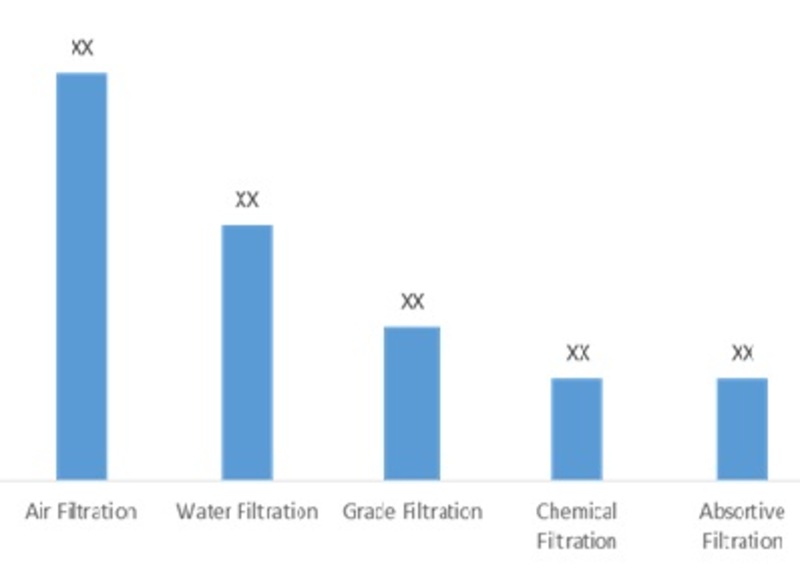 Intended Audience:



Pharmaceutical filtration device manufacturers and suppliers



Contract Research Organizations (CROs)



Research and Development (R&D) Companies




Government & Independent Research Laboratories




Government and Independent Regulatory Authorities




Market Research and Consulting Service Providers




Academic Institutes and Universities



Segments: The pharmaceutical filtrations market has been segmented on the basis of type of filtrations, product, and their application in pharmaceutical industry. On the basis of type the market has been segmented as air filtration, water filtration, chemical filtrations, Grade filtration (liquid and gas), and absorptive filtrations. Similarly on the basis of product, the market has been segmented into membrane filters, media filters, cartridges and capsule filtration and others. On the basis of application in pharmaceutical industry the filtrations market has again segment into air purification, water purification, sterilization, cell separation, media and buffer filtrations and others.
Regional Analysis of Pharmaceutical filtration devices Market:
Considering the global scenario of the market, Americas region is believed to be the largest market for Pharmaceutical filtration techniques and devices. Moreover the European market is also growing continuously and slowly catching up with the American market. On the other hand, Asia-Pacific market is expected to grow at the fastest pace in the pharmaceutical filtration devices segment during the forecasted period. Middle East & Africa region are likely to have a limited but steady growth in the market.
Key Players for Pharmaceutical filtrations devices Market:
Some of the key players in this market are: GE Healthcare (U.S.), Pall Corporation (U.S.), Parker Hannifin Corporation (U.S.), Sartorius Stedim Biotech S.A. (France), Merck KGaA (Germany), Alfa Laval (Sweden), Graver Technologies, LLC (U.S.), Koch Membrane Systems Inc. (U.S.), and GEA Group (Germany).
The report for Pharmaceutical Filtrations Devices Market of Market Research Future comprises of extensive primary research along with the detailed analysis of qualitative as well as quantitative aspects by various industry experts, key opinion leaders to gain the deeper insight of the market and industry performance. The report gives the clear picture of current market scenario which includes historical and projected market size in terms of value and volume, technological advancement, macro economical and governing factors in the market. The report provides details information and strategies of the top key players in the industry. The report also gives a broad study of the different markets segments and regions
Report Scope:
Report Attribute/Metric
Details
Market Size
2022: USD 23 Billion
2027: Significant Value
CAGR
2020-2027: Substantial CAGR
Base Year
2019
Forecast Period
2020-2027
Historical Data
2018
Forecast Units
Value (USD Billion)
Report Coverage
Revenue Forecast, Competitive Landscape, Growth Factors, and Trends
Segments Covered
Type, Product, Applications,
Geographies Covered
North America, Europe, Asia-Pacific, and Rest of the World (RoW)
Key Vendors
GE Healthcare (U.S.), Pall Corporation (U.S.), Parker Hannifin Corporation (U.S.), Sartorius Stedim Biotech S.A. (France), Merck KGaA (Germany), Alfa Laval (Sweden), Graver Technologies, LLC (U.S.), Koch Membrane Systems Inc. (U.S.), and GEA Group (Germany).
Key Market Opportunities
New product launches and R&D Amongst major key Players
Key Market Drivers
Increasing growth of pharmaceutical industry
Rapid growth in the generic drug production
Frequently Asked Questions (FAQ) :
---
Table of Contents

1 INTRODUCTION

1.1 DEFINITION

1.2 SCOPE OF STUDY

1.2.1 RESEARCH OBJECTIVE

1.2.2 ASSUMPTIONS & LIMITATIONS

1.2.2.1 ASSUMPTIONS

1.2.2.2 LIMITATIONS

1.3 MARKET STRUCTURE

2 RESEARCH METHODOLOGY

2.1 RESEARCH PROCESS:

2.2 PRIMARY RESEARCH

2.3 SECONDARY RESEARCH

3 MARKET DYNAMICS

3.1 DRIVERS

3.2 RESTRAINTS

3.3 OPPORTUNITIES

3.4 MACROECONOMIC INDICATORS

4 MARKET FACTOR ANALYSIS

4.1 PORTERS FIVE FORCES MODEL

4.2 BARGAINING POWER OF SUPPLIERS

4.3 BARGAINING POWER OF BUYERS

4.4 THREAT OF NEW ENTRANTS

4.5 THREAT OF SUBSTITUTES

4.6 INTENSITY OF RIVALRY

5 GLOBAL PHARMACEUTICAL FILTRATION MARKET, BY TYPE

5.1 AIR FILTRATION

5.2 WATER FILTRATION

5.3 CHEMICAL FILTRATION

5.4 GRADE FILTRATION

5.4.1 LIQUID FILTRATION

5.4.2 GAS FILTRATION

5.5 ABSORPTIVE FILTRATION

6 GLOBAL PHARMACEUTICAL FILTRATION MARKET, BY PRODUCT

6.1 MEMBRANE FILTERS

6.2 MEDIA FILTERS

6.3 CARTRIDGE AND CAPSULE FILTRATION

6.4 OTHERS

7 GLOBAL PHARMACEUTICAL FILTRATION MARKET, BY APPLICATION

7.1 AIR PURIFICATION

7.2 WATER PURIFICATION

7.3 STERILIZATION

7.4 CELL SEPERATION

7.5 MEDIA AND BUFFER FILTERATION

7.6 OTHERS

8 GLOBAL PHARMACEUTICAL FILTRATION MARKET, BY REGION

8.1 AMERICA

8.1.1 INTRODUCTION

8.2 EUROPE

8.2.1 INTRODUCTION

8.3 ASIA-PACIFIC

8.3.1 INTRODUCTION

8.4 MIDDLE EAST & AFRICA

8.4.1 INTRODUCTION

9 COMPETITIVE LANDSCAPE

9.1 MAJOR STRATEGIES ADOPTED BY MARKET PLAYERS

9.1.1 STRATEGIC PARTNERSHIP

9.1.2 MERGER & ACQUISITION

10 COMPANY PROFILE

10.1 GE HEALTHCARE

10.1.1 OVERVIEW

10.1.2 PRODUCT OVERVIEW

10.1.3 FINANCIALS

10.1.4 KEY DEVELOPMENTS

10.2 MERCK KGAA

10.2.1 OVERVIEW

10.2.2 PRODUCT OVERVIEW

10.2.3 FINANCIALS

10.2.4 KEY DEVELOPMENTS

10.3 PARKER HANNIFIN CORPORATION

10.3.1 OVERVIEW

10.3.2 PRODUCT OVERVIEW

10.3.3 FINANCIALS

10.3.4 KEY DEVELOPMENT

10.4 PALL CORPORATION

10.4.1 OVERVIEW

10.4.2 PRODUCT OVERVIEW

10.4.3 FINANCIALS

10.4.4 KEY DEVELOPMENTS

10.5 SARTORIUS STEDIM BIOTECH S.A

10.5.1 OVERVIEW

10.5.2 PRODUCT OVERVIEW

10.5.3 FINANCIALS

10.5.4 KEY DEVELOPMENTS

10.6 OTHERS

List of Tables

TABLE 1 GLOBAL PHARMACEUTICAL FILTRATION MARKET, BY TYPE, 2020-2027 (USD MILLION)

TABLE 2 GLOBAL PHARMACEUTICAL FILTRATION MARKET, BY PRODUCT, 2020-2027 (USD MILLION)

TABLE 3 GLOBAL PHARMACEUTICAL FILTRATION MARKET, BY APPLICATION, 2020-2027 (USD MILLION)

TABLE 4 GLOBAL PHARMACEUTICAL FILTRATION MARKET, BY REGION, 2020-2027 (USD MILLION)

List of Figures

FIGURE 1 RESEARCH PROCESS

FIGURE 2 PORTERS FIVE FORCES MODEL

FIGURE 3 GLOBAL PHARMACEUTICAL FILTRATION MARKET, BY TYPE

FIGURE 4 GLOBAL PHARMACEUTICAL FILTRATION MARKET, BY PRODUCT

FIGURE 5 GLOBAL PHARMACEUTICAL FILTRATION MARKET, BY APPLICATION

FIGURE 6 GLOBAL PHARMACEUTICAL FILTRATION MARKET, BY REGION

FIGURE 7 GLOBAL PHARMACEUTICAL FILTRATION MARKET: COMPANY