Global PET Bottle Recycling Market, By Process (Chemical, Mechanical), By Application (Beverages, Personal Care, Pharmaceutical, Consumer goods, and others) - Forecast 2016-2023.

Market Synopsis of PET Bottle Recycling Market:
PET bottles are the leading segment of the plastic bottle recycling market, as it has become the material of choice in the beverage sector, which is leading to most of the rise in the demand for packaged food and beverages. Polyethylene Terephthalate, commonly known as PET or PETE is best known as the clear plastic used for water and soda bottle containers. Plastic bottles are majorly consumed as well as are dumped and to avoid the wastage, recycling of the bottles is carried out on large scale. As a raw material, PET is globally recognized as a safe, non-toxic, strong, lightweight, flexible material that is 100% recyclable. Recycling provides opportunities to reduce both carbon dioxide emissions and the quantities of waste. Moreover, advanced technologies and systems for the collection, sorting and reprocessing of recyclable PETs are creating new opportunities for recycling market.

Government initiatives towards recycling of PET bottles and increased awareness of people are driving the PET bottle recycling market. However, its high operational cost may hamper the growth of the market, significantly.

Study Objectives of PET Bottle Recycling Market:
To provide detailed analysis of the market structure along with forecast for the next 6 years of various segments and sub-segments of the global PET bottle recycling market



To provide insights into factors affecting the market growth




To analyze the global PET bottle recycling market based on various tools such as Price Analysis, Supply Chain Analysis, Porter's Five Forces Analysis




To provide historical and forecast revenue of the market segments and sub-segments with respect to four main geographies, North America, Europe, APAC, and Rest of the World (ROW) and their countries




To provide country level analysis of the market with respect to the current market size and future prospective




To provide country level analysis of the market for segment by material, product, application, and regions




To provide strategic profiling of the key players in the market, comprehensively analyzing their core competencies, and drawing a competitive landscape for the market




To track and analyze competitive developments such as joint ventures, strategic alliances, mergers and acquisitions, new product developments, and research and developments in the global PET bottle recycling market.



Segmentation: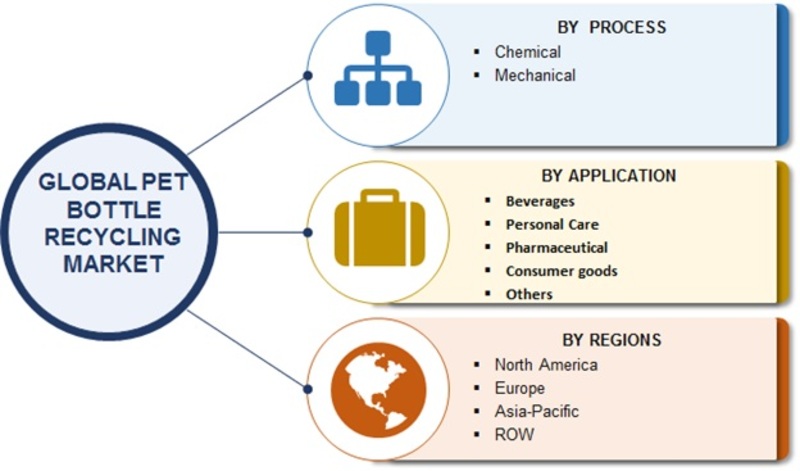 Regional Analysis of Global PET Bottle Recycling Market:

Global PET bottle recycling market is growing rapidly owing to factors such as growing prospects for recycled product, growing environmental concerns and among other. Currently Europe is dominating the PET bottle recycling market. The role of plastic recyclers in Europe is to promote plastic recycling and creation for profitable and sustainable environment. Recycled bottles are gaining popularity across end user industries and the government is also adopting new measures for recycling PET bottles.

Key
Players:
The key players of global PET bottle recycling market include

Advanced Environmental Recycling Technologies, Inc. (U.S.), Avangard Innovative (U.S.), Phoenix Technologies International LLC (U.S.), UltrePET LLC (U.S.), Evergreen Plastics Ltd (U.S.), Complete Recycling (U.S.), ECO2 Plastics Inc (U.S.), Worldwide Recycler Services, LLC (U.S.)

Kuusakoski Oy (Finland) and

PlasticsEurope (Belgium).


Target Audience:



Manufactures




Raw Materials Suppliers




Aftermarket suppliers




Research Institute




Potential Investors




Product Analysis:

Additional Information:



Regulatory Landscape




Pricing Analysis




Macroeconomic Indicators




Geographic Analysis:

Company Information:



Profiling of 10 key market players




In-depth analysis including SWOT analysis, and strategy information of related to report title




Competitive landscape including emerging trends adopted by major companies




The report for Global PET Bottle Recycling Market of Market Research Future comprises of extensive primary research along with the detailed analysis of qualitative as well as quantitative aspects by various industry experts, key opinion leaders to gain the deeper insight of the market and industry performance. The report gives the clear picture of current market scenario which includes historical and projected market size in terms of value and volume, technological advancement, macro economical and governing factors in the market. The report provides details information and strategies of the top key players in the industry. The report also gives a broad study of the different market segments and regions.
1 Executive Summary

2 Research Methodology

2.1 Scope of the Study

2.1.1 Definition

2.1.2 Research Objective

2.1.3 Assumptions

2.1.4 Limitations

2.2 Research Process

2.2.1 Primary Research

2.2.2 Secondary Research

2.3 Market size Estimation

2.4 Forecast Model

3 Market Dynamics

3.1 Market Drivers

3.2 Market Inhibitors

3.3 Supply/Value Chain Analysis

3.4 Porter's Five Forces Analysis

4 Global PET Bottle Recycling Market, By Process

4.1 Chemical

4.2 Mechanical

5 Global PET Bottle Recycling Market, By Application

5.1 Introduction

5.2 Food & Beverages

5.3 Personal Care

5.4 Pharmaceutical

5.5 Consumer goods

5.6 Others

6 Regional Market Analysis

6.1 Introduction

6.2 North America

6.2.1 U.S.

6.2.2 Canada

6.3 Europe

6.3.1 U.K

6.3.2 France

6.3.3 Germany

6.3.4 Spain

6.3.5 Rest of Europe

6.4 Asia-Pacific

6.4.1 China

6.4.2 Japan

6.4.3 India

6.4.4 Rest of Asia-Pacific

6.5 Rest of the World

7 Competitive Analysis

7.1 Introduction

7.2 Competitive Scenario

7.2.1 Market Share Analysis

7.2.2 Market Development Analysis

7.2.3 Process/Service Benchmarking

7.3 Advanced Environmental Recycling Technologies, Inc

7.3.1 Overview

7.3.2 Process/Service Offering

7.3.3 Strategy

7.4 Avangard Innovative

7.4.1 Overview

7.4.2 Process/Service Offering

7.4.3 Strategy

7.5 Phoenix Technologies International LLC

7.5.1 Overview

7.5.2 Process/Service Offering

7.5.3 Strategy

7.6 UltrePET LLC

7.6.1 Overview

7.6.2 Process/Service Offering

7.6.3 Strategy

7.7 Evergreen Plastics Ltd

7.7.1 Overview

7.7.2 Process/Service Offering

7.7.3 Strategy

7.8 Complete Recycling

7.8.1 Overview

7.8.2 Process/Service Offering

7.8.3 Strategy

7.9 ECO2 Plastics Inc.

7.9.1 Overview

7.9.2 Process/Service Offering

7.9.3 Strategy

7.10 Worldwide Recycler Services, LLC

7.10.1 Overview

7.10.2 Process/Service Offering

7.10.3 Strategy

7.11 Kuusakoski Oy

7.11.1 Overview

7.11.2 Process/Service Offering

7.11.3 Strategy

7.12 PlasticsEurope

7.12.1 Overview

7.12.2 Process/Service Offering

7.12.3 Strategy


LIST OF TABLES
TABLE 1 GLOBAL PET BOTTLE RECYCLING MARKET, BY PROCESS

TABLE 2 GLOBAL PET BOTTLE RECYCLING MARKET, BY APPLICATION

TABLE 3 GLOBAL PET BOTTLE RECYCLING MARKET, BY REGIONS

TABLE 4 NORTH AMERICA PET BOTTLE RECYCLING MARKET, BY PROCESS

TABLE 5 NORTH AMERICA PET BOTTLE RECYCLING MARKET, BY APPLICATION

TABLE 6 U.S. PET BOTTLE RECYCLING MARKET, BY PROCESS

TABLE 7 U.S. PET BOTTLE RECYCLING MARKET, BY APPLICATION

TABLE 8 CANADA PET BOTTLE RECYCLING MARKET, BY PROCESS

TABLE 9 CANADA PET BOTTLE RECYCLING MARKET, BY APPLICATION

TABLE 10 EUROPE PET BOTTLE RECYCLING MARKET, BY PROCESS

TABLE 11 EUROPE PET BOTTLE RECYCLING MARKET, BY APPLICATION

TABLE 12 GERMANY PET BOTTLE RECYCLING MARKET, BY PROCESS

TABLE 13 GERMANY PET BOTTLE RECYCLING MARKET, BY APPLICATION

TABLE 14 FRANCE PET BOTTLE RECYCLING MARKET, BY PROCESS

TABLE 15 FRANCE PET BOTTLE RECYCLING MARKET, BY APPLICATION

TABLE 16 U.K. PET BOTTLE RECYCLING MARKET, BY PROCESS

TABLE 17 U.K. PET BOTTLE RECYCLING MARKET, BY APPLICATION

TABLE 18 REST OF EUROPE PET BOTTLE RECYCLING MARKET, BY PROCESS

TABLE 19 REST OF EUROPE PET BOTTLE RECYCLING MARKET, BY APPLICATION

TABLE 20 ASIA-PACIFIC PET BOTTLE RECYCLING MARKET, BY PROCESS

TABLE 21 ASIA-PACIFIC PET BOTTLE RECYCLING MARKET, BY APPLICATION

TABLE 22 ROW PET BOTTLE RECYCLING MARKET, BY PROCESS

TABLE 23 ROW PET BOTTLE RECYCLING MARKET, BY APPLICATION

 
LIST OF FIGURES
FIGURE 1 RESEARCH METHODOLOGY

FIGURE 2 GLOBAL PET BOTTLE RECYCLING MARKET: BY PROCESS (%)

FIGURE 3 GLOBAL PET BOTTLE RECYCLING MARKET: BY APPLICATION (%)

FIGURE 4 GLOBAL PET BOTTLE RECYCLING MARKET: BY REGION

FIGURE 5 NORTH AMERICA PET BOTTLE RECYCLING MARKET, BY PROCESS (%)

FIGURE 6 NORTH AMERICA PET BOTTLE RECYCLING MARKET, BY APPLICATION (%)

FIGURE 7 EUROPE PET BOTTLE RECYCLING MARKET, BY PROCESS (%)

FIGURE 8 EUROPE PET BOTTLE RECYCLING MARKET, BY APPLICATION (%)

FIGURE 9 ASIA-PACIFIC PET BOTTLE RECYCLING MARKET, BY PROCESS (%)

FIGURE 10 ASIA-PACIFIC PET BOTTLE RECYCLING MARKET, BY APPLICATION (%)

FIGURE 11 ROW PET BOTTLE RECYCLING MARKET, BY PROCESS (%)

FIGURE 12 ROW PET BOTTLE RECYCLING MARKET, BY APPLICATION (%)