Market Scenario
Engineering plastics are group of plastic material which has better mechanical and thermal properties. The group of plastic such as polystyrene, PVC, polypropylene and polyethylene are used as engineering plastic. These materials have special properties such as higher impact strength, high abrasion, wear and fatigue resistance. Engineering plastic are manufactured for special applications due to which they are expensive.
On the basis of product, Acrylonitrile Butadiene Styrene (ABS) is dominating the engineering plastic market since they it largely consumed due to its various properties such as high impact, mechanical potency, and high temperature resistance. Acrylonitrile provides chemical resistance, heat stability and ease of processing. Butadiene provides strength and toughness. On the basis of application, automotive segment has the largest market share in the engineering plastic market. They are mostly used in automotive & transportation industry as connectors, wheel well lighting component such as headlamp, fog lamps, among others. Asia-Pacific is expected to account for the largest market share for the forecast period.
Study Objectives of engineering plastic Market



To provide detailed analysis of the market structure along with forecast for the next 5 years of the various segments and sub-segments of the

Global

Engineering plastic

Market




To provide insights about factors affecting the market growth




To Analyse the

Global Engineering plastic Market

based on various factors such as supply chain analysis, and Porter's five force analysis




To provide historical and forecast revenue of the market segments and sub-segments with respect to regions and their respective key countries




To provide country level analysis of the market with respect to the current market size and future prospective




To provide country level analysis of the market for segments by product, by application and by region.




To provide strategic profiling of key players in the market, comprehensively analysing their core competencies, and drawing a competitive landscape for the market




To track and analyse competitive developments such as joint ventures, strategic alliances, mergers and acquisitions, new product developments, and research and developments in the

Global Engineering plastic Market

.



Market Segmentation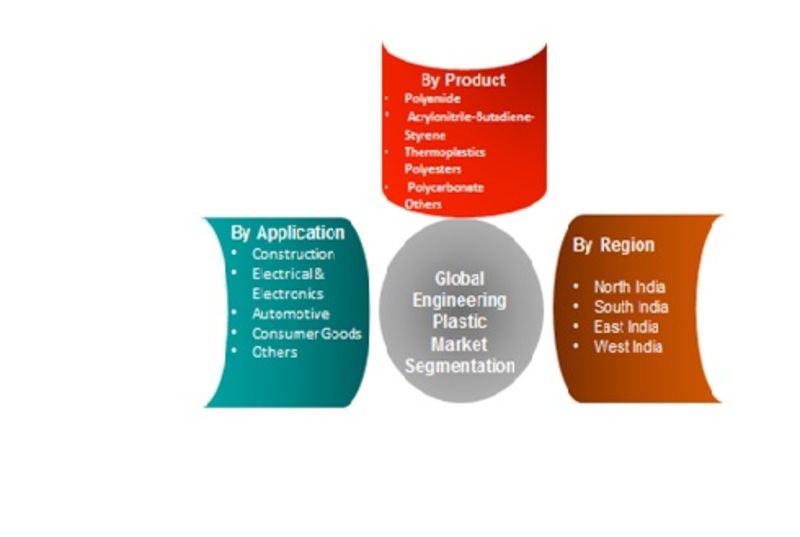 Regional Analysis of engineering plastic Market
The engineering plastic market can be geographically segmented into North America, Europe, Asia Pacific (APAC) and Rest of the World (ROW). Asia-Pacific is expected to dominate the global engineering plastic market due to highest demand in the region. Rapid industrialization, growing demand by industries such as chemicals, power generation, automobile, and packaging, has led to the growing demand for engineering plastic.

Key Players
The key players of engineering plastic market are BASF SE (Germany), Covestro (Germany), Solvay S. A. (Belgium), Celanese Corporation (U.S.), E. I. du Pont de Nemours and Company (U.S.), LG Chem Ltd. (South Korea), Saudi Basic Industries Corporation (Saudi Arabia), Evonik Industries AG (Germany), Lanxess AG (Germany), and Mitsubishi Engineering-Plastics Corporation (Japan).

Intended Audience



Engineering Plastic manufacturers




Distributer & Supplier companies




End Users




consultants and Investment bankers




Government as well as Independent Regulatory Authorities



Product Analysis



Product matrix which gives a detailed comparison of the market for different recycled product types




Additional Information



Regulatory Landscape




Pricing Analysis




Macroeconomic Indicators




Geographic Analysis

Company Information



Profiling of 10 key market players




In-depth analysis including SWOT analysis, and strategy information of related to report title




Competitive landscape including emerging trends adopted by major companies




The report for engineering plastic Market of Market Research Future comprises of extensive primary research along with the detailed analysis of qualitative as well as quantitative aspects by various industry experts, key opinion leaders to gain the deeper insight of the market and industry performance. The report gives the clear picture of current market scenario which includes historical and projected market size in terms of value, technological advancement, macro economical and governing factors in the market. The report provides details information and strategies of the top key players in the industry. The report also gives a broad study of the different market segments and regions.
Frequently Asked Questions (FAQ) :
---
1 Executive Summary

2 Research Methodology

2.1 Scope of the Study

2.1.1 Definition

2.1.2 Research Objective

2.1.3 Assumptions

2.1.4 Limitations

2.2 Research Process

2.2.1 Primary Research

2.2.2 Secondary Research

2.3 Market size Estimation

2.4 Forecast Model

3 Market Dynamics

3.1 Market Drivers

3.2 Market Inhibitors

3.3 Supply/Value Chain Analysis

3.4 Porter's Five Forces Analysis

4 Global Engineering Plastic Market, By Products

4.1 Polyamide

4.2 Acrylonitrile-Butadiene-Styrene

4.2 Thermoplastics Polyesters

4.2 Polycarbonate

4.2 Others

5 Global Engineering Plastic Market, By Application

5.1 Introduction

5.2 Construction

5.3 Electrical & Electronics

5.4 Automotive

5.5 Consumer Goods

5.5 Others

6 Regional Market Analysis

6.1 Introduction

6.2 North America

6.2.1 U.S.

6.2.2 Canada

6.3 Europe

6.3.1 U.K

6.3.2 France

6.3.3 Germany

6.3.4 Spain

6.3.5 Rest of Europe

6.4 Asia-Pacific

6.4.1 China

6.4.2 Japan

6.4.3 India

6.4.4 Rest of Asia-Pacific

6.5 Rest of the World

7 Competitive Analysis

7.1 Introduction

7.2 Competitive Scenario

7.2.1 Market Share Analysis

7.2.2 Market Development Analysis

7.2.3 Product/Service Benchmarking

7.3 BASF SE (Germany)

7.3.1 Overview

7.3.2 Product/Service Offering

7.3.3 Strategy

7.4 Covestro (Germany)

7.4.1 Overview

7.4.2 Product/Service Offering

7.4.3 Strategy

7.5 Solvay S. A. (Belgium)

7.5.1 Overview

7.5.2 Product/Service Offering

7.5.3 Strategy

7.6 Celanese Corporation (U.S.)

7.6.1 Overview

7.6.2 Product/Service Offering

7.6.3 Strategy

7.7 E. I. du Pont de Nemours and Company (U.S.)

7.7.1 Overview

7.7.2 Product/Service Offering

7.7.3 Strategy

7.8 LG Chem Ltd. (South Korea)

7.8.1 Overview

7.8.2 Product/Service Offering

7.8.3 Strategy

7.9 Saudi Basic Industries Corporation (Saudi Arabia)

7.9.1 Overview

7.9.2 Product/Service Offering

7.9.3 Strategy

7.10 Evonik Industries AG (Germany)

7.10.1 Overview

7.10.2 Product/Service Offering

7.10.3 Strategy

7.11 Lanxess AG (Germany)

7.11.1 Overview

7.11.2 Product/Service Offering

7.11.3 Strategy

7.12 Mitsubishi Engineering-Plastics Corporation (Japan)

7.12.1 Overview

7.12.2 Product/Service Offering

7.12.3 Strategy

LIST OF TABLES

TABLE 1 GLOBAL ENGINEERING PLASTIC MARKET, BY PRODUCT

TABLE 3 GLOBAL ENGINEERING PLASTICMARKET, BY APPLICATION

TABLE 4 GLOBAL ENGINEERING PLASTIC MARKET, BY REGIONS

TABLE 5 NORTH AMERICA ENGINEERING PLASTIC MARKET, BY COUNTRY

TABLE 6 NORTH AMERICA ENGINEERING PLASTIC MARKET, BY PRODUCT

TABLE 7 NORTH AMERICA ENGINEERING PLASTIC MARKET, BY APPLICATION

TABLE 8 U.S. ENGINEERING PLASTIC MARKET, BY PRODUCT

TABLE 9 U.S. ENGINEERING PLASTIC MARKET, BY APPLICATION

TABLE 10 CANADA ENGINEERING PLASTIC MARKET, BY PRODUCT

TABLE 11 CANADA ENGINEERING PLASTIC MARKET, BY APPLICATION

TABLE 12 EUROPE ENGINEERING PLASTICMARKET, BY COUNTRY

TABLE 13 EUROPE ENGINEERING PLASTIC MARKET, BY PRODUCT

TABLE 14 EUROPE ENGINEERING PLASTIC MARKET, BY APPLICATION

TABLE 15 GERMANY ENGINEERING PLASTIC MARKET, BY PRODUCT

TABLE 16 GERMANY ENGINEERING PLASTIC MARKET, BY APPLICATION

TABLE 17 FRANCE ENGINEERING PLASTIC MARKET, BY PRODUCT

TABLE 18 FRANCE ENGINEERING PLASTIC MARKET, BY APPLICATION

TABLE 19 U.K. ENGINEERING PLASTIC MARKET, BY PRODUCT

TABLE 20 U.K. ENGINEERING PLASTIC MARKET, BY APPLICATION

TABLE 21 REST OF EUROPE ENGINEERING PLASTIC MARKET, BY PRODUCT

TABLE 22 REST OF EUROPE ENGINEERING PLASTIC MARKET, BY APPLICATION

TABLE 23 ASIA-PACIFIC ENGINEERING PLASTIC MARKET, BY COUNTRY

TABLE 24 ASIA-PACIFIC ENGINEERING PLASTIC MARKET, BY PRODUCT

TABLE 25 ASIA-PACIFIC ENGINEERING PLASTIC MARKET, BY APPLICATION

TABLE 26 MIDDLE EAST & AFRICA ENGINEERING PLASTIC MARKET, BY PRODUCT

TABLE 27 MIDDLE EAST & AFRICA ENGINEERING PLASTIC MARKET, BY APPLICATION

LIST OF FIGURES

FIGURE 1 RESEARCH TYPE

FIGURE 2 GLOBAL ENGINEERING PLASTIC MARKET: BY PRODUCT (%)

FIGURE 3 GLOBAL ENGINEERING PLASTIC MARKET: BY APPLICATION (%)

FIGURE 4 GLOBAL ENGINEERING PLASTIC MARKET: BY REGION

FIGURE 5 NORTH AMERICA ENGINEERING PLASTIC MARKET, BY PRODUCT (%)

FIGURE 6 NORTH AMERICA ENGINEERING PLASTIC MARKET, BY APPLICATION (%)

FIGURE 7 NORTH AMERICA ENGINEERING PLASTIC MARKET, BY COUNTRIES (%)

FIGURE 8 EUROPE ENGINEERING PLASTIC MARKET, BY PRODUCT (%)

FIGURE 9 EUROPE ENGINEERING PLASTIC MARKET, BY APPLICATION (%)

FIGURE 10 EUROPE ENGINEERING PLASTIC MARKET, BY COUNTRIES (%)

FIGURE 11 ASIA-PACIFIC ENGINEERING PLASTIC MARKET, BY PRODUCT (%)

FIGURE 12 ASIA-PACIFIC ENGINEERING PLASTIC MARKET, BY APPLICATION (%)

FIGURE 13 ASIA-PACIFIC ENGINEERING PLASTIC MARKET, BY COUNTRIES (%)

FIGURE 14 ROW ENGINEERING PLASTIC MARKET, BY PRODUCT (%)

FIGURE 15 ROW ENGINEERING PLASTIC MARKET, BY APPLICATION (%)