Market Synopsis of Paint Pigments Market:
The global paint pigments market has experienced an enormous growth over the past decade and as per MRFR analysis, the global market will grow at higher rate of around 4.8 % during the forecast years. Infrastructure spending is likely to boost paint pigments market during the forecast period. Globally, the paint & coating market is boosting the overall market which in turn has created a platform for paint pigment manufacturers to cover the market.
Regional Analysis
Geographically, Asia-Pacific is expected to be the fastest growing as well as the largest market for paint pigment where China's contribution to the overall market has created several opportunities to the local as well as global players. North America and Europe would stand second and third rank in terms of value and volume.
Paint Pigments Market Size by Region, 2015 (USD Million)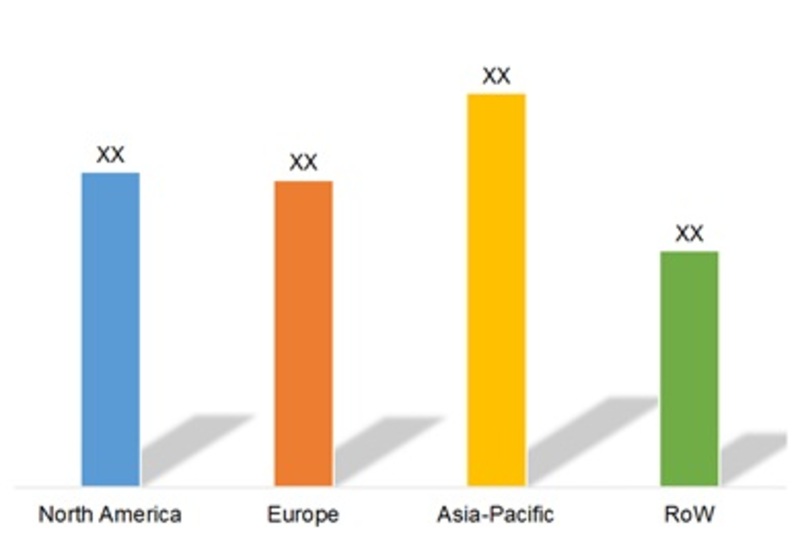 Study Objectives of Paint Pigments Market:



To provide detailed analysis of the market structure along with forecast for the next 6 years of the various segments and sub-segments of the paint pigments market




To provide insights about factors affecting the market growth




To analyze the Paint Pigments market based on various factors- price analysis, supply chain analysis, porters five force analysis etc.




To provide historical and forecast revenue of the market segments and sub-segments with respect to four main geographies and their countries- North America, Europe, Asia-Pacific, and Rest of World.




To provide country level analysis of the market with respect to the current market size and future prospective




To provide country level analysis of the market for segments by forms, mixture, applications and regions




To provide overview of key players and their strategic profiling in the market, comprehensively analyzing their core competencies, and drawing a competitive landscape for the market




To track and analyze competitive developments such as joint ventures, strategic alliances, mergers and acquisitions, new product developments, and research and developments in the global market



Market Segmentation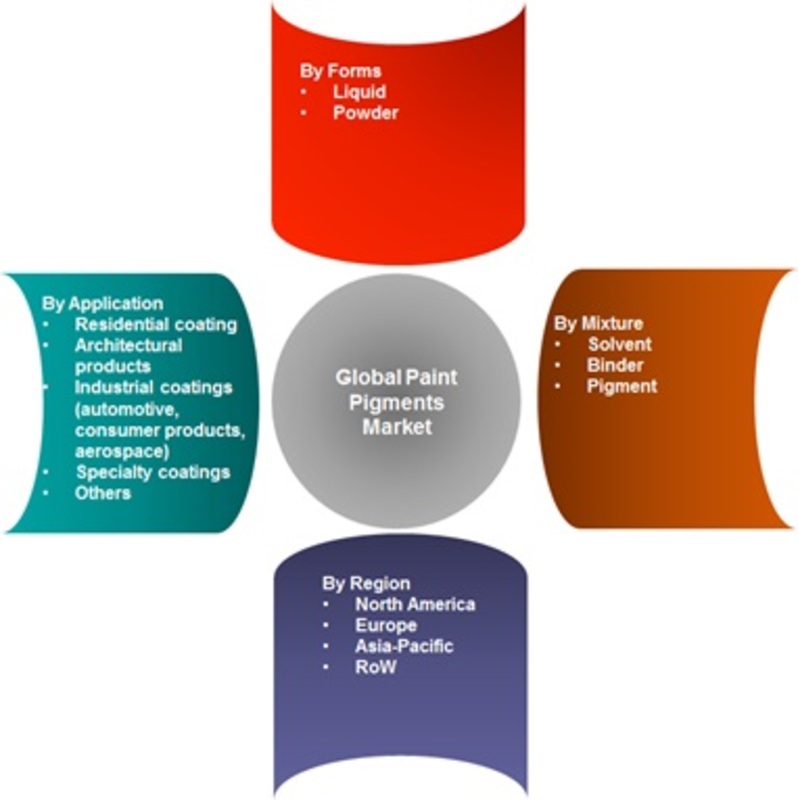 Key Players for Paint Pigments Market:
Some of the key players in this market are BASF SE, Dow Chemical Company, Huntsman Corporation, Nippon Kayaku Company, Cabot Corporation, Clariant, Sensient Technologies, Synthesia, Shanghai Road Dyestuffs & Chemicals, Evonik Degussa, Ei Dupont De Nemours, Dic Corporation and others.
Target Audience



Manufactures of end-use industry




Raw material Suppliers




Aftermarket suppliers




Research Institute / Education Institute




Potential Investors




Key executive (CEO and COO) and strategy growth manager



Additional Information



Regulatory Landscape




Pricing Analysis




Macroeconomic Indicators



Geographic Analysis
Company Information



Profiling of 10 key market players




In-depth analysis including SWOT analysis, and strategy information of related to report title




Competitive landscape including emerging trends adopted by major companies



The report for Global Paint Pigments Market of Market Research Future comprises of extensive primary research along with the detailed analysis of qualitative as well as quantitative aspects by various industry experts, key opinion leaders to gain the deeper insight of the market and industry performance. The report gives the clear picture of current market scenario which includes historical and projected market size in terms of value and volume, technological advancement, macro economical and governing factors in the market. The report provides details information and strategies of the top key players in the industry. The report also gives a broad study of the different market segments and regions.
Report Scope:
| Report Attribute/Metric | Details |
| --- | --- |
| Market Size | 2027: Significant value |
| CAGR | 4.8 %(2019–2027) |
| Base Year | 2019 |
| Forecast Period | 2020-2027 |
| Historical Data | 2018 |
| Forecast Units | Value (USD Million) |
| Report Coverage | Revenue Forecast, Competitive Landscape, Growth Factors, and Trends |
| Segments Covered | By Forms, By Mixture, By Application |
| Geographies Covered | North America, Europe, Asia-Pacific, and Rest of the World (RoW) |
| Key Vendors | BASF SE, Dow Chemical Company, Huntsman Corporation, Nippon Kayaku Company, Cabot Corporation, Clariant, Sensient Technologies, Synthesia, Shanghai Road Dyestuffs & Chemicals, Evonik Degussa, Ei Dupont De Nemours, Dic Corporation |
| Key Market Opportunities | The paint & coating market is boosting the overall market which in turn has created a platform for paint pigment manufacturers. |
| Key Market Drivers | Infrastructure spending is likely to boost paint pigments market during the forecast period. |
Frequently Asked Questions (FAQ) :
---
Table of Contents

1 Report Prologue

2 Introduction

2.1 Definition

2.2 Scope Of The Study

2.2.1 Research Objective

2.2.2 Assumptions

2.2.3 Limitations

2.3 Market Structure

3 Research Methodology

3.1 Research Process

3.2 Primary Research

3.3 Secondary Research

3.4 Market Size Estimation

3.5 Forecast Model

4 Market Dynamics

4.1 Introduction

4.2 Growth Drivers

4.3 Restraints

4.4 Mega Trends

4.5 Macroeconomic Indicators

5 Market Factor Analysis

5.1 Porter's 5 Forces Analysis

5.1.1 Threat Of New Entrants

5.1.2 Bargaining Power Of Suppliers

5.1.3 Bargaining Power Of Buyers

5.1.4 Threat Of Substitute

5.1.5 Segment Rivalry

5.2 Value Chain Analysis

6 Global Paint Pigments Market, By Form

6.1 Introduction

6.2 Market Size (Sub Segments)

6.2.1 Liquid

6.2.2 Powder

7 Global Paint Pigments Market, By Mixture

7.1 Introduction

7.2 Market Size (Sub Segments)

7.2.1 Solvent

7.2.2 Binder

7.2.3 Pigment

8 Global Paint Pigments Market, By Application

8.1 Introduction

8.2 Market Size (Sub Segments)

8.2.1 Residential coating

8.2.2 Architectural products

8.2.3 Industrial coatings

8.2.3.1 Automotive

8.2.3.2 Consumer products

8.2.3.3 Aerospace

8.2.4 Others

9 Global Paint Pigments Market, By Region

9.1 Market Size By Region

9.1.1 North America

9.1.1.1 The United States

9.1.1.2 Canada

9.1.2 Europe

9.1.2.1 Germany

9.1.2.2 United Kingdom

9.1.2.3 France

9.1.2.4 Netherlands

9.1.2.5 Italy

9.1.2.6 Rest Of Europe

9.1.3 Asia-Pacific

9.1.3.1 China

9.1.3.2 Japan

9.1.4 Middle East

9.1.5 Africa

9.1.6 South America

10 Company Profile

10.1 BASF SE

10.1.1 Company Overview

10.1.2 Product/Business Segment Overview

10.1.3 Financial Overview

10.1.4 Key Development

10.2 Dow Chemical Company

10.2.1 Company Overview

10.2.2 Product/Business Segment Overview

10.2.3 Financial Overview

10.2.4 Key Development

10.3 Huntsman Corporation

10.3.1 Company Overview

10.3.2 Product/Business Segment Overview

10.3.3 Financial Overview

10.3.4 Key Development

10.4 Nippon Kayaku Company Limited

10.4.1 Company Overview

10.4.2 Product/Business Segment Overview

10.4.3 Financial Overview

10.5 Cabot Corporation

10.5.1 Company Overview

10.5.2 Product/Business Segment Overview

10.5.3 Financial Overview

10.5.4 Key Developments

10.6 Clariant

10.6.1 Company Overview

10.6.2 Product/Business Segment Overview

10.6.3 Financial Overview

10.6.4 Key Developments

10.7 Sensient Technologies

10.7.1 Company Overview

10.7.2 Product/Business Segment Overview

10.7.3 Financial Overview

10.7.4 Key Developments

10.8 Synthesia

10.8.1 Company Overview

10.8.2 Product/Business Segment Overview

10.8.3 Financial Overview

10.8.4 Key Development

10.9 Shanghai Road Dyestuffs & Chemicals

10.9.1 Company Profile

10.9.2 Product/Business Segment Overview

10.9.3 Financial Updates

10.9.4 Key Development

10.10 Evonik Degussa

10.10.1 Company Profile

10.10.2 Product/Business Segment Overview

10.10.3 Financial Updates

10.10.4 Key Development

10.11 Ei Dupont De Nemours

10.11.1 Company Profile

10.11.2 Product/Business Segment Overview

10.11.3 Financial Updates

10.11.4 Key Development

10.12 Dic Corporation

10.12.1 Company Profile

10.12.2 Product/Business Segment Overview

10.12.3 Financial Updates

10.12.4 Key Development

11 Conclusion