Market Scenario:
Support, braces or splints which are to prevent, support, align or to correct the functioning of movable parts of the body like knee, shoulder, wrist, neck, etc. are known as orthotic. These devices are used to change the structural features of neuromuscular and skeletal system. These devices help to improve the functioning of injured body parts. The main function of these devices is to support the back, joints, limbs and muscles and help them to regain their functionality again so the one can carry out day to day activities smoothly.
Orthotic devices are mainly use to overcome traumatic injuries and restore the body parts. These devices help to relieve inflammation of joints and speed up healing of damaged body parts. Individuals with muscular dystrophy, spinal bifida and scoliosis and joint injuries need orthotic devices for support and rehabilitation. These devices are sometimes used for implantation in patients requiring amputation of limbs.
The market of orthotic devices in Middle East and Africa is growing steadily because of the rising prevalence of lifestyle diseases like diabetes and obesity, ageing population and other foot injuries. The Middle East and Africa market of orthotic devices is expected to reach US$ 500 million in 2023 from US$ 350 million in 2016 with a CAGR of approximately 7.4%.
Study Objectives of Orthotic Devices Market:



To provide detailed analysis of the market structure along with forecast for the next 6 years of the various segments and sub-segments of the Orthotic Devices Market




To provide insights about factors affecting the market growth




To analyze the orthotic devices market based on various factors - price analysis, supply chain analysis, porters five force analysis etc.




To provide historical and forecast revenue of the market segments and sub-segments with respect to Middle East & Africa.




To provide country level analysis of the market with respect to the current market size and future prospective




To provide country level analysis of the market for segments by type, by end users and its sub-segments




To provide overview of key players and their strategic profiling in the market, comprehensively analyzing their core competencies, and drawing a competitive landscape for the market




To track and analyze competitive developments such as joint ventures, strategic alliances, mergers and acquisitions, new product developments, and research and developments in the Middle East and Africa Orthotic Devices market.



Middle East and Africa Orthotic Devices Market, by Type, 2016 (%):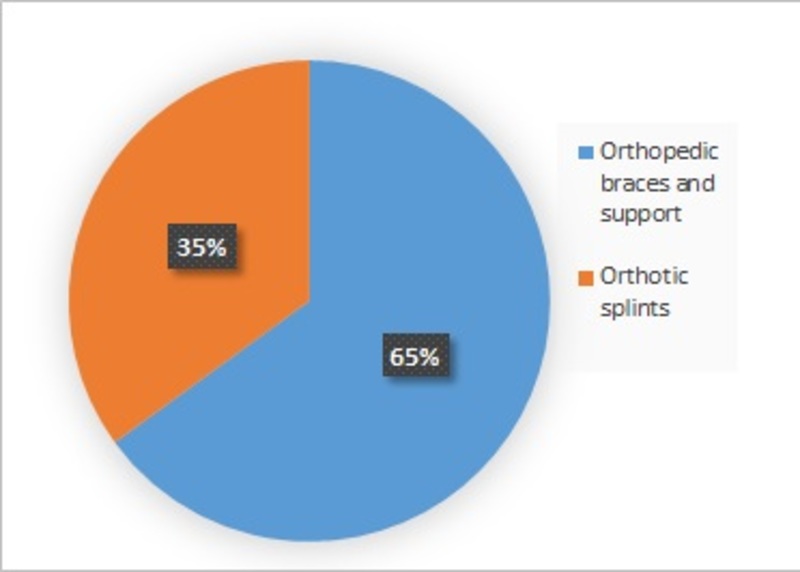 According to type, orthotic devices market is segmented as orthopedic braces and support (upper extremity including shoulder, neck, elbow, wrist and spinal and lower extremity including knee, ankle and hip) and orthotic splints (upper extremity splints and lower extremity splints).
Key Players for Orthotic Devices Market:
Some of the Key Players in this market are: Alvimedica (Turkey), Saudi Pharmaceutical Industries & Medical Appliances Corporation (Saudi Arabia), Itamar Medical (Israel), Alshifa Medical Syringes Manufacturing Co. (Saudi Arabia) and Jamjoon Hospital Supply (Saudi Arabia).
Segments:
Middle East and Africa Orthotic Devices market has been segmented on the basis of types comprising of orthopedic braces and support and Orthotic splints; by anatomical area supported, by material used, by application and by end users. In Middle East and Africa, orthotics market is segmented into regions namely Middle East, Africa and rest of Middle East and Africa on the basis of end users which consists of sports, medical use and others.
Regional Analysis of Orthotic Devices Market:
In Middle East, Saudi Arabia and United Arab Emirates are the key regions for orthotic devices market. Saudi Arabia is the largest market for Orthotic devices. The Saudi Arabia market for orthotic devices is expected to grow at a CAGR of 7.0% and is expected to reach at US$ 100 million by the end of the forecasted period. This is due to increasing prevalence of diabetic patients, obesity and change in lifestyle. United Arab Emirates is the second-largest market for Orthotic Devices which is expected to grow at a CAGR of 5.8%. Africa shows slow growth in this market.

The report for Middle East and Africa Orthotic Devices market of Market Research Future comprises of extensive primary research along with the detailed analysis of qualitative as well as quantitative aspects by various industry experts, key opinion leaders to gain the deeper insight of the market and industry performance. The report gives the clear picture of current market scenario which includes historical and projected market size in terms of value and volume, technological advancement, macro economical and governing factors in the market. The report provides details information and strategies of the top key players in the industry. The report also gives a broad study of the different markets segments and regions.
Intended Audience



Orthotic devices manufacturers




Orthotic devices Suppliers




Research and Development (R&D) Companies




Academic Medical Institutes and Universities



1. Report Prologue

2. Introduction

2.1 Definition

2.2 Scope of the Study

2.2.1 Research Objective

2.2.2 Assumptions

2.2.3 Limitations

2.3 Market Structure

2.4. Market Segmentation

3. Research Methodology

3.1 Research Process

3.2 Primary Research

3.3 Secondary Research

3.4 Market Size Estimation

3.5 Forecast Model

4. Market Dynamics

4.1 Drivers

4.2 Restraints

4.3 Opportunities

4.4 Mega Trends

4.5 Macroeconomic Indicators

5. Market Factor Analysis

5.1 Value Chain Analysis

5.2 Porters Five Forces

5.3 Demand & Supply: Gap Analysis

5.4 Pricing Analysis

5.5 Investment Opportunity Analysis

5.6 Merger and Acquisition Landscape

5.9 Upcoming trends

5.9.1 Market trends

5.9.2 Technological trends

5.9.3 Insurance & Regulations

5.9.4 Others

6. Middle East and Africa Orthotic Devices market by type

7. Middle East and Africa Orthotic Devices market by anatomical area supported

8. Middle East and Africa Orthotic Devices market by application

9. Middle East and Africa Orthotic Devices market by end user

10. Middle East and Africa Orthotic Devices market by region

10.1 Introduction

10.2 Middle East

10.2.1 Saudi Arabia

10.2.2 United Arab Emirates

10.2.3 Egypt

10.3 Africa

10.4 Rest of Middle East and Africa