Overview
The Global Mortuary Equipment Market is expected to register a CAGR of 6.48% to reach USD 1,282.81 Million by 2024. Mortuaries are places where dead bodies are preserved and stored for performing autopsies or for educational and research purposes. Various equipment is used in mortuaries for preservation and for storing the cadavers for research and education.
The high mortality rates, technological advancements, automation in mortuary procedures, and rising number of unclaimed bodies in morgues are likely to contribute to the growth of the market during the assessment period. According to the data published by the Center for Disease Control and Prevention, the death rate of US in 2017 was 849.3 deaths per 100,000 people. However, the development of the anatomage table and high cost of mortuary equipment are likely to restrain the market growth during the forecast period.
Market Dynamics
High demand for technology and automation in mortuary procedures is expected to drive the growth of the global mortuary equipment market. Automated mortuary equipment can make mortuary operations convenient by organizing the whole process well. For instance, in November 2017, Mopec, Inc. introduced a new cadaver lift series that has a versatile design and performance. Therefore, technological advancements and automation in mortuary procedures are expected to drive market growth.
Global

Mortuary Equipment Market Revenue, by Product Type, 2018 (USD Million)

Source: MRFR Analysis
Segmentation
The global mortuary equipment market, by product type, has been segmented into refrigeration units, autopsy platforms, embalming workstations, cadaver lifts & trolleys, dissection tables, and others. The refrigeration units segment accounted for a value of USD 231.40 million in 2018. On the basis of end user, the global mortuary equipment market is segmented into hospitals, academic institutes & research organizations, forensic laboratories, and others.
Asia-Pacific Mortuary Equipment Market Share, 2018 (%)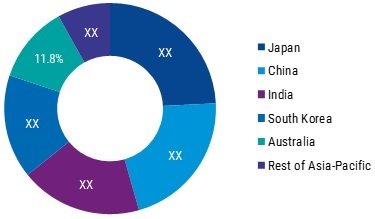 Source: MRFR Analysis
Regional Analysis
The global mortuary equipment market, based on region, is divided into the Americas, Europe, Asia-Pacific, and the Middle East & Africa.
The Americas is expected to hold the largest share of the global mortuary equipment market. This is owing to the availability of a large number of private mortuaries, upgrading obsolete equipment, and rising demand for mortuary equipment in the region. Europe showed a considerable amount of growth in the market due to the growing need for better preservation of corpses for research and academic purposes and the increasing investment in private morgues has resulted in the rising purchase of mortuary equipment. Asia-Pacific is estimated to be the fastest growing region in the global market due to the high number of hospitals in private sectors including medical colleges, technological advancements, and rising investment by local players that export their products to developed countries at affordable prices. Australia held a share of 11.8% in the Asia-Pacific mortuary equipment market in 2018. Also, the market in the Middle East & Africa is expected to steadily grow owing to the increasing use of mortuary equipment in countries such as Egypt, Saudi Arabia, and others, due to a large number of deaths caused by cancer observed in these regions, as mortuary equipment are required in several processes.
Mortuary Equipment Market

Key Players
The prominent players in the global mortuary equipment market are LEEC Limited (UK), KUGEL Medical GmbH & Co. KG (Germany), SM Scientific Instruments Pvt. Ltd (India), Thermo Fisher Scientific (US), HYGECO (France), Mortech Manufacturing Company Inc. (US), Mopec Inc. (US), Ferno-Washington Inc. (US), Barber of Sheffield (UK), EIHF Isofroid (France), Funeralia GmbH (Germany), Flexmort (UK) and others.
Some of the key strategies followed by players operating in the global mortuary equipment market were innovation, product development, acquisition & mergers.



In February 2017

, Ferno-Washington Inc and REV Group announced the launch of innovative patient- and crew-centric ambulance.






In November 2017

, Mopec Inc. introduced a cadaver lift series that features versatility in design and performance.






In January 2018

, HYGECO started providing mortuary equipment to the Blida and Tamanrasset military hospitals in Algeria, North Africa

.



Market Segmentation
Global Mortuary Equipment Market, by Product Type
Global Mortuary Equipment Market, by End User
Global Mortuary Equipment Market, by Region



Americas







North America







Latin America











Europe







Western Europe







Germany




UK




France




Italy




Spain




Rest of Western Europe









Eastern Europe











Asia-Pacific







China




Japan




India




Australia




South Korea




Rest of Asia-Pacific








Available Additional Customizations



Company Profiles of Other Key Players







ETS Bio Freeze Sdn. Bhd.




F. di Ciro Fiocchetti & C. S.N.C.




Thalheimer Kühlung




CEABIS




Paragon Care Group Pty Ltd




Span Surgical Co.




Kenyon Group




Mortuary Solutions




Auden Funeral Supplies Ltd




Morquip









Global Mortuary Equipment Market, by Refrigerator Unit Type



Intended Audience
Frequently Asked Questions (FAQ) :
---