Market Synopsis of Messaging Security Market:
Market Scenario:
McAfee LLC a key player in messaging security market offers varied security platforms that includes cloud, email, data protection and encryption. It provides a combined approach to the cloud and data center transformation with full visibility and control that reaches all corners of the hybrid infrastructure. Trend Micro is one of the prominent player in the messaging security market. It offers provides the protection against both traditional and targeted attacks. The company has designed optional sandbox execution analysis, it blocks spam, fraud practices, and advanced persistent threats (APTs). It provides a hybrid SaaS deployment option that provides a powerful gateway virtual appliance with a SaaS prefilter that stops majority of threats and spam in the cloud service.
North America holds largest market share in messaging security market owing to presence of global players in United States and leader in technology gives main advantage to North America. Europe holds second biggest market position. Asia-Pacific has emerged as fastest growing market in the messaging security market. High presence of IT and healthcare sector in China and Japan and rich service industry in India as well as growing economy of the Asian countries is boosting the market of messaging security in Asia-Pacific region.
The key drivers of messaging security market is increasing number of spams, cyber-attacks, malicious software and high adoption of cloud based services is driving the market.
The messaging security market is segmented on the basis of components, type, mode of communication, deployment and vertical. Cloud solution accounts for highest market share as it helps enterprises by minimizing cost associated with the IT infrastructure. Cloud solution enable enterprise to focus on core business competencies. It provides enterprises with data protection and security, efficiently manage storage and privacy issues, offers data integrity and provides information related to governance and make enterprise legally prepared.
The messaging security market is expected to grow at approximately USD 6 Billion by 2023, at 16% of CAGR between 2017 and 2023.
Messaging Security Market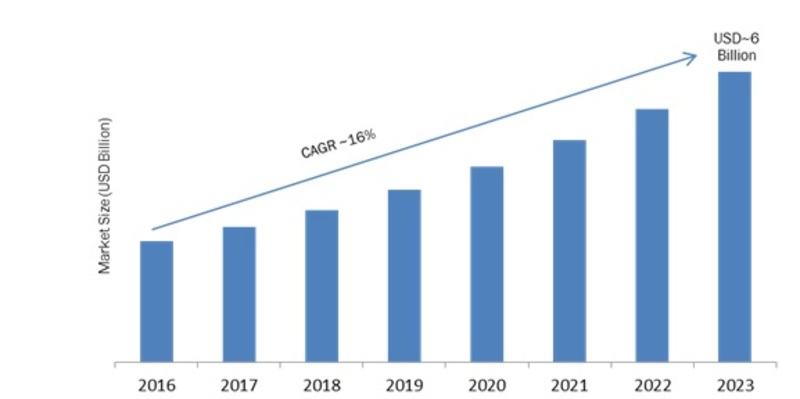 Key Players:
The prominent players in the messaging security market are – McAfee LLC (U.S.), Cisco Systems, Inc. (U.S.), Trend Micro Incorporated (Japan), Symantec Corporation (U.S.), Proofpoint Inc. (U.S.), Forcepoint (U.S.), Microsoft Corporation (U.S.), Sophos Ltd. (U.K.), Barracuda Networks Inc. (U.S.), F-Secure Corporation (Finland) and others.
Segments:
Messaging security market for segment on the basis of component, type, mode of communication and vertical.
Messaging Security Market by Component:
By Solutions
By Service



Professional Mode Of Communication




Managed Mode Of Communication



Messaging Security Market by Type:



Message Confidentiality




Message And System Integrity




Message Authentication




Cryptographically Signed Certificate



E-Commerce Authentication
Third Party Authentication
Messaging Security Market by Mode of Communication:
Messaging Security Market by Deployment:
Messaging Security Market by Vertical:



BFSI




Healthcare And Life science




Media & Entertainment




Retail & Ecommerce




Automotive And Manufacturing




Others



Intended Audience



Investors and consultants




System Integrators




Government Organizations




Research/Consultancy firms




Technology solution providers




IT Solution Providers




Cloud Service Providers




Instant Messaging Vendors




Security Solution Providers



Frequently Asked Questions (FAQ) :
---