Market Scenario
Medical Device Industry is flourishing across the globe owing to an increasing demand for technologically advanced devices, extensive use of smart medical devices, and overall improvement in healthcare sector. Various smart devices are used to determine the heart rate, glucose levels in the body, and other parameters.
Medical device used by the consumer to self-diagnose medical condition is known as a medical tricorder. It takes basic vital measurement like heart rate and body temperature within seconds. Major functions of a medical tricorder are to monitor health of a person, summarize patient's health, diagnose disease and take health measurements. Furthermore, rapid development in technology, increasing government support for research & development, changing lifestyle, and many adverse effects of the present diagnostic methods expected to fuel the market growth during the forecast period.
However, these types of devices has to pass all the regulatory standards and rules, which increases the approval time. The average approval time for the medical diagnostic device may vary from 5-8 years. This long approval time, high cost of the research & development and devices may hamper the market growth during the corresponding period.
The demand of medical tricorder is increasing because of an increase in the demand medical tricorder among health care providers, helping them to diagnose patient's health condition, increasing outpatient services in the hospitals, increase in patient pool suffering from diabetes, and cardiovascular diseases, and demand for new technology for diagnoses and monitoring.
According to findings from the WHO, in 2014, approximately 422 million people suffered from diabetes across the globe.
Global market of medical tricorder is expected to reach USD 5.4 billion in 2023 from USD 2.5 billion in 2016 with a CAGR of approximately 6.7% during the forecast period 2017-2023.

Figure 1: Global Medical Tricorder Market, By Application, 2016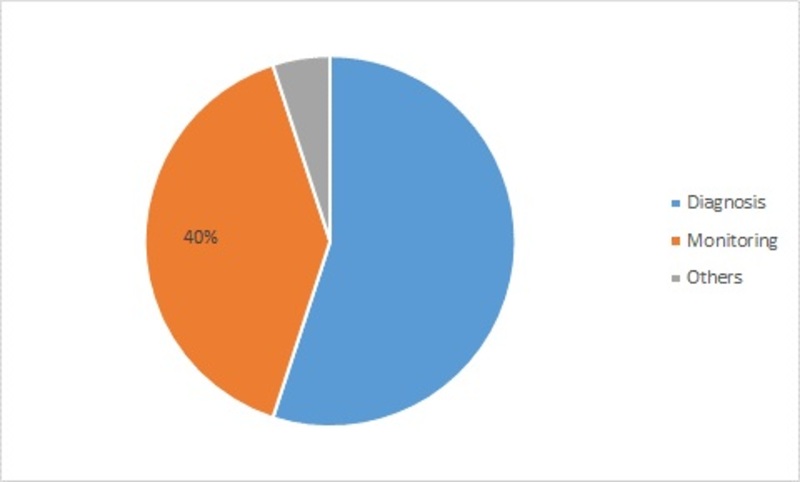 Intended Audience



Healthcare IT companies




Medical device companies



Contract Research Organizations (CROs)



Research and Development (R&D) Companies




Academic Medical Institutes and Universities



Segmentation
The Global Medical Tricorder Market is segmented on the basis of type which includes USB camera, fiber optic camera, wireless, corded and other types.
On the basis of application which includes diagnosis, monitoring and other applications.
On the basis of end users the market is segmented into are hospitals, clinics and others.

Figure 2: Market Synopsis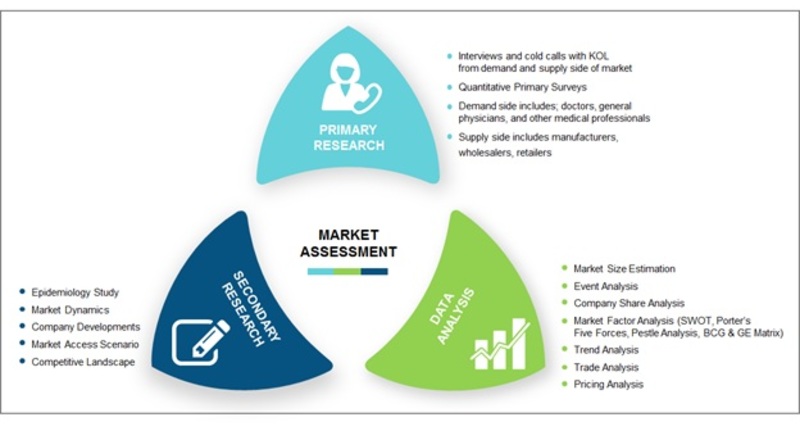 Sources: Press Release, presentation, company website, annual reports, government records, journals expert interview.
Key Players
Scanadu (US), QuantuMDx Group Ltd. (UK), Ibis Biosciences (U.S.) and Others.
Regional Analysis
Globally, The Medical Tricorder Market consists of four regions Americas, Europe, Asia-Pacific and Middle East and Africa. North America is the largest market whose growth is attributed to an increase in patient pool, and demand for improved technology for diagnosis of ongoing health of a patient drive this market in America. According to the American Diabetes Association, in 2015, approximately 30.3 million Americans which is 9.4% of the American population were suffering from diabetes
Europe is the second largest market driven by extensive research in innovative product development, and adoption of new technologies in healthcare institutes such as hospitals & clinics, research institutes, clinical laboratories, diagnostics center and home care settings.
Asia Pacific shows steady growth in this market by driven rising prevalence of chronic diseases such as obesity, diabetes, cardiovascular diseases, growing geriatric population, and development in healthcare sector. China and India are expected to be the emerging market in Asia Pacific, owing to the increasing number of patients diagnosed with chronic diseases, and high growth potentials supported by favorable macro-economic conditions.
The market shows steady but positive growth in Middle East & Africa owing to demand for primary care services for the diagnosis and treatment of chronic diseases, and rising awareness about preventive measures for various diseases, and increasing emphasis on women and child care.
Frequently Asked Questions (FAQ) :
---