Pune, India, November 2017 /MRFR Press Release/- Market research future has a half cooked research report on global medical tricorder market. The global market for medical tricorder is growing continuously and expected to grow at a CAGR of 6.7% from 2017 to 2023
Market Highlights
Medical tricorder is helpful for diagnosing a patient's health condition. Monitoring of health with the help of medical tricorder can be done within seconds. Demand for medical tricorder is increasing due to its simple application in diagnosis and monitoring of health and its extensive use by healthcare providers.
Global medical tricorder market was about is expected to reach USD 5.4 billion by 2023 at a CAGR of 6.7% during forecast period 2017 to 2023.
Taste the market data and market information presented through more than 45 market data tables and figures spread over 80 pages of the project report. Avail the in-depth table of content TOC & market synopsis on "Medical tricorder market Research Report –Global Forecast to 2023."
Global Medical tricorder Market Players:
Key players in medical tricorder market are: Scanadu (US), QuantuMDx Group Ltd. (UK) and Ibis Biosciences (U.S.)
Scanadu is a medical technology company developing next generation test, medical devices and services. The company developed first ever medical tricorder for monitoring body temperature, heart rate and other vital measurement.
QuantuMDx Group Ltd. is a medical device and system company providing innovative solutions for healthcare management. Its technology called DNA XT helps to perform DNA extraction within seconds. Q POC system designed by the company helps to determine drug sensitivity and displays the results within 20 minutes.
Ibis Biosciences, Inc. provides molecular diagnostics, offers instruments and reagents to analyze DNA and RNA for clinical specialists and laboratory. In February 2016, the company won a USD 2,124,718 federal contract from the Defense Advanced Research Projects Agency, Arlington, Virginia for R&D.


Segmentation:
Figure 2          Global Medical tricorder market, by type, 2016 (%)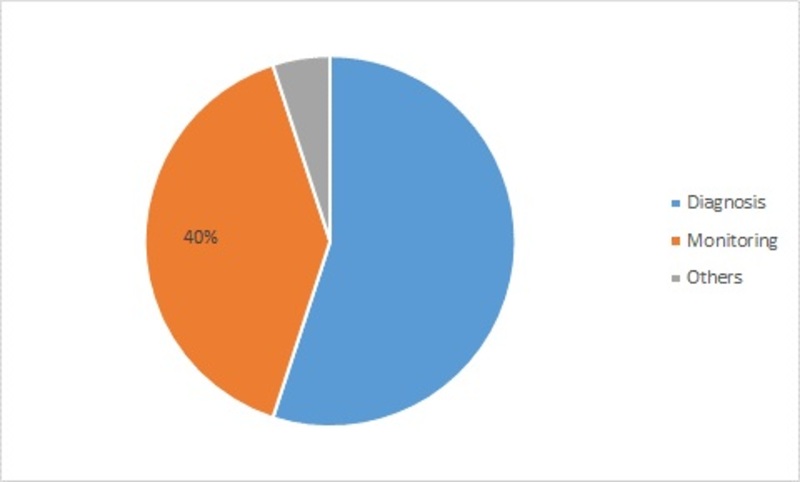 The global medical tricorder market is segmented on the basis of type which includes USB camera, fiber optic camera, wireless, corded and other types.
On the basis of application which includes diagnosis, monitoring and other applications.
On the basis of end users the market is segmented into are hospitals, clinics and others.
Regional analysis:
North America is the largest market whose growth is attributed to an increase in patient pool, and demand for improved technology for diagnosis of ongoing health of a patient drive this market in America. According to the American Diabetes Association, in 2015, approximately 30.3 million Americans which is 9.4% of the American population were suffering from diabetes 
Europe is the second largest market driven by extensive research in innovative product development, and presence of large number of medical devices companies leading the global market.
In Asia Pacific, the market by driven rising prevalence of chronic diseases such as obesity, diabetes, cardiovascular diseases, growing geriatric population, and development in healthcare sector.
The market shows steady but positive growth in Middle East & Africa owing to demand for medical devices for the diagnosis, treatment, and monitoring of chronic diseases. 
Access Report Details @ https://www.marketresearchfuture.com/reports/medical-tricorder-market-1220