Market Scenario:
Medical billing is payment practice which involves receiving payments, submitting bills and following up for payments. Factors that influence the growth of medical billing are, increasing expenditure in healthcare, increasing use of internet, increased need for risk and compliance management, increasing digitalization in healthcare industry and many more. Increasing use of Information technology in maximum sectors will also boost the growth of this market. Increasing patient population due to various diseases, payment process involved in medical billing will be more efficient which in turn will boost the growth of the market and medical billing improves cash flow resulting increase in the growth of the market. On the other hand, privacy concerns are the major factor which may hinder the growth of the market. The global medical billing market is expected to grow at a CAGR of 6.5% during forecasted period 2017-2023.
Market Assessment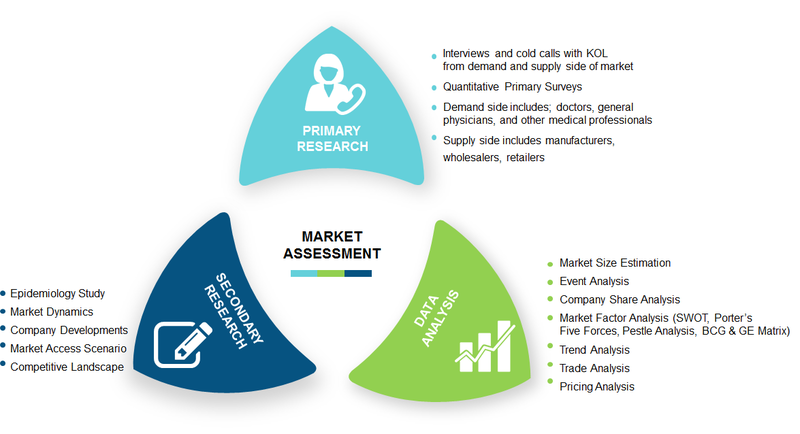 Annual reports, World Health Organization (WHO), White paper, Company Presentation
Segmentation
Global medical billing is segmented by its type, by applications and by process. On the basis of type, it is segmented into professional billing and institutional billing. On the basis of applications, it is segmented into database management, financial, infrastructure, operational. And on the basis of process, it is segmented into electronic billing, payment and medical billing services
Intended Audience



Government and Independent Research Laboratories




Manufacturers and suppliers in billing devices




Government and Independent Regulatory Authorities




Academic Medical Institutes and Universities



Figure 1- Global Medical Billing Market Share, By Application (%)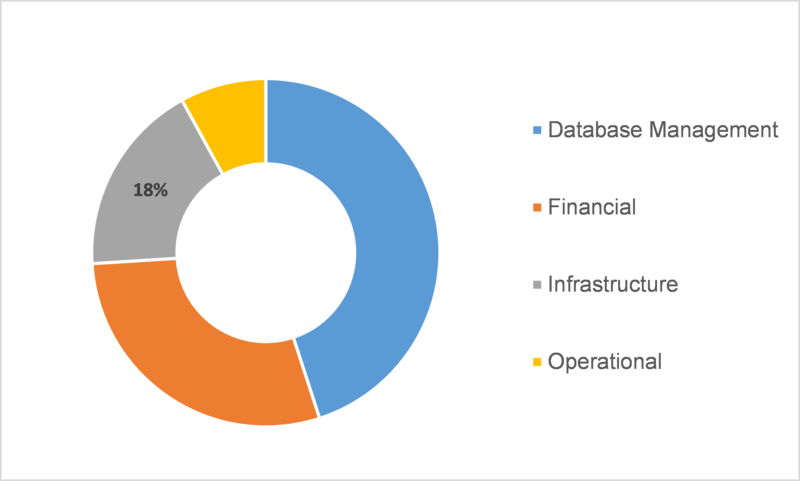 Annual reports, Press release, White paper, Company Presentation
Regional Analysis
On regional basis, the market is segmented into America, Europe, Asia Pacific and Middle East & Africa. America commands the largest market due to extensive growth of the information technology industry. Increasing industrialization and increase in healthcare industry, are factors driving the growth of the market.
Europe is the second largest market for medical billing market followed by Asia Pacific. Owing to the availability of funds for research and development activities and growing emphasis on transparent billing methods.
Asia Pacific shows the fastest growth in this market due to an increase in prevalence of communicable diseases resulting increase in patient population. Particularly, India and China are expected to be emerging and the fastest growing market.
Middle East & Africa has the lowest market for medical billing due to lack of technical knowledge and poor medical facilities.
Key Players for medical billing market
Accenture (US), TCS (India), AGS Health (India), Cognizant Technology Solutions (US), GeBBS Healthcare (US), Genpact (US), HCL Technologies (India), INFINIT Healthcare, Medusind (India) and others.
Report Scope:
Report Attribute/Metric
Details
Market Size
2027: Significant Value
CAGR
6.5% (2017-2023)
Base Year
2019
Forecast Period
2020-2027
Historical Data
2018
Forecast Units
Value (USD Million)
Report Coverage
Revenue Forecast, Competitive Landscape, Growth Factors, and Trends
Segments Covered
Type, Application, Process, End User
Geographies Covered
North America, Europe, Asia-Pacific, and Rest of the World (RoW)
Key Vendors
Accenture (US), TCS (India), AGS Health (India), Cognizant Technology Solutions (US), GeBBS Healthcare (US), Genpact (US), HCL Technologies (India), INFINIT Healthcare, Medusind (India) and others.
Key Market Opportunities
New product launches and R&D Amongst major key Players
Key Market Drivers
Increasing expenditure in healthcare
increasing use of internet
Increased need for risk and compliance management
Increasing digitalization in healthcare industry
Frequently Asked Questions (FAQ) :
---
Table of Contents

1 Report Prologue

2 Market Introduction

2.1 Introduction

2.2 Scope of Study

2.3 Research Objective

2.4 Assumptions & Limitations

2.4.1 Assumptions

2.4.2 Limitations

3 Research Methodology

3.1 Research Process

3.2 Primary Research

3.3 Secondary Research

4 Market Dynamics

4.1 Drivers

4.2 Restraints

5 Market Factor Analysis

5.1 Porter's Five Forces Model

5.1.1 Bargaining Power of Suppliers

5.1.2 Bargaining Power of Buyers

5.1.3 Threat of New Entrants

5.1.4 Threat of Substitutes

5.1.5 Intensity of Rivalry

5.2 Supply Chain Analysis

6. Global Medical Billing Market, By Type

6.1 Professional billing

6.2 Institutional billing

7. Global Medical Billing Market, By Application

7.1 Database Management

7.2 Financial

7.3 Infrastructure

7.4 Operational

8. Global Medical Billing Market, By Process

8.1 Electronic billing

8.2 Payment

8.3 Medical billing services

9. Global Medical Billing Market, by Region

9.1 Introduction

9.2 America

9.2.1 North America

9.2.1.1 US

9.2.1.2 Canada

9.2.2 South America

9.3 Europe

9.3.1 Western Europe

9.3.1.1 Germany

9.3.1.2 UK

9.3.1.3 France

9.3.1.4 Italy

9.3.1.5 Spain

9.3.1.6 Rest of Western Europe

9.3.2 Eastern Europe

9.4 Asia Pacific

9.4.1 Japan

9.4.2 China

9.4.3 India

9.4.4 Australia

9.4.5 Republic of Korea

9.4.6 Rest of Asia Pacific

9.5 Middle East & Africa

9.5.1 United Arab Emirates

9.5.2 Saudi Arabia

9.5.3 Oman

9.5.4 Kuwait

9.5.5 Qatar

9.5.6 Rest of Middle East & Africa

10 Competitive Landscape

10.1 Cost of Products

10.2 Production Capacity of Major Players

11 Company Profile

11.1 Accenture

11.1.1 Overview

11.1.2 Product/Business Segment Overview

11.1.3 Financial Updates

11.1.4 Key Developments

11.2 TCS

11.2.1 Overview

11.2.2 Product/Business Segment Overview

11.2.3 Financial Updates

11.2.4 Key Developments

11.3 AGS Health

11.3.1 Overview

11.3.2 Product/Business Segment Overview

11.3.3 Financial Updates

11.3.4 Key Development

11.4 Cognizant Technology Solutions

11.4.1 Overview

11.4.2 Product/Business Segment Overview

11.4.3 Financial Updates

11.4.4 Key Development

11.5 GeBBS Healthcare

11.5.1 Overview

11.5.2 Product/Business Segment Overview

11.5.3 Financial Updates

11.5.4 Key Developments

11.6 Genpact

11.6.1 Overview

11.6.2 Product/Business Segment Overview

11.6.3 Financial Updates

11.6.4 Key Developments

11.7 HCL Technologies

11.7.1 Overview

11.7.2 Product/Business Segment Overview

11.7.3 Financial Updates

11.7.4 Key Developments

11.8 INFINIT Healthcare

11.8.1 Overview

11.8.2 Product/Business Segment Overview

11.8.3 Financial Updates

11.8.4 Key Developments

11.9 Medusind

11.9.1 Overview

11.9.2 Product/Business Segment Overview

11.9.3 Financial Updates

11.9.4 Key Developments

11.9 Others

12 Conclusion

12.1 Key Findings

12.1.1 From CEO's Viewpoint

12.1.2 Unmet Needs of the Market

12.2 Key Companies to Watch

12.3 Prediction of Healthcare IT Industry

13 Appendix

LIST OF TABLES

Table 1 Medical Billing Industry Synopsis, 2020–2027

Table 2 Global Medical Billing Market Estimates & Forecast, 2020–2027, (USD Million)

Table 3 Global Medical Billing Market, by Region, 2020–2027, (USD Million)

Table 4 Global Medical Billing Market, by Type, 2020–2027, (USD Million)

Table 5 Global Medical Billing Market, by Application, 2020–2027, (USD Million)

Table 6 Global Medical Billing Market, by Process, 2020–2027, (USD Million)

Table 7 Americas Medical Billing Market, by Type, 2020–2027, (USD Million)

Table 8 Americas Medical Billing Market, by Application, 2020–2027, (USD Million)

Table 9 Americas Medical Billing Market, by Process, 2020–2027, (USD Million)

Table 10 North America Medical Billing Market, by Type, 2020–2027, (USD Million)

Table 11 North America Medical Billing Market, by Application, 2020–2027, (USD Million)

Table 12 North America Medical Billing Market, by Process, 2020–2027, (USD Million)

Table 13 South America Medical Billing Market, by Type, 2020–2027, (USD Million)

Table 14 South America Medical Billing Market, by Application, 2020–2027, (USD Million)

Table 15 South America Medical Billing Market, by Process, 2020–2027, (USD Million)

Table 16 Europe Medical Billing Market, by Type, 2020–2027, (USD Million)

Table 17 Europe Medical Billing Market, by Application, 2020–2027, (USD Million)

Table 18 Europe Medical Billing Market, by Process, 2020–2027, (USD Million)

Table 19 Western Europe Medical Billing Market by Type, 2020–2027, (USD Million)

Table 20 Western Europe Medical Billing Market, by Application, 2020–2027, (USD Million)

Table 21 Western Europe Medical Billing Market, by Process, 2020–2027, (USD Million)

Table 22 Eastern Europe Medical Billing Market, by Type, 2020–2027, (USD Million)

Table 23 Eastern Europe Medical Billing Market, by Application, 2020–2027, (USD Million)

Table 24 Eastern Europe Medical Billing Market, by Process, 2020–2027, (USD Million)

Table 25 Asia Pacific Medical Billing Market, by Type, 2020–2027, (USD Million)

Table 26 Asia Pacific Medical Billing Market, by Application, 2020–2027, (USD Million)

Table 27 Asia Pacific Medical Billing Market, by Process, 2020–2027, (USD Million)

Table 28 Middle East & Africa Medical Billing Market, by Type, 2020–2027, (USD Million)

Table 29 Middle East & Africa Medical Billing Market, by Application, 2020–2027, (USD Million)

Table 30 Middle East & Africa Medical Billing Market, by Process, 2020–2027, (USD Million) 

LIST OF FIGURES

Figure 1 Research Process

Figure 2 Segmentation for Global Medical Billing Market

Figure 3 Segmentation Market Dynamics for Medical Billing Market

Figure 4 Global Medical Billing Market Share, by Type 2020

Figure 5 Global Medical Billing Market Share, by Application 2020

Figure 6 Global Medical Billing Market Share, by Process, 2020

Figure 7 Global Medical Billing Market Share, by Region, 2020

Figure 8 Americas Medical Billing Market Share, by Country, 2020

Figure 9 Europe Medical Billing Market Share, by Country, 2020

Figure 10 Asia Pacific Medical Billing Market Share, by Country, 2020

Figure 11 Middle East & Africa Medical Billing Market Share, by Country, 2020

Figure 12 Global Medical Billing Market: Company Share Analysis, 2020 (%)