Machine Glazed Papers

Market Scenario
Machine glazed papers market size is anticipated to register a ~4.62% CAGR between 2020 and 2027 and reach an approximate value of USD 17.23 billion in 2027.
The use of machine-glazed papers has been increasing over the last ten years. Product packaging has changed dramatically. Packing is no longer just packaging; it is now an experience. To meet consumer needs, everyone from manufacturers to retailers is looking for better, greener, and more appealing packaging options. Machine glazed paper, sometimes known as MG paper, is one such option. These papers have become the new standard in packaging due to their incredible strength and ideal mix of gloss and smoothness. Their better printability is also significantly increasing demand. Governments are focusing on sustainability, while fast-moving consumer goods (FMCG) firms and retailers are actively making bold commitments to step up the sustainability of their packaging and fundamentally rethink their packaging systems. Machine Glazed (MG) paper is an uncoated paper with a shiny surface on one side and a slightly rough surface on the other. It combines the high tensile strength of Kraft paper with the smoothness and shine of glossy paper for excellent printability. MG is a versatile base paper that may be used in various packaging applications and is also suitable for direct food contact.MG paper has a low grammage variation throughout its profile, resulting in excellent machinability. Lamination is frequently combined with other substrates such as polyester films and aluminum foil for applications ranging from soap wrappers to chewing gum wrappers to butter wrappers.
MG paper can be used to produce acid-free paper, anti-rust paper, and matchstick paper. Acid-free paper is used for packing clothing, fruits, bangles, and gold. Anti-rust paper is used for wrapping machinery parts and shaving blades to protect them from rusting. Matchstick paper features high tensile strength, burst factor, and twist ability, which is required for making matchsticks, especially for waxed matchsticks. The thickness and porosity of the paper are controlled to ensure correct wax permeability, resulting in good burning characteristics.
Furthermore, MG paper properties are enhanced by the process of chemically refining the pulp and calendaring the paper. The structure of the MG paper involves many layers of cellulose fibers that are intertwined and circuitous. In the chemical refining process, cellulose Fibers are fibrillated, swelled, and collapsed, which increases the contact area between them. The pores between the fibers are thus closed, resulting in a better barrier towards moisture or air. The calendaring process involves the paper being run between heated rollers to smoothen it and give it a uniform thickness across the cross-section. The rollers' heat and pressure applied to the paper web give the distinct machine-glazed, smooth, high gloss finish to the paper.
The growing demand for the product due to its high strength and a perfect balance of gloss and smoothness, rising preferences towards superior printing quality and sustainable packaging, a growing number of applications from various industries such as healthcare, food & beverages, automotive, textile, personal care, and others, are some of the insightful and impactful factors likely to boost the growth of the machine glazed paper market during the forecast period, 2020–2027. On the other hand, surging levels of investment in biodegradable packaging and the rising number of initiatives promoting sustainable packaging are expected to create lucrative growth opportunities that will lead to the growth of the machine glazed paper market during the forecast period.
High recycling prices and volatility in raw materials prices are likely to impede the growth of the machine glazed paper market in the forecast period mentioned above. Increasing difficulty in removing the residue left will become the foremost challenge for the growth of the market.
Key Players
Key industry participants in the machine glazed papers market are International Paper APPM(India), Daio Paper(Japan), BPM(US), Nippon Paper Industries(Japan), Burgo Group(AltavillaVicentina), Smurfit Kappa(Ireland), Mondi Group(UK), Verso Corp.(US), Charta Global(US), and SCG Packaging(Thailand).
Market Segmentation
The global market for machine glazed papers has been classified based on paper type, weight, grade, end-use, application, and region. On the basis of paper type, the machine glazed paper market is divided into tissue paper and kraft paper. Kraft papers continue to capture a leading share of the global machine glazed paper market. Moreover, market players are focusing on achievable, relevant revenue growth prospects in tissue papers. Given their strength, cost-effectiveness, and eco-friendly attributes, machine-glazed kraft papers are considered ideal for packaging. With ever-growing consciousness regarding ecological burden, end users are increasingly turning to eco-conscious businesses and products, with kraft paper packaging among those products.
Based on weight, the machine glazed paper market is segmented into up to 40 GSM, 41 to 70 GSM, 71 to 100 GSM, and above 100 GSM. Machine glazed papers with a basis weight of 71 to 100 grams per square meter (GSM) continue to hold the leading share in terms of revenue. However, their market share is expected to gradually falter in the coming years. The demand for machine glazed papers weighing 41 to 70 GSM and above 100 GSM is expected to pick momentum in the near future.
On the basis of grade, the machine glazed paper market is segmented into unbleached and bleached. Unbleached machine glazed papers are considered safer compared to the bleached variant as they are not processed with chlorine. They are heat resistant and relatively cheaper and thus are ideally used for packaging dry food items and fragile products such as glassware. However, the unbleached machine glazed papers fail to protect food items from grease and are unsuitable for packing wet food products. Despite these cons, these papers continue to gain preference over bleached variants.
Based on end-use, the global machine glazed paper market is segmented into food & beverages, healthcare, electrical and electronics, automotive, personal care & cosmetics, textile, building & construction, and household. End-users of machine glazed papers include the food & beverage, building & construction, and healthcare industries. Among these, the food & beverage industry will remain the primary end-user, while demand from the building & construction industry is speeding up. The food & beverage industry continues to remain the target end user of machine glazed papers, accounting for about a quarter of overall sales. According to a recent survey, 80% of respondents have shown a preference for biodegradables. However, a few believe the material is ready for them.As a response, several food & beverage retailers are embracing the concept of 'reduce, reuse, and recycle.' This trend continues to flourish across the food & beverage industry, and machine glazed paper manufacturers must keep pace with these transformations to capture the value at stake.
Based on application, the global machine glazed paper market includes bags and pouches, sacks, wraps, labels and release liners, envelopes, coating and lamination, trays, cups and bowls, and others. The other applications of machine-glazed papers include gift wraps. The usage of machine glazed papers will remain prominent in sacks and bags & pouches. About six out of ten machine glazed papers are used either in sacks, bags, and pouches.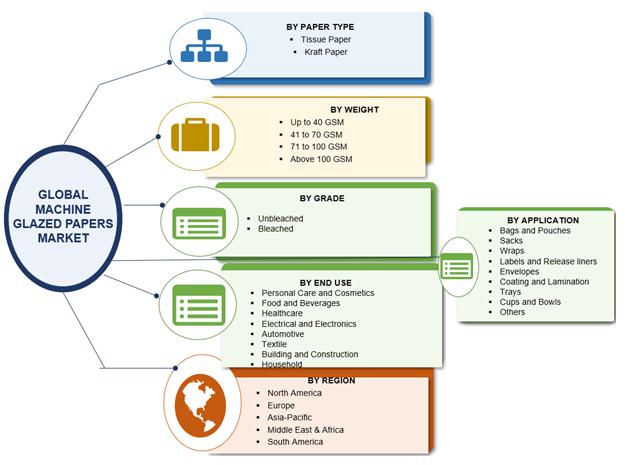 The global machine glazed papers market is expected to witness high growth during the forecast period owing to the growing packaging industry across the globe. The demand for paper and machine glazed papers is expected to be driven by the rapid construction of smart cities and other mega paper projects, particularly in developing nations.
Based on region, the machine glazed papers market is segmented into North America, Europe, Asia-Pacific, the Middle East & Africa, and South America. East Asia accounts for the largest market for machine glazed papers, followed by Europe, given these regions' flourishing food & beverage and healthcare industries. China dominates the Asia-Pacific machine glazed paper market due to the product's availability at affordable prices and the prevalence of various manufacturers in the region. At the same time, North America is expected to register the highest growth rate due to the rising demand for virgin wood pulp. Additionally, the country section of the report provides individual market impacting factors and changes in regulation in the market domestically that impact the current and future trends of the market. Data points such as consumption volumes, production sites and volumes, import-export analysis, price trend analysis, cost of raw materials, downstream and upstream value chain analysis are some of the major pointers used to forecast the market scenario for individual countries. Additionally, the presence and availability of global brands and their challenges faced due to low or high competition from local and domestic brands, the impact of domestic tariffs, and trade routes are considered while providing forecast analysis of the country data. Innovative packaging trends, especially sustainable packaging solutions, are paving the way for paperboard and corrugated packaging. As leading players in the machine glazed paper market are headquartered in North America, the barrier to entry and competitiveness for new entrants is considerably high in the region.
Intended Audience



Government and Research Organizations




Consulting Companies in the Machine Glazed PapersMarket




Raw Material Suppliers




Research Consultants




Investors and Shareholders



Report Scope:
Report Attribute/Metric
Details
Market Size
2027 : USD 17.23 billion
CAGR
4.62% CAGR (2020-2027)
Base Year
2019
Forecast Period
2020-2027
Historical Data
2018
Forecast Units
Value (USD Billion)
Report Coverage
Revenue Forecast, Competitive Landscape, Growth Factors, and Trends
Segments Covered
Paper type, Weight, grade, End-use, Application
Geographies Covered
North America, Europe, Asia-Pacific, and Rest of the World (RoW)
Key Vendors
International Paper APPM(India), Daio Paper(Japan), BPM(US), Nippon Paper Industries(Japan), Burgo Group(AltavillaVicentina), Smurfit Kappa(Ireland), Mondi Group(UK), Verso Corp.(US), Charta Global(US), and SCG Packaging(Thailand).
Key Market Opportunities
New product launches and R&D Amongst
Key Market Drivers
Growing demand for the product due to its high strength and a perfect balance of gloss and smoothness
Rising preferences towards superior printing quality and sustainable packaging
Growing number of applications from various industries
Frequently Asked Questions (FAQ) :
---