Laser Welding Machine Market Synopsis
Laser welding machine market size is projected to grow at a CAGR of 5% during the forecast period.
The Laser welding machine market is expected to grow significantly during the forecast period owing to the thermal stability provided by the laser welding machine which helps in reducing the scrap from the materials that are being welded. The use of laser welding also helps in removing the use of glue and chemical additives from the welding operations. The increasing use of laser welding machines by various end-user applications such as medical, jewelry industry, automotive and electronics among others is also driving the growth of the market. The demand for welding machines will also increase with product innovations, advances in manufacturing process and technological improvements.
Key Players:
The key players of global Laser welding machine market report include- Emerson Electric Company (U.S.), IPG Photonics (U.S.), O.R. Lasertechnologie (Germany), TRUMPF Group(Germany), Amada Miyachi Co., Ltd, (U.S.), FANUC Robotics (Japan), Golden Laser (China), GSI Group, Inc. (U.S.), JENOPTIK AG. (Germany), LaserStar Technologies Corporation (U.S.) among others.
Amongst all technologies which are being used for global laser welding machine market, the fiber laser welding machine is expected to grow significantly during the forecast period. The fiber lasers facilitate the effective delivery of light on the desired spot of the metal which is being welded as it does not need expensive optical mirrors and other moving parts such as a disk laser among others. In this technology, the fiber laser light is amplified and channeled through a fiber optic cable.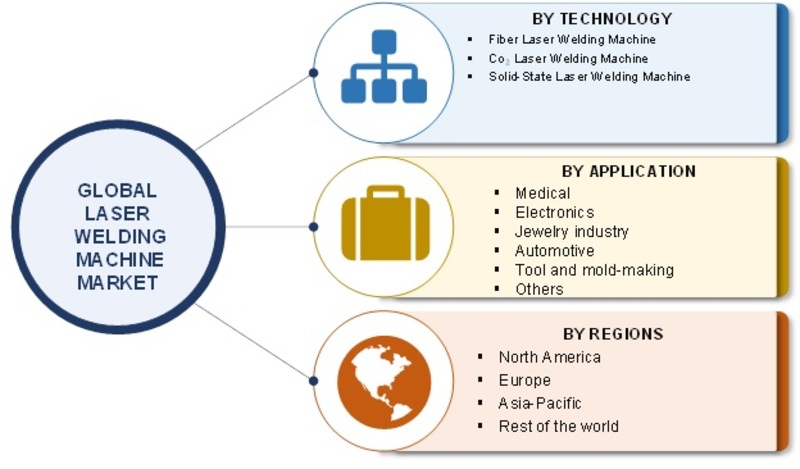 Amongst all regions, Europe region is expected to grow significantly during the forecast period owing to factors such as the rising trend of automation, continuous advancements in welding technology and swift increase in infrastructural development projects. The growth of the market in the region will be further supported by rapid urbanization, the increase in disposable income of the people and the increasing government funding.
Laser welding refers to the use of a laser beam as a concentrated heat source for joining multiple pieces of different kinds of material together. The laser is a focused heat source which helps in creating a strong seam at relatively high speed.
The report for Global Laser welding machine market of Market Research Future comprises of extensive primary research along with the detailed analysis of qualitative as well as quantitative aspects by various industry experts, key opinion leaders to gain the deeper insight of the market and industry performance. The report gives the clear picture of current market scenario which includes historical and projected market size in terms of value and volume, technological advancement, macro economical and governing factors in the market. The report provides details information and strategies of the top key players in the industry. The report also gives a broad study of the different market segments and regions.
Report Scope:
| Report Attribute/Metric | Details |
| --- | --- |
| Market Size | 2027: Significant Value |
| CAGR | 5% CAGR (2020-2027) |
| Base Year | 2019 |
| Forecast Period | 2020-2027 |
| Historical Data | 2018 |
| Forecast Units | Value (USD Million) |
| Report Coverage | Revenue Forecast, Competitive Landscape, Growth Factors, and Trends |
| Segments Covered | Technology, and Application |
| Geographies Covered | North America, Europe, Asia-Pacific, and Rest of the World (RoW) |
| Key Vendors | Emerson Electric Company (U.S.), IPG Photonics (U.S.), O.R. Lasertechnologie (Germany), TRUMPF Group(Germany), Amada Miyachi Co., Ltd, (U.S.), FANUC Robotics (Japan), Golden Laser (China), GSI Group, Inc. (U.S.), JENOPTIK AG. (Germany), LaserStar Technologies Corporation (U.S.) |
| Key Market Opportunities | New product launches and R&D amongst major key players |
| Key Market Drivers | Reducing the scrap from the materials that are being welded |
Frequently Asked Questions (FAQ) :
---