Intelligent Pigging Market Scenario
Intelligent pigging market is expected to grow at ~4.89% CAGR during the forecast period.
Increasing government mandates and regulations for pipeline inspection is one of the major drivers for the growth of the global intelligent pigging market. For instance, as per U.S. Environmental Protection Agency (EPA), safety regulations for operating pipelines are based on various factors under inspection such as pressure testing pf the pipes, corrosion control, welding, accident reporting, construction, emergency preparedness, and others. Pipeline and Hazardous Materials Safety Administration (PHMSA) operates an Integrity Management Program which includes inspection and repair program to provide attention to pipelines that pass through high consequence areas. These regulations are driving the adoption of intelligent Pigging.
The global intelligent pigging market is projected to grow at a high rate during the forecast period due to the growing concern over the safety of pipelines and energy infrastructure. The oil & gas industry has witnessed major incidents of pipeline damage in the past, resulting in major product loss and accidents. Therefore, it is necessary to inspect the pipeline infrastructure for oil & gas companies.
Global intelligent Pigging market has been segmented based on pipeline type, technology, application, and region. Based on pipeline technology, the market is classified into magnetic flux leakage, caliper, and ultrasonic. Magnetic flux leakage segment is leading the market as it is majorly used in both liquid and gas pipelines and does not require any liquid couplant like ultrasonic pigging. The global intelligent pigging market is further segmented based on application, including metal loss/corrosion, crack & leak detection, and geometry measurement & bend detection. Metal loss/corrosion segment of the global intelligent pigging market is estimated to register the highest growth rate during the forecast period.
Key Players
The key players of global intelligent Pigging market are Baker Hughes (US), Corrosion Control Engineering, (Australia), Rouge Pipeline & Process Services (UAE), Penspen (UK), Halfwave AS (Norway), Romstar (Malaysia), Cokebusters (UK), Quest Integrity Group (US), A.Hak Industrial Services (Netherlands), SGS SA (Switzerland), T.D.Williamson (US), Rosen Group (Switzerland), and NDT Global (UAE), among others.
Market Segmentation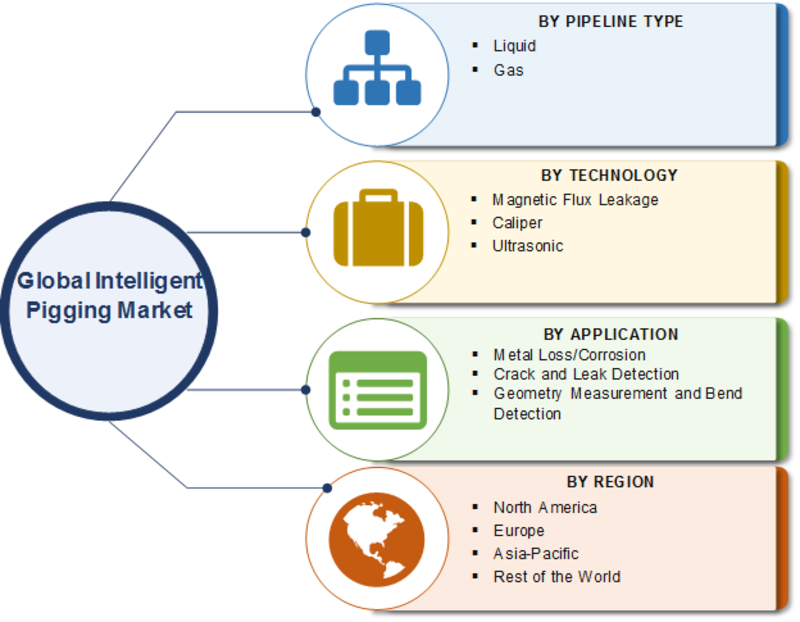 Global Intelligent Pigging Market
Global intelligent Pigging market is expected to witness substantial growth during the forecast period owing to growing investments in pipeline projects especially in oil & gas sector. North America is investing extensively in oil and gas pipeline projects to fulfill the growing demand for energy resources. Moreover, Middle East and Africa is one of the key regions of the intelligent pigging service market due to significant production and exploration of crude oil and gas from the region. Countries such as UAE, Iraq, Israel, and Egypt, among others are investing in pipeline projects which would drive the growth of intelligent pigging market. For instance, Middle Eastern countries such as Iraq, Iran, Syria have signed an agreement to invest USD 10 billion for natural gas pipeline project. Similarly, Roftnet (Russia) invested USD 3.5 billion to take control of the Iraq Kurdish's main oil pipeline. These investments would boost the growth of intelligent pigging market.
Intelligent pigging is a technique of inspecting a pipeline internally and gathering information regarding presence and location of corrosion, bends, and other anomalies in the pipelines. The complexity of mandatory pipeline inspections and increased governmental regulations have led to the need for intelligent pigging service for pipelines. Pipeline operators need access to data to mitigate risk and ensure safety effectively by evaluating signs of metal loss, corrosion detection, and other physical defects.
Report Scope:
Report Attribute/Metric
Details
Market Size
2027: Significant Value
CAGR
4.89% CAGR (2020-2027)
Base Year
2019
Forecast Period
2020-2027
Historical Data
2018
Forecast Units
Value (USD Million)
Report Coverage
Revenue Forecast, Competitive Landscape, Growth Factors, and Trends
Segments Covered
Pipeline Type, Technology and Application
Geographies Covered
North America, Europe, Asia-Pacific, and Rest of the World (RoW)
Key Vendors
Baker Hughes (US), Corrosion Control Engineering, (Australia), Rouge Pipeline & Process Services (UAE), Penspen (UK), Halfwave AS (Norway), Romstar (Malaysia), Cokebusters (UK), Quest Integrity Group (US), A.Hak Industrial Services (Netherlands), SGS SA (Switzerland), T.D.Williamson (US), Rosen Group (Switzerland), and NDT Global (UAE)
Key Market Opportunities
New product launches and R&D amongst major key players
Key Market Drivers
Growing investments in pipeline projects especially in oil & gas sector
Increasing government mandates and regulations for pipeline inspection
Frequently Asked Questions (FAQ) :
---