Market Synopsis of Global Integrated Cardiology Devices Market
Market Scenario
Integrated cardiology devices are equipment in which surgeons perform critical cardiac surgeries using multiple devices. Integrated cardiology devices are the future devices for human circulatory system. These modern devices are used for early diagnosis and better treatment of diseases. During last few years, sheer growth is observed in integrated cardiology devices due to increase in heart related problems. In recent times this is the most promising market. According to WHO 30% of the deaths caused globally is due to heart diseases and there were an estimated 17.5 million deaths from cardiovascular diseases worldwide in 2015 alone and the cost of readmissions for cardiovascular diseases is extremely high.
The major driving forces are increasing prevalence of cardiovascular diseases, growing adoption rates of minimally invasive surgeries and technological advances introduced in this field. Furthermore, the dominance of heart related diseases are increasing due to unhealthy lifestyle habits, for example lack of physical activities, high tobacco intake, and consumption of alcohol. Furthermore technological advancements such as miniaturization, increasing efficacy and efficiency of devices is a major driving factor. The integrated cardiology devices market also favors small innovative players with proprietary novel technologies and strong intellectual property rights. Thus a strong regulatory environment and innovation ecology is necessary which will result in greater investment and lead to a strong future market.
Lack of knowledge among people and expensive treatment are the factors which restrained the growth of the market. The lack of infrastructure and specialty hospitals in the developing and poor regions of the world is another hindering factor for the market.
The global integrated cardiology devices market is expected to grow at a CAGR of 12.4% during forecasted period 2017-2023.
Research Methodology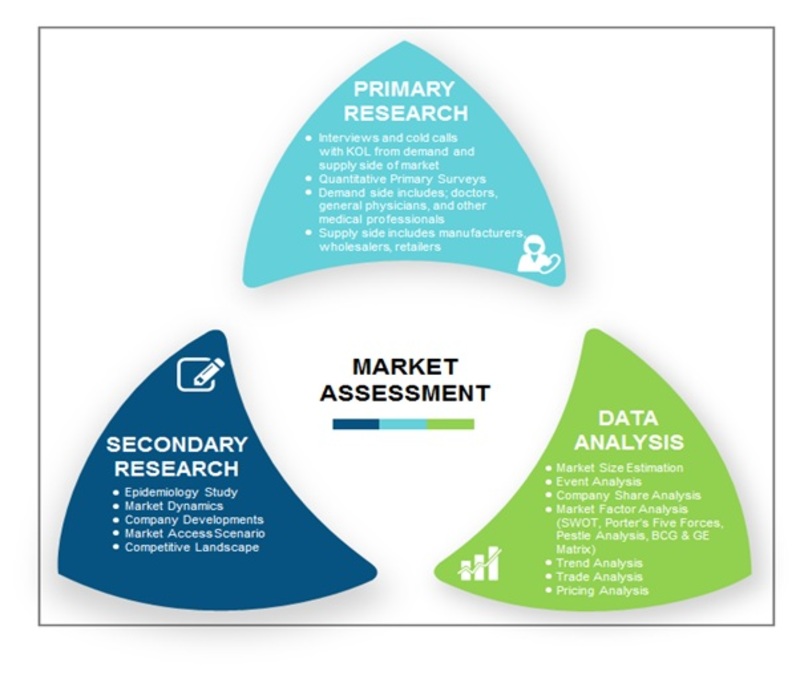 Sources: Mayo Clinic, Healthline Media, MRFR Analysis
Intended Audience



Integrated Cardiology devices

manufacturers




Integrated Cardiology devices

suppliers




Research and development (R&D) companies




Market research and consulting service providers




Academic institutes and universities



Figure 1- Global Integrated Cardiology devices market, by application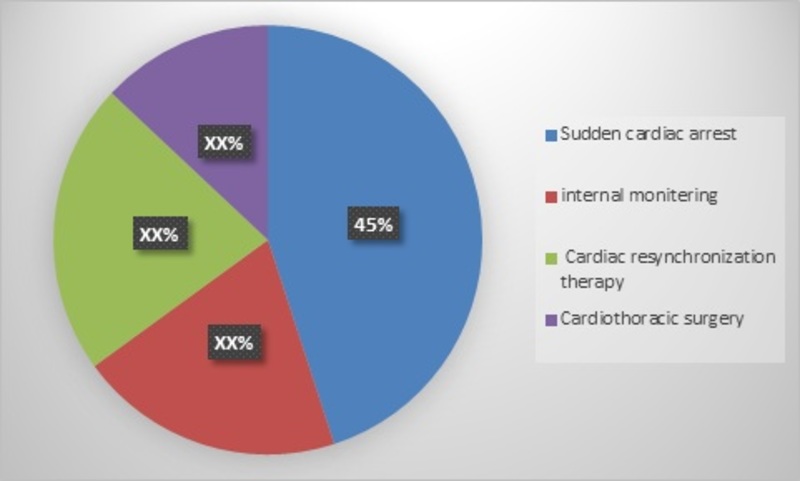 Source- Annual reports, Press release, White paper, Company Presentation
Segmentation
The global integrated cardiology devices market is segmented on the basis of types, applications and end users.
Based on types, the market is segmented as Cardiology EMR Software, EHR (Electronic health record), FFR (fractional flow reserve), Optical Coherence Tomography, others.
On the basis of application, they are segmented sudden cardiac arrest, internal monitoring, Cardiac resynchronization therapy, Cardiothoracic surgery, others. Cardiac Resynchronization Therapy (CRT) is an effective therapy in heart failure.
On the basis of end users, the market is segmented into catheterization laboratories, Hospitals and others.
Regional Analysis
The Americas accounts for a significant market share owing to high expenditure on the health care especially of the U.S. and Canada. Additionally, the greater number of cardiac surgeries procedures due to greater healthcare penetration in the U.S. and Canada drives the integrated cardiology devices market. The high concentration of the major hospitals in the developed countries of this region coupled with good reimbursement rates is adding fuel to the market growth. Moreover, the large share of cardiology devices and surgeries in the returns of hospitals favors the market. The large number of medical devices companies in the U.S. is also a cause for the faster development of integrated cardiology devices market in the US.
Europe is the second largest market in the world due to growing medical devices industry and healthcare penetration. The European market growth is led by countries such as Germany and France. Germany is expected to be the fastest growing market over the assessment period due to its large medical devices industry.
Asia Pacific region is expected to grow rapidly; China and India are likely to lead this market due to fast growing healthcare sector and large unmet needs over the forecast period. South East Asian countries such as China, India, and Malaysia are projected to contribute highly to the market growth. The growing penetration of healthcare industry in the Asia Pacific region is expected to drive the future integrated cardiology devices market in the region.
Gulf nations such as Saudi Arabia and the UAE are estimated to drive the Middle East & African market. Other Middle East nations to watch out for are Kuwait, Jordan, Egypt and Iran. The African region is expected to witness a poor growth owing to poor economic and political conditions, and poor healthcare development. Other regions are expected to be laggards due to poor social development and tribal identities such as sub Saharan Africa.
Key Players
Medtronic (US), Boston Scientific Corporation (US), Jude Medical (US), Edwards Lifesciences Corporation (US), Abbott Laboratories (US), Johnson and Johnson (US), Getinge (Sweden), Terumo Corporation (Japan), Lepumedical (Bejing), Acrostak (Switzerland), Koninklijke Philips N.V. (Netherlands), Athenahealth, Inc. (U.S),others.
Frequently Asked Questions (FAQ) :
---
TABLE OF CONTENTS

1 INTRODUCTION

1.1 DEFINITION

1.2 SCOPE OF STUDY

1.2.1 RESEARCH OBJECTIVE

1.2.2 ASSUMPTIONS & LIMITATIONS

1.2.2.1 ASSUMPTIONS

1.2.2.2 LIMITATIONS

1.3 MARKET STRUCTURE:

2 RESEARCH METHODOLOGY

2.1 RESEARCH PROCESS:

2.2 PRIMARY RESEARCH

2.3 SECONDARY RESEARCH:

3 MARKET DYNAMICS

3.1 DRIVERS

3.2 RESTRAINTS

3.3 OPPORTUNITIES

3.4 MACROECONOMIC INDICATORS

4 MARKET FACTOR ANALYSIS

4.1 PORTERS FIVE FORCES MODEL

4.2 BARGAINING POWER OF SUPPLIERS

4.3 BARGAINING POWER OF BUYERS

4.4 THREAT OF NEW ENTRANTS

4.5 THREAT OF SUBSTITUTES

4.6 INTENSITY OF RIVALRY

GLOBAL INTEGRATED CARDIOLOGY DEVICE MARKET, BY TYPE

5.1 CARDIOLOGY EMR SOFTWARE

5.2 EHR

5.3 FFR

5.4 OPTICAL COHERENCE TOMOGRAPHY

GLOBAL INTEGRATED CARDIOLOGY DEVICE, BY APPLICATIONS

6.1 SUDDEN CARDIAC ARREST

6.2 INTERNAL MONITORING

6.3 CARDIAC RESYNCHRONIZATION THERAPY

6.3.1 CARDIAC RESYNCHRONIZATION THERAPY-PACEMAKER

6.3.2 CARDIAC RESYNCHRONIZATION THERAPY DEFIBRILLATOR

6.4 CARDIOTHORACIC SURGERY

6.5 OTHERS

GLOBAL INTEGRATED CARDIOLOGY DEIVES MARKET, BY END USER

7.1 HOSPITAL PHARMACIES

7.2 CATHETERIZATION LABORATORIES

7.3 OTHER

GLOBAL INTEGRATED CARDIOLOGY DEVICE, BY REGION

8.1 INTRODUCTION

8.2 AMERICA

8.2.1 NORTH AMERICA

8.2.1.1 US

8.2.1.2 CANADA

8.2.2 SOUTH AMERICA

8.3 EUROPE

8.3.1 WESTERN EUROPE

8.3.1.1 GERMANY

8.3.1.2 FRANCE

8.3.1.3 UK

8.3.1.4 ITALY

8.3.1.5 SPAIN

8.3.1.6 REST OF WESTERN EUROPE

8.3.2 EASTERN EUROPE

8.4 ASIA-PACIFIC

8.4.1 JAPAN

8.4.2 CHINA

8.4.3 INDIA

8.4.4 AUSTRALIA

8.4.5 REPUBLIC OF KOREA

8.4.6 REST OF ASIA-PACIFIC

8.5 MIDDLE EAST & AFRICA

8.5.1 UNITED ARAB EMIRATES

8.5.2 SAUDI ARABIA

8.5.3 OMAN

8.5.4 KUWAIT

8.5.5 QATAR

8.5.6 REST OF MIDDLE EAST & AFRICA

COMPETITIVE LANDSCAPE

9.1 MAJOR STRATEGIES ADOPTED BY MARKET PLAYERS

9.1.1 STRATEGIC PARTNERSHIP

9.1.2 MERGER & ACQUISITION

10 COMPANY PROFILE

10.1 EDWARD LIFESCIENCES

10.1.1 OVERVIEW

10.1.2 PRODUCT OVERVIEW

10.1.3 FINANCIALS

10.1.4 KEY DEVELOPMENTS

10.2 BOSTON SCIENTIFIC CORPORATION

10.2.1 OVERVIEW

10.2.2 PRODUCT OVERVIEW

10.2.3 FINANCIALS

10.2.4 KEY DEVELOPMENTS

10.3 JUDE MEDICAL

10.3.1 OVERVIEW

10.3.2 PRODUCT OVERVIEW

10.3.3 FINANCIALS

10.3.4 STRATEGY

10.3.5 KEY DEVELOPMENT

10.4 MEDTRONIC

10.4.1 OVERVIEW

10.4.2 PRODUCT OVERVIEW

10.4.3 FINANCIALS

10.4.4 KEY DEVELOPMENTS

10.5 GETINGE

10.5.1 OVERVIEW

10.5.2 PRODUCT OVERVIEW

10.5.3 FINANCIALS

10.5.4 KEY DEVELOPMENTS

10.6 OTHERS

11 CONCLUSION

12 KEY FINDINGS

12.1 FROM CEO'S VIEWPOINT

12.2 UNMET NEEDS OF THE MARKET

12.3 KEY COMPANIES TO WATCH

12.4 PREDICTION OF CARDIAC CARE INDUSTRY

13 APPENDIX

List of Tables

TABLE 1 GLOBAL INTEGRATED CARDIOLOGY DEVICES MARKET, BY TYPE, 2020-2027 (USD MILLION)

TABLE 2 CARDIOLOGY EMR SOFTWARE FOR INTEGRATED CARDIOLOGY DEVICES MARKET, BY REGION, 2020-2027 (USD MILLION)

TABLE 3 EHR FOR INTEGRATED CARDIOLOGY DEVICES MARKET, BY REGION 2020-2027 (USD

MILLION)

TABLE 4 FFR FOR INTEGRATED CARDIOLOGY DEVICES MARKET, BY REGION 2020-2027 (USD MILLION)

TABLE 5 OPTICAL COHERENCE TOMOGRAPHY FOR INTEGRATED CARDIOLOGY DEVICES MARKET, BY REGION 2020-2027 (USD MILLION)

TABLE 6 OTHERS FOR INTEGRATED CARDIOLOGY DEVICES MARKET, BY REGION 2020-2027 (USD MILLION)

TABLE 7 GLOBAL INTEGRATED CARDIOLOGY DEVICES MARKET, BY APPLICATIONS, 2020-2027 (USD MILLION)

TABLE 8 SUDDEN CARDIAC ARREST FOR INTEGRATED CARDIOLOGY DEVICES MARKET, BY REGION, 2020-2027 (USD MILLION)

TABLE 9 CARDIAC RESYNCHRONIZATION THERAPY FOR INTEGRATED CARDIOLOGY DEVICES MARKET, BY REGION 2020-2027 (USD MILLION)

TABLE 10 CARDIOTHORACIC SURGERY FOR INTEGRATED CARDIOLOGY DEVICES MARKET, BY REGION 2020-2027 (USD MILLION)

TABLE 11 OTHERS FOR INTEGRATED CARDIOLOGY DEVICES MARKET, BY REGION 2020-2027 (USD MILLION)

TABLE 12 GLOBAL INTEGRATED CARDIOLOGY DEVICES MARKET, BY END USER, 2020-2027 (USD MILLION)

TABLE 13 NORTH AMERICA INTEGRATED CARDIOLOGY DEVICES MARKET, BY COUNTRY 2020-2027 (USD MILLION)

TABLE 14 NORTH AMERICA INTEGRATED CARDIOLOGY DEVICES MARKET, BY TYPE 2020-2027 (USD MILLION)

TABLE 15 NORTH AMERICA INTEGRATED CARDIOLOGY DEVICES MARKET, BY APPLICATIONS 2020-2027 (USD MILLION)

TABLE 16 NORTH AMERICA INTEGRATED CARDIOLOGY DEVICES MARKET, BY END USER, 2020-2027 (USD MILLION)

TABLE 17 EUROPE INTEGRATED CARDIOLOGY DEVICES MARKET, BY COUNTRY 2020-2027 (USD MILLION)

TABLE 18 EUROPE INTEGRATED CARDIOLOGY DEVICES MARKET, BY TYPE 2020-2027 (USD MILLION)

TABLE 19 EUROPE INTEGRATED CARDIOLOGY DEVICES MARKET, BY APPLICATIONS 2020-2027 (USD MILLION)

TABLE 20 EUROPE INTEGRATED CARDIOLOGY DEVICES MARKET, BY END USER, 2020-2027 (USD MILLION)

TABLE 21 EUROPE INTEGRATED CARDIOLOGY DEVICES MARKET BY REGION 2020-2027 (USD MILLION)

TABLE 22 ASIA PACIFIC INTEGRATED CARDIOLOGY DEVICES MARKET, BY COUNTRY 2020-2027 (USD MILLION)

TABLE 23 ASIA PACIFIC INTEGRATED CARDIOLOGY DEVICES MARKET, BY TYPE 2020-2027 (USD MILLION)

TABLE 24 ASIA PACIFIC INTEGRATED CARDIOLOGY DEVICES MARKET, BY APPLICATIONS 2020-2027 (USD MILLION)

TABLE 25 ASIA PACIFIC INTEGRATED CARDIOLOGY DEVICES MARKET, BY END USER, 2020-2027 (USD MILLION)

TABLE 26 ASIA PACIFIC INTEGRATED CARDIOLOGY DEVICES MARKET BY REGION 2020-2027 (USD MILLION

TABLE 27 MIDDLE EAST & AFRICA INTEGRATED CARDIOLOGY DEVICES MARKET, BY COUNTRY 2020-2027 (USD MILLION)

TABLE 28 MIDDLE EAST & AFRICA INTEGRATED CARDIOLOGY DEVICES MARKET, BY TYPE 2020-2027 (USD MILLION)

TABLE 29 MIDDLE EAST & AFRICA INTEGRATED CARDIOLOGY DEVICES MARKET, BY APPLICATIONS 2020-2027 (USD MILLION)

TABLE 30 MIDDLE EAST & AFRICA INTEGRATED CARDIOLOGY DEVICES MARKET, BY END USER, 2020-2027 (USD MILLION)

TABLE 31 MIDDLE EAST & AFRICA INTEGRATED CARDIOLOGY DEVICES MARKET BY REGION 2020-2027 (USD MILLION

List of Figures

FIGURE 1 RESEARCH PROCESS

FIGURE 2 MARKET DYNAMICS FOR GLOBAL INTEGRATED CARDIOLOGY DEVICES MARKET

FIGURE 3 GLOBAL INTEGRATED CARDIOLOGY DEVICES MARKET, BY SEGMENT, 2020

FIGURE 4 GLOBAL INTEGRATED CARDIOLOGY DEVICES SUCCESS MARKET, BY REGION

FIGURE 5 GLOBAL INTEGRATED CARDIOLOGY DEVICES MARKET SHARE, BY TYPE 2020

FIGURE 6 GLOBAL INTEGRATED CARDIOLOGY DEVICES MARKET SHARE, BY APPLICATIONS 2020

FIGURE 7 GLOBAL INTEGRATED CARDIOLOGY DEVICES MARKET SHARE, BY END USER, 2020

FIGURE 8 GLOBAL INTEGRATED CARDIOLOGY DEVICES MARKET SHARE, 2020

FIGURE 9 GLOBAL INTEGRATED CARDIOLOGY DEVICES MARKET SHARE, BY REGION, 2020

FIGURE 10 NORTH AMERICA INTEGRATED CARDIOLOGY DEVICES MARKET SHARE, BY COUNTRY, 2020

FIGURE 11 EUROPE INTEGRATED CARDIOLOGY DEVICES MARKET SHARE, BY COUNTRY, 2020

FIGURE 12 ASIA PACIFIC INTEGRATED CARDIOLOGY DEVICES MARKET SHARE, BY COUNTRY, 2020

FIGURE 13 MIDDLE EAST & AFRICA INTEGRATED CARDIOLOGY DEVICES MARKET, BY REGION, 2020

FIGURE 14 GLOBAL INTEGRATED CARDIOLOGY DEVICES MARKET: COMPANY SHARE ANALYSIS, 2020 (%)

FIGURE 15 ACCURATE SURGICAL & SCIENTIFIC INSTRUMENTS CORPORATION.: KEY FINANCIALS

FIGURE 16 ACCURATE SURGICAL & SCIENTIFIC INSTRUMENTS CORPORATION.: SEGMENTAL REVENUE

FIGURE 17 ACCURATE SURGICAL & SCIENTIFIC INSTRUMENTS CORPORATION.: GEOGRAPHICAL REVENUE

FIGURE 18 MEDTRONIC: KEY FINANCIALS

FIGURE 19 MEDTRONIC: SEGMENTAL REVENUE

FIGURE 20 MEDTRONIC: GEOGRAPHICAL REVENUE

FIGURE 21 BOSTON SCIENTIFIC CORPORATION: KEY FINANCIALS

FIGURE 22 BOSTON SCIENTIFIC CORPORATION: SEGMENTAL REVENUE

FIGURE 23 BOSTON SCIENTIFIC CORPORATION: GEOGRAPHICAL REVENUE

FIGURE 24 ABBOTT: KEY FINANCIALS

FIGURE 25 ABBOTT: SEGMENTAL REVENUE

FIGURE 26 ABBOTT: GEOGRAPHICAL REVENUE

FIGURE 27 JUDE MEDICAL: FINANCIAL REVENUE

FIGURE 28 JUDE MEDICAL: SEGMENTAL REVENUE

FIGURE 29 JUDE MEDICAL: GEOGRPHICAL REVENUE