Market Scenario
In-flight advertising entails advertising through in-flight magazines, overhead storage bins, seatback tray tables, and sales pitches by flight attendants. With the advent of digital media, the in-flight advertising market has witnessed significant changes. Introduction of targeted advertising through live television and in-flight apps are expected to have a positive impact on the in-flight advertisement market.
With the advent of digital media, advertisers have witnessed a boom in the volume of advertising content that individuals consume daily. In the in-flight advertising market, digital media advertising is expected to render traditional in-flight advertising techniques obsolete comparatively. Personal computing and personal mobile phone enable advertisers to deliver advertisements to individuals/passengers with original advertising content straight to their devices, which is relatively much more effective compared to traditional methods of in-flight advertising. Digital in-flight creative advertisements add the dimension of interaction to sight, sound, and motion—and greater interaction has been shown to drive brand effectiveness.
Demand for customization of the airline passenger experience is growing from airlines and passengers, mainly due to the increasingly customized lives we lead with more and more airlines trying to introduce high levels of customization to the aircraft cabins. Connectivity is an as essential topic here, with Netflix's "recommended for you" and Apple Music's "for you" features providing individuals with movies and music list curated based on every individual personal taste. With airlines and in-flight advertising firm trying to bring the same concept to the aircraft cabins and float original in-flight advertising content towards individuals tailor-made based on their taste.
As the in-flight advertising market is shifting towards aggressive targeted advertising through Wi-Fi connectivity, E-commerce platform, and live TV services, the existing airline hardware is set to become obsolete to a certain extent. In the current scenario, the airlines are accepting these sudden changes in the trend of advertising to monetize and develop ancillary revenue streams, which are expected to boost airline revenues significantly. As a result, the market for inflight advertising is expected to grow at a CAGR of 11.17%.
Although the growth rate of technological innovation is exponential, once the technology peaks it is substituted by a newer version which might not be compatible with older hardware. For example, thousands of airlines still offer round proprietary Panasonic Avionics connector for previous generations of iPod and iPhone which were immediately rendered obsolete once apple shifted to lightning cable. The problem airlines are set to face in the future is being able to adapt to the pace at which technology changes. Betting on additional revenue through new techniques of advertising might not be as fruitful for airlines if the hardware required for additional revenue needs to be changed every other day.
Segmentation of the Global Inflight Advertising Market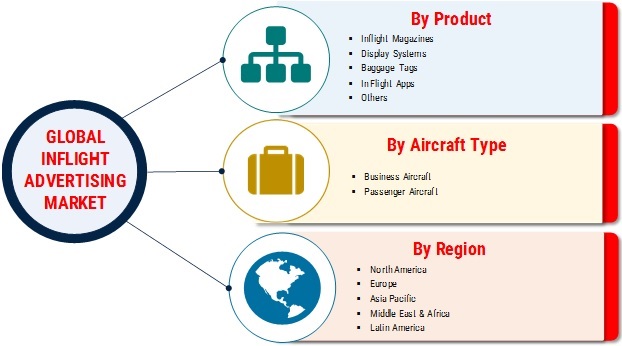 The in-flight advertising market is segmented based on the product, aircraft type, and region. Based on product, the market has been segmented into inflight magazines, display systems, baggage tags, in-flight apps, and others. The display systems segment is expected to witness the highest CAGR during the forecast period. The increasing demand for in-flight entertainment displays is driving the growth of this segment. Based on aircraft type, the market has been segmented into business aircraft and passenger aircraft. The business aircraft segment is expected to grow at the highest CAGR during the forecast period.
Based on the region, the market has been segmented into North America, Europe, Asia-Pacific, Middle East & Africa, and Latine America. Asia-Pacific, an emerging region in the international long-haul market, relies heavily on the small and medium widebody aircraft. As a result, several such airlines have been entering into service recently, such as Indigo, Tigerair Singapore, Tigerair Australia, and Air Asia, which provides lucrative opportunities to in-flight advertising firms in this region. Existence of in-flight advertising firms such as Atin OOH and Maxposure Media Group has also aided the growth of the market in this region. It is expected that by 2035, more than 16,000 aircraft would be delivered in the region, which is expected to impact the in-flight advertising market in the Asia-Pacific region positively.
Similarly, the Middle East & Africa region has been witnessing a phenomenal increase in its economy, of late. The major factors driving the economy of the region is increased air travel and rising tourism. As the region is located at the crossroads of Asia-Africa and Europe, their local airlines, led by Emirates, Qatar Airways, and Etihad Airlines, are well-positioned to compete for the air traffic, globally. Due to the rapid increase in the number of aircraft in the region, it is expected that there would be a significant and simultaneous impact on the market.
Likewise, although several Latin American countries are going through a rough economic period, with the shrinking Venezuelan, Argentinian, and Brazilian economies, the air traffic in the region has witnessed steady growth. As a result of the growing tourism in the region, it is expected that approximately 3,000 aircraft would be delivered to the region, by 2035. This is expected to simultaneously surge the development of aircraft, which would eventually drive the growth of the in-flight advertising market.
Key Players
The key players in the global in-flight advertising market are Atin OOH, Blue Mushroom, EAM Advertising LLC, Global Eagle, Global Onboard Partners, IMM International, INK Global, MaXposure Media Group (I) Pvt. Ltd, Panasonic Avionics Corporation, and Zagoren Collective.
Research Methodology
The market values and forecast are derived using the Market Research Future (MRFR) research methodology, which includes secondary research, primary interviews, data triangulation, and validation from an in-house data repository and statistical modeling tools.
Secondary Research
In this process, data is collected from various secondary sources, including annual reports, SEC filings, journals, government associations, aerospace & defense magazines, white papers, corporate presentations, company websites, and paid databases.
Primary Research
In this process, both the demand- and supply-side parties are interviewed to extract facts and insights into the market forecast, production, trends, and projected market growth. Industry stakeholders such as CEOs, VPs, directors, and marketing executives across the value chain are approached to obtain key information.
Key Insights



Regional/Country Trends and Forecast: Detailed analysis of the market in North America, Europe, Asia-Pacific, Middle East & Africa, and Latin America, along with key countries in each region






Market Dynamics Intelligence: Market drivers, opportunities, trends, restraints, Porter's five forces, supply chain, and value chain analysis






Competitive Intelligence: Market share analysis, financial analysis, product benchmarking, and strategic developments including joint ventures, product launches, and mergers & acquisitions



Report Customization
MRFR offers report customization to valued customers. Below are the options available for customization:
In-depth profiling of additional market players (3 to 4 companies)
Detailed analysis of a country-level market and related segments as per the report scope (subject to data availability)
Intended Audience



Distributor & supplier companies




End users




Consultants and investment bankers




Airline operators




Government as well as independent regulatory authorities



Frequently Asked Questions (FAQ) :
---