Market Overview
The global industrial automation services market size is expected to grow from USD 147.06 billion in 2019 to USD 264.69 billion by 2026, growing at a compound annual growth rate (CAGR) of 8.9% during the forecast period.The main factors driving the growth of the industrial automation services market include government policies supporting the adoption of industrial automation, the growing demand for industrial automation in manufacturing industries, and rising organization focus on worker safety. However, the high implementation costs are expected to hinder the growth of the global market. Nevertheless, the rising growth of industrial robotics and the adoption of Industry 4.0 across various industries are expected to present lucrative growth opportunities for the players in the global market.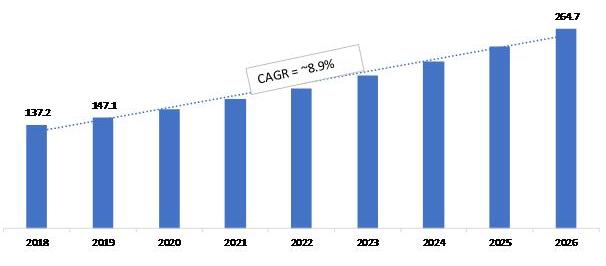 Source: Industry Expert, Secondary Research, and MRFR Analysis
COVID-19 Analysis
The outbreak of COVID-19 has not given industries and companies time to prepare or protect themselves from any losses. The market scenario is ambiguous and can go up or down steeply, depending on the actions taken and the results obtained by the organizations. The outbreak has affected numerous industries around the world. It has contributed to either the closure or suspension of their manufacturing operations in most industrial units around the world. The emergence of the COVID-19 pandemic has had an immense effect on the aviation, automotive, manufacturing, and food & beverage sectors.
The COVID-19 crisis has amplified the fault lines in the functioning of global value chains (GVCs) and exposed the fragility of a model characterized by the high interdependency between leading firms and suppliers across several continents. When timely production of critical products is more important than ever, the pandemic has locked down vast parts of the globe and limited economic activities in an unprecedented way. Long before COVID-19, Industry 4.0 technologies were already fostering a reorganization of GVCs involving the relocation (and reshoring) of productive activities. Industry 4.0, especially automation, unlocks new labor-saving technologies, which could reduce reliance on low-skill labor in manufacturing and reduce the benefits of offshoring. COVID-19 could accelerate some of these trends. Both automation and reshoring enable more flexible adjustment to the changing demand, mitigating firms' risks in case of a pandemic or other external shock.
Reshoring is a major challenge for the recipient economy. The process can cause high economic and social costs much beyond the immediate job and business turnover losses. Relocations of supply chain activities could affect the services and strategies of businesses in the medium and long run. The automation of certain components may not be feasible or even desirable due to shortages of skilled workers. Strengthening regional value chains is becoming a priority for developing countries to diversify risk, reduce vulnerability, increase resilience, and foster industrial development.
Market Dynamics
Industrial automation is on the threshold of a new revolution, moving through rapid technological changes, adopting new systems and networking architectures, and looking towards interoperability of devices and systems. The industrial automation services market is impacted by the factors such as market drivers, restraints, opportunities, and challenges.
Drivers


Increasing Demand for Industrial Automation in Manufacturing Industries


With the continuing need for greater throughput and reduced costs, manufacturers are looking to adopt automation and Industry 4.0 solutions to enhance their efficiency. Automation has become known more as using machines for reducing work performed by humans. The technology has become associated with electromechanical systems that are programmed to perform many types of processes. The main end goal is to drive greater efficiency by either increasing production capacity or reducing costs, often both. Automation in the manufacturing industry is growing and continues to shape the factory floor. Manufacturers are striving to achieve a full digital thread from tracking materials supply chains and production to delivery. Manufacturers are increasingly using automation to boost precision and consistency and achieve greater operational efficiency. The future of automation in manufacturing industries is progressing with the adoption of robotics, machine vision, IIoT, and other digital technologies. Leveraging automation and advanced technologies, such as robotics and robotic process automation through ERP software, enable even higher gains in productivity to be made each day. Thus, the increasing demand for industrial automation in manufacturing industries is expected to drive the growth of the global industrial automation services market during the forecast period.
Opportunity


Advancements in Industrial Robotics


Companies around the world are increasing the adoption of robots in industrial sectors. With the integration of artificial intelligence and other improvements in robotics, such as better machine vision and better sensors, robotics promises to see significantly improved pricing and performance over the next decade. Robotics are considered as vital tools for boosting productivity. To date, most robotic adoption has occurred in manufacturing industries, wherein they perform a variety of manual tasks more efficiently and consistently than humans. The use of robots is becoming cheaper, more flexible, and more autonomous, partly due to the incorporationof artificial intelligence. Some robots substitute for human workers, while others—collaborative robots, or "cobots," which work alongside workers—complement them. Robotics are expected to promote faster productivity growth in many functions and industries that involve moving or transforming physical things. As robots and other autonomous systems improve functionality and reduce operational costs, their impact on productivity is likely to be even more significant. As this trend continues, robot adoption is anticipated to be a key determinant of productivity growth and potentially reshape global supply chains. Thus, the advancements in industrial robotics are expected to present lucrative opportunities for the players operating in the global industrial automation services market.
Restraints


High Implementation Costs


The initial investments associated with switching from a human production line to an automatic production line are very high. Furthermore, substantial costs are involved in training employees to handle this new sophisticated equipment. The company must invest in automation and would require more specialized labor to develop software and maintain the machinery. Various firms that are under short-term pressures are reluctant to invest in the automation systems required and lag behind the automation race. Lack of investment in industrial automation has been put forward for poor growth in labor productivity in most economies across the globe. Thus, the high implementation costs are expected to restrict the growth of the global industrial automation services market during the forecast period.
Value Chain Analysis
The global industrial automation services market value chain has evolved from a conventional approach to highly efficient processes. The value chain of the industrial automation services market comprises the parts & components manufacturers, mechanical software developers, system integrators, industrial automation service/solution providers, and end users. Therefore, the automation industry is depicted as a system of flows of inputs into the sector (from supplier industries), flows within the automation sector, and flows out of the sector (to consumer industries).
Market Segmentation
The global industrial automation services market has been segmented based on solution, service, end use, and region.
Based on solution, the global industrial automation services market has been segmented into distributed control system, programmable logic controller, Supervisory Control and Data Acquisition (SCADA), Manufacturing Execution System (MES), Product Lifecycle Management (PLM), and Functional Safety and Plant Asset Management (PAM).
Based on service, the global industrial automation services market has been segmented into professional service, consulting service, technical training, system integration, and others.
Based on end use, the global industrial automation services market has been segmented into automotive, transportation & logistics, mining & metals, aerospace & defense, energy & power systems, and others.
Regional Analysis
By region, the industrial automation services market has been segmented into North America, Europe, Asia-Pacific, and South America, and the Middle East & Africa. Europedominated the industrial automation services market in 2019 with a value of USD 54.30billion and is expected to reach USD 86.31billion by 2027 at a CAGR of 7.0%. However, the market in Asia-Pacific is estimated to witness the highest CAGR of 11.4% during the forecast period, 2020–2026.
GLOBAL: INDUSTRIAL AUTOMATION SERVICESMARKET, BY REGION, 2019 (% SHARE)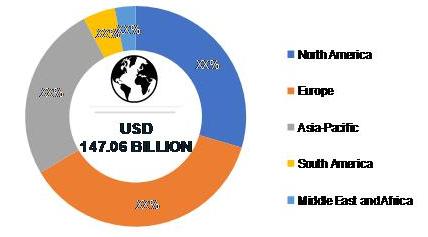 Source: Industry Expert, Secondary Research, and MRFR Analysis
Asia-Pacific Region to Bolster the Industrial Automation Services Market
The Asia-Pacific industrial automation services market, based on country, has been segmented into China, Japan, India, and the rest of Asia-Pacific. The region is expected to create scope for the fasteners market due to increased focus on enhancing process efficiencies and reducing production costs across various industry verticals. The key influencing factors in the region are the increasing number of government initiatives for digitalization, the growing demand for workplace safety, and enhanced efficiency in industrial processes. China is one of the major revenues generating countries in the Asia-Pacific industrial automation services market. The growing demand for automation in the Chinese automotive and transportation sector and the adoption of digital technologies are expected to drive the demand for industrial automation services in the country. The end users of industrial automation services are aware of its application scope and are increasingly adopting industrial automation services to achieve better production management and improved power efficiency. As a result, increased demand for industrial automation services in China.
Competitive Landscape
The global market for industrial automation services has witnessed significant growth over the forecast period due to the growing need for enhanced vehicle safety. There are several domestic, regional, and global players operating in the industrial automation services market who continuously strive to gain a significant share of the overall market.
Key Players
General Electric has been implementing various strategies to establish a strong position in the market. The company emphasizes operating in a more cost-efficient way to remain relevant in the competitive scenario. In the emerging markets, it strongly focuses on digital transformation, industrialization, economic diversification. The company primarily focuses on customer outcomes and strengthening its business units. Diversification in the business portfolio and a strong customer base have helped the company achieve a global reach. Strategic partnerships with other corporations and product development are the key strategies implemented by GE to maintain a strong global market position.
The key players of the global industrial automation services market include Siemens AG (Germany), ABB Ltd. (Switzerland), Johnson Controls Inc. (Ireland), General Electric Company (US), Schneider Electric SE (France), Honeywell International Inc. (US), Mitsubishi Electric Corporation (Japan), Yokogawa Electric (Japan), Rockwell Automation Inc. (US), Ametek Inc. (US), Omron (Japan), Samsung Electronics Co. Ltd. (South Korea), Hitachi (Japan), Danaher Corporation (US), and Fanuc Corporation (Japan).
Recent Developments



In March 2021, Mercedes-Benz and Siemens AG announced a partnership for advancing digitalization and automation in the automotive industry. Mercedes-Benz AG aims to digitize its production processes through this partnership.




In March 2021, ABB launched its SCADA system—an automation control solution—which helps in the efficient running of solar plants and enables plant operators to seamlessly monitor and analyze relevant solar project data in one place.




In November 2020, Rockwell Automation launched its LifecycleIQ services, which provide a transformative partnership by combining digital technologies with extensive human know-how. The services help companies work faster, smarter, and with greater agility at every point in a business cycle. They can help companies realize the power of a Connected Enterprise during the design, operations, and maintenance stages in greenfield and brownfield facilities.




In March 2020, Dynapar, a subsidiary under Danaher Corporation, launched its AI25 EtherNet/IP absolute encoder product line. The AI25 EtherNet/IP absolute encoder is reliable due to its durable stainless-steel housing, industry-leading 400G shock and 30G vibration ratings, wide input voltage and temperature ranges, and high shaft speeds. The single-turn and multi-turn models are available with up to 22-bit single-turn and 12-bit multi-turn resolutions and high accuracy in a full suite of shafted and hub shaft variants.




In February 2019, Emerson acquired Intelligent Platforms from GE. The addition of Intelligent Platforms programmable logic controller (PLC) technologies enabled Emerson, a global leader in automation for process and industrial customers, to expand its capabilities in machine control and discrete applications.



Report Overview
This study estimates revenue growth at global, regional, and country levels and offers an overview of the latest developments in each of the sub-sectors from 2018 to 2027. For this analysis, MRFR segmented the global industrial automation services market report based on offering, ml technology, application, IoT communication technology, and region.
By Solution



Programmable Logic Controller (PLC)




Supervisory Control & Data Acquisition (SCADA)




Distributed Control System




Manufacturing Execution System (MES)




Product Lifecycle Management (PLM)




Functional Safety




Plant Asset Management (PAM)



By Services



Consulting Services




System Integration




Professional Service




Technical Training




Others



By Application
Report Scope:
| Report Attribute/Metric | Details |
| --- | --- |
| Market Size | 2019– USD147.06Billion 2026–USD 264.69 Billion |
| CAGR | 8.9% |
| Base Year | 2019 |
| Forecast Period | 2020-2026 |
| Historical Data | 2018 |
| Forecast Units | Value (USD Billion) |
| Report Coverage | Revenue Forecast, Competitive Landscape, Growth Factors, and Trends |
| Segments Covered | • By Solution (Distributed Control System, Programmable Logic Controller, Supervisory Control and Data Acquisition (SCADA), Manufacturing Execution System (MES), Product Lifecycle Management (PLM), and Functional Safety and Plant Asset Management (PAM)) • By Service (Professional Service, Consulting Service, Technical Training, System Integration, and Others) • By End User (Aerospace & Defense, Transportation & Logistics, Automotive, Energy & Power Systems, Mining & Metals, and Others) |
| Geographies Covered | • North America (US, Canada, and Mexico) • Europe (UK, Germany, France, Italy, and Rest of Europe) • Asia-Pacific (China, Japan, India, and Rest of Asia-Pacific) • Middle East & Africa • South America |
| Key Vendors | • Siemens AG • ABB Ltd. • Johnson Controls Inc. • General Electric Company • Schneider Electric SE • Honeywell International Inc. • Mitsubishi Electric Corporation • Yokogawa Electric • Rockwell Automation Inc. • Ametek Inc. • Omron • Samsung Electronics Co. Ltd. • Hitachi • Danaher Corporation • Fanuc Corporation |
| Key Market Opportunities | |
| Key Market Drivers | • Drivers • Increasing Demand for Industrial Automation in Manufacturing Industries • Government Policies Supporting the Adoption of Industrial Automation • Growing Emphasis on Worker Safety • Restraint • High Cost of Implementation |
Frequently Asked Questions (FAQ) :
---