Home Care Packaging Market Scenario
Home Care Packaging Market is projected to be worth USD 172.17 billion by 2028, registering a CAGR of 8.5% during the forecast period (2021 - 2028)., The market was valued at USD 98.45 billion in 2021.
Global home care packaging market has witnessed gradual growth in recent years, and is expected to witness steady growth in the forecast period. Home care market is growing considerably as the number of people opting for home care services rather than medical care in hospitals is increasing day by day. Home care services are cost effective and hence mostly preferred by patients. The global market for home care products is growing, significantly, due to increasing adoption of these packages in developed economies. However, it is expected to witness an increase in demand in developing countries in near future due to the growing awareness about home care services. Growing health awareness, improving standards of living, and increase in per capita income of people are some of the reasons driving the growth of home care industry. Currently, there are number of players engaged in the business of home care product manufacturing. Wide range of product availability and variation in prices, also fuel the market growth. Packaging innovation, and technological developments for better results, are some other factors driving the market growth.
In the recent years, home care products market has witnessed a lot of growth due to the increasing per capita income of individuals in the developing countries, and their preference to lead a healthier lifestyle. Improving standards of living, also act as a key factor for the growth of the market. Demand for home care products has been on an upward trend, especially, as the consumers, with growing health awareness, tend to avoid expensive medical care costs. To keep up with this demand, home care packaging industry has ramped up their offerings to differentiate between multiple packaging solutions, conveying useful information, without compromising on the safety standards. The packaging market for home care products is set to record high growth during the forecast period.
Global Home Care Packaging Market
The global home care packaging market is expected to witness phenomenal growth during the forecast period. This is due to the considerable growth in the packaging industry with population boom along with rise in disposable income. The growth is primarily attributed to rising incomes from the economic growth with growing concern over proper hygiene maintenance in various countries, which is likely to continue during the forecast years. The Asia Pacific region accounted for the largest share of the home care packaging market in 2016, wherein China was the largest country-level market, followed by India and Japan. Rising population with tremendous economic growth has resulted into a prenominal growth for home care products in the region and subsequently resulted in the growth of the home care packaging market.
Key Players
The key players of global home care packaging market are Amcor Limited (Australia), Mondi (South Africa), Bemis Company, Inc. (U.S.), Rexam plc (U.K), RPC Group (U.K.), Winpak Ltd. (Canada), AptarGroup, Inc. (U.S.), Sonoco Products Company (U.S.), Silgan Holdings (U.S.), and Tetra Laval (Switzerland).
Market Segmentation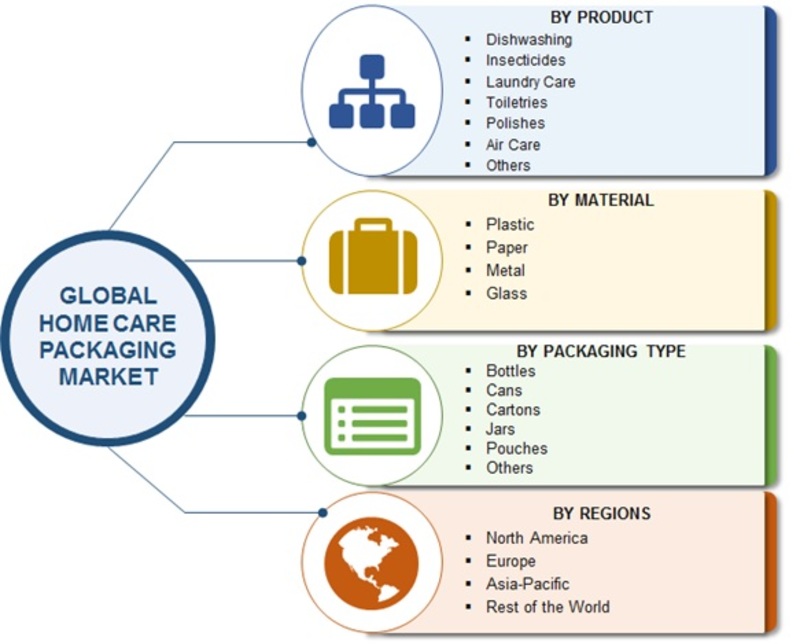 Global home care packaging market has been segmented based on product, material, packaging type and region. Based on product the market is segmented as dishwashing, insecticides, laundry care, toiletries, polishes, air care and others. Among these, the toiletries products, is projected to dominate the home care packaging market through 2023. The dominant position of this segment can be attributed to the rising hygiene concern among all class of people, across the globe. Based on the material the market has been segmented as plastic, paper, metal and glass. Plastic dominated the market in 2016 and is projected to be the fastest-growing material type. The wide application of plastic across all major packaging type is creating a good market for plastic as a material for global home care packaging market. Based on the packaging market, the market is segmented as bottles, cans, cartons, jars, pouches and others. Bottles segment dominated the market in 2016 and is projected to be the fastest-growing packaging type, owing to the convenience in storage, transporting and flexibility to handle all kind of home care products.
The market is expected to have a huge number of new entrants over the forecast period, owing to continuous developments in packaging industry with growing consumer preferences for high hygiene. The market is also expected to have high expansion activities by multinationals and well-established companies. Merger and acquisition activities are expected to be seen over the forecast period.
Report Scope:
Report Attribute/Metric
Details
Market Size
2028: USD 172.17 billion
CAGR
8.5% CAGR (2021-2028)
Base Year
2020
Forecast Period
2021-2028
Historical Data
2019
Forecast Units
Value (USD Million)
Report Coverage
Revenue Forecast, Competitive Landscape, Growth Factors, and Trends
Segments Covered
Product, Material, Packaging Type
Geographies Covered
North America, Europe, Asia-Pacific, and Rest of the World (RoW)
Key Vendors
Amcor Limited (Australia), Mondi (South Africa), Bemis Company, Inc. (U.S.), Rexam plc (U.K), RPC Group (U.K.), Winpak Ltd. (Canada), AptarGroup, Inc. (U.S.), Sonoco Products Company (U.S.), Silgan Holdings (U.S.), and Tetra Laval (Switzerland)
Key Market Opportunities
Increasing adoption of these packages in developed economies
Products is growing
Key Market Drivers
Growing health awareness
Improving standards of living
Increase in per capita income of people
Frequently Asked Questions (FAQ) :
---