Market Scenario:
Human resource (HR) software maintains the confidential data like information of employee, address, contact number and financial data. HR software is only software that provides Software-as-a-Service (SaaS) model which is useful in total employee life-cycle management capabilities and is a key driver for growth of HR software market. Human resource department operates various functions like recruitment, salary hikes, vacation leaves, bonus, training, management and payment benefits management. HR software offer various benefits like document control and security. Introduction of the new tools in the software like advertisement management, candidate searching, and linkup with Facebook and LinkedIn contribute for the growth of HR software market.
Increase in automation of healthcare fuel the growth of HR software market. HR software helps in minimizing the time exhausted on administration, increasing popularity and awareness regarding the benefits of HR software led to the ameliorating HR software market during the forecasted period. But rapid increase in cybercrime which may harm data security can hamper the market growth. The complexity of software increases as the size of organization increase. Human resource software market in healthcare is around 1 billion and it is expected to grow upto 1.4 billion till 2023 at very low CAGR of 2.3% annually. Study Objectives Global Healthcare Human Resources (HR) Software Market


To provide detail analysis of market structure with the forecast for next 6 years of the various segments of

Global Healthcare Human Resources (HR) Software Market

.



To provide the detail information about drivers and factors restraining the market growth.




To provide the key players and their role in HR software market.




To provide the trends and opportunities in HR software market.




To analyze the market by porters five force analysis, price analysis etc.




To provide the analysis of market for segments by type administration software, development model, end user and region.



Key Players for Human Resources Software Market
Paychex, Inc. (US), Paycom Software, Inc. (US), SumTotal Systems Inc. (US), SAP SE (Germany), Ceridian HCM, Inc. (US), Taleo Corporation(US), PeopleAdmin(US), Kenexa Corporation(US), Workday, Inc. (US), Halogen Software Inc(Canada), SuccessFactors (US), CoreHR (Ireland), Ultimate Software (US), International Business Machine (IBM) Corporation (US), EmployWise (India) and Oracle Corporation (US)
Segmentation
HR software market has been segmented on the basis of administration software which are payroll, time and attendance, benefits management and others. On the basis of type of software like Recruiting, software-as-a-service (SaaS), core HR and others. By Organizations Type, Medium Businesses, Large Enterprises, Small Business. By user end, they are Pharmaceuticals, hospital and laboratories and other. By region it is segmented as North America, Europe, Asia-pacific and Middle East and Africa.
Global Healthcare Human Resources Software Market, by region 2016
North America is the largest market for the healthcare human resource software market. This is because of development in healthcare sector. Asia pacific is expecting the high growth on HR software market due to rapidly boosting in the development of the industries in this regions and increase in the number of healthcare organization. In developing countries like India and china it is expecting there will be catalyse industry growth over the forecast period. Europe is also expecting the substantial growth because of increase in the number of several corporate offices in healthcare sectors.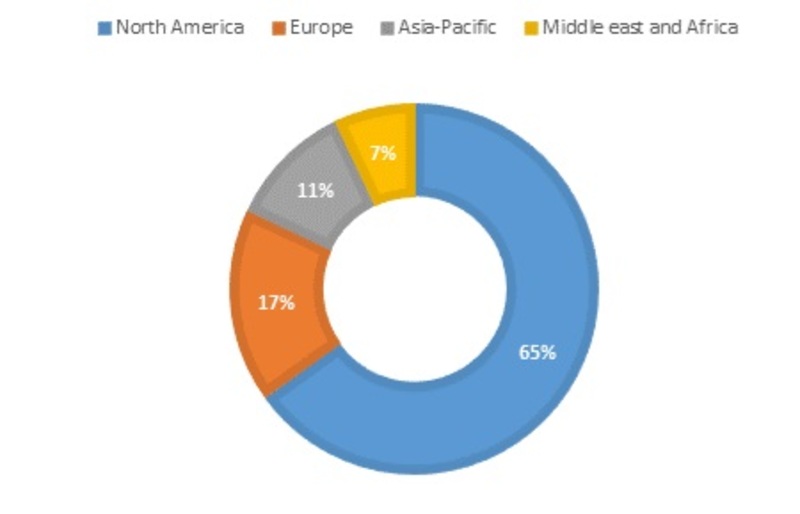 The report for Global Healthcare Human Resources Software of Market Research Future comprises of extensive primary research along with the detailed analysis of qualitative as well as quantitative aspects by various industry experts, key opinion leaders to gain the deeper insight of the market and industry performance. The report gives the clear picture of current market scenario which includes historical and projected market size in terms of value and volume, technological advancement, macro economical and governing factors in the market. The report provides details information and strategies of the top key players in the industry. The report also gives a broad study of the different markets segments and regions. Intended Audience



Global Healthcare Human Resources (HR) Software manufacturers & suppliers



Contract research organizations (CROs)



Research and development (R&D) companies




Government research laboratories




Independent research laboratories




Government and independent regulatory authorities




Market research and consulting service providers




Academic institutes and universities



1 INTRODUCTION

1.1 DEFINITION

1.2 SCOPE OF STUDY

1.2.1 RESEARCH OBJECTIVE

1.2.2 ASSUMPTIONS & LIMITATIONS

1.2.2.1 ASSUMPTIONS

1.2.2.2 LIMITATIONS

1.3 MARKET STRUCTURE:

2 RESEARCH METHODOLOGY

2.1 RESEARCH PROCESS:

2.2 PRIMARY RESEARCH

2.3 SECONDARY RESEARCH:

3 MARKET DYNAMICS

3.1 DRIVERS

3.2 RESTRAINTS

3.3 OPPORTUNITIES

3.4 MACROECONOMIC INDICATORS

4 MARKET FACTOR ANALYSIS

4.1 PORTERS FIVE FORCES MODEL

4.2 BARGAINING POWER OF SUPPLIERS

4.3 BARGAINING POWER OF BUYERS

4.4 THREAT OF NEW ENTRANTS

4.5 THREAT OF SUBSTITUTES

4.6 INTENSITY OF RIVALRY

5 GLOBAL HEALTHCARE HUMAN RESOURCES SOFTWARE MARKET, BY ADMINISTRATION SOFTWARE

5.1 PAYROLL

5.2 TIME AND ATTENDANCE

5.3 BENEFITS MANAGEMENT

5.4 OTHERS

6. GLOBAL HEALTHCARE HUMAN RESOURCES SOFTWARE MARKET, TYPE OF SOFTWARE

6.1 RECRUITING

6.2 SOFTWARE-AS-A-SERVICE (SAAS)

6.3 CORE HR AND OTHERS

7. GLOBAL HEALTHCARE HUMAN RESOURCES SOFTWARE MARKET, BY ORGANIZATIONS TYPE

7.1 SMALL BUSINESS

7.2 MEDIUM BUSINESSES

7.3 LARGE ENTERPRISES

8. GLOBAL HEALTHCARE HUMAN RESOURCES SOFTWARE BY END USER

8.1 PHARMACEUTICALS

8.2 HOSPITAL AND LABORATORIES

8.3 OTHER

9. GLOBAL HEALTHCARE HUMAN RESOURCES SOFTWARE MARKET, BY REGION

9.1 NORTH AMERICA

9.1.1 INTRODUCTION

9.2 EUROPE

9.2.1 INTRODUCTION

9.3 ASIA-PACIFIC

9.3.1 INTRODUCTION

9.4 MIDDLE EAST & AFRICA

9.4.1 INTRODUCTION

10. COMPETITIVE LANDSCAPE

10.1 MAJOR STRATEGIES ADOPTED BY MARKET PLAYERS

10..1.1 STRATEGIC PARTNERSHIP

10.1.2 MERGER & ACQUISITION

11 COMPANY PROFILE

11.1 PAYCHEX, INC.

11.1.1 OVERVIEW

11.1.2 PRODUCT OVERVIEW

11.1.3 FINANCIALS

11.1.4 KEY DEVELOPMENTS

11.2 SUMTOTAL SYSTEMS INC.

11.2.1 OVERVIEW

11.2.2 PRODUCT OVERVIEW

11.2.3 FINANCIALS

11.2.4 KEY DEVELOPMENTS

11.3 SAP SE

11.3.1 OVERVIEW

11.3.2 PRODUCT OVERVIEW

11.3.3 FINANCIALS

11.3.4 STRATEGY

11.3.5 KEY DEVELOPMENT

11.4 COREHR

11.4.1 OVERVIEW

11.4.2 PRODUCT OVERVIEW

11.4.3 FINANCIALS

11.4.4 KEY DEVELOPMENTS

11.5 ORACLE CORPORATION

11.5.1 OVERVIEW

11.5.2 PRODUCT OVERVIEW

11.5.3 FINANCIALS

11.5.4 KEY DEVELOPMENTS

11.6 OTHERS

List of Tables

TABLE 1 GLOBAL HEALTHCARE HUMAN RESOURCES SOFTWARE MARKET, BY APPLICATION, 2020-2027 (USD MILLION)

TABLE 2 GLOBAL HEALTHCARE HUMAN RESOURCES SOFTWARE MARKET, BY ADMINISTRATION SOFTWARE (USD MILLION)

TABLE 3 GLOBAL HEALTHCARE HUMAN RESOURCES SOFTWARE MARKET, BY ORGANIZATIONS TYPE (USD MILLION)

TABLE 4 GLOBAL HEALTHCARE HUMAN RESOURCES SOFTWARE MARKET, BY END USER (USD MILLION)

TABLE 5 GLOBAL HEALTHCARE HUMAN RESOURCES SOFTWARE MARKET BY REGION 2020-2027 (USD MILLION)

List of Figures

FIGURE 1 RESEARCH PROCESS

FIGURE 2 PORTERS FIVE FORCES MODEL

FIGURE 3 GLOBAL HEALTHCARE HUMAN RESOURCES SOFTWARE MARKET, BY APPLICATION

FIGURE 4 GLOBAL HEALTHCARE HUMAN RESOURCES SOFTWARE MARKET, BY ADMINISTRATION SOFTWARE

FIGURE 5 GLOBAL HEALTHCARE HUMAN RESOURCES SOFTWARE MARKET, BY ORGANIZATIONS TYPE

FIGURE 6 GLOBAL HEALTHCARE HUMAN RESOURCES SOFTWARE MARKET, BY END USER

FIGURE 7 GLOBAL HEALTHCARE HUMAN RESOURCES SOFTWARE MARKET: COMPANY SHARE ANALYSIS, 2020 (%)