Global Healthcare Ediscovery Market Research: By Deployment (On-Premise System and Cloud System), Application (Audit Trail Via Metadata, Communication, Ehr-Hosting), End-Users (Healthcare It Companies, Hospitals, Clinics, Pharmacy) – Forecast till 2023
Market Scenario:
Many organizations in healthcare do not have the right information systems to address data storage and retrieval requirements cost-effectively. In the healthcare industry, organizations have to comply with numerous rules and regulations. Therefore, there is a need for an information governance solution with a purpose-built eDiscovery platform, for the management of healthcare data. Healthcare data is of two types namely, structured and unstructured. Structured data can be referred to as alphabets, numbers and can be easily processed and stored whereas unstructured data can be referred as emails, images, audios, and video files which constitutes a scattered data. Therefore, there is a need for the reliable healthcare data management system to maintain the security of information of the patients.
The healthcare eDiscovery market is driven by increasing demand for an information system for the management of electronic health records, strict regulation of storage of clinical and patient data on a cloud-based platform, and increasing use of software for healthcare system for data management. Risks of managing healthcare data include the use of pirated software, data security issues and the threat of cyber-attacks, which retrains the growth of this market. The high cost of healthcare data management solutions and unawareness among the medical staff may restrain the market growth.
The global healthcare eDiscovery market is expected to grow at a CAGR of approximately 11.5%.


Intended Audience



Healthcare eDiscovery system providers




Cloud platform providers




Regulatory and compliance agencies




Investors and venture capitalists




Government bodies



Market Synopsis of Healthcare eDiscovery Market by region (2016):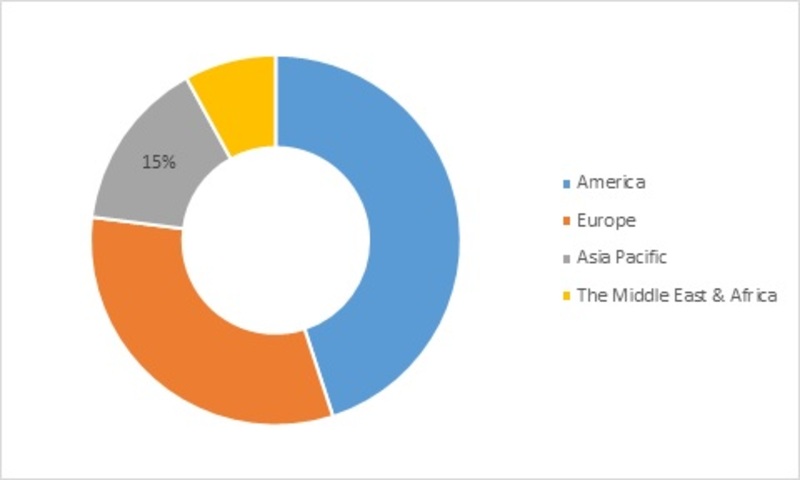 Source: World Health Organization, Centers for Disease Control and Prevention, Expert Interview Market Research Future Analysis, Annual report, White paper, Company Presentation
Segments:
The global healthcare eDiscovery Market is segmented on the basis of deployment, application, and end-user.
On the basis of deployment, the market is segmented into the on-premise system and cloud system. On the basis of application, the market is segmented into application audit trail via metadata, communication, EHR-hosting, and other applications. On the basis of end-users, the market is segmented into healthcare IT companies, hospitals, clinics, pharmacy, and others.
Regional Analysis:
Globally, healthcare eDiscovery market consists of four regions

North America, Europe, Asia Pacific and Middle East & Africa.

The Americas hold the largest market share whose growth is attributed to increasing

emphasis on storage and retrieval of clinical data, and demand for quality healthcare.
North America is the largest market whose growth is attributed to the extensive use of software solution for healthcare management and data storage, emphasis on improving healthcare quality, demand of authentic software solution, and growing awareness about eDiscovery and clinical data sharing. Additionally, increase in demand and awareness for storage and archival of healthcare data also fuel the market growth.
Europe is the second largest market for healthcare eDiscovery owing to the increasing use of data management solutions and regulations governing the use of healthcare information by hospitals and health insurance companies.
Asia
Pacific is the fastest growing region with India and China being the largest contributors to the market growth. Increasing patient pool, awareness regarding the importance of medical records in legal matters and rising demand for cost-effective healthcare IT solutions for management are the major reasons for the growth of the market.

Additionally, government incentives and initiatives to promote healthcare IT, and technological advancements among others are some of the other drivers of the market in Asia Pacific. Furthermore, increasing use of healthcare software solutions fuel the market growth. Additionally, rising healthcare expenditure and extensive growth of medical device industry also influence the use of medical devices for diagnosis of various diseases such as cardiovascular diseases, diabetes, cancer, and others.
As per the Draft National Health Policy 2015, the rising public health expenditure to 2.5% of the GDP is leading the growth of the medical device sector in India. According to the Indian Government's budget and expenditure data for the fiscal year 2012–2013, the government spent about USD 17418.64 million on health, which is about 3.68% of the total government expenditure of USD 473692.76 million. In 2016, total health expenditures in China amounted to approximately USD 713.39 billion. These macroeconomic development attract major medical device & IT companies looking for geographical expansion for increasing their sales and achieving growth. The acquisition, new product launches, partnerships are various strategic approaches of these players.
The Middle East & Africa show steady growth in the market due to low technology penetration and poor healthcare infrastructure, especially in the African countries. In the Middle East, the United Arab Emirates and Saudi Arabia are the major contributors to the market growth owing to increasing availability of specialty healthcare diagnostics and treatment services and increasing demand for software solutions for patient care.
Key Players:
Some of the key players in this market are Commvault (U.S.), Actiance, Inc. (U.S.), Barracuda Networks Inc. (U.S.), Global Relay Communications Inc. (U.S.), Google (U.S.), IBM (U.S.), Microsoft Corporation (U.S.), Allscripts (U.S.) and others.
Table of Content

1. Report Prologue

2. Market Introduction

2.1 Definition

2.2 Scope of the Study

2.2.1 Research Objective

2.2.2 Assumptions

2.2.3 Limitations

3. Research Methodology

3.1 Introduction

3.2 Primary Research

3.3 Secondary research

3.4 Market Size Estimation

4. Market Dynamics

4.1 Drivers

4.2 Restrains

4.3 Opportunities

4.4 Challenges

4.5 Macroeconomic Indicators

4.6 Technology Trends & Assessment


5. Market Factor Analysis

5.1 Porters Five Forces Analysis

5.1.1 Bargaining Power of Suppliers

5.1.2 Bargaining Power of Buyers

5.1.3 Threat of New Entrants

5.1.4 Threat of Substitutes

5.1.5 Intensity of Rivalry

5.2 Value Chain Analysis

5.3 Investment Feasibility Analysis

5.4 Pricing Analysis

6. Global Healthcare eDiscovery Market, by Deployment

6.1 Introduction

6.2 On-Premise System

6.2.1 Market Estimates & Forecast, 2017-2023

6.3 Cloud System

6.3.1 Market Estimates & Forecast, 2017-2023
7. Global Healthcare eDiscovery Market, by Application

7.1 Introduction

7.2 audit trail via metadata, communication,

7.2.1 Market Estimates & Forecast, 2017-2023

7.3 EHR-hosting

7.3.1 Market Estimates & Forecast, 2017-2023

7.4 Others

7.4.1 Market Estimates & Forecast, 2017-2023

8. Global Healthcare eDiscovery Market, by End User

8.1 Introduction

8.2 Healthcare IT Companies

8.2.1 Market Estimates & Forecast, 2017-2023

8.3 Hospitals

8.3.1 Market Estimates & Forecast, 2017-2023

8.4 Clinics

8.4.1 Market Estimates & Forecast, 2017-2023

8.5 Pharmacy

8.5.1 Market Estimates & Forecast, 2017-2023

8.5 Others

8.5.1 Market Estimates & Forecast, 2017-2023

9. Global Healthcare eDiscovery Market, by Region

9.1 Introduction

9.2 Americas

9.2.1 North America

9.2.1.1 US

9.2.1.2 Canada

9.2.2 South America

9.3 Europe

9.3.1 Western Europe

9.3.1.1 Germany

9.3.1.2 France

9.3.1.3 UK

9.3.1.4 Italy

9.3.1.5 Spain

9.3.1.6 Rest of Western Europe

9.3.2 Eastern Europe

9.4 Asia Pacific

9.4.1 Japan

9.4.2 China

9.4.3 India

9.4.4 Australia

9.4.5 Republic of Korea

9.4.6 Rest of Asia Pacific

9.5 The Middle East & Africa

9.5.1 United Arab Emirates

9.5.2 Saudi Arabia

9.5.3 Oman

9.5.4 Kuwait

9.5.5 Qatar

9.5.6 Rest of the Middle East & Africa

10 Company Landscape

10.1 Introduction

10.2 Market Share Analysis

10.3 Key Development & Strategies

10.3.1 Key Developments

11 Company Profiles

11.1 Commvault

11.1.1 Company Overview

11.1.2 Application Overview

11.1.3 Financials

11.2 Actiance, Inc.

11.2.1 Company Overview

11.2.2 Application Overview

11.2.3 Financial Overview

11.2.4 Key Developments

11.3 Barracuda Networks Inc.

11.3.1 Company Overview

11.3.2 Application Overview

11.3.3 Financial Overview

11.3.4 Key Development

11.4 Global Relay Communications Inc.

11.4.1 Company Overview

11.4.2 Application /Business Segment Overview

11.4.3 Financial Overview

11.4.4 Key Development

11.5 Google

11.5.1 Company Overview

11.5.2 Application Overview

11.5.3 Financial overview

11.5.4 Key Developments

11.6 IBM

11.6.1 Overview

11.6.2 Application Overview

11.6.3 Financials

11.6.4 Key Developments

11.7 Microsoft Corporation

11.7.1 Overview

11.7.2 Application Overview

11.7.3 Financials

11.7.4 Key Developments

11.8 Allscripts

11.8.1 Overview

11.8.2 Application Overview

11.8.3 Financials

11.8.4 Key Developments

11.9 Others

12 MRFR Conclusion

12.1 Key Findings

12.1.1 From CEO's View Point

12.1.2 Unmet Needs of the Market

12.2 Key Companies to Watch

12.3 Prediction of Medical Device Industry

13 Appendix
LIST OF TABLES

Table 1 Healthcare eDiscovery Industry Synopsis, 2017-2023

Table 2 Global Healthcare eDiscovery Market Estimates and Forecast, 2017-2023, (USD Million)

Table 3 Global Healthcare eDiscovery Market by Region, 2017-2023, (USD Million)

Table 4 Global Healthcare eDiscovery Market by Deployments, 2017-2023, (USD Million)

Table 5 Global Healthcare eDiscovery Market by Application, 2017-2023, (USD Million)

Table 7 Global Healthcare eDiscovery Market by End Users, 2017-2023, (USD Million)

Table 8 North America Healthcare eDiscovery Market by Deployments, 2017-2023, (USD Million)

Table 9 North America Healthcare eDiscovery Market by Application, 2017-2023, (USD Million)

Table 11 North America Healthcare eDiscovery Market by End Users, 2017-2023, (USD Million)

Table 12 US Healthcare eDiscovery Market by Deployments, 2017-2023, (USD Million)

Table 13 US Healthcare eDiscovery Market by Application, 2017-2023, (USD Million)

Table 15 US Healthcare eDiscovery Market by End Users, 2017-2023, (USD Million)

Table 16 Canada Healthcare eDiscovery Market by Deployments, 2017-2023, (USD Million)

Table 17 Canada Healthcare eDiscovery Market by Application, 2017-2023, (USD Million)

Table 19 Canada Healthcare eDiscovery Market by End Users, 2017-2023, (USD Million)

Table 20 South America Healthcare eDiscovery Market by Deployments, 2017-2023, (USD Million)

Table 21 South America Healthcare eDiscovery Market by Application, 2017-2023, (USD Million)

Table 23 South America Healthcare eDiscovery Market by End Users, 2017-2023, (USD Million)

Table 24 Europe Healthcare eDiscovery Market by Deployments, 2017-2023, (USD Million)

Table 25 Europe Healthcare eDiscovery Market by Application, 2017-2023, (USD Million)

Table 27 Europe Healthcare eDiscovery Market by End Users, 2017-2023, (USD Million)

Table 28 Western Europe Healthcare eDiscovery Market by Deployments, 2017-2023, (USD Million)

Table 29 Western Europe Healthcare eDiscovery Market by Application, 2017-2023, (USD Million)

Table 31 Western Europe Healthcare eDiscovery Market by End Users, 2017-2023, (USD Million)

Table 32 Eastern Europe Healthcare eDiscovery Market by Deployments, 2017-2023, (USD Million)

Table 33 Eastern Europe Healthcare eDiscovery Market by Application, 2017-2023, (USD Million)

Table 35 Eastern Europe Healthcare eDiscovery Market by End Users, 2017-2023, (USD Million)

Table 36 Asia Pacific Healthcare eDiscovery Market by Deployments, 2017-2023, (USD Million)

Table 37 Asia Pacific Healthcare eDiscovery Market by Application, 2017-2023, (USD Million)

Table 39 Asia Pacific Healthcare eDiscovery Market by End Users, 2017-2023, (USD Million)

Table 40 Middle East & Africa Healthcare eDiscovery Market by Deployments, 2017-2023, (USD Million)

Table 41 Middle East & Africa Healthcare eDiscovery Market by Application, 2017-2023, (USD Million)

Table 43 Middle East & Africa Healthcare eDiscovery Market by End Users, 2017-2023, (USD Million)
LIST OF FIGURES

Figure 1 Research Process

Figure 2 Segmentation for Global Healthcare eDiscovery Market

Figure 3 Segmentation Market Dynamics for Healthcare eDiscovery Market

Figure 4 Global Healthcare eDiscovery Market Share, by Deployment, 2016

Figure 5 Global Healthcare eDiscovery Market Share, by Application, 2016

Figure 6 Global Healthcare eDiscovery Market Share, by End Users, 2016

Figure 7 Global Healthcare eDiscovery Market Share, by Region, 2016

Figure 8 North America Healthcare eDiscovery Market Share, by Country, 2016

Figure 9 Europe Healthcare eDiscovery Market Share, by Country, 2016

Figure 10 Asia Pacific Healthcare eDiscovery Market Share, by Country, 2016

Figure 11 Middle East & Africa Healthcare eDiscovery Market Share, by Country, 2016

Figure 12 Global Healthcare eDiscovery Market: Company Share Analysis, 2016 (%)

Figure 13 Commvault: Key Financials

Figure 14 Commvault: Segmental Revenue

Figure 16 Commvault: Geographical Revenue

Figure 17 Actiance, Inc.: Key Financials

Figure 18 Actiance, Inc.: Segmental Revenue

Figure 19 Actiance, Inc.: Geographical Revenue

Figure 20 Barracuda Networks Inc.: Key Financials

Figure 21 Barracuda Networks Inc.: Segmental Revenue

Figure 22 Barracuda Networks Inc.: Geographical Revenue

Figure 23 Global Relay Communications Inc.: Key Financials

Figure 24 Global Relay Communications Inc.: Segmental Revenue

Figure 25 Global Relay Communications Inc.: Geographical Revenue

Figure 26 Allscripts: Key Financials

Figure 27 Allscripts: Segmental Revenue

Figure 28 Allscripts: Geographical Revenue

Figure 29 Google: Key Financials

Figure 30 Google: Segmental Revenue

Figure 31 Google: Geographical Revenue

Figure 32 IBM: Key Financials

Figure 33 IBM: Segmental Revenue

Figure 34 IBM: Geographical Revenue