Gel Battery Market Scenario
Gel Battery Market is projected to reach USD 2.7 Billion by 2027, with a 4.50% CAGR during the forecast period, 2020–2027.
Gel batteries is a valve regulated lead acid battery that can be used in places without ventilation and are less tolerant of high heat. This type of battery is well suited for deep cycle applications and is generally maintenance free and vibration resistant. However, it is less cost effective. Advantages of gel battery include safety due to less risk of sulphuric acid burns, lowest cycle per cycle, sand pill proof. Disadvantages of gel battery include high initial cost, requirement of special chargers, and high temperature could make the gel hard and may shrink away from the plates.
The major factor driving the gel battery market is high growth in microgrid installations, increase in the investment of clean energy at a global level, and supportive government policies for battery recycling. Moreover, the growing energy storage industry is also likely to boost the installation of gel batteries in various industries. However, availability of alternative batteries is one of the factors that would hinder the growth of gel battery market. Rise in need to expand data centers across the globe would create an opportunity for gel battery market. For instance, in October 2020, Goldman Sachs (US) announced to invest USD 500 million in data center development platform. Moreover, as per Indian government, the country is expected to invest USD 396 million in data center industry and construct at least 28 large hyperscale data centers from the year 2020 to 2023. In addition, there is an increase in the demand for electric mobility which would drive the demand for gel batteries. For instance, as per Center for Energy Finance (CEEW), India would nearly invest USD 206 billion in electric vehicle from the year 2020 to 2030 and would cross the cumulative electric car sales to over 100 million units by the year 2030.
Global Gel Battery Market is projected to grow at a significant growth rate during the forecast period owing to the increase in demand for gel battery across multiple applications such as motor cycles, marine equipment, phone, and others. In January 2021, the Calcutta Electric Supply Corporation (CESC) (India) and Exide (US) entered in an agreement for battery energy storage system that uses advanced gel battery technology. The contract would help to enhance the quality of power supply to the consumers. Such developments are accelerating the growth of the gel battery market.
Market Segmentation
Global Gel Battery Market has been segmented based on Type, Application, and Region. Based on application, the global market has been segmented into electric mobility, energy storage & distribution, telecommunication, and others. The electric mobility subsegment is expected to dominate the global gel battery market. Additionally, countries such as the US and China are focusing on investing heavily in electric cars, which is expected to increase the manufacturing of gel batteries. Furthermore, the growth in demand for electric vehicle batteries is highly influenced by the increasing fuel costs and the environmental concerns among government of various countries such as the US, Germany, Norway, Singapore, and Japan as well as in developing countries such as China and India. Governments have been encouraging users to minimize fuel consumption while promoting environmental awareness programs to reduce vehicle pollution. For instance, in May 2019, the US Department of Energy imposed a federal tax credit of USD 2,500 to USD 7,500 to the consumers for all the domestic purchase of plug-in hybrid EVs to reduce vehicular pollution. This has widely led to the demand of gel based lead acid and other batteries.

Key Players
The Key Players of the Global Gel Battery Market are C&D Technologies Inc., Canbat Technologies Inc., Leoch International Technology Ltd., JYC Battery Manufacturing Co.Ltd., B.B.Tech (Changsha) Co.,Ltd., Vision Group, Exide Technologies, BSB Power Company Limited, Leoch International Technology Limited Inc., Power Sonic Corporation, Storage Battery Systems, LLC., and others.
Industry News
Exide Technologies and EDP Group have collaborated on a gel battery to be used by the Castanheira do Ribatejoat municipality in Portugal. It has a capacity of 500kWH storage and offers protection against deep discharge. The batteries are used for storing solar power and aims to supply power to over 1500 homes.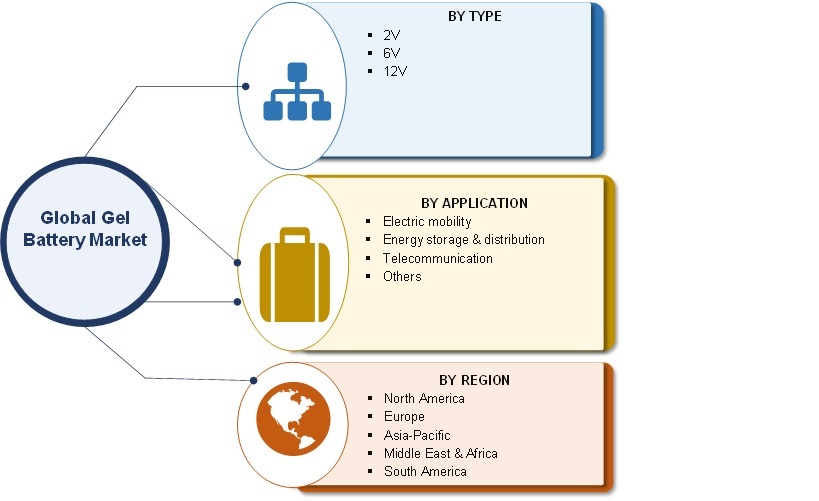 Geographically, the Global Gel Battery Market has been segmented into five major regions, namely, North America, Europe, Asia-Pacific, the Middle East & Africa, and South America. The gel battery market in Asia-Pacific is estimated to account for the highest share, as the key players in the region are heavily investing in electric mobility developing advanced gel batteries to increase the adoption of such vehicles. The growing number of battery manufacturers is a significant factor in increasing its market share in terms of value. In 2018, Japan and India collaborated on the policy dialogue for the next-generation or zero-emission vehicle. This collaboration would create demand for lead acid batteries for electric vehicles. In China, China Automotive Technology and Research Center (CATARC), along with the Directory of Environmental Organizations & Environmental Government Agencies in China, introduced a rule for hybrid EVs, wherein the automotive OEMs producing or importing more than 30,000 vehicles in China must ensure 10% of them are electrically powered vehicles. Such factors are expected to drive the growth of the gel battery market in Asia-Pacific during the forecast period.
Intended Audience



Government and Research Organization




Gel Battery Manufacturers




Consulting Companies in the Battery Industry




Research Consultants




Investors and Shareholders



Report Scope:
| Report Attribute/Metric | Details |
| --- | --- |
| Market Size | USD 2.7 Billion (2027) |
| CAGR | 4.50% (2020-2027) |
| Base Year | 2019 |
| Forecast Period | 2027 |
| Historical Data | 2018 |
| Forecast Units | Value (USD Million) |
| Report Coverage | Revenue Forecast, Competitive Landscape, Growth Factors, and Trends |
| Segments Covered | Type |
| Geographies Covered | North America, Europe, Asia-Pacific, and Rest of the World (RoW) |
| Key Vendors | C&D Technologies Inc., Canbat Technologies Inc., Leoch International Technology Ltd., JYC Battery Manufacturing Co.Ltd., B.B.Tech (Changsha) Co.,Ltd., Vision Group, Exide Technologies, BSB Power Company Limited, Leoch International Technology Limited Inc., Power Sonic Corporation, Storage Battery Systems, LLC. |
| Key Market Opportunities | High Growth in microgrid installations |
| Key Market Drivers | Increase in the investment of clean energy at a global level, and supportive government policies for battery recycling. |
Speak to Analyst
Ask for Customization
Frequently Asked Questions (FAQ) :
---