Market Overview
Global Gasket & Seal Materials Market is projected to register a CAGR of 5.40% to reach USD 37,863.5 Million by the end of 2025.
Seals are used to prevent leakages between two moving parts, such as pumps, engine parts, and shafts. Seals are generally round and flat, whereas gaskets will often be cut into a specific shape to fit the component they are to be fitted to. Seals and gaskets are made of materials, such as metals, industrial-grade rubber, or a combination of both. These are generally equipped with excellent anti-chemical characteristics, anti-compressibility properties, high/low temperature and weather resistance, and superior resistance to heat, water, and abrasion.
The growth of the market is primarily driven by the high demand for seals & gaskets in the oil and gas industry as they ensure safe, reliable, and efficient operation of a wide range of onshore and offshore equipment. These seals and gaskets are used in the drilling tools and bits, blow-out preventers, drilling mud systems, casing and pipe connections, compressors and pumps, and control valves. Moreover, the increasing use of seals and gaskets in the automotive and aerospace industries is another major factor driving the growth of the global market.
Global Gasket & Seal Materials Market Revenue, by End-Use Industry, (USD Million)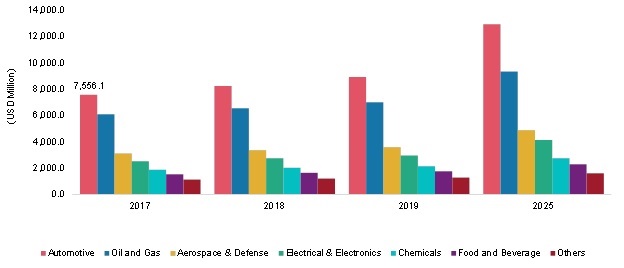 Sources: MRFR Analysis
Segmentation
Global Gasket & Seal Materials Market has been segmented on the basis of Materials, End-Use Industry, and Region.
On the basis of materials, the global market is classified into rubber, fiber, metal, cork, PTFE, and others. Among these, the rubber segment was the leading segment with a value of USD 9,004.8 in 2018. This is because of the properties characterized by rubber such as shock resistance, oil & chemical resistance, adhesion, electrical properties, weather resistance, and water resistance. Apart from these, rubber exhibits characteristics such as abrasion resistance, tear resistance, resilience, and elongation.
By end-use industry, the market is categorized into automotive, oil and gas, food and beverage, electrical and electronics, chemicals, aerospace and defense, and others. The automotive segment accounted for 32% of the market share in 2018. It is expected to witness significant growth; registering a healthy CAGR of 6.36%.
Global Gasket & Seal Materials Market Share, by Region, 2018 (%)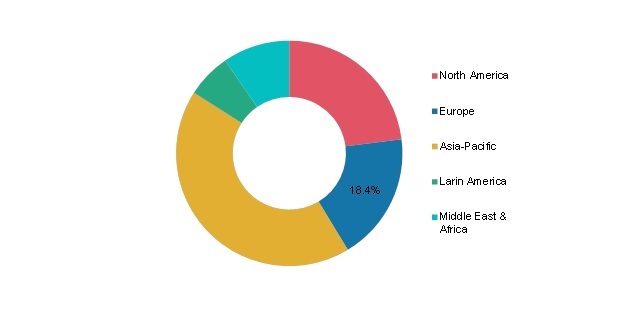 Sources: MRFR Analysis
Regional Analysis
Global Gasket & Seal Materials Market has been studied across five regions, namely Asia-Pacific, North America, Europe, Latin America, and the Middle East & Africa. The market in Asia-Pacific held the largest market share of over 40% in 2018, with a market value of around USD 10,985.90 million. The high growth in this region can be attributed to the rapid industrialization and growing economic conditions in growth-centric countries such as India, South Korea, and Malaysia. For instance, the implementation of the 'Make in India' initiative with a target of Net Zero Imports by 2020 is expected to boost the manufacturing sector.
Key Players
Key Players operating in the Global Gasket & Seal Materials Market include Trelleborg Group (Sweden), Freudenberg Sealing Technologies (Germany), Parker Hannifin Corporation (US), ERIKS NV (The Netherlands), ElringKlinger Kunststofftechnik GmbH (Germany), Saint-Gobain Performance Plastics (France), BRUSS Sealing Systems GmbH (Germany), Dimer Group (Czech Republic), John Crane (US), and Klinger Holding (Austria).
Companies such as Trelleborg Group, Parker Hannifin Corporation, Freudenberg Sealing Technologies, John Crane, and Dimer Group are the dominant players owing to their high revenue generation, strong brand identity, partnerships as well as the customized services and wide distribution networks.
Product launch and agreement are the key strategic initiatives followed by the players with an aggressive approach. For instance, in March 2020, John Crane expanded its pipeline seal for Refined and Light Hydrocarbon Products Pipelines by the introduction of two new products, Type 8628VSC, and Type 8648VRS. Type 8628VSC is a standardized non-pusher elastomer designed specifically for refined oil hydrocarbon services. Whereas, is a standardized non-pusher elastomer mechanical seal explicitly designed for difficult hydrocarbon oil pipeline applications.
Market Segmentation
Global Gasket & Seal Materials Market, by Material



Rubber







Fiber




Metal




PTFE




Cork




Others



Global Gasket & Seal Materials Market, by End-Use Industry
Global Gasket & Seal Materials Market, by Region



Europe







Germany




UK




Russia




France




Spain




Italy




Poland




Belgium




Netherlands




Rest of Europe











Asia-Pacific







China




Japan




India




Australia & New Zealand




Indonesia




South Korea




Thailand




Malaysia




Rest of Asia-Pacific











Latin America







Mexico




Brazil




Argentina




Rest of Latin America











Middle East & Africa







Saudi Arabia




Turkey




UAE




South Africa




Israel




Rest of Middle East








Available Additional Customizations
Intended Audience



Gasket & Seal Materials Manufacturers




Suppliers and traders of Gasket & Seal Materials and related products




Government, associations, and industrial associations




Investors and trade experts




Consulting in chemical experts



Report Scope:
Report Attribute/Metric
Details
Market Size
2025: USD 37,863.5 Million
2027: Significant Value
CAGR
5.40%(2016-2025)
Base Year
2019
Forecast Period
2020-2027
Historical Data
2018
Forecast Units
Value (USD Million)
Report Coverage
Revenue Forecast, Competitive Landscape, Growth Factors, and Trends
Segments Covered
Materials and End-Use
Geographies Covered
North America, Europe, Asia-Pacific, and Rest of the World (RoW)
Key Vendors
Trelleborg Group (Sweden), Freudenberg Sealing Technologies (Germany), Parker Hannifin Corporation (US), ERIKS NV (The Netherlands), ElringKlinger Kunststofftechnik GmbH (Germany), Saint-Gobain Performance Plastics (France), BRUSS Sealing Systems GmbH (Germany), Dimer Group (Czech Republic), John Crane (US), and Klinger Holding (Austria).
Key Market Opportunities
Key Market Drivers
Frequently Asked Questions (FAQ) :
---