Fault Current Limiter Market Scenario
Fault Current Limiter Market size is projected to reach USD 6.92 Billion by 2027, with ~7.64% CAGR between 2020 and 2027.
The major factors driving the growth of the global fault current limiter market include growing concern for efficient power. Additionally, demand for intelligent and modernized power grid infrastructure to create opportunities for the global fault current limiter industry. For instance, in November 2018, the US Department of Energy (DOE) announced to invest USD 7.5 million to support the research and development of designs that would strengthen the resilience of the US power grid. This would create opportunity for the installation of electric device like fault current limiter.
Key Players
The key players operating in the global fault current limiter market are ABB (Switzerland), Siemens (Germany), Gridon (Israel), Superpower Inc. (US), Superconductor Technologies Inc. (US), Rongxin Power Electronic Co.Ltd. (China), Applied Materials (US), American Superconductor Corporation (US), Alstom (France), Zenergy Power Electric Co. (US), Nexans (France) and others.
Many major players such as ABB, Gridon, Siemens, and others are manufacturing fault current limiter that are highly competitive and provide greater efficiency. Such players are actively focusing on new product development as a key strategy in order to offer the best suitable fault current limiter. For instance, in October 2016, ABB introduced a FC-protector fault current limiter to protect against high fault currents, providing flexible use for outdoor and indoor installations, with rated voltage up to 17.5 kV and rated current up to 25000 A. However, rising cost of raw materials in some parts of the world is expected to restrain the growth of the fault current limiter market.
The global fault current limiter market has been segmented based on type, voltage range, and end-use. On the basis of type, the global market includes superconducting and non-superconducting. The superconducting segment is expected to hold larger share due to its various benefits including reduction of replacement cost by connecting superconducting fault current limiters and widely used due to its compact size. On the basis of voltage range, the global market is segmented into high, medium, and low. The high voltage segment is expected to grow with the highest CAGR during the forecast period as the fault current limiters are at the emerging stage with installation in countries such as US, China, and Germany.
On the basis of end-use, the global fault current limiter market has been segmented into power stations, oil & gas, automotive, steel & aluminum, and paper mills & chemicals. The power stations segment is expected to hold the largest share within the global fault current limiter market as the superconducting fault current limiter significantly helps in increasing the safety, reliability, and availability of electrical systems in power stations. Moreover, chemical, power stations, and automotive are three fastest growing end-use industries in fault current limiter market.
Market Segmentation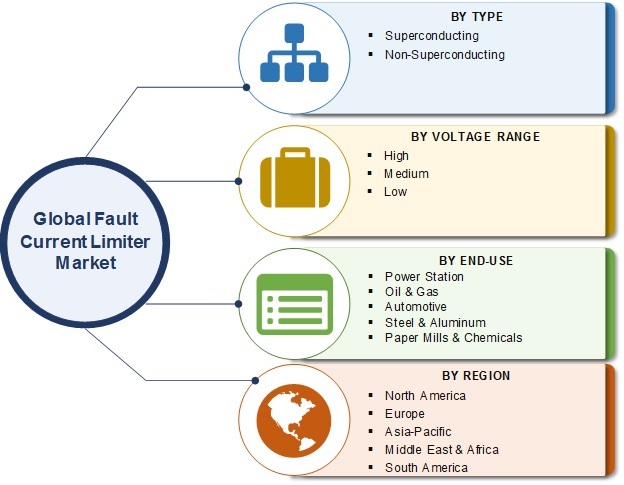 The global fault current limiter market is expected to witness high growth during the forecast period owing to the growing concern for reliable and efficient power supply globally.
A fault current limiter is an electric device that helps to limit the amount of current flowing through a network. High temperature superconducting fault current limiter and solid-state current limiter are two categories of fault current limiter. This device is driven by rising system fault current levels as energy demand increases and more distributed generation sources are added to the power system.
On the basis of region, the global fault current limiter market is segmented into Asia-Pacific, North America, Europe, the Middle East & Africa, and South America. Asia-Pacific holds the largest fault current limiter market share due to increasing interconnection of electric utility grid in emerging economies and expand Transmission & Distribution (T&D) system.
Intended Audience



Government and research organization




Consulting companies in the fault current limiter market




Raw material suppliers




Research consultants




Investors and shareholders



Report Scope:
Report Attribute/Metric
Details
Market Size
2027: USD 6.92 Billion
CAGR
7.64% CAGR (2020-2027)
Base Year
2019
Forecast Period
2020-2027
Historical Data
2018
Forecast Units
Value (USD Billion)
Report Coverage
Revenue Forecast, Competitive Landscape, Growth Factors, and Trends
Segments Covered
Type, Voltage Range and End-use
Geographies Covered
North America, Europe, Asia-Pacific, and Rest of the World (RoW)
Key Vendors
ABB (Switzerland), Siemens (Germany), Gridon (Israel), Superpower Inc. (US), Superconductor Technologies Inc. (US), Rongxin Power Electronic Co.Ltd. (China), Applied Materials (US), American Superconductor Corporation (US), Alstom (France), Zenergy Power Electric Co. (US), Nexans (France)
Key Market Opportunities
Installation of electric device like fault current limiter
New product launches and R&D amongst major key players
Key Market Drivers
Growing concern for efficient power
Frequently Asked Questions (FAQ) :
---