Market Synopsis of Pediatric Neurology Device Market:
The Pediatric Neurology devices are the devices basically generally designed for the children neurological disorders. A Pediatric Neurology devices used for the services and for the treatment and also for diagnosing. Now a day current generation have so many problems related to neurological disorders. Children of age group right from the birth of a child he might suffer from the neurological disorders. The disorder includes insomnia, delayed speech, poor muscle tone, frequent headaches these are some disorder that are of lower risk and can be treated easily. The major neurological disorders from which a child suffers are Head and Spinal Cord Trauma, Infections or inflammatory processes, neurogenetic disorder, epilepsy, seizures and many more such disorders. To treat and help children with neurological disorders FDA is supporting for the launch of medical devices. Also the EPNS (European Pediatric Neurology Society) is involved in the scientific research, clinical care and promoting training in the field of pediatric neurology. This organization aims to improve the pediatric care for the neurological problems. The growing population and inherited genetically disorders are found more.
The Europe market of Pediatric Neurology Device is growing because of the rising prevalence of neurological disorders and other related problems in Europe and across the globe. The Europe market of Pediatric Neurology Device is expected to with a CAGR of 7% during the forecasted period 2017-2023.
Study Objectives of Pediatric Neurology Device Market:



To deliver detailed study of the market structure along with forecast for the next 6 years of the various segments and sub-segments of the Pediatric Neurology Device market




To deliver understandings about factors affecting the market growth




To study the pediatric neurology device market based on various factors- price analysis, supply chain analysis, porters five force analysis etc.




To deliver historical and forecast revenue of the market segments and sub-segments with respect to countries of Europe those are Germany, France, Italy, Spain, U.K and rest of Europe.




To deliver country level analysis of the market with respect to the current market size and future prospective




To provide country level analysis of the market for segments by services and treatment, by neurological sub-specialties, and by age group and its sub-segments




To deliver synopsis of key players and their strategic profiling in the market, comprehensively studying their core competencies, and drawing a competitive landscape for the market




To track and study competitive developments such as joint ventures, strategic alliances, mergers and acquisitions, new product developments, and research and developments in the Europe pediatric neurology device market.



Key Players for Pediatric Neurology Device Market:
Some of the major players in this Europe pediatric neurology devices market are: Medtronic, Elana Inc. Courtagen, Ethicon, Neumors, Inova Health system, Philadelphia Pediatric Medical Device Consortium and others.
Segments:
Europe pediatric neurology device market has been segmented on the basis of services and treatment, neurological subspecialties and age groups. These further includes by Services & Treatment- Electroencephalogram, Intrathecal baclofen therapy, Lumbar puncture, Neurological evaluation, Vagal nerve Stimulation, by Neurological Subspecialties- Neuro-oncology, Neuromuscular, Neonatal neurology, Neuro-immunology, stroke and others, by Age Group- Neonates, Infants, Children, Adolescents.
Figure: Europe Pediatric Neurology Device Market Share by Neurological Subspecialties, 2016 (%)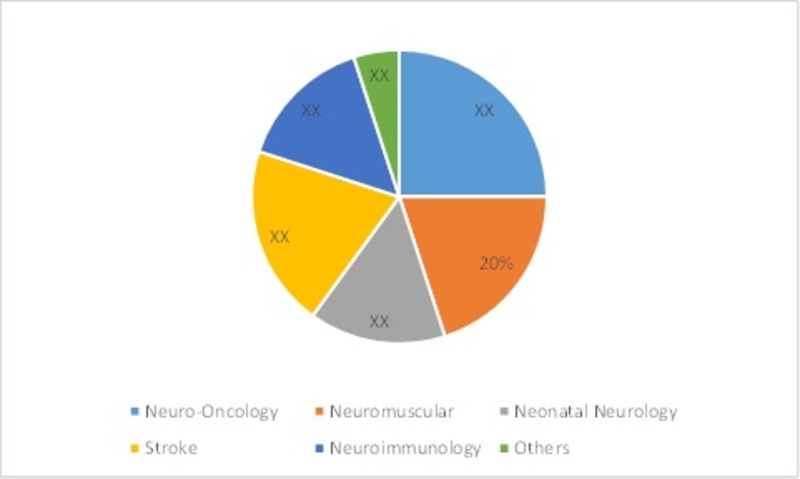 Regional Analysis of Pediatric Neurology Device Market:
Europe has acquired a good market for Pediatric Neurology Device. The rise in geriatric population and the rising prevalence of the chronic disease are leading the market growth. The Europe is the second largest market in the Pediatric Neurology devices after the American market. The market is led by the adoption of the new technology and higher spending on the healthcare industries by the European organization and the rising number of the birth rate and increasing number of the prevalence of the chronic diseases. The market is expected to grow in good way during the forecasted period 2017-2023.
The report for Europe Pediatric Neurology Device market of Market Research Future comprises of extensive primary research along with the detailed analysis of qualitative as well as quantitative aspects by various industry experts, key opinion leaders to gain the deeper insight of the market and industry performance. The report gives the clear picture of current market scenario which includes historical and projected market size in terms of value and volume, technological advancement, macro economical and governing factors in the market. The report provides details information and strategies of the top key players in the industry. The report also gives a broad study of the different markets segments and regions.
Intended Audience



Pediatric Neurology Device

manufacturers




Pediatric Neurology Device

Suppliers & Distributers




Neurological Hospitals and Clinics




Research and Development (R&D) Companies




Medical Research Laboratories




Academic Medical Institutes and Universities



Speak to Analyst
Ask for Customization
Table of Contents
1 Report Prologue

2 Market Introduction

2.1 Introduction

2.2 Scope of Study

2.3 Research Objective

2.4 Assumptions & Limitations

2.4.1 Assumptions

2.4.2 Limitations

3 Research Methodology

3.1 Research Process

3.2 Primary Research

3.3 Secondary Research

4 Market Dynamics

4.1 Drivers

4.1.1 Improving Medical Device Regulation

4.1.2 Growing incidence number of neurological disorders

4.1.3 Increasing prevalence of diseases

4.1.4 Increasing inclination towards home healthcare

4.2 Restraints

4.2.1 Risk Associated with the development neurological devices

5 Market Factor Analysis

5.1 Porter's Five Forces Model

5.1.1 Bargaining power of suppliers

5.1.2 Bargaining Power of Buyers

5.1.3 Threat of New Entrants

5.1.4 Threat of Substitutes

5.1.5 Intensity of Rivalry

5.2 Supply Chain Analysis

6 Europe Pediatric Neurology Device Market, By Service and treatment

6.1 Electroencephalogram

6.2 Intrathecal baclofen therapy

6.2 Lumbar puncture

6.4 Neurological Evaluations

6.5 Vagal nerve stimulation

7 Europe Pediatric Neurology Device Market, By Neurological subspecialties

7.1 Neuro-oncology

7.2 Neuromuscular

7.3 Neonatal Neurology

7.4 Neuroimmunology

7.5 Stroke

7.6 Others

8 Europe Pediatric Neurology Device Market, By Age Group

8.1 Neonates

8.2 Infants

8.3 Children

8.4 Adolescents

9 Europe Pediatric Neurology Device Market, By Regions

9.2 Europe

9.2.1 Germany

9.2.2 France

9.2.3 Italy

9.2.4 Spain

9.2.5 U.K

9.2.6 Rest of Europe

10 Competitive Landscape

10.1 Pricing of Pediatric Neurology Device

10.2 Production Capacity of Major Players

11 Company Profile

11.1 Courtagen

11.1.1 Overview

11.1.2 Product/Business Segment Overview

11.1.3 Financial Updates

11.1.4 Key Developments

11.2 Elana. Inc.

11.2.1 Overview

11.2.2 Product/Business Segment Overview

11.2.3 Financial Updates

11.2.4 Key Developments

11.3 Ethicon

11.3.1 Overview

11.3.2 Product/Business Segment Overview

11.3.3 Financial Updates

11.3.4 Key Developments

11.4 Inova Healthcare System

11.4.1 Overview

11.4.2 Product/Business Segment Overview

11.4.3 Financial Updates

11.4.4 Key Developments

11.5 Medtronic

11.5.1 Overview

11.5.2 Product/Business Segment Overview

11.5.3 Financial Updates

11.5.4 Key Developments

11.6 Neumors

11.6.1 Overview

11.6.2 Product/Business Segment Overview

11.6.3 Financial Updates

11.6.4 Key Developments

11.7 Philadelphia Pediatric Medical Device Consortium

11.7.1 Company Overview

11.7.2 Product/Business Segment Overview

11.7.3 Financial Updates

11.7.4 Key Development